The wrongful death lawsuit against former Alabama basketball star Brandon Miller and two others filed last Friday by murder victim Jamea Jonae Harris' family could not have dropped at a much more opportune time.
Miller just signed his first NBA contract last July after the Charlotte Hornets made him the second overall pick of the draft on June 22. He will make about $12 million a year over the next four. Miller has had time, hopefully, to put some money in the bank, invest it and spend some on himself. He scored 13 points in his team's 116-110 win over Atlanta Wednesday in Charlotte to open the NBA season.
Brandon Miller #24 of the Charlotte Hornets brings the ball down the court during the second half of a basketball game against the Atlanta Hawks at Spectrum Center on October 25, 2023 in Charlotte, North Carolina. NOTE TO USER: User expressly acknowledges and agrees that, by downloading and or using this photograph, User is consenting to the terms and conditions of the Getty Images License Agreement.  (David Jensen/Getty Images)
Oh, and news broke just last Monday that Miller has signed a rich shoe endorsement deal with Nike. So add that to the pot.
EX-ALABAMA STAR BRANDON MILLER NAMED AS CO-DEFENDANT IN WRONGFUL DEATH LAWSUIT FILED BY JAMEA HARRIS' MOTHER
The Harris family hopes to receive hundreds of thousands of dollars of that money, if not more, from Miller via jury trial or pre-trial settlement through its legal representation – Farris, Riley & Pitt of Birmingham, Alabama.
This is a federal, civil lawsuit filed in Birmingham, the hometown of Harris, a 23-year-old slain mother of a young son. Michael Davis, a friend of a friend of Miller, allegedly shot Harris to death at the Alabama Strip of bars and restaurants near the University of Alabama campus in Tuscaloosa, at about 1:30 a.m. on Jan. 15.
This civil case will be easier to prove by Harris' attorneys than a criminal one as they do not carry the same burden of proof as a criminal case. Attorneys Kirby D. Farris and Malia D. Tartt do not have to prove that the actions of Brandon Miller, then Darius Miles, then Michael Davis, led to Harris' death "beyond a reasonable doubt." They only have to display loads of evidence that prove it is more than likely than not that the actions of Miller, then Miles, then Davis led to Harris' death.
So, this lawsuit is just a money grab, as some Alabama fans and others have said. And the money keeps growing, right?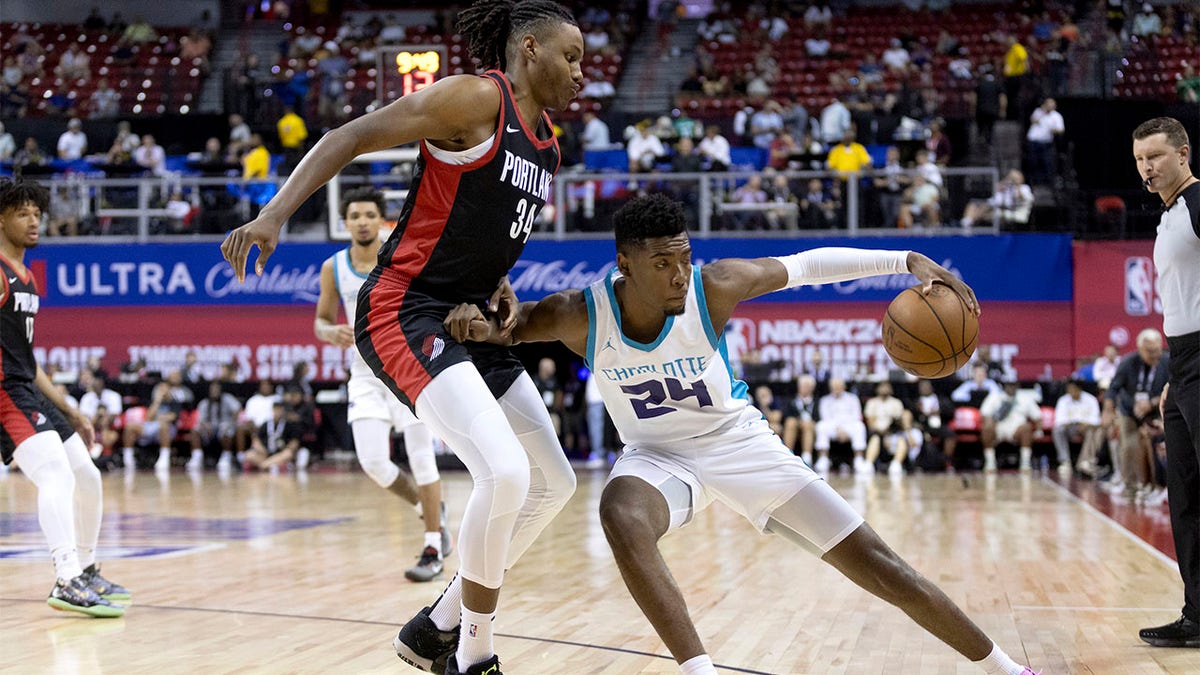 Charlotte Hornets forward Brandon Miller (24) dribbles around Portland Trail Blazers forward Jabari Walker (34) during an NBA summer league basketball game Tuesday, July 11, 2023, in Las Vegas.  (Ellen Schmidt/Las Vegas Review-Journal via AP)
You damn right it's a money grab. And Jamea Jonae Harris' family and her young son deserve every penny they can get. She's dead, and it shouldn't have happened.
This is not some former girlfriend of Miller suddenly making new claims about him now that he is rich, so she can get a piece of the pie.
NASHVILLE POLICE SUPPORT BRANDON MILLER AHEAD OF NBA DRAFT DESPITE GUN DRAMA
Miller clearly involved himself in the murder, though he may not have known that was going to happen. If he is smart, and he is, he should have known nothing good was going to happen, though, after 1 a.m. in the circumstances he put himself in wittingly.
Without him, it might not have happened. No, he was never arrested, but clearly he could have been viewed as an accomplice like Miles. Miller drove the murder weapon in his car to his friend and teammate, Darius Miles, who had left it in Miller's car after midnight that Sunday morning.
Phone records and police testimony make it hard to believe Miller did not know Miles' gun rested in his car. Miller also did not call police after getting home early that morning after a gunfight in his bullet-riddled car.
"I need my joint," Miles texted Miller before Miller delivered it, according to Tuscaloosa Police detective Brandon Culpepper's testimony in a hearing last February. Joint is slang for handgun.
Defense attorney and Alabama graduate Jim Standridge has represented Miller and naturally has said Miller didn't know there was a gun in his car. And that became at that time as popular a statement among Alabama fans "Roll Tide" any time.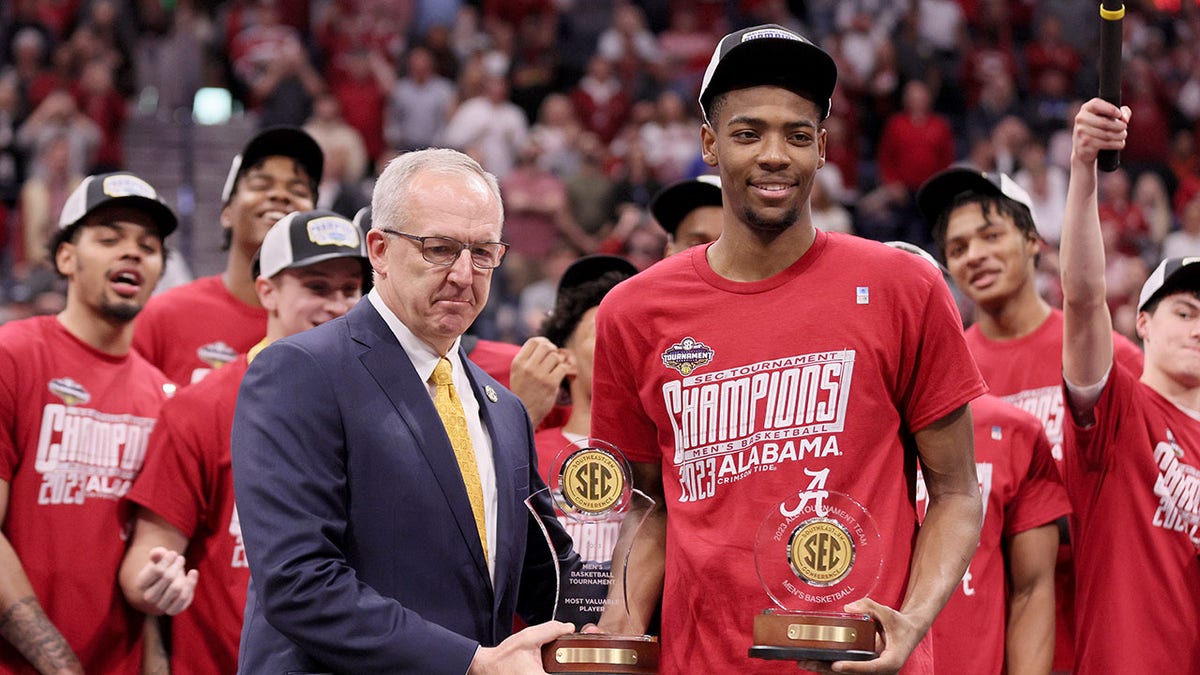 Brandon Miller #24 of the Alabama Crimson Tide and SEC commissioner Greg Sankey after the Texas A&M Aggies game during the 2023 SEC Basketball Tournament final on March 12, 2023 in Nashville, Tennessee. (Photo by Andy Lyons/Getty Images) (Andy Lyons/Getty Images)
Standridge also said Miller never touched the gun, which was a curious statement by an attorney. Because how could Miller touch something that he didn't know was there to begin with, according to the attorney? The fact is Miller transported the gun to Miles, who then gave it to his friend Davis, who then killed Harris in a shower of gunfire.
Miles and Davis have remained in jail in Tuscaloosa on capital murder charges since Jan. 15. Miller is lucky every day he was not viewed as an accomplice like Miles. Naturally, Standridge has not returned a call to OutKick for comment on the Harris family's lawsuit.
CLICK HERE FOR MORE SPORTS COVERAGE ON FOXNEWS.COM
The Harris family's law firm has decided to let its statements in the lawsuit stand for now. And these are simple, clear and damaging statements to Brandon Miller, Darius Miles and Michael Davis.
Wrongful death lawsuit lumps Brandon Miller with other two
And here is a critical point. The lawsuit does not separate Miller from Miles and Davis – the two currently in jail on capital murder, as the authorities obviously did. All three are lumped together with culpability in the young woman's death.
The lawsuit says the above three displayed "negligent or wanton (lawless, unrestrained) conduct in that each caused, allowed, permitted, or contributed to cause Harris to be in a dangerous situation that would foreseeably cause her harm."
All three "acted unreasonably and recklessly allowing or causing the incident," the lawsuit continues. "They knew or should have known that bringing a dangerous weapon to a dispute and discharging it would likely result in harm to those around them. The negligent or wanton conduct of each of the defendants combined and concurred to proximately cause Jamea Jonae Harris' death."
The family and the lawyers are demanding a jury trial. They may settle for a large amount of cash, sure. But the written desire for a jury trial makes a lot of sense. Because it proves the family and their attorneys are fine with the people who were there with Jamea that terrible night taking the stand. And the family wants to see their attorneys cross-examine Miller, Miles and Davis and see just how accurate some of their stories that have been circulating by various sources for months are. They feel a trial will help their case and up their settlement.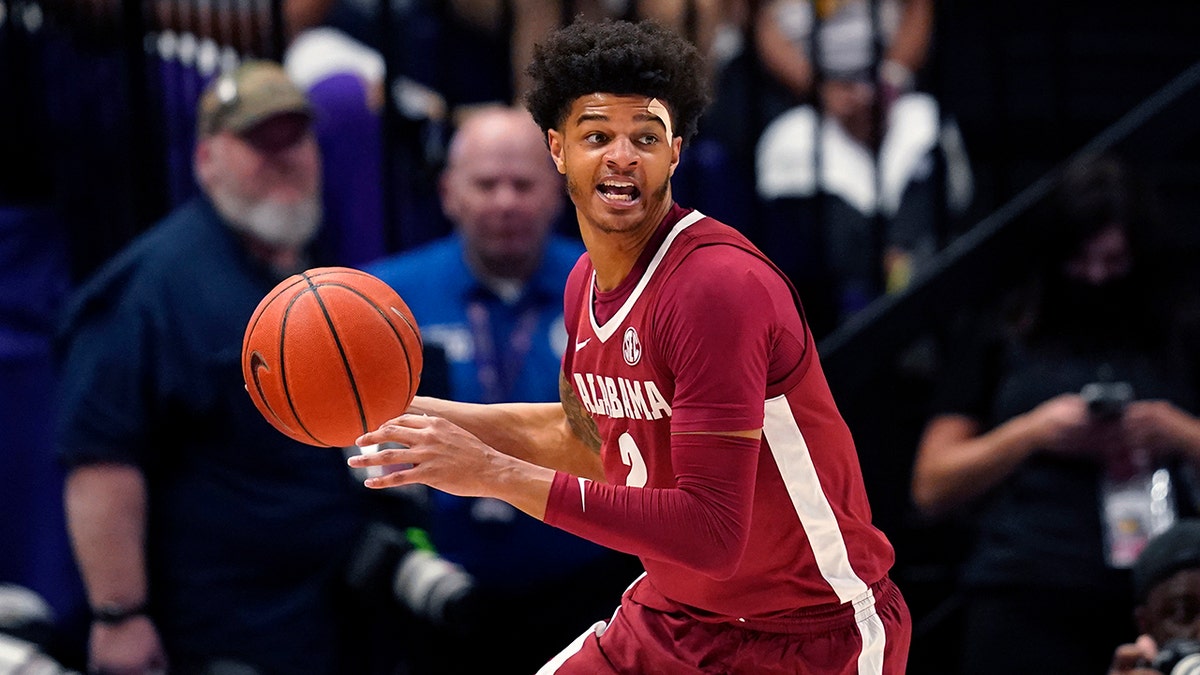 FILE – Alabama forward Darius Miles looks to pass in the second half an NCAA college basketball game against LSU in Baton Rouge, La., March 5, 2022.  (AP Photo/Gerald Herbert, File)
Miller and his attorneys, you can bet, do not want a trial and will likely pay the Harris family handsomely to avoid one. That's how this works for the "wonton" and those left wanting.
Something else has been happening just as this lawsuit dropped.
CLICK HERE TO GET THE FOX NEWS APP
On Wednesday, Tuscaloosa District Attorney Hays Webb shot holes in the fantasy self-defense arguments that previously played out in a preliminary hearing by Darius Miles attorneys.
"No evidence has been presented to support the claim that Miles acted in self-defense," Hays said in a response to Miles' attorney Mary Turner's claims on Wednesday.
Hays focused on the lack of danger Miles found himself in, which is sort of necessary when claiming self-defense. Miles had even testified in a hearing last February that he did not feel as if he was in danger.
"Testimony demonstrated that Miles had time to walk with, talk with, and provide a gun to the shooter (Davis), after any possible perceived threat," Hays wrote. "A defendant must honestly believe they are in actual danger when deadly force is used in self-defense."
Miles' and his attorneys' arguments lacked "the imminence of danger necessary to support a claim of self-defense."
Miles and his attorneys had hoped the self-defense claim would grant Miles immunity. He remains in jail. Judge Daniel Pruet still has to rule on Miles' self-defense case.
It does not look good, though. And Hays' statements clearly do not help Brandon Miller's case. Because, according to Hays, Miller was not delivering Miles's gun to him so he could defend himself.