The last Saturday of October means the college football season is starting down its home stretch. 
November will be filled with conference matchups and rivalry games as the College Football Playoff creeps ever closer. In a year when a handful of teams appear to be legitimate national championship contenders, the final four weeks of the regular season should be fascinating. 
Head coach Dabo Swinney of the Clemson Tigers after a game against the N.C. State Wolfpack at Carter-Finley Stadium Oct. 28, 2023, in Raleigh, North Carolina. N.C. State won 24-17.  (Lance King/Getty Images)
Fans have learned a few things through nine weeks of the regular season, including that Clemson head coach Dabo Swinney isn't going to take any grief from fans. 
After the Tigers fell to 4-4 following a loss to N.C. State Saturday, Swinney unloaded on a fan who called into Swinney's weekly radio show Monday. 
CLEMSON'S DABO SWINNEY UNLOADS ON 'SMART A–' FAN DURING CALL-IN RADIO SHOW: 'YOU'RE PART OF THE PROBLEM'
"So, I'm curious. Why are we paying you $11.5 million to go 4-4?" the caller asked Swinney after questioning his coaching hires and saying he sensed "arrogance." 
"To answer your question, I started as the lowest-paid coach in this freaking business," Swinney said in part. "And I'm where I am because I've worked my a– off. Every single day. And I ain't gonna let some smart a– kid get on this phone and create this stuff.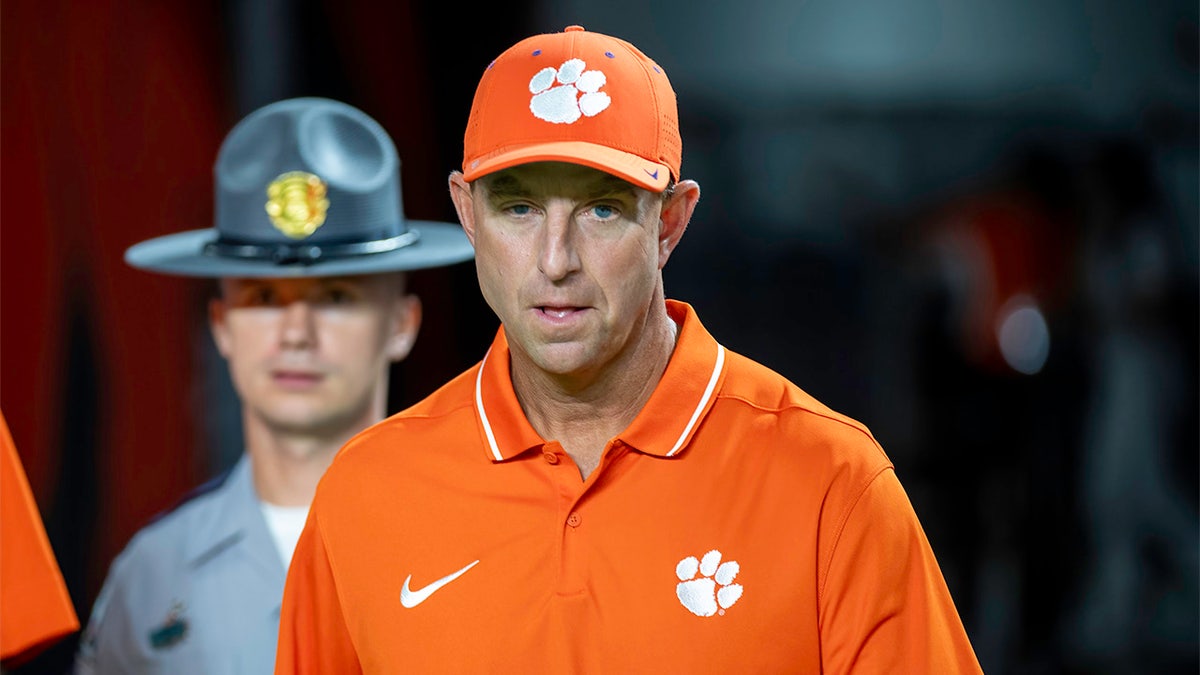 Clemson head coach Dabo Swinney walks onto the field before a game against the Miami Hurricanes Oct. 21, 2023, at Hard Rock Stadium in Miami Gardens, Fla.  (Doug Murray/Icon Sportswire via Getty Images)
"So, if you got a problem with that, I don't care. I work for the board of trustees, the president and the AD. And if they're tired of me leading this program, all they gotta do is let me know. I'll go somewhere else where there is an appreciation." 
It's a down year for Clemson after it won double-digit games every year since 2011, but let's take a look at what else was learned during Week 9 of the college football season. 
CLICK HERE FOR MORE SPORTS COVERAGE ON FOXNEWS.COM
Any given Saturday a team can be upset
Heading into Week 9, the slate looked grim with just two Top 25 matchups on the schedule. 
But as is always the case in college athletics, the day started off with a bang as undefeated Oklahoma went down on the road to unranked Kansas. 
The Jayhawks won a thriller in Lawrence, scoring the go-ahead touchdown with 55 seconds remaining in the game. 
Oklahoma's loss snapped an 18-game winning streak over Kansas and put the Big 12 up for grabs.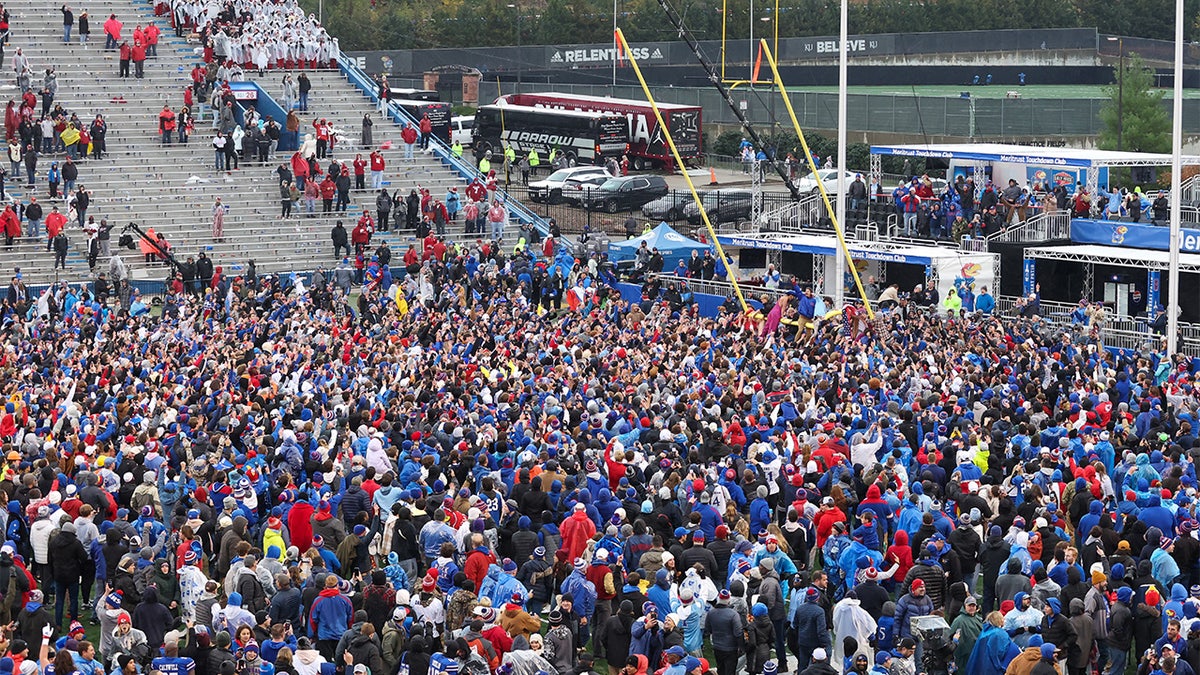 Kansas Jayhawks fans climb the goal posts after defeating the Oklahoma Sooners Oct 28, 2023, at Memorial Stadium in Lawrence, Kan.   (Scott Winters/Icon Sportswire via Getty Images)
"Turned the ball over, penalties — the timing of all of it was really poor," Oklahoma coach Brent Venables said. "As I told them, we're not going to be defined by any one win or any loss. We have a lot still in front of us. But this one hurts. It stings."
With the loss, there are now five teams tied atop the conference standings. Oklahoma, Texas, Kansas State, Iowa State and Oklahoma State are all 4-1 in conference play. 
Week 10 should provide some clarity in the Big 12 as Texas and Kansas State square off and Oklahoma and Oklahoma State play their "Bedlam" series for the last time in the conference before the Sooners head to the SEC in 2024. 
Oregon is a legitimate College Football Playoff threat
Oregon's matchup Saturday against Utah in Salt Lake City was supposed to be the matchup of the weekend as both teams attempted to stay alive in the CFP race by avoiding their second loss. 
It was never close. 
Dan Lanning's squad jumped all over the Utes, allowing just two field goals in a 35-6 romp. 
"When you get beat like that, you don't want to berate your team and browbeat them," Utah coach Kyle Whittingham said. "What happened out there was enough."
Oregon is just a play or two away from being undefeated after losing to Washington in Week 7.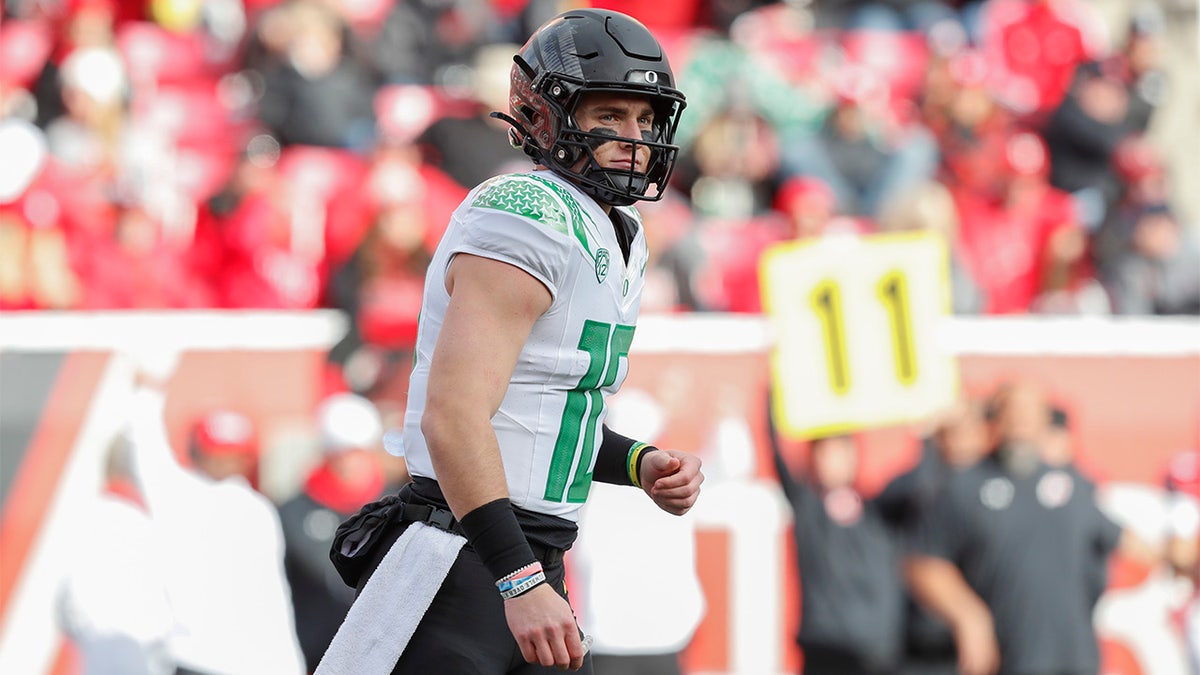 Bo Nix of the Oregon Ducks looks to the sideline for a play during the second half of a game against the Utah Utes at Rice Eccles Stadium Oct. 28, 2023, in Salt Lake City.   (Chris Gardner/Getty Images)
And with the Huskies looking less than stellar the last two weeks, the Ducks are beginning to look like the best team in a really deep Pac-12. 
Oregon is winning with an elite offense behind a Heisman Trophy candidate and a defense ranked 16th in the country in yards allowed per game. 
The Ducks have two ranked teams left on their schedule — USC and Oregon State — and have the look of a team that can compete with the best in all of college football. 
BERKELEY-USC GAME DELAYED AFTER STUDENTS PROTEST BERKELEY PROFESSOR'S STALKING SUSPENSION
The national championship still runs through Georgia 
Despite all the talk that the 2023 edition of the Georgia Bulldogs was more vulnerable than in the past two seasons, Georgia remains undefeated. 
The Bulldogs won their 25th consecutive game Saturday, defeating Florida 43-20. 
Junior quarterback Carson Beck has thrown 11 touchdowns and three interceptions in the past five games, and the Georgia offense ranks fourth in the country in yards per game. 
"Getting better, but we're still not where we need to be," Georgia head coach Kirby Smart said.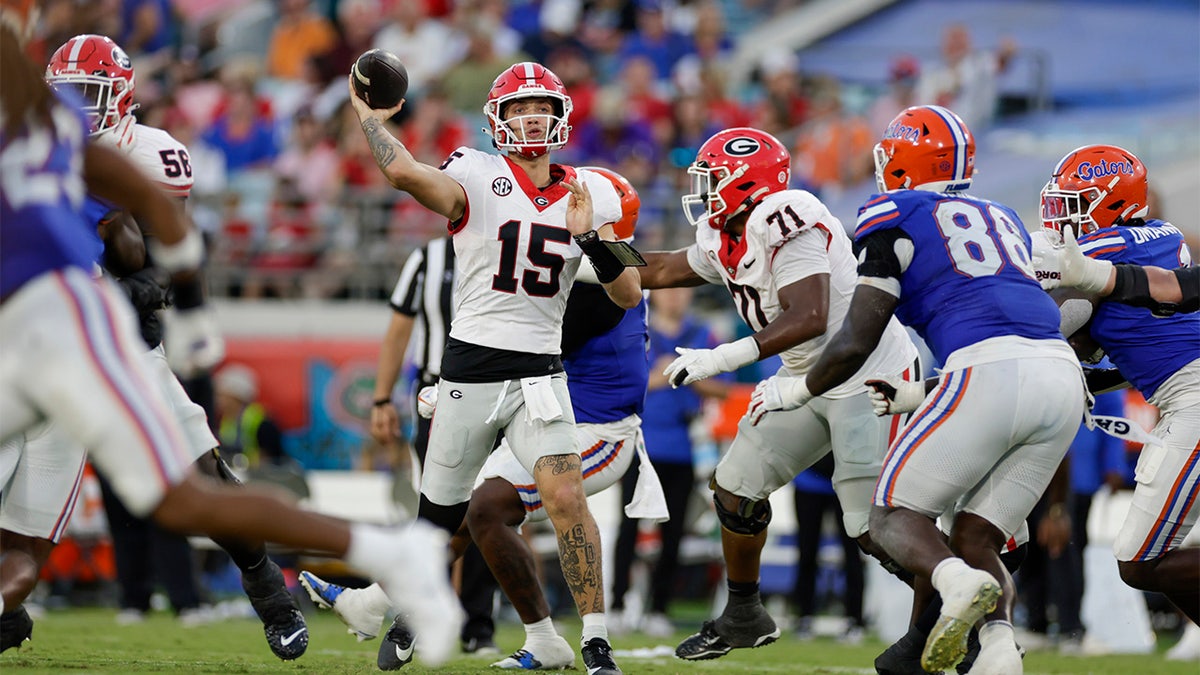 Georgia Bulldogs quarterback Carson Beck (15) throws a pass during a game against the Florida Gators Oct. 28, 2023, at EverBank Stadium in Jacksonville, Fla. (David Rosenblum/Icon Sportswire via Getty Images)
Georgia is going about the 2023 season a little differently than the last two years, with the offense leading the way. 
While the Bulldogs have solidified their spot at the top of the rankings, the next three weeks will determine whether Georgia has a shot at a three-peat. 
No. 14 Missouri and No. 11 Ole Miss will head to Athens before Georgia takes on Tennessee in Neyland Stadium to wrap up SEC play. 
NOTRE DAME'S MARCUS FREEMAN FLIPS SCRIPT ON REPORTER WHO COACHES SON IN FLAG FOOTBALL, DURING PRESS CONFERENCE
"Prime Time" in Colorado has hit a snag
Following Colorado's fourth loss of the season Saturday to No. 23 UCLA, the Buffaloes fell to .500, and head coach Deion Sanders said he'll be replacing members of his offensive line.
Colorado quarterback Shedeur Sanders, Deion's son, was sacked seven times while being pressured 24 times and hit 17 times, per the New York Post.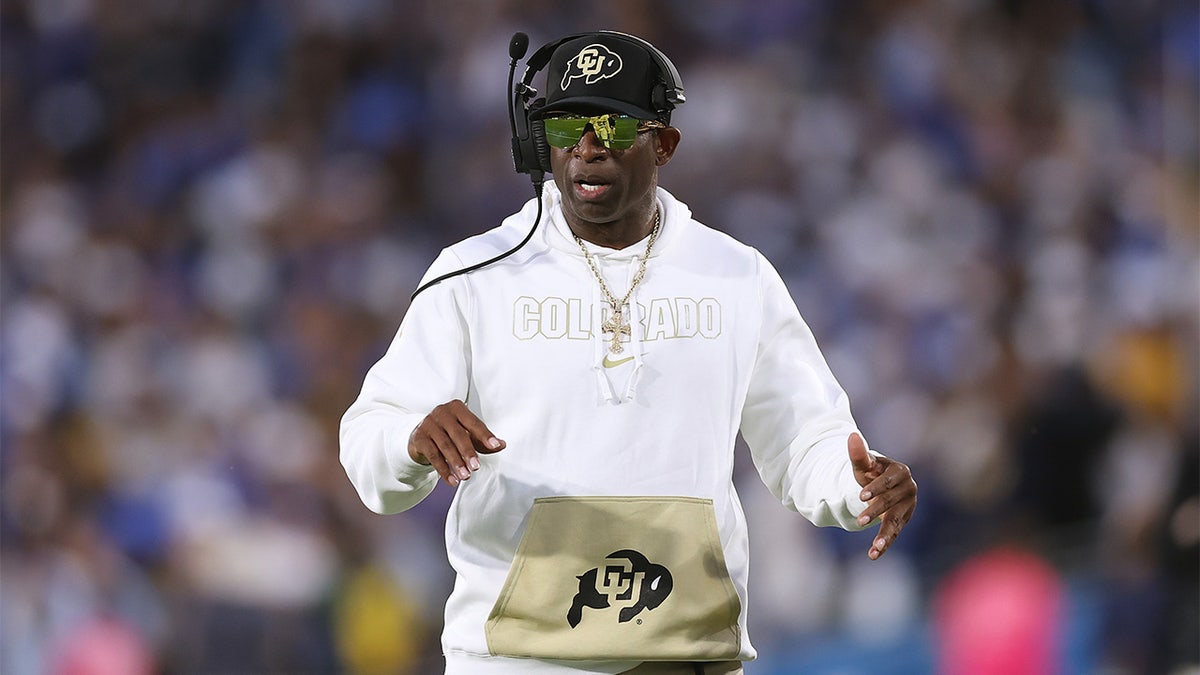 Head coach Deion Sanders of the Colorado Buffaloes on the sideline during the first half of a game against the UCLA Bruins at Rose Bowl Stadium Oct. 28, 2023 in Pasadena, Calif.  (Sean M. Haffey/Getty Images)
Shedeur was so battered he required a painkiller injection at halftime, per USA Today. 
"The big picture, you go get new linemen," Deion Sanders said afterward. "That's the picture, and I'm gonna paint if perfectly."
CLICK HERE TO GET THE FOX NEWS APP
Not many thought Colorado would win four games in Sanders' first season, especially after going 1-11 in 2022, but the hype around "Coach Prime" has certainly slowed. 
The Associated Press contributed to this report
Joe Morgan is a Sports Reporter for Fox News.