Week 8 of the college football season saw a handful of near losses for top-10 teams before North Carolina came crashing back down to Earth.
Both Texas and Oklahoma were in conference battles before finding a way to walk out of the stadium with a victory while the Washington survived a late-night scare against Arizona State.
North Carolina quarterback Drake Maye walks off the field during the game against Virginia at Kenan Memorial Stadium in Chapel Hill, North Carolina, on Oct. 21, 2023. (Nell Redmond-USA TODAY Sports)
The Tar Heels were riding high with Drake Maye under center after getting off to a 6-0 start in 2023. A matchup against 1-5 Virginia certainly didn't appear to present any problems for Mack Brown's team.
UCF RECEIVER BLOWS KISS TO OKLAHOMA SIDELINE WHILE RUNNING FOR 86-YARD TOUCHDOWN
Until it did.
Virginia pulled off a historic upset – the first-ever road win over a top-10 opponent in program history – ending North Carolina's dream start to the year.
It was a phenomenal Saturday of college football, so let's take a look at what college football fans learned from Week 8 of the season.
College Football Playoff dreams dashed for Caleb Williams, USC
That'll do it for Caleb Williams and the USC Trojans.
Entering Week 8, the Trojans were coming off a bad loss to Notre Dame but still saw light at the end of the tunnel.
Undefeated in Pac-12 play, USC's remaining schedule was an absolute gauntlet, with four games against top-25 teams still on the slate.
If they could run the table and play in the Pac-12 championship game, a berth in the CFP was a near lock.
CLICK HERE FOR MORE SPORTS COVERAGE ON FOXNEWS.COM
The idea came to a dead stop Saturday night.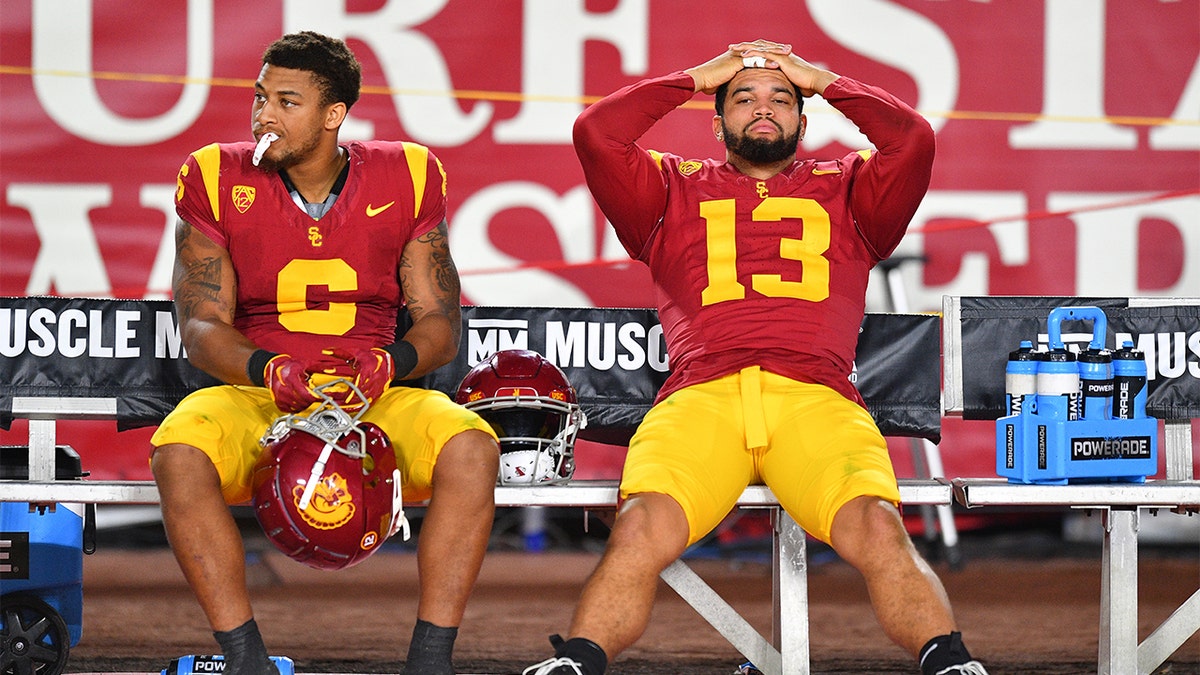 USC running back Austin Jones (6) sits beside quarterback Caleb Williams after a game against Utah, October 21, 2023, at Los Angeles Memorial Coliseum. (Brian Rothmuller/Icon Sportswire via Getty Images)
The Utah Utes were short-handed and still were the more physical team, beating the Trojans on a walk-off 38-yard field goal. 
It was the same story for USC and second-year head coach Lincoln Riley – the defense couldn't get a stop when it needed one the most.
After USC stormed back from a 14-point second-half hole to take the lead with 1:46 left in the fourth quarter, the Utes picked up a 4th-and-1 in USC territory before quarterback Bryson Barnes scrambled for 26 yards to the Trojans' 19-yard line.
Against a Utah offense ranked last in the Pac-12 in yards per game (322.2) and passing yards (149.5), the USC defense allowed 482 total yards, 235 of them through the air.
"It was a good heavyweight battle," Riley said. "Two good football teams going at it, and it came down to the last play. Locker room is pretty torn up right now, as it should be. Had two tough losses in a row, and not how any of us scripted this. But you can't script it. It's college football. Comes down to little things here and there, and we haven't played clean enough in the last couple of weeks."
No two-loss team has ever made the CFP, and with Oregon and Washington still on the schedule, it's doubtful USC will end the year with just two losses anyway. 
Same story for Penn State
Head coach James Franklin entered Saturday's game against Ohio State 0-9 against top-10 opponents on the road as head coach of the Nittany Lions, and just 1-8 against the Buckeyes.
There was a belief that the 2023 Penn State team was the one to snap a six-game losing streak to Ohio State and make a serious run at the CFP.
It's not.
The offense was painful to watch on Saturday, gaining just 49 yards on the ground and going an astounding 1-16 on third downs.
AIR FORCE QB TOSSES RECORD-BREAKING TOUCHDOWN PASS AGAINST NAVY; FALCONS REMAIN UNDEFEATED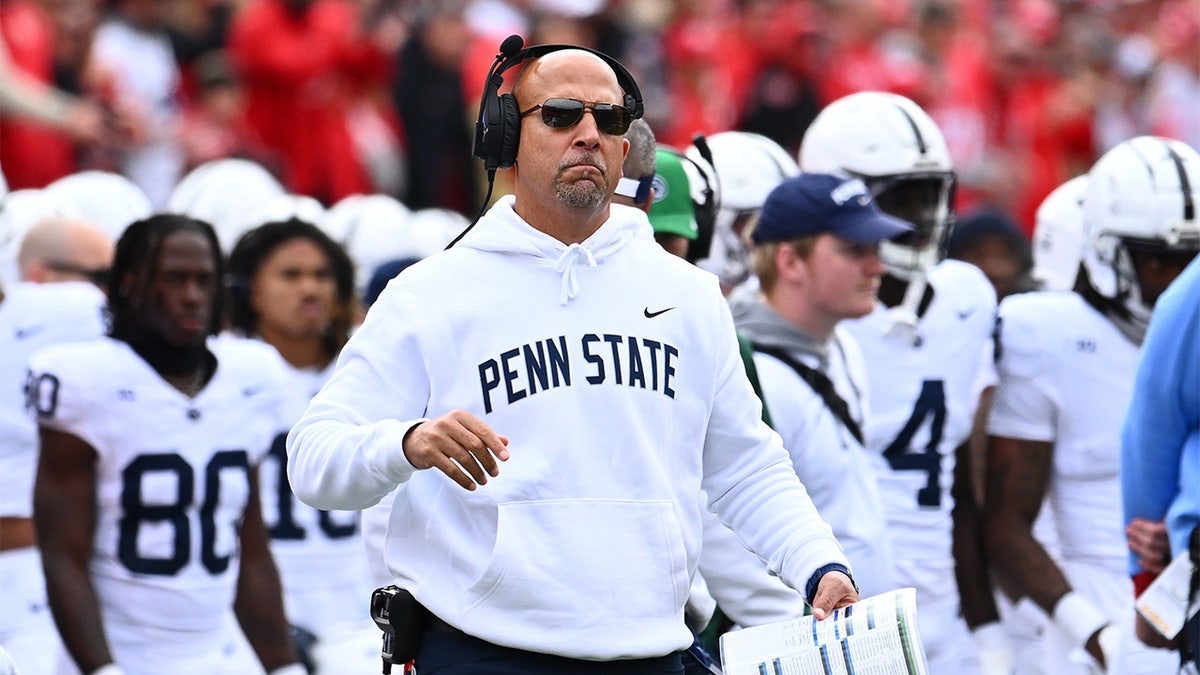 Penn State head coach James Franklin checks the scoreboard during the first quarter against Ohio State, October 21, 2023, in Columbus, Ohio. (Ben Jackson/Getty Images)
Penn State's defense entered the game first in the country in yards allowed (193.7 per game) and held the Ohio State offense in check until wide receiver Marvin Harrison put a lid on the game midway through the fourth quarter. 
"I'm not sure if we didn't just watch the two of the best teams in college football, specifically on the defensive side of the ball," Franklin said.
He added, "The story of the game came down to third down. We weren't able to stay on the field, which was the biggest difference in the game."
Penn State doesn't appear ready to compete for a spot in the CFP despite its defensive prowess.
The Clemson slide continues
Three losses for Clemson before Halloween? Unheard of but true.
It was the same story but a different week for Dabo Swinney and the Tigers as Clemson blew a double-digit lead and lost in overtime to Miami.
For the first time since 2010, Clemson has three losses in ACC play as questions around the program continued to swirl.
The Tigers turned the ball over on Miami's 1-yard line in the first quarter, leading to seven points for the Hurricanes. In the second overtime, with Clemson down eight and needing to score to extend the game, quarterback Cade Klubnik inexplicably tried to do it by himself, choosing not to hand off to running back Will Shipley before being tackled for a loss, ending the game.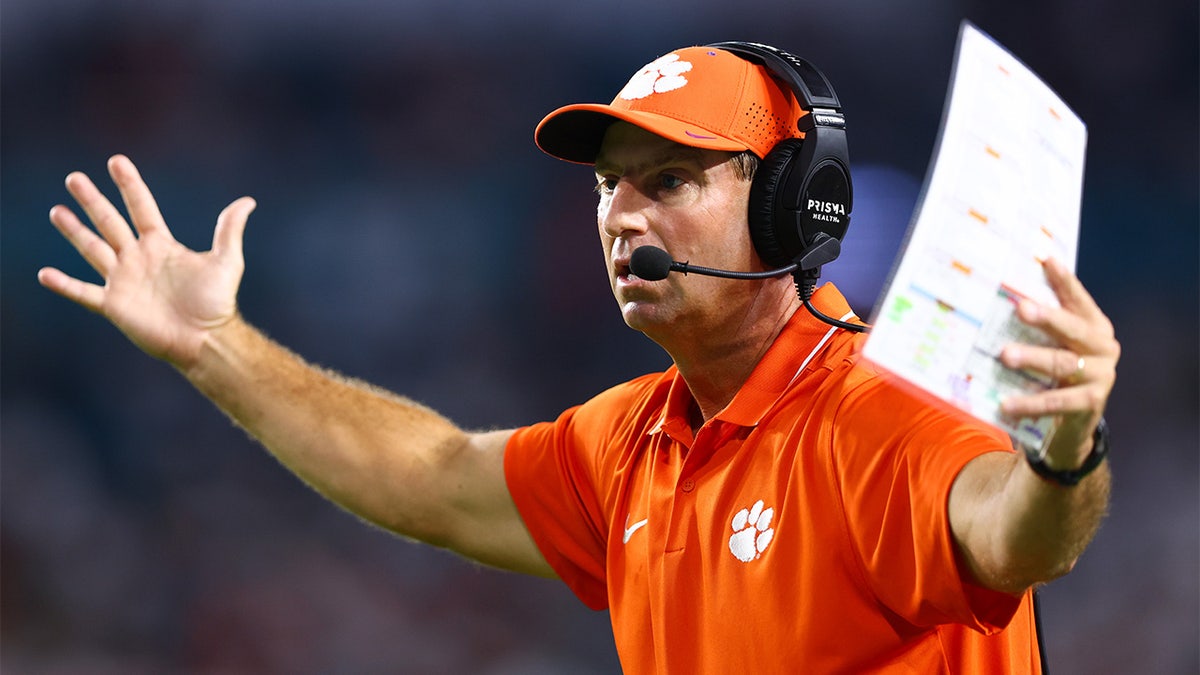 Head coach Dabo Swinney of the Clemson Tigers reacts during the second quarter of the game against the Miami Hurricanes at Hard Rock Stadium on October 21, 2023, in Miami Gardens, Florida. (Megan Briggs/Getty Images)
COLLEGE FOOTBALL GAME RENAMED 'LA BOWL HOSTED BY GRONK' AS 4-TIME CHAMPION PARTNERS WITH SOFI STADIUM
After the game, Swinney told reporters the play was supposed to go to Shipley and was not an RPO.
"They found a way to win," Swinney said, "and we found a way not to win."
Clemson has lost six of its last 11 Power 5 games as many question whether their dominant run has come to an end.
Swinney has refused to use the transfer portal to the extent that other programs have as Clemson appears to be falling behind in the new world of college football. 
Is there a Heisman favorite?
Caleb Williams entered the year looking to become the first two-time winner of the award since Archie Griffin.
That dream essentially ended after his three-interception performance against Notre Dame.
Washington quarterback Michael Penix Jr. then grabbed the baton after a monster win over Oregon in Week 7. His odds were expected to get even better with a game against Arizona State on the schedule in Week 8.
CLICK HERE TO GET THE FOX NEWS APP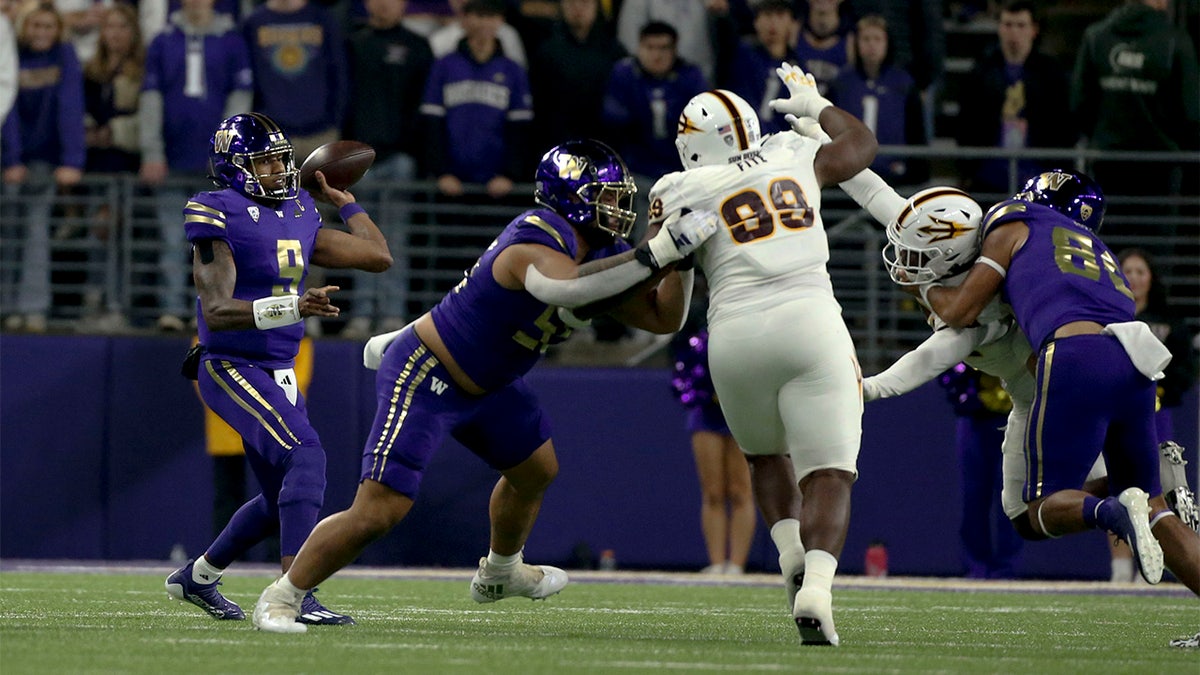 Washington quarterback Michael Penix Jr., far left, fires the ball downfield during the game against Arizona State, October 21, 2023, at Husky Stadium in Seattle. (Jesse Beals/Icon Sportswire via Getty Images)
But then Penix threw for a season-low 275 yards and turned the ball over three times as the Huskies survived a major scare to defeat the Sun Devils, 15-7.
Everyone is allowed a bad game, but does Penix Jr.'s down night allow other quarterbacks to enter the Heisman fray?
Florida State quarterback Jordan Travis threw for 268 yards and two touchdowns, adding 62 yards and a score on the ground. Michigan QB J.J. McCarthy is steering what looks to be the best team in the country and threw for 287 yards and four touchdowns against in-state rival Michigan State.
The 2023 Heisman race appears to be wide open through eight weeks of the season.
The Associated Press contributed to this report.
Joe Morgan is a Sports Reporter for Fox News.