USC quarterback Caleb Williams shared an emotional moment with his family after the team's 10-point loss to Washington on Saturday.
Williams hopped into the stands near where his family was sitting and was seen sobbing as his hopes for a College Football Playoff berth were dashed. The reigning Heisman Trophy winner was 27-of-35 for 312 yards and four total touchdowns in the 52-42 loss.
However, Williams wearing his heart on his sleeve became a debate sports topic Saturday night and into Sunday morning. Former Baylor quarterback and the 2011 Heisman Trophy winner, Robert Griffin III, weighed in.
CLICK HERE FOR MORE SPORTS COVERAGE ON FOXNEWS.COM
Southern California quarterback Caleb Williams, left, gets away from Washington defensive end Bralen Trice during the first half of an NCAA college football game Saturday, Nov. 4, 2023, in Los Angeles. (AP Photo/Ryan Sun)
"Watching Caleb Williams sobbing with his family after losing the game will BREAK YOUR HEART," he wrote on X. "This young man pours his heart out for his team EVERY TIME he plays. Any NFL team would be lucky to have him as their QB and this emotion shows how much this game means to him.
"When you pour your all into something and it doesn't go the way you planned, it hurts. Caleb Williams has a bright future and this type of emotion is the realest moment of his career yet."
Robert Mathis, a former Indianapolis Colts star who was a five-time Pro Bowler and on the Super Bowl team in 2006, was on the opposite. He responded to Griffin's remarks on X.
"Sorry @RGIII (all love lil bro) but I gotta chalk this one up in the soft category. He ran and jumped in stance to his mommy and cried. I always tell players 'I'll never lie to em' and this is not the look you want from your trigger man," Mathis wrote.
APP USERS VIEW THE POST HERE.
Griffin responded, saying he disagreed.
FOX SPORTS' TIM BRANDO GIVES THOUGHTS ON MICHIGAN SIGN-STEALING SCANDAL, 'MEDIA'S MANIPULATION'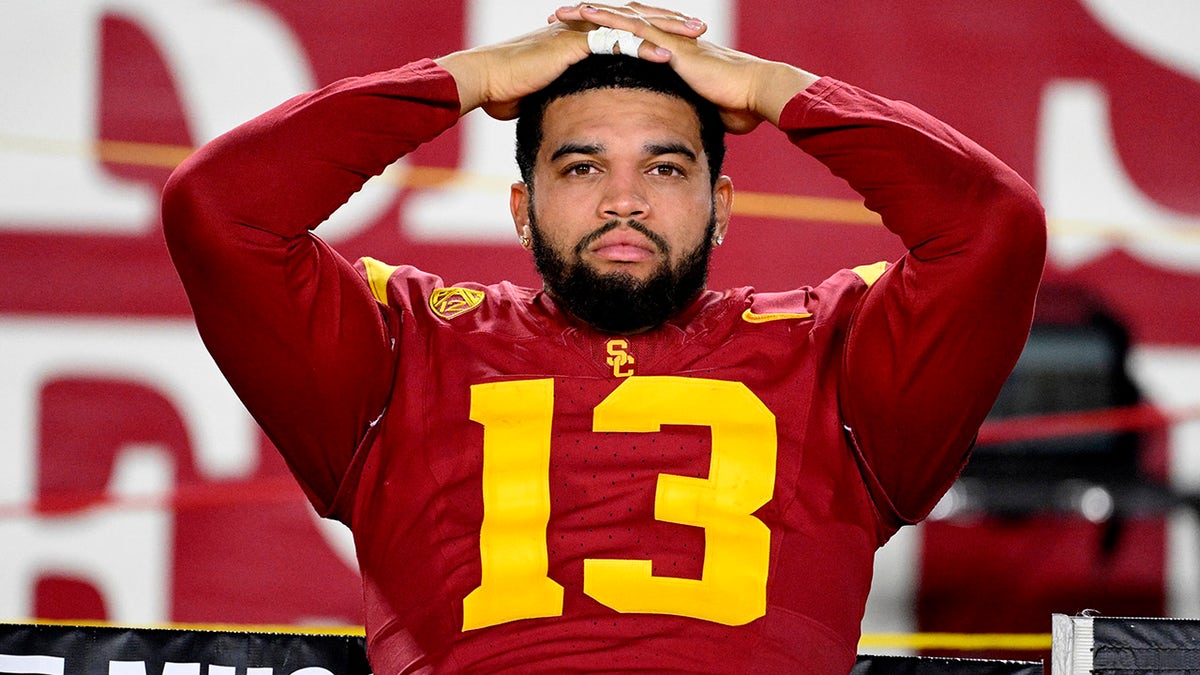 USC Trojans quarterback Caleb Williams, #13, sits alone on the bench after the Utah Utes defeated the USC Trojans 34-32 to win a NCAA football game at the Los Angeles Memorial Coliseum in Los Angeles on Saturday, Oct. 21, 2023. (Keith Birmingham/MediaNews Group/Pasadena Star-News via Getty Images)
"You know I got mad respect for you OG and I disagree. I know this young man's story and the mission he was on with his teammates this season. Showing emotion doesn't make you soft and these young men are human. It might not be what you want to see but it is real and authentic."
Mathis said he appreciated Griffin's stance, but left it at that.
It was not clear why Williams crying with his family after a tough loss was a sign of weakness for a potential No. 1 NFL draft pick.
"I want to go home and cuddle with my dog and watch some shows," Williams said after being asked how he felt after falling short following another big performance.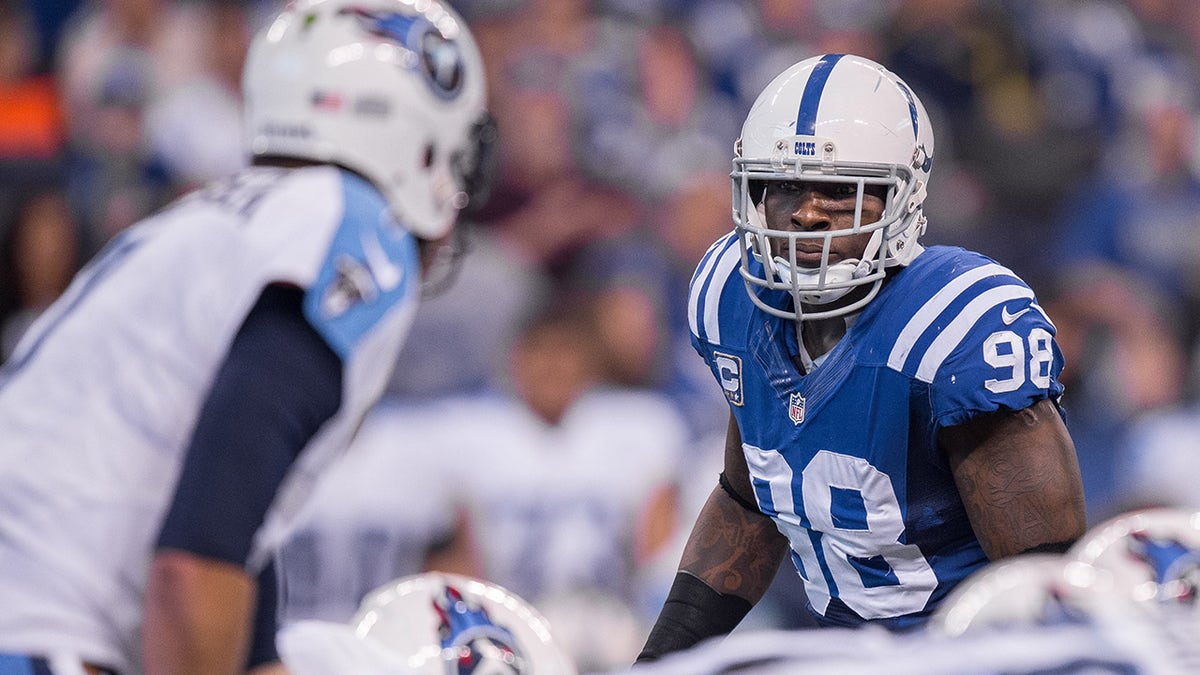 Indianapolis Colts outside linebacker Robert Mathis, #98, during the NFL game between the Tennessee Titans and Indianapolis Colts at Lucas Oil Stadium in Indianapolis. (Zach Bolinger/Icon Sportswire/Corbis/Icon Sportswire via Getty Images)
CLICK HERE TO GET THE FOX NEWS APP
"Like, we lost the game. I work hard throughout months, years to have big games like this, try and go win and play your best, each and every one of us. We came out with a loss today, so emotionally I want to go home and I want to play with my dog."
The Associated Press contributed to this report.
Ryan Gaydos is a senior editor for Fox News Digital.