Deion Sanders has the full attention of the college football world.
After starting the year 3-0 with wins over TCU, Nebraska and Colorado State, the focus on the Buffaloes reached a fever pitch as they began Pac-12 play in Week 4.   
Colorado Buffaloes head coach Deion Sanders (Ron Chenoy-USA TODAY Sports/File)
Even after getting destroyed by Oregon on Saturday for its first loss, FOX's "Big Noon Kickoff" heads to Boulder for Saturday's matchup between Colorado and USC as the hunger for everything Deion Sanders continues.
The immediate turnaround and the attention Sanders' presence has brought to Boulder has taken the college football world by storm.
DEION SANDERS PRAISES HISTORY-MAKING FEMALE COLLEGE FOOTBALL PLAYER, CONCERNED FOR HER SAFETY
"Big Noon Kickoff" will attend a CU game for the fourth time in five weeks, and cable television networks are seeing massive viewership numbers for Colorado games.
All the attention has led to unprecedented coverage from the media as they attempt to explain Sanders' impact on college football.
In the past week, the topic of Colorado becoming "Black America's team" has been written by multiple publications, including Axios, Andscape (formerly The Undefeated) and USA Today, and as a segment on Fox Sports' "Undisputed" on Tuesday.
Tim Brando, Fox Sports college football play-by-play man, believes the conversation around Sanders' immediate impact on the game needs to go deeper as the sport will feel the changes, led by Sanders, for years to come.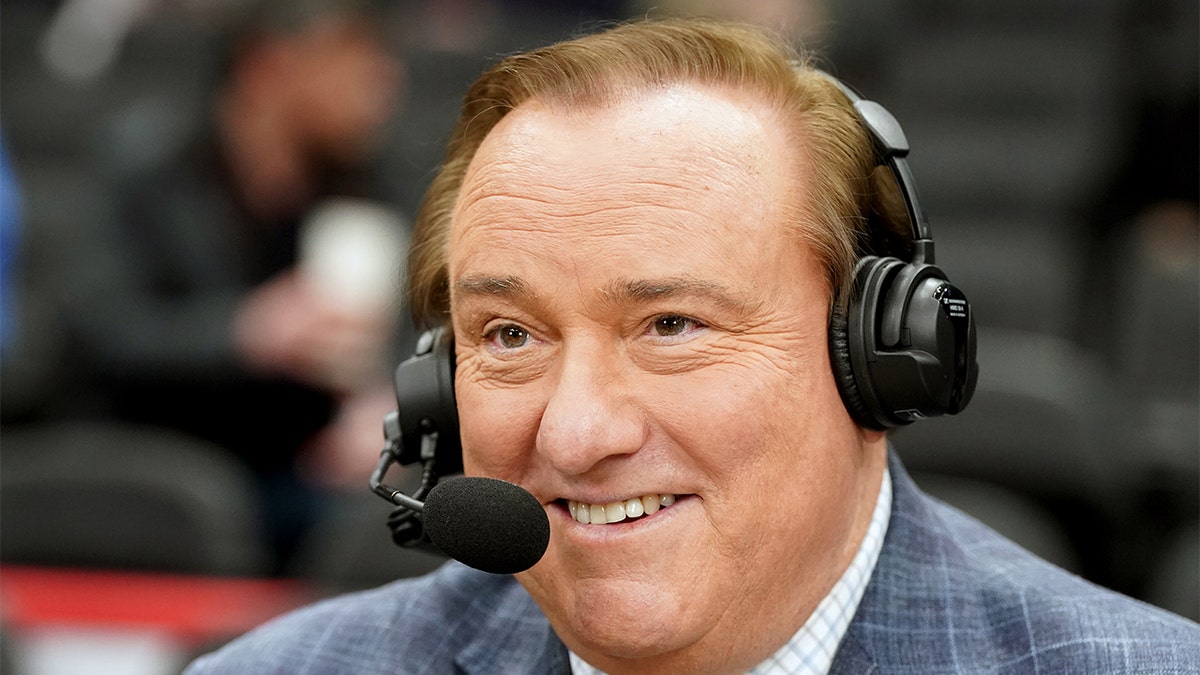 Tim Brando (Mitchell Layton/Getty Images/File)
"Those kinds of headlines do polarize what, in my opinion, shouldn't be a story that polarizes," Brando told Fox News Digital.
"Deion is transforming the game, but not just for Black America. He's transforming the game for a lot of young guys and for a lot of programs – including the Colorado program – that here before probably thought, 'We don't have the same brand as USC, or as Oregon, or as Ohio State, or Alabama, or Georgia, or Michigan.' Those kinds of things. And that's a good thing. That's a really good thing."
CLICK HERE FOR MORE SPORTS COVERAGE ON FOXNEWS.COM
As soon as Sanders was hired to coach his first FBS school, the two-time Super Bowl winner made headlines.
The roster flip that Sanders presided over has never been seen before in college football as the transfer portal was used to its fullest extent.
The Buffaloes returned just 10 scholarship players from 2022 with 68 new scholarship players on the roster, according to The Athletic. Sanders used a rule that allows first-year head coaches to cut players from the roster, though the university must honor the players' scholarships.
His offseason moves led to some coaches taking shots at Sanders, angered by his methods of infusing the roster with talent.
Brando says Sanders' success in such a short time, as well as the way he's gone about rebuilding his roster, has upset some of the old guard.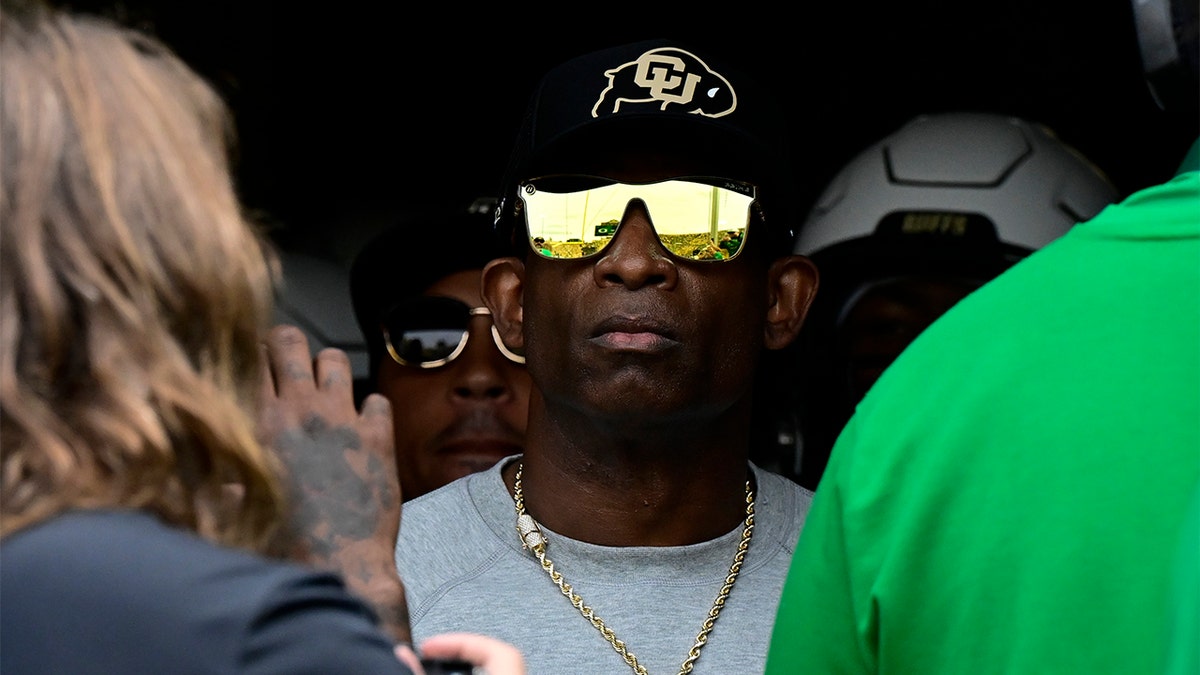 Colorado Buffaloes head coach Deion Sanders is shown before taking the field against the Oregon Ducks at Autzen Stadium in Eugene, Oregon, on September 23, 2023. (Andy Cross/MediaNews Group/The Denver Post via Getty Images)
"There are a lot of people very uncomfortable with Deion's quick success," Brando told Fox News Digital.
"What Deion has done is expose, I think, a degree of envy and jealousy by coaches who are really slow to change in this era of the transfer portal and NIL (name, image and likeness). Deion is doing it in a way that has never been done before, and a lot of old coaches from a different generation, from my generation and maybe a little younger, are very uncomfortable with that. And I think, to some extent, some of the media has picked up on that, and it makes it easy for them to make it about race – which to me is an easy out. There's more to it than that. You have to dig a little deeper. You have to understand where college football has been and where it's going."
JEMELE HILL POINTS OUT 'CODED STUFF' AROUND COLORADO-TCU 'COMMENTARY'
"There are massive changes that are taking place because, historically, the NCAA kicked the can down the road for 12 to 15 years on name, image and likeness. And then the transfer portal came simultaneously to that. And Deion came in and said, 'Hey, I know how to do this.' And nobody else was going to do it quite the way he did it."
Brando suggested that Sanders' methods for turning around the Colorado program may lead other schools to take note.
"He is, in many ways, the trailblazer of the changes that have taken place that have allowed for this incredible turnaround to take place," Brando said. "He has exposed to so many how you can do it through flipping a roster without having to recruit over a three- or four-year period of time. And coaches that used to come in and say, 'It's going to take two or three or four years,' well, that's going to be a harder item to sell to an athletic director now after Deion's done what he's done."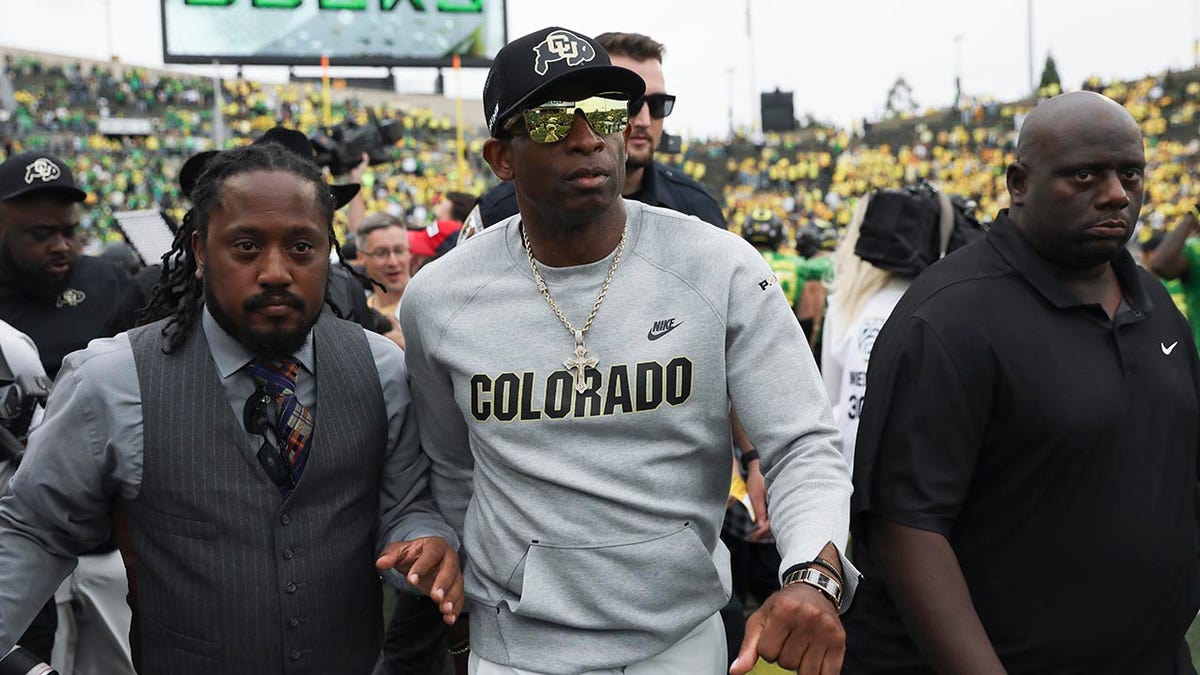 Colorado head coach Deion Sanders, center, leaves the field after the game against Oregon, Sept. 23, 2023, in Eugene, Oregon. (AP Photo/Amanda Loman)
"And that makes a lot of people in the sport, and a lot people maybe that cover the sport, uncomfortable. And that's too bad. But if you dig deeper, and that's what I'm asking the media to do, is to say, 'Listen, if you've been keeping up with college football, you had to see this coming.' The sad part is, so many that are covering the story here are covering it solely because of Deion, not because of their knowledge or their understanding of the history of college football."
CLICK HERE TO GET THE FOX NEWS APP
While Sanders' impact on the college football world has been felt well beyond the field, he still faces the challenge of preparing his roster for a difficult schedule ahead, especially in a Pac-12 Conference that is arguably the deepest in the sport.
The Buffaloes welcome No. 8 USC to Boulder on Saturday and look to avoid a second consecutive loss.
The Trojans are coming off a close win over Arizona State, allowing the Sun Devils to hang around late in the game.
"We know their offense can light you up and put 40 on the board in a heartbeat, but is that defense, against a quality opponent that has its fair share of playmakers, are they going to stand up and make plays?" Brando said of USC.
USC's defense has been improved through four games this season, allowing 364.5 yards per game after ending the 2022 season in which they allowed 415.1 yards per game.
Joe Morgan is a Sports Reporter for Fox News.