UAW members strike the General Motors Lansing Delta Assembly Plant in Lansing, Mich., on Sept. 29, 2023. The UAW clinched a deal with GM more than six weeks after the start of the auto strike.
Bill Pugliano/Getty Images
hide caption
toggle caption
Bill Pugliano/Getty Images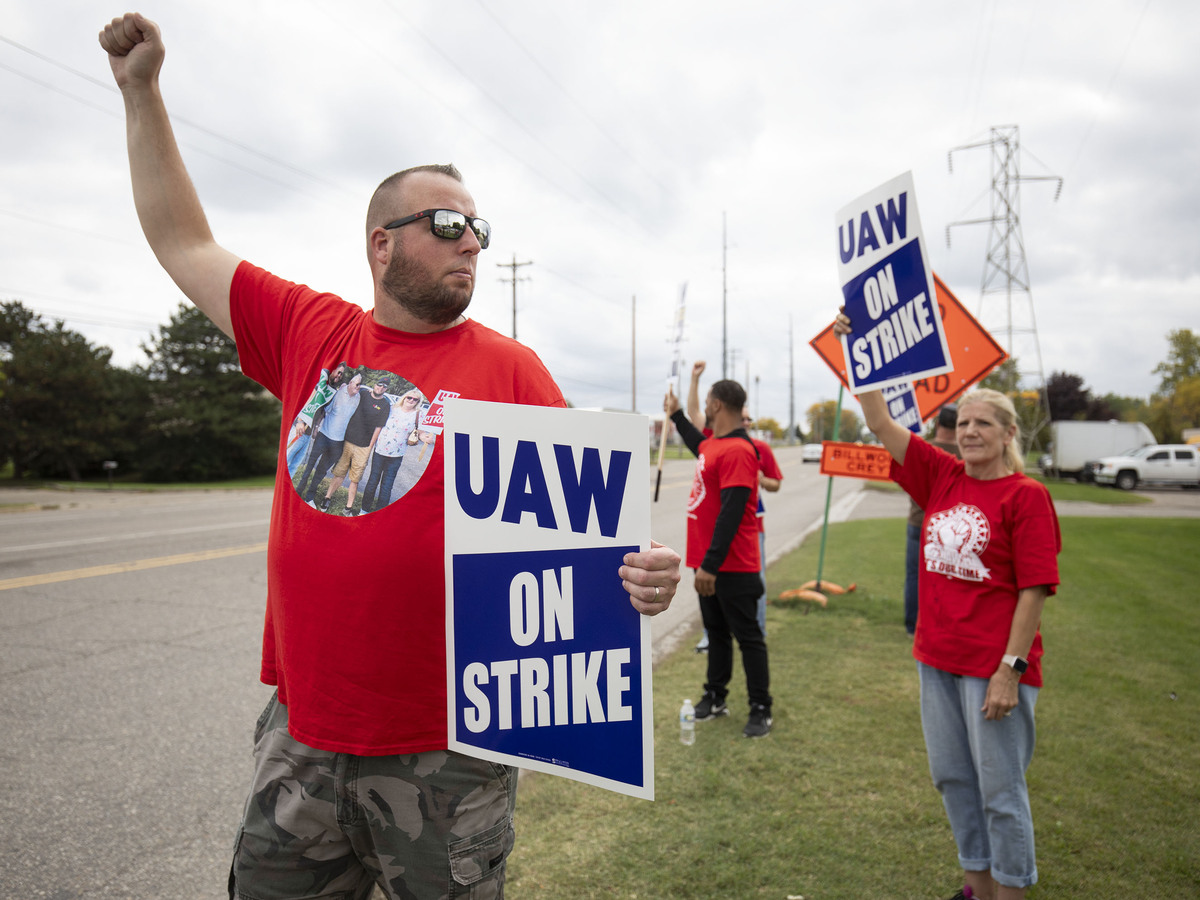 Bill Pugliano/Getty Images
The United Auto Workers union has reached a tentative contract agreement with General Motors, according to sources close to the negotiations on Monday.
The deals mean all three of the Detroit automakers have now clinched an agreement over the past week to bring a historic six-week strike to a close.
The tentative deals with GM, Stellantis and Ford still need to be individually ratified by the union's membership at those companies, and workers have the ability to send their representatives back to the bargaining table.
The details of the GM deal have not been released, but it's expected to closely mirror the tentative agreements with Ford and Stellantis, the parent company of Chrysler.
Those deals called for a pay increase of at least 25% for all workers, cost of living increases on top of that, and increases to retirement contributions. The Stellantis deal also included the reopening of an idled plant in Belvidere, Illinois, a major union priority.
GM was the remaining Big 3 holdout
General Motors, the last holdout among the Big Three automakers, was under intense pressure to strike a deal.
The union had clinched a deal with Ford on Wednesday and then sealed an agreement with Stellantis on Saturday.
But after failing to secure a deal with GM on Saturday, the UAW expanded its strike against the automaker, ordering workers to walk out at the Spring Hill plant in Tennessee, GM's largest facility in North America.
The plant also feeds engines to other plants, setting GM up for potentially very painful ripple effects if the shutdown had been prolonged.
The deals signal the potential end of a heated six-week strike that has pitted a union eager to claw back previous sacrifices against the "Big 3" U.S. automakers, which have been making record profits and are eying a tricky transition to electric vehicles. '
Still, there's no guarantees UAW workers will ratify the deals.
Just this month, the UAW announced a tentative deal with Mack Trucks — a manufacturer in the Volvo Group, and not part of the Big 3. But 73% of the membership rejected that contract, and the UAW and Mack Trucks are now back at the negotiating table.