Eras will be coming to an end this offseason as the Major League Baseball free agency is once again stacked.
There's no need to keep anyone waiting – the obvious biggest star on the market is Shohei Ohtani, and we'll dive into how many millions he realistically can make this winter (it's a lot).
But outside the two-way superstar, there is a ton of talent that is available for purchase for all 30 MLB teams.
Here are the top seven MLB free agents this offseason.
CLICK HERE FOR MORE SPORTS COVERAGE ON FOXNEWS.COM
Los Angeles Angels' Shohei Ohtani talks to members of the Chicago White Sox as they sit in their dugout after hitting a single during the eighth inning of a baseball game Wednesday, June 28, 2023, in Anaheim, Calif. (AP Photo/Mark J. Terrill)
Honorable mentions
Jordan Montgomery was thought of as nothing more than a middle-of-the-pack guy for the first six and a half years of his career. But when he was traded to the Texas Rangers, he found something. In his 11 regular season starts with the AL champions, his ERA was 2.79, and in six postseason appearances, it was 2.90. He may have earned himself a few million dollars with his postseason.
Matt Chapman's power fell off this past season with the Toronto Blue Jays, but he did win his fourth Gold Glove Award in just his seventh season. He's not the MVP candidate he was in 2018 and 2019, but if he can become a 25-plus homer guy again, combined with elite defense, he could be a steal in free agency.
Sonny Gray is a very good pitcher essentially everywhere except New York. He's a finalist for the Cy Young Award for the second time in his career. He just turned 34 earlier this week, but he's always been a finesse arm, so he has some more in the tank. That's pretty apparent, given his 2.79 ERA this season for the Minnesota Twins.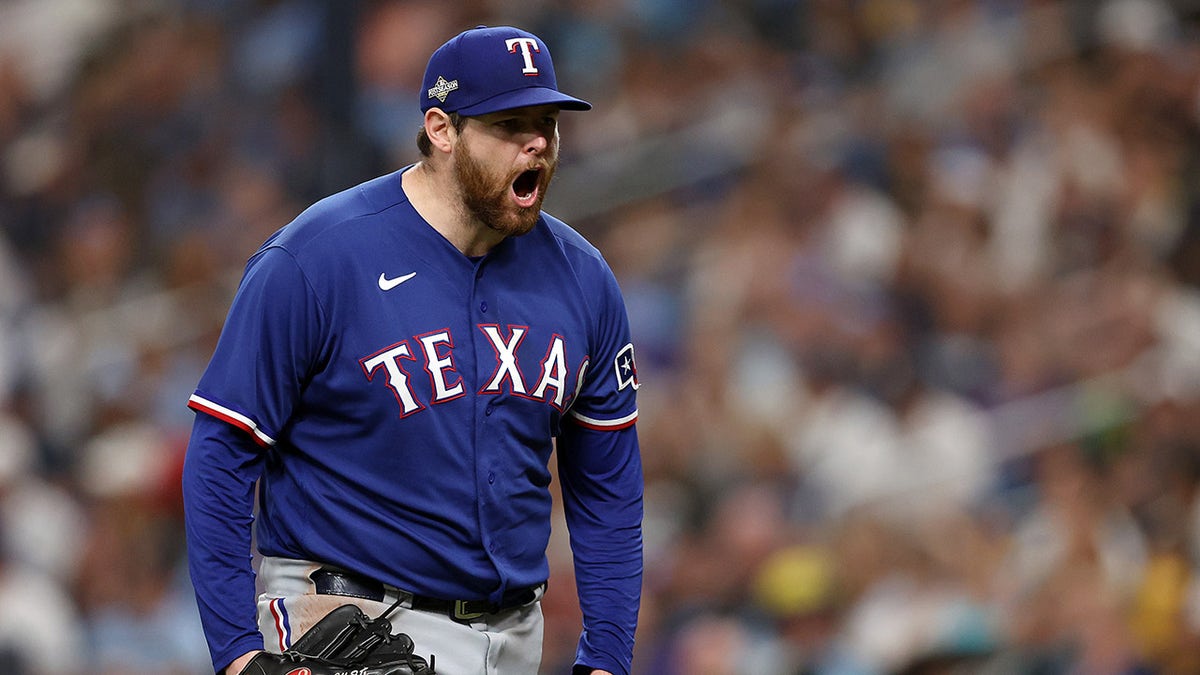 Jordan Montgomery #52 of the Texas Rangers reacts at the end of the seventh inning against the Tampa Bay Rays during Game One of the Wild Card Series at Tropicana Field on October 3, 2023 in St Petersburg, Florida. (Megan Briggs/Getty Images)
Aaron Nola
Nola might have hurt himself by pitching to a 4.46 ERA in the regular season, but when he's on, he's on. The right-hander has finished inside the top seven in the Cy Young Award voting three times, although he's been unable to replicate his 2018 campaign where he pitched to a 2.37 ERA.
But nonetheless, Nola has been the co-ace for the Philadelphia Phillies for years, alongside Zack Wheeler. Nola features some of the most devastating off-speed in the game (he ranked in the top 4% in chase rate), and his command of the strike zone is to be admired. 
Analytics say he was pretty unlucky this past season as his expected ERA (xERA) was 3.77, and in 2021, it was 3.35 when his actual ERA was 4.63 (xERA, per MLB.com, "takes into account the amount of contact…and the quality of that contact…in an attempt to credit the pitcher or hitter for the moment of contact, not for what might happen to that contact thanks to other factors like ballpark, weather, or defense). 
He did allow a career-high 32 home runs, but pitching in Citizens Bank Park will do that to some pitchers.
Nola will be 31 in June, but any team who inks him knows what they will be getting for at least a few years: a reliable arm who is probably going to give you six-plus innings every night and, at the very least, will probably keep you in every game – all with Cy Young Award potential.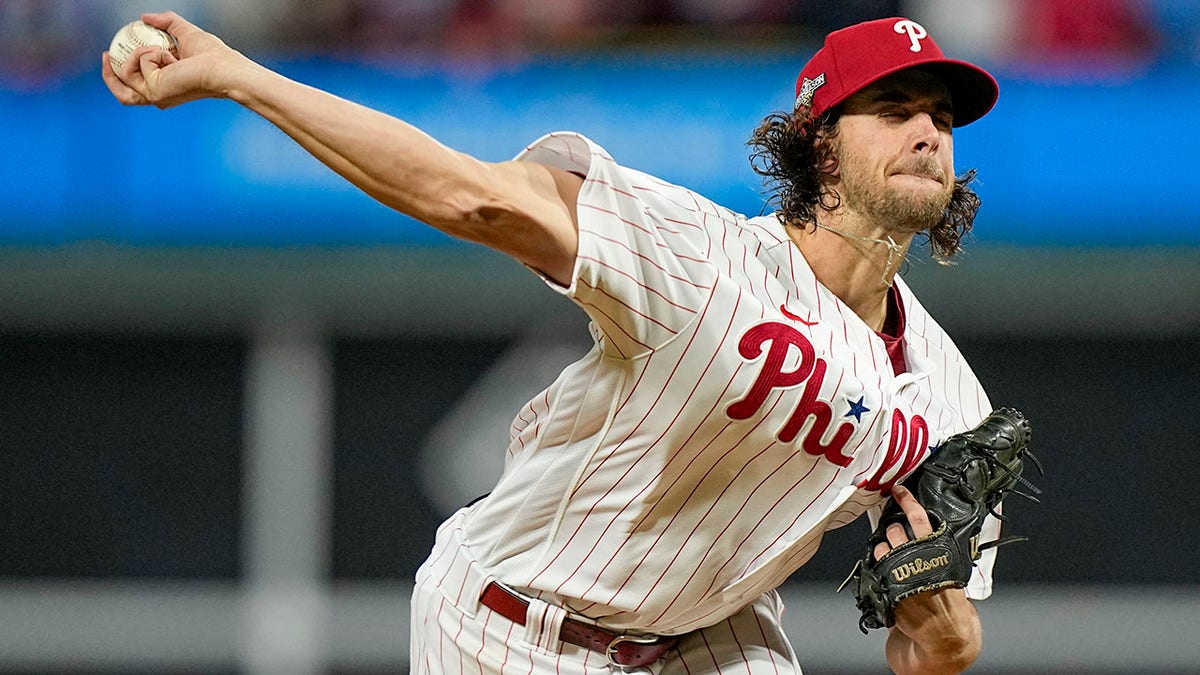 Philadelphia Phillies starting pitcher Aaron Nola throws against the Arizona Diamondbacks during the first inning in Game 2 of the baseball NL Championship Series in Philadelphia, Tuesday, Oct. 17, 2023. (AP Photo/Brynn Anderson)
Yoshinobu Yamamoto
Most of you reading have never heard this name before – you'll know by the summer.
In seven seasons in Japan, Yamamoto has pitched to a 1.72 ERA. With the Orix Buffaloes this year, his ERA was 1.21. In Game 6 of the Japan Series, he threw 138 pitches and struck out 14 batters in a 5-1 victory. His highest ERA in a single season in Japan was the 2.35 he posted in 2017.
His fastball averages 95, and he can touch 99. He throws four pitches, and like the aforementioned Nola, has great control – he owns a 4.56 K/BB.
The Buffaloes announced that Yamamoto would be posted to the major leagues, so he is fair game for all 30 teams. He just turned 25 in August, the same age Masahiro Tanaka was when he signed a seven-year, $155 million deal in 2014 with the New York Yankees after he was posted by the Rakuten Eagles, coming off a 24-0 season in which he had a 1.27 ERA.
Yamamoto could rack in $200 million, says MLB Trade Rumors. Of course, like every other Japanese import, the expectations will be through the roof, and he'll be judged from his first start of spring training – but the baseball card gives us no reason to believe he'll be, say, Hideki Irabu.
BRIAN CASHMAN'S EXPLICIT TIRADE WAS 'INDEFENSIBLE,' YANKEES BROADCASTER MICHAEL KAY SAYS
Rhys Hoskins
Now that the Phillies have committed to Bryce Harper playing first base full-time, it looks like Hoskins' time there is over.
Hoskins was a consistent power threat in the heart of the Phillies order for years, and he was poised for yet another big season in 2023 following an NL pennant. However, he tore his ACL in spring training and missed the season.
The first baseman, though, will be fully recovered by the time this upcoming spring rolls around – he even was briefly considered to play in this past postseason.
In the three seasons he's played over 150 games, he's hit 34, 29 and 30 home runs (he hit 27 in 109 games in 2019). Coming off a torn ACL and turning 31 before Opening Day doesn't scream a crazy contract, but power always comes with a price.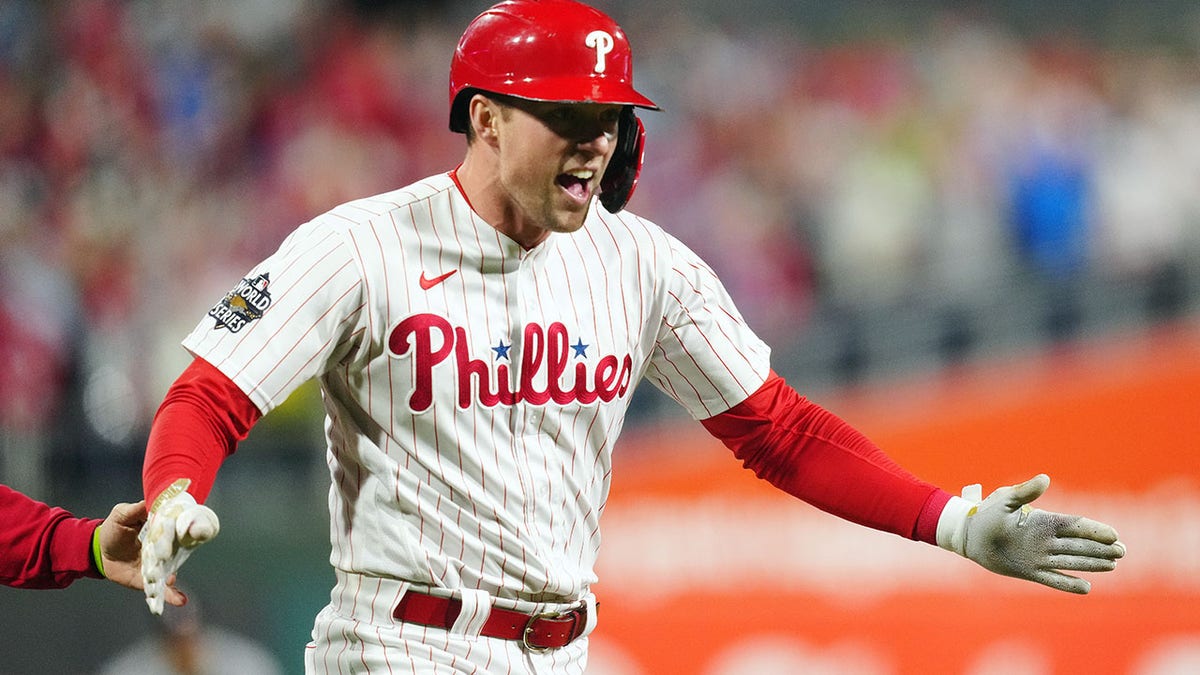 Rhys Hoskins #17 of the Philadelphia Phillies celebrates after hitting a home run in the fifth inning during Game 3 of the 2022 World Series between the Houston Astros and the Philadelphia Phillies at Citizens Bank Park on Tuesday, November 1, 2022 in Philadelphia, Pennsylvania. (Daniel Shirey/MLB Photos via Getty Images)
Cody Bellinger
Bellinger's career has been a wild roller coaster. He was the unanimous NL Rookie of the Year in 2017 when he hit 39 homers. Two years later, he won the MVP, and in 2020, he was a World Series champion.
But for some reason, 2021 and 2022 were miserable. In those two seasons, he combined to hit .193 with a .611 OPS, and the Dodgers released him. Bellinger signed a one-year prove-it deal with the Chicago Cubs, and he became one of their most reliable players.
The power he once held was not there, as he hit just 26 homers compared to the 47 he hit in 2019, but he hit a career-high .307 and drove in 97 runs for a Cubs team that not many expected to be in the postseason conversation.
So, the conversation surrounding Bellinger really is, what is he? It's pretty safe to say he's not the 2017-2019 version of himself anymore. But is he the automatic out he was in 2021 and 2022? Not if last season has anything to do with it.
It's understandable if teams proceed with caution with Bellinger, but with last season, he earned himself several years on a contract.
Blake Snell
Snell is likely going to win his second Cy Young Award next week and is hitting the free-agent market for the first time. 
Snell's 2.25 ERA was by far the lowest in the league, but he also allowed an MLB-high 99 walks. But he clearly was wildly effective. His 234 strikeouts were a career-high, which is saying something for a guy who's been a strikeout machine for most of his career.
The one issue on Snell's record, aside from the walks this past season, is that his career-high in innings pitched is just 180.2. While 200 innings is now an impressive number in today's game, Snell will be entering his ninth season and turn 31 next month. This season was also the first time he threw more than 110 innings since 2018, but it should be interesting to see how he rebounds from 180.0 this year.
But, a career 3.20 ERA and 11.1 K/9 are nothing to sneeze at. After a couple of years of getting hit hard, Snell figured something out this year with San Diego and figures to be at the top of someone's rotation for a little while longer.
ANGELS HIRE RON WASHINGTON AS THEIR NEXT MANAGER
Josh Hader
There probably is not a more overpowering pitcher in all of baseball than Hader. He's been selected to each of the last five All-Star Games, and since entering the league in 2017, his 648 strikeouts and 15.0 K/9 are the best marks among all relievers. In fact, Hader is the only pitcher in the history of baseball who has appeared in 300-plus games and struck out 15.0 batters per nine innings.
He pitched to a 1.28 ERA this past season, which is insane for a reliever, as their ERAs can easily be inflated with just a couple of bad appearances. That didn't happen with Hader – out of his 61 games with the Padres, he allowed an earned run in just six of them: four of them with one, and two with two.
The three largest contracts given to relievers are Edwin Diaz's $102 million from last year, Aroldis Chapman's $86 million in 2017, and Kenley Jensen's $80 million the same year as Chapman's. It should surprise nobody if the record books are rewritten.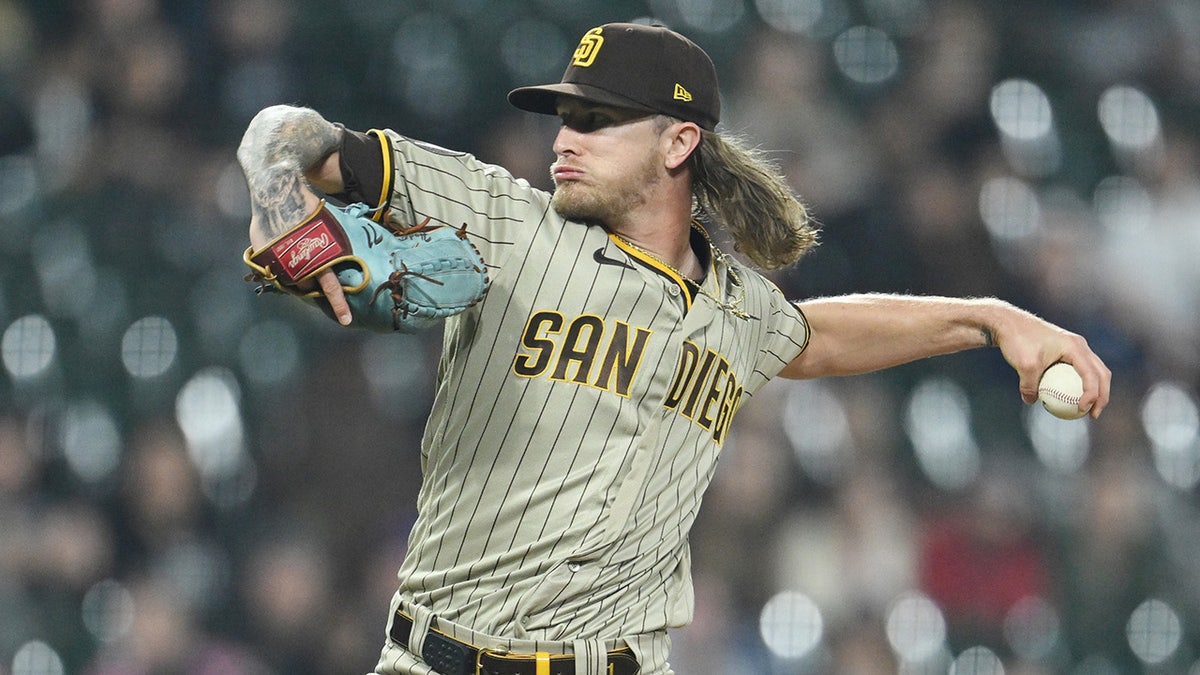 Josh Hader #71 of the San Diego Padres pitches in the ninth inning against the Chicago White Sox at Guaranteed Rate Field on September 29, 2023 in Chicago, Illinois. (Quinn Harris/Getty Images)
Shohei Ohtani
We saved the best for last.
Ohtani is probably the most coveted free agent not only just this year, but ever. Ever since joining the Los Angeles Angels from Japan before the 2018 season, dubbed as the Japanese Babe Ruth, he has been beyond as advertised.
In his career, he's pitched to a 3.01 ERA, striking out 11.4 batters per nine innings with a WHIP of 1.08. Those numbers rank 10th, seventh and 10th in the majors (min. 400 IP) since he joined the majors. On offense, he has a .922 OPS, the seventh-highest since the start of the 2018 season.
If it weren't for Aaron Judge's race for a Triple Crown while beating Roger Maris for the most home runs in a single season by an American League player in 2022, Ohtani would be winning his third consecutive MVP next week. This past season, he led the majors with a .654 slugging percentage and 1.066 OPS, his .412 on-base percentage was second, his 44 homers were fourth, and his .304 average was ninth. He also pitched to a 3.14 ERA with an 11.4 K.9.
Here's the pause, though: Ohtani will not pitch at all in 2024 as he has undergone Tommy John surgery a second time.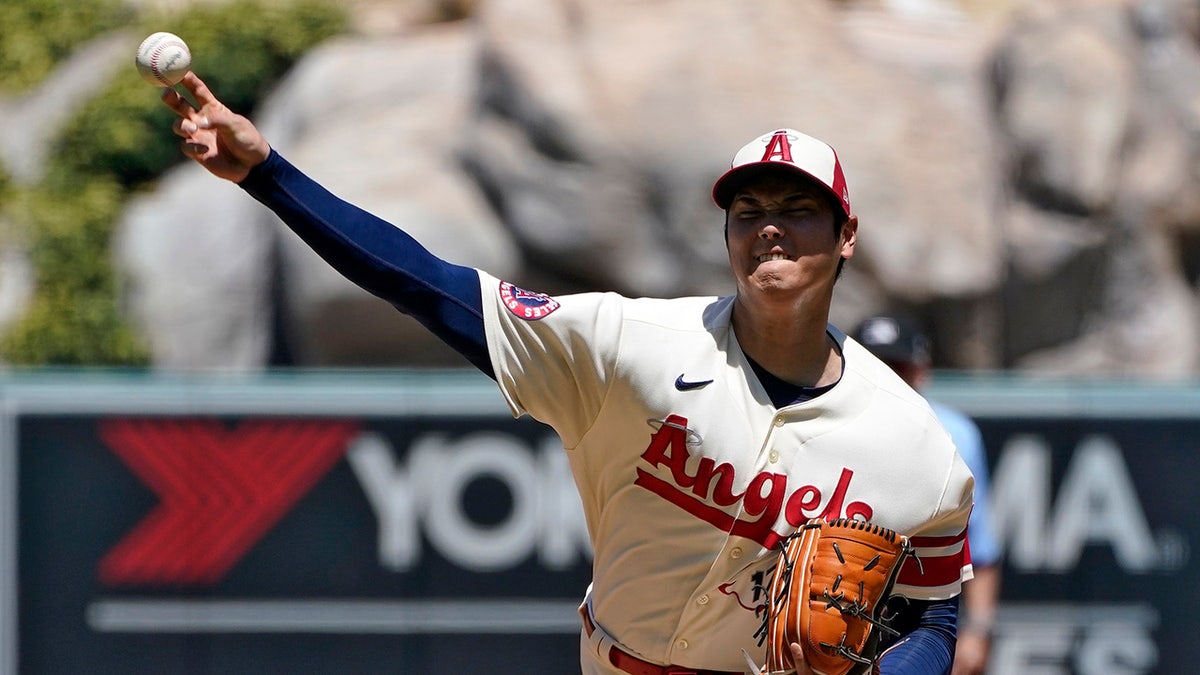 Los Angeles Angels starting pitcher Shohei Ohtani throws to the plate during the second inning in the first baseball game of a doubleheader Wednesday, Aug. 23, 2023, in Anaheim, Calif. (AP Photo/Mark J. Terrill)
CLICK HERE TO GET THE FOX NEWS APP
However, he might be the best hitter in baseball, and he's also one of the best pitchers in the game. So, it's hard to imagine that teams will try to play chess in their negotiations.
It's been discussed that Ohtani could not only become the first person to sign a $500 million contract, but he even could go for $600 million. That may be a pipe dream, but right now, Ohtani is still likely to ink the richest deal in baseball history.