Schools in the Southeastern Conference will face tougher penalties next season if they allow fans to rush the football field after a game.
SEC officials announced new guidelines on Thursday, which states that the home school will have to pay a $100,000 fine after a first offense. It will cost the home school $250,000 the second time fans storm the field, and $500,000 for subsequent violations.
Every SEC school will enter the 2023 football season with zero offenses.
CLICK HERE FOR MORE SPORTS COVERAGE ON FOXNEWS.COM
Tennessee Volunteers fans rush the field after defeating the Alabama Crimson Tide at Neyland Stadium n Knoxville, Tennessee, on Oct. 15, 2022. (Donald Page/Getty Images)
According to the SEC, field storming occurs "when the visiting team and/or game officials are still on the playing surface." 
However, schools will have the option of implementing a policy that allows fans to enter the field after everyone on the opposing team has exited.
ALABAMA'S NICK SABAN NOT PLEASED WITH THREE POTENTIAL OPPONENTS UNDER NEW SEC FORMAT
Each school will also be required to create a security contingency plan in an effort to prevent field rushing. In addition to the new security measures, the academic institutions will also have to implement a communication plan that deters fan from storming the playing surface. 
The information that is communicated to the fans must include details on the penalties an individual would face if they violated the policy.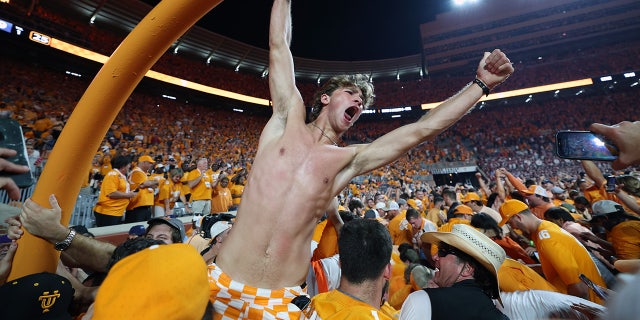 Tennessee Volunteers fans tear down the goal post while celebrating a win over the Alabama Crimson Tide at Neyland Stadium in Knoxville, Tennessee, on Oct. 15, 2022. (Donald Page/Getty Images)
Last season, the LSU Tigers were fined $250,000 twice. The fans stormed the field after LSU defeated Ole Miss, and a few weeks later Tigers fans took to the field after an overtime win over the Alabama Crimson Tide.
The SEC created a working group made up of athletic directors, event management directors and campus security personnel who were tasked with looking into field rushing.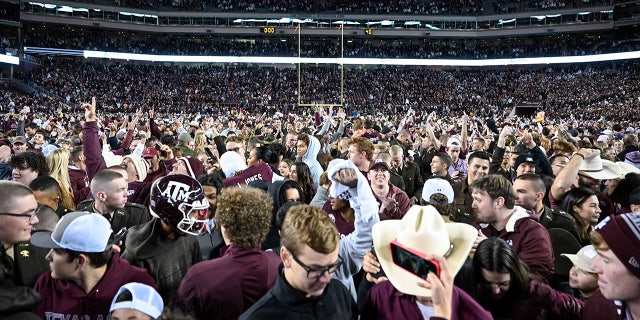 Fans rush the field to celebrate after the Texas A&M Aggies' victory over the LSU Tigers at Kyle Field in College Station, Texas, on Nov. 26, 2022. (Jerome Miron-USA TODAY Sports)
Conference officials based the changes on the group's findings.
CLICK HERE TO GET THE FOX NEWS APP
"The SEC's Working Group on Event Security will focus its efforts on reviewing existing policies, developing new strategies and identifying best practices to enhance crowd management and more effectively address field and court incursions at future SEC athletics events." SEC commissioner Greg Sankey said last fall.
Chantz Martin is a sports writer for Fox News Digital.