The Saints new quarterback, Derek Carr, is looking forward to a fresh start in New Orleans. 
During a lengthy introductory press conference on Saturday, the 31-year-old detailed his nine-year tenure with the Raiders organization. 
Carr also expressed excitement about what his future with the Saints could hold. One of the players Carr looks forward to building a strong on-field rapport with in 2023 is wide receiver Michael Thomas.
CLICK HERE FOR MORE SPORTS COVERAGE ON FOXNEWS.COM
Quarterback Derek Carr #4 of the Las Vegas Raiders speaks during a news conference after the first day of mandatory mini camp at the Las Vegas Raiders Headquarters/Intermountain Healthcare Performance Center on June 07, 2022, in Henderson, Nevada.  (Photo by Ethan Miller/Getty Images)
The Saints restructured Thomas' contract in January, and he could ultimately leave for a different NFL team. But Carr seemed to have the expectation that he would be throwing passes to the receiver when the season kicks off.
Carr and Thomas have built a good off the field relationship and were in touch as the veteran quarterback navigated the free agency process.
NFL STAR DEREK CARR HAS BRILLIANT PUNISHMENT FOR XFL PLAYERS INVOLVED IN MELEE
 "When he started recruiting and talking to me, he wasn't even trying to recruit me, he was just like, 'When are we getting to work? We're wasting time, time is ticking,'" Carr said. 
"I was like, 'Dude, I'm the same way. We'll get there.' But I think that our relationship has grown through the process, and I'm looking forward to hopefully making that relationship grow even stronger."
The Saints also re-signed tight end Juwan Johnson, giving Carr another reliable target to utilize.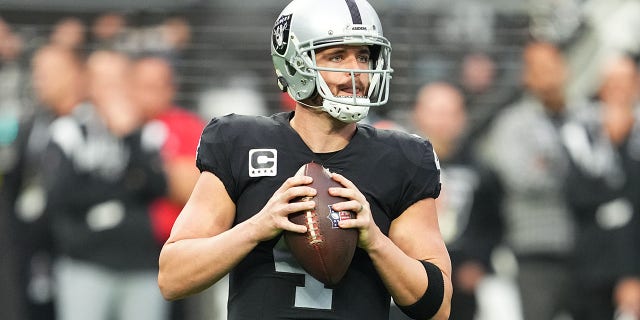 Quarterback Derek Carr #4 of the Las Vegas Raiders looks to throw during the first half of a game against the New England Patriots at Allegiant Stadium on December 18, 2022, in Las Vegas, Nevada.  (Chris Unger/Getty Images)
But Carr's departure from the Raiders certainly impacted him. "It's hard because I love so many people there. At the same time, it's a breath of fresh air," he noted.
Carr said the unceremonious breakup with the Raiders served as motivation for him. He believes he has been given a second chance to prove himself.
"I just get to come in and show my work ethic, and really prove it again. … I didn't plan on or dream of it finishing that way. That's for sure," he said. "I understood the business side of it and why things were happening, all that. I mean, I get it. But it hurt. For me as a competitor, I wanted to finish with my teammates. … It lit a fire in me that I've always had, but it just made it hot. It gave me this excitement."
DOLPHINS' TYREEK HILL WINS 60-METER TRACK EVENT AT MASTERS INDOOR CHAMPIONSHIPS
The four-time Pro Bowler also showed appreciation for his time with the Raiders. 
"I wouldn't be me if I didn't say thank you to them. I had nine great years there, a lot of great memories, a lot of hard times, a lot of fun times, a lot of kids since those days."
Carr's relationship with Saints head coach Dennis Allen played a role in his decision to sign with the Saints. Allen was the Raiders' head coach when Carr was drafted in the second round in 2014.
"DA, how I feel about this man, hopefully, me sitting here tells you what I think about him and the opportunity," Carr said on Saturday. "You gave me my first opportunity, every time we played y'all ever since we weren't on the same team, I would always tell you thank you."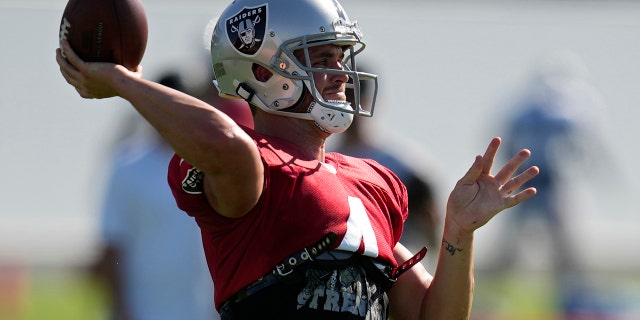 Las Vegas Raiders quarterback Derek Carr (4) practices during NFL football training camp Tuesday, Aug. 23, 2022, in Henderson, Nev. (AP Photo/John Locher)
After the Raiders allowed Carr to explore a possible trade, the Saints quickly began contacting him. Carr eventually paid the Saints an in person visit. Carr even revealed that the team was "blowing up" his phone with calls and text messages.
"I don't think it's just a veteran quarterback. I think it's the veteran quarterback we wanted," Allen said. "I don't know that there was this thing, well, we got to go out and find any veteran quarterback. We wanted to find the quarterback that we wanted. Like I said before, we clearly identified that Derek was our No. 1 target. And we [went] out and got him."
CLICK HERE TO GET THE FOX NEWS APP
Carr's four-year contract with the Saints will likely not become official until free agency beings on March 15. 
The team has also offered former starting quarterback Jameis Winston a restructured contract which he has until the start of the new league year to accept, sources told ESPN. The former No. 1 overall draft pick has one year remaining on the two-year deal he signed in 2022.
Chantz Martin is a sports writer for Fox News Digital.