The Sacramento Kings won their season debut over the Utah Jazz Wednesday night, but the team's victory and their performance were not what the Kings' coach wanted to address after the game. Instead, he turned his attention to the mass shooting in Lewiston, Maine.
"I don't even want to talk about basketball," a visibly emotional head coach Mike Brown told reporters at a post-game press conference. "We played a game, it was fun. Obviously, we won but if we can't do anything to fix this, it's over. It's over for our country for this to happen time after time."
Brown initially addressed reporters saying he was walking over to the press conference when someone told him about the mass shooting in Maine that spanned two locations Wednesday night leaving at least 22 people dead and 30 wounded. He said: "If that doesn't touch anybody, then I don't know. I don't even know what to say."
"It's a sad day. It's a sad day for our country. It's a sad day in this world," the coach added. "And, until we decide to do something about it, the powers that be, this is going to keep happening. And our kids are not going to be able to enjoy what our kids are about because we don't know how to fix a problem that's right in front of us."
LEWISTON, MAINE MASS SHOOTING: AT LEAST 22 DEAD AS MANHUNT INTENSIFIES FOR PERSON OF INTEREST ROBERT CARD
SACRAMENTO, CA – NOVEMBER 15: Head Coach Mike Brown of the Sacramento Kings addressed the mass shooting in Lewiston, Maine during a press conference following his team's win over the Utah Jazz, 130-114. (Garrett Ellwood/NBAE via Getty Images)
Wednesday's mass shooting is staggering both for its death toll, and that it happened in a state that recorded 29 homicides for the whole year in 2022.
Lewiston Police Department identified 40-year-old Robert R. Card, of Bowdoin, Maine, as a person of interest Wednesday night and Maine Public Safety Commissioner Mike Sauschuck said in a late night news conference that the situation remains "very fluid."
"Law Enforcement is attempting to locate Robert Card 4/4/1983, as a person of interest regarding the mass shooting at Schemengees Bar and Sparetime Recreation this evening," Lewiston police announced in a Facebook post. "Card should be considered armed and dangerous. Please contact law enforcement if you are aware of his whereabouts."
WHO IS ROBERT CARD? MAINE AUTHORITIES IDENTIFY PERSON OF INTEREST IN DEADLY SHOOTING RAMPAGE
There have been no arrests in the shooting.
Lewiston Police Department identified 40-year-old Robert R. Card, of Bowdoin, Maine, as a person of interest. (David McGlynn for Fox News Digital)
Coach Brown described the shooting as "absolutely disgusting" and urged lawmakers to take actions.
"We, as a country, have to do something," Brown said. "That is absolutely disgusting. And it's sad. And it's sad that we sit here and watch this happen time after time after time after time and no one does anything about it. "
"It's sad," he added. "I feel for the families. I don't know what else to say."
A reporter then asked Brown about the NBA's response to tragedies like this and for raising awareness on how to prevent them.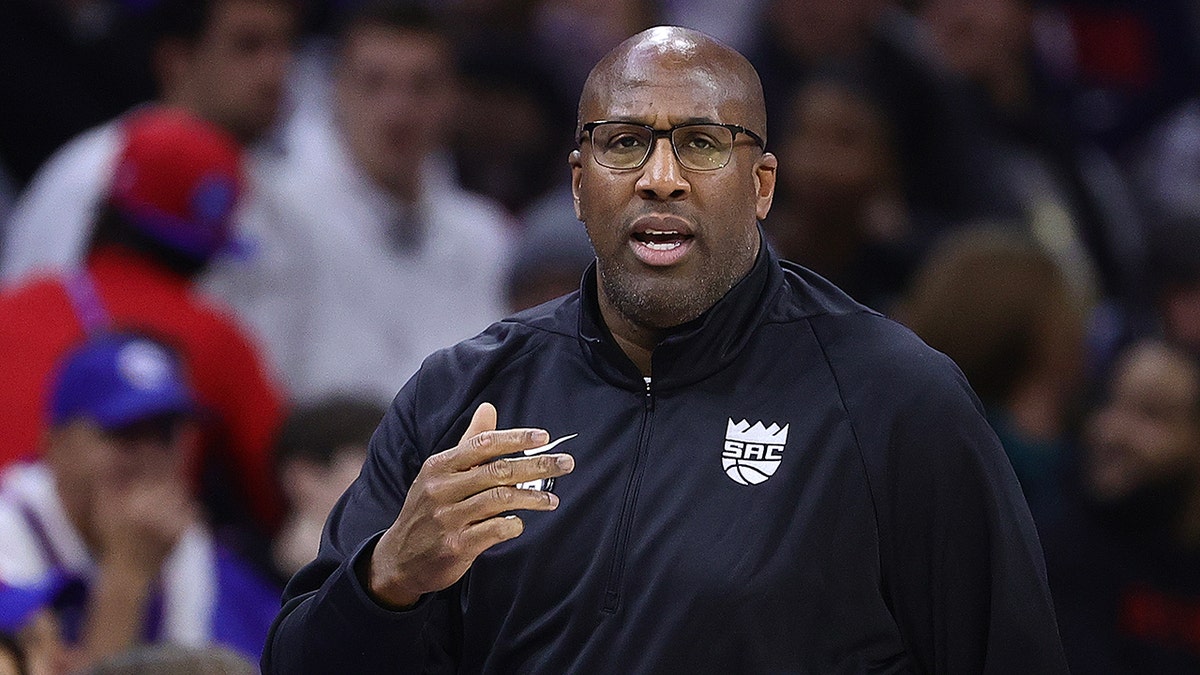 Brown abruptly ended the press conference. He did not answer questions about the game. (Tim Nwachukwu/Getty Images)
The coach praised NBA Commissioner Adam Silver as well as Chris Paul and LeBron James for using "their platform the right way."
"You hope that we continue [using social media to help prevent violence] but, obviously, it hasn't done much because for something like that to happen tonight, that's just sick. It's absolutely sick."
Brown then abruptly ended the press conference, quickly snatching papers on the table in front of him and leaving.
CLICK HERE TO GET THE FOX NEWS APP
"I'll talk tomorrow," he said.
Law enforcement in Maine said Card should not be approached if seen as he is considered "armed and dangerous."
Officials also said he is believed to be in the Army Reserve stationed out of Saco, Maine.
Fox News' Sarah Rumpf-Whitten, Elizabeth Pritchett and Jacqui Heinrich contributed to this report.