Little League home runs are always funny to watch … when it comes on a recreational field.
The Boston Red Sox weren't laughing during their Sunday afternoon matinee with the Tampa Bay Rays when Yandy Diaz's RBI single resulted in a trip around the bases thanks to an untimely error.
The Rays performed the perfect hit-and-run in the top of the sixth inning as Manuel Margot took off on a 1-2 pitch and Diaz smacked a ball through the second-base hole that opened up when Boston's Enmanuel Valdez broke to the bag on the steal.
CLICK HERE FOR MORE SPORTS COVERAGE ON FOXNEWS.COM
Yandy Diaz of the Tampa Bay Rays hits a single in the sixth inning against the Boston Red Sox at Fenway Park on June 4, 2023, in Boston. (Gaelen Morse/Getty Images)
Margot booked it around the bases and seemed to catch the Red Sox off guard as he went for home. Outfielder Alex Verdugo got the ball in to Valdez, who was way too late in trying to throw out Margot at home. 
That's when catcher Connor Wong stepped up to try to throw out Diaz, who was running to second base on the throw by Valdez. But the throw was brutal as the off-balance attempt wasn't close to the bag, and it rolled into center field.
RED SOX ANNOUNCER SETS OFF HIS IPHONE 'SIRI' AFTER ANNOUNCING AT-BAT OF RAYS PLAYER WITH SAME NAME
Another problem: Center fielder Jarren Duran wasn't even in center field at the time after running for Diaz's initial hit, which Verdugo cut off before he reached it.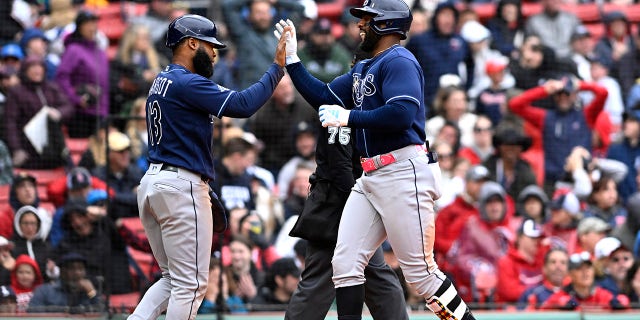 Manuel Margot #13 and Yandy Diaz of the Tampa Bay Rays high-five after both scored during the sixth inning against the Boston Red Sox at Fenway Park on June 4, 2023, in Boston. (Gaelen Morse/Getty Images)
As Duran chased the ball that continued to roll toward the fence, Diaz waltzed his way around the bases to score his Little League home run. And as you'd expect at Fenway Park, the Red Sox faithful were not happy.
Diaz isn't credited with a home run for that sequence of blunders, but he did get an RBI on Margot scoring from the single. He ended the 6-2 win for the Rays 2-for-5 with a run scored.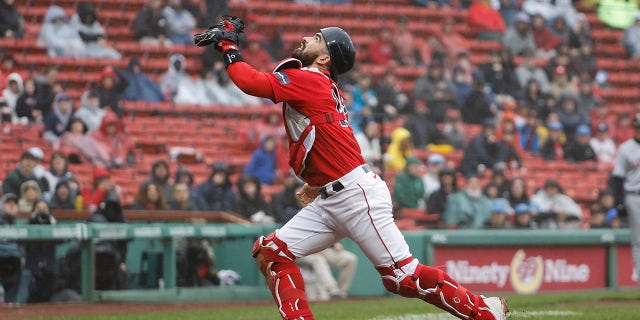 Catcher Connor Wong of the Boston Red Sox tracks a foul fly ball against the Cleveland Guardians during the first inning at Fenway Park on April 30, 2023, in Boston. (Winslow Townson/Getty Images)
CLICK HERE TO GET THE FOX NEWS APP
With the win, the Rays improved their MLB-best record by moving to 42-19 on the season.
Scott Thompson is a sports writer for Fox News Digital.