The Oregon Ducks earned perhaps their biggest win of the season Saturday, but head coach Dan Lanning had other matters on his mind.
The eighth-ranked Ducks traveled to a rowdy Utah environment to take on the No. 13 Utes in a Pac-12 battle, and Oregon scored a convincing 35-6 victory to improve to 7-1.
At the tail end of his postgame press conference, Lanning addressed the mass shooting in Lewiston, Maine, that killed 18.
CLICK HERE FOR MORE SPORTS COVERAGE ON FOXNEWS.COM
Oregon Ducks head coach Dan Lanning congratulates players after defeating the Utah Utes at Rice-Eccles Stadium.  (Christopher Creveling/USA Today Sports)
Lanning said the topic was something he would not "normally" get into, but he said gun violence in the United States is an issue his players feel strongly about.
"What I'll say right now is, where is the respect for human life? You know, I think there's a lot more to this. I mean, people could say 'Let's make it about guns, and let's make it about mental health.' Why can't we use a commonsense approach and make it about everything?" Lanning said. 
"And this doesn't mean taking a stance. … I just want to ask everybody, 'What are we doing about it?' We can't continue to sit around and expect different results. [I] don't think I'm sitting here talking about gun control, don't think I'm talking about mental health. I'm talking about all of it. We've got a lot of smart people in this country. How about we do something to fix it?"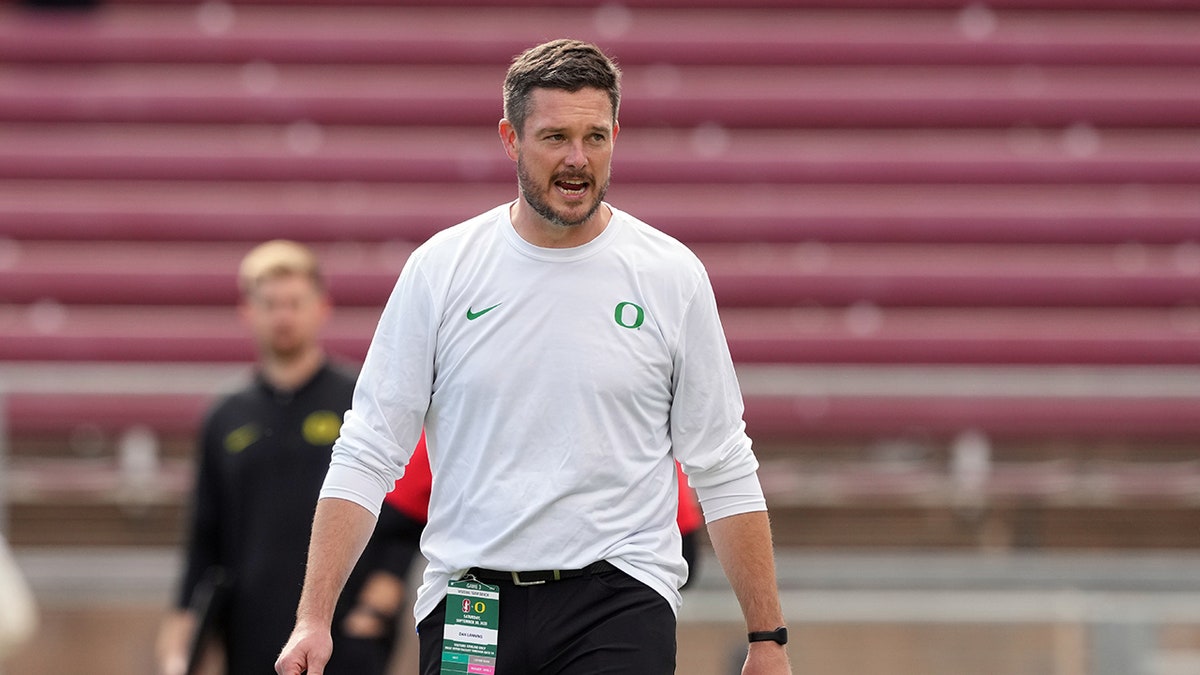 Oregon Ducks head coach Dan Lanning walks on the field before a game against the Stanford Cardinal at Stanford Stadium.  (Darren Yamashita/USA Today Sports)
CALIFORNIA-USC GAME DELAYED AFTER STUDENTS PROTEST PROFESSOR'S STALKING SUSPENSION
Lanning indicated mass shootings in the country hit close to home as a father of three children between ages 10 and 13.
"I know that means a lot to our players. It certainly means something to me when I send my three kids to school and expect to see them come home. I think enough is enough at some point," Lanning added. 
"At some point, we have to look at ourselves and take a hard look in the mirror and figure out where can we support the people that are having problems with mental health in this country, where can we support making sure that people that shouldn't have weapons don't have weapons and support our law enforcement to where they can help handle situations when situations arise.
"I'm not trying to be political, but I do care about human life, and I do care about human decency. And I'm hoping that, at some point, we can take a stand and do something about it."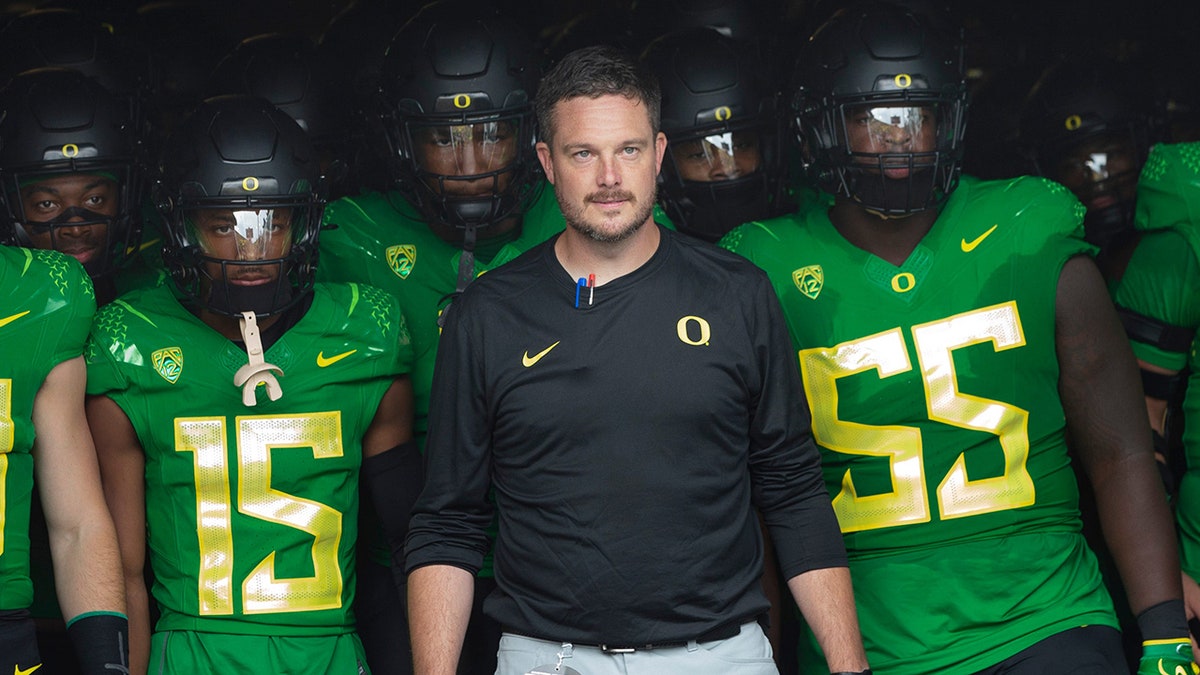 Oregon coach Dan Lanning leads his team onto the field before a game against Colorado in Eugene, Ore., Sept. 23, 2023. (Chris Pietsch/The Register-Guard/USA Today Network)
CLICK HERE TO GET THE FOX NEWS APP
Robert Card, the man police identified as the Maine killer, was found dead with an apparent self-inflicted gunshot wound Friday night. 
Card was a "trained firearms instructor" who recently reported mental health issues, including "hearing voices and threats to shoot up the National Guard Base in Saco, ME," according to a Maine law enforcement bulletin shared with Fox News Digital.