Daley Thompson, a former British decathlete who won two Olympic gold medals, spoke out against transgender participation in girls and women's sports in a video for Fair Play For Women.
Thompson's remarks came amid controversy over transgender females competing against biological women in sports. Last week, British Cycling prohibited transgender female athletes from competing against biological women. The organization will have an "open" category, which will allow transgender women, transgender men, non-binary individuals and those born male and female to compete.
CLICK HERE FOR MORE SPORTS COVERAGE ON FOXNEWS.COM
Laureus Academy Members Nawal El Moutawakel, left, and Daley Thompson speak on stage during the Laureus Olympians Press Event at the Mercedes-Benz Building prior to the Laureus World Sports Awards on Feb. 17, 2020 in Berlin. (Boris Streubel/Getty Images for Laureus)
Transgender men who have yet to begin hormone therapy will be able to compete in the female category, while the current men's category will be consolidated into the open category.
"You only get one chance to win that medal, stand on that podium, make a final," Thompson says in the video.
"You wouldn't let a 25-year-old compete in an under 16s race. Why do we want to disadvantage 51% of the population? Why do we want to take away ambition from our daughters?
RILEY GAINES SHARES MESSAGES OF SUPPORT AFTER TRANS GIRL'S 2ND-PLACE FINISH IN CALIFORNIA MEET OF CHAMPIONS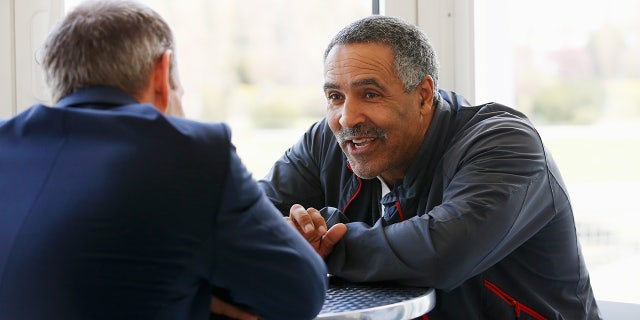 Laureus World Sports Academy member Daley Thompson, right, is interviewed prior to the 2016 Laureus World Sports Awards at Messe Berlin on April 18, 2016 in Berlin. (Boris Streubel/Getty Images for Laureus)
"It affects everyone in the sporting food chain whether you are talking about making a final or getting to a semifinal or maybe a scholarship.
"And it might actually stop people participating because they don't feel they have got a chance so they go and do something else."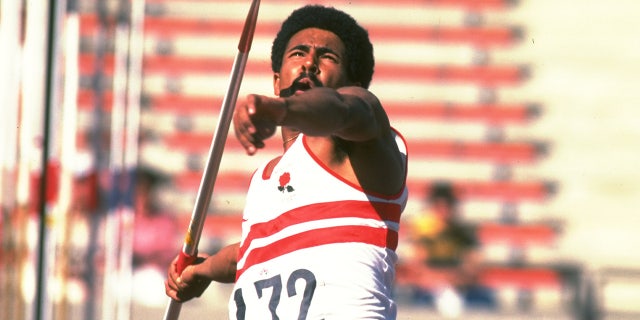 Daley Thompson during the Javelin event of the Decathlon at the Commonwealth Games in Emonton, Canada. (Allsport)
CLICK HERE TO GET THE FOX NEWS APP
Thompson won gold medals at the 1980 Moscow and 1984 Los Angeles Games. He also won gold medals in the World Championships, European Championships and Commonwealth Games.
Fox News' Ryan Morik contributed to this report.
Ryan Gaydos is a senior editor for Fox News Digital.