Playing in the same division as the Cincinnati Bengals and Baltimore Ravens, Cleveland Browns All-Pro  pass rusher Myles Garrett is very familiar with Joe Burrow and Lamar Jackson.
Two of those division foes, the Browns and Ravens, go head to head Sunday. Jackson, the 2019 NFL MVP, is in the midst of one of his best seasons. Meanwhile, Burrow has bounced back from a leg injury and helped lift Cincinnati to four straight wins.
The young star quarterbacks are often compared to one another, but Garrett revealed which signal-caller he gives the nod to.
"Right now, I think Joe is coming on strong," Garrett said on "Up & Adams." "When he's healthy, I feel like he's one of those guys that can light you up each and every night."
CLICK HERE FOR MORE SPORTS COVERAGE ON FOXNEWS.COM
Joe Burrow (9) of the Cincinnati Bengals and Lamar Jackson (8) of the Baltimore Ravens meet after the Ravens beat the Bengals 27-24 at Paycor Stadium Sept. 17, 2023, in Cincinnati. (Dylan Buell/Getty Images)
Garrett praised Jackson for his ability to throw and run. 
"Lamar, he does it in such different ways. Even if his throwing is not on point that night, he can still rush for 150 and three touchdowns. He can beat you in a couple of different ways. Or Joe can light you up for 400. Few people in the league can do that, in general."
BROWNS STAR MYLES GARRETT SAYS HE'S CLOSING IN ON 'PEAK OF MY POWERS' AMID STRONG SEASON
But Garrett still gave his vote to the fourth-year Bengals quarterback.
"I'll take Joe right now," Garrett said, "as far who has the nod over the other right now."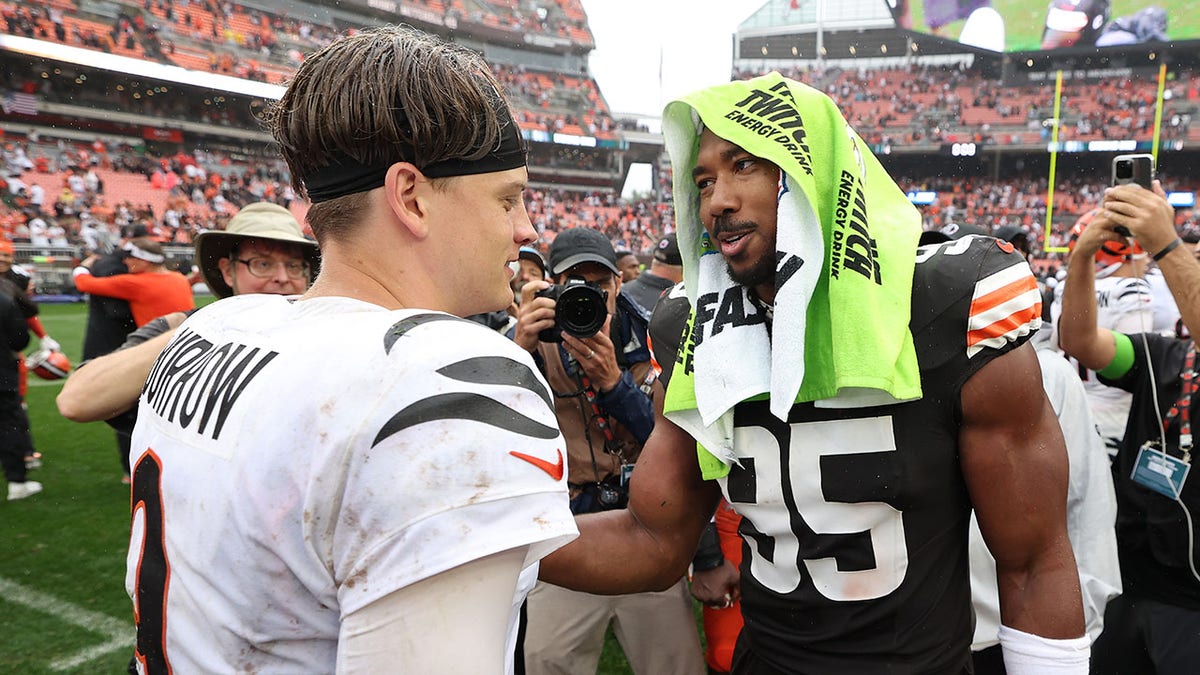 Joe Burrow (9) of the Cincinnati Bengals and Myles Garrett (95) of the Cleveland Browns meet after the Browns' 24-3 win at Cleveland Browns Stadium Sept. 10, 2023, in Cleveland. (Gregory Shamus/Getty Images)
On Friday, Garrett doubled down on his position, saying although Jackson is a uniquely gifted athlete, Burrow had delivered more results.
"[Burrow has] produced at a higher level at this point in his career, even though Lamar has an MVP and is more dynamic at what he does," Garrett said, via Cleveland.com. "I think the results that Burrow has come up with speak for themselves. Not saying that that can't change any given day, but I'd give Burrow the nod for what he been able to accomplish." 
Jackson has thrived under first-year Ravens offensive coordinator Todd Monken. Jackson has the NFL's highest completion percentage through the first nine weeks, but he still only has one playoff victory in his career.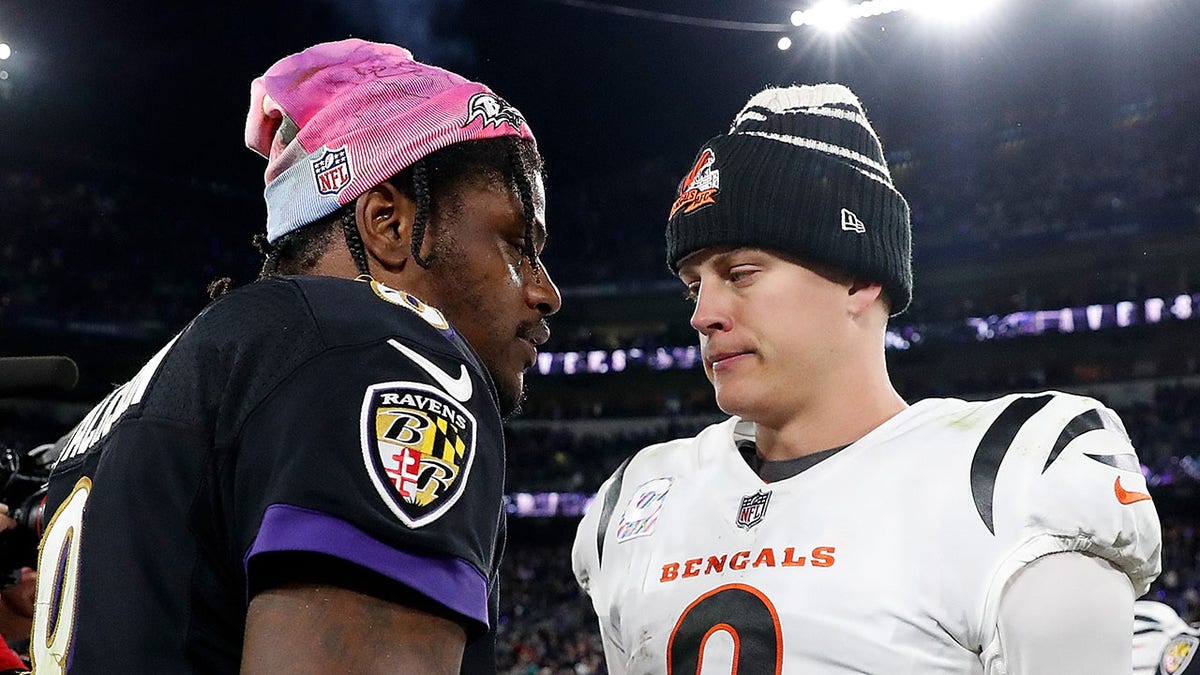 Joe Burrow of the Cincinnati Bengals, right, reacts after a 19-17 loss to Lamar Jackson of the Baltimore Ravens, left, at M&T Bank Stadium Oct. 9, 2022, in Baltimore.  (Todd Olszewski/Getty Images)
Burrow has already won multiple playoff games and has taken the Bengals to back-to-back AFC championship games. The Bengals advanced to the Super Bowl during the 2021 postseason.
CLICK HERE TO GET THE FOX NEWS APP
The Browns travel to Baltimore for Sunday's highly anticipated matchup. Jackson and the Ravens then host Burrow and the Bengals Nov. 16. 
Chantz Martin is a sports writer for Fox News Digital.