The Minnesota Vikings' quarterback — who studied aerospace engineering and got a perfect 4.0 GPA in college — claims he has formulated "the most efficient process" for getting through airports. 
"Me being an engineer, I like to be extremely efficient," Josh Dobbs said in an August TikTok. "I also hate wasted time."
NASA GIVES VIKINGS' JOSHUA DOBBS NEW NICKNAME AFTER HISTORIC PERFORMANCE
"So when you get to the airport 20 minutes before your flight boards — not before your flight takes off — you're able to, boom, show up at the counter [and] check your bags," he said. "I'm able to walk through, grab some food, and not have to stand in line or sit down at the airport. I hate that."
Dobbs, who made his quarterback debut six years ago and has already played for seven teams, was answering questions about his routine after being traded. Last week, he was traded from the Arizona Cardinals to the Minnesota Vikings and was only with the team five full days before he led them to a 31-28 victory.
WATCH THE TOP FOX NEWS DIGITAL ORIGINAL STORIES:
WATCH MORE FOX NEWS DIGITAL ORIGINALS HERE
Dobbs was thrust into the matchup against the Atlanta Falcons after Vikings' rookie quarterback Jaran Hall left the game with a concussion in the first quarter. He finished the game 20-for-30 with 158 passing yards and two touchdown passes while notching 66 rushing yards, plus a touchdown on the ground.
After the win, Dobbs fans and football fanatics were dishing out praise for the quarterback's on-field and in-airport efficiency on his social media.
"What you did against ATL on Sunday was truly one of the more impressive things I've seen," one TikTok user commented. 
Joshua Dobbs #15 of the Minnesota Vikings carries the ball for a touchdown against the Atlanta Falcons during the third quarter at Mercedes-Benz Stadium on Nov. 05, 2023, in Atlanta, Georgia. (Alex Slitz/Getty Images)
Another user posted: "I'm with you, it's all about efficiency."
NFL POWER RANKINGS: LOOKING AT THE LEAGUE FROM TOP TO BOTTOM AT THE MIDWAY POINT
Dobbs said in the video that his airport regimen is one of the questions he receives most on social media. 
His formula allows him "the most efficient process from getting out the car to sitting down on my seat on the plane," he said. ""I want to walk through the airport, get right on the plane, sit down on my seat and take off nice, smoothly and efficiently."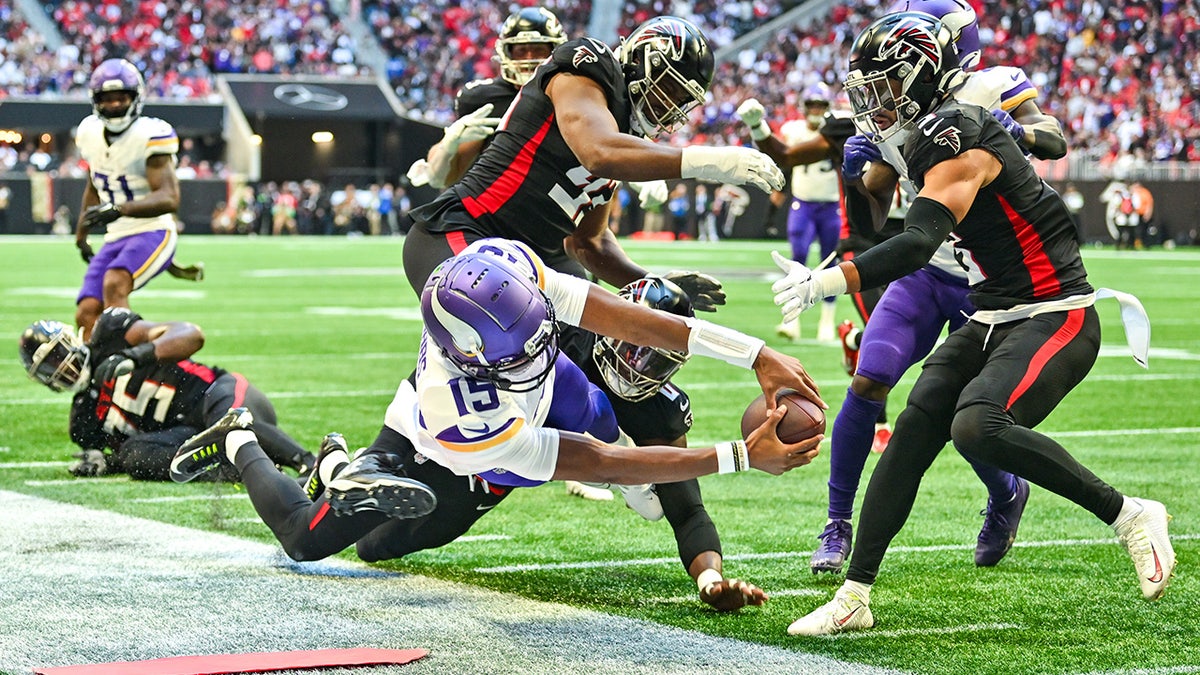 Dobbs finished with two passing and one rushing touchdown in the Sunday matchup against the Falcons. (Rich von Biberstein/Icon Sportswire via Getty Images)
CLICK HERE TO GET THE FOX NEWS APP
However, Dobbs also has TSA PreCheck and a Clear Secure travel account, which he admits makes it easy to get through airports.
Dobbs is expected to start this upcoming Sunday against the New Orleans Saints, Vikings coach Kevin O'Connell told reporters Monday.
Ryan Gaydos contributed to this report. Ramiro Vargas contributed to the accompanying video.
Jon Michael Raasch is an associate producer/writer with Fox News Digital Originals.