Merry Christmas, Happy Thanksgiving and — most importantly — welcome back to the McDonalds McRib! Oh yeah, and welcome to Week 11 of the NFL season.
I can't believe we're a week away from Turkey Day — otherwise known as maybe the greatest day of TV each year. Seriously.
Macy's Parade — the non-woke part — in the morning, a little dog show right after and then three straight NFL games to watch while stuffing our fat faces with 18 different variations of stuffing.
This country is truly the best. Imagine living somewhere else. Yuck.
CLICK HERE FOR MORE SPORTS COVERAGE ON FOXNEWS.COM
Amon-Ra St. Brown #14 of the Detroit Lions with fans at Lambeau Field.  (Patrick McDermott/Getty Images)
Speaking of stuffing our fat faces — the McRib is BACK, baby! Remember last year when McDonalds tried to tell us it was the last year of it? Yeah, OK. Cute marketing ploy, but nobody with half a brain was buying it.
The McRib is an American tradition. A pastime like no other. It's embedded in our DNA here in the US of A, and we're damn proud of it.
We don't know what's in it, but we eat it blindly and we're thrilled to do so. It's one of the few truly excellent one-offs that happen in the food & beverage industry each year. Some have even been permanently discontinued, which is a shame.
You see where this is going, right?
It's Week 11 NFL Power Rankings: the 'Who is the McRib of the league?' edition!
Tier 1: The McDonalds McRib tier
Detroit Lions (previous week: 7)Philadelphia Eagles (2)San Francisco 49ers (5)Baltimore Ravens (1)Kansas City Chiefs (4)Cincinnati Bengals (3)
I mean, you just can't beat the McRib. It's perfect. Is it an actual rib from a pig (cow?)? No shot. None. But we don't care because we're Americans and we appreciate good food and don't ask questions.
We did it at grandmas house growing up and we do it at Golden Arches all across this land this time of year.
The tangy sauce, combined with the bun and pickles and mystery meat all inside is just the best. Mix in a couple McDonalds fries between bites — maybe one finds it's way onto the actual sandwich itself, who knows? — and you've got yourself a real party.
The Lions are a damn PARTY right now, and they unseat the Ravens atop the NFL power rankings despite Baltimore beating their brains out a few weeks ago. Detroit, by the way, is gonna win the NFC for those who haven't looked at the schedule.
Goodness what a back-half of the season to sleepwalk through. Look out, kneecaps!
Niners appear to be back, although I'm not sure how good the Jags actually are. Ravens cost me a lot of money Sunday so they're lucky to even be here.
Eagles should beat the Chiefs Monday night, although Andy Reid off a bye is usually nails.
PS: guarantee you Big Red has crushed a couple McRibs during his day.
FROM OUTKICK: FOLLOWING RECENT STEFON DIGGS DRAMA, BILLS RELEASE VIDEO OF WR HUGGING JOSH ALLEN
Tier 2: The Pizza Hut buffet tier
7. Dallas Cowboys but only when they play QBs who live with their parents (8)8. Miami Dolphins, who don't look as fraudulent now, do they? (9)9. Jacksonville Jags, who may actually be frauds (6)10. JJ McCarthy's girlfriend (NR)11. Seattle Seahawks (12)
You get chills just thinking about it, don't you? And it's not just the buffet — as ridiculous as it was — it was the fact that we all used to dine in Pizza Hut because it was an actual restaurant.
The buffet was the chefs kiss that was a Pizza Hut in the 1990s. Oh, you want some spaghetti and meatballs, a salad, giant ass potato wedges and maybe a chocolate chip cookie pizza? Come on down!
I know some have (allegedly) returned, but it ain't the same. Never will be. We used to be such a great country.
The Cowboys were essentially on a bye this week, as will be any team going forward who faces Tommy DeVito.
The Dolphins were actually on their bye and now get to come back and face the Raiders, in Miami, with a lot of pent up anger from the Chiefs meltdown. Hammer Miami, whatever the spread is. You're welcome.
The Jags' signature win was Buffalo before Monday. Now? Yikes.
Katya Kuropas!
Tier 3: The Taco Bell Choco Taco tier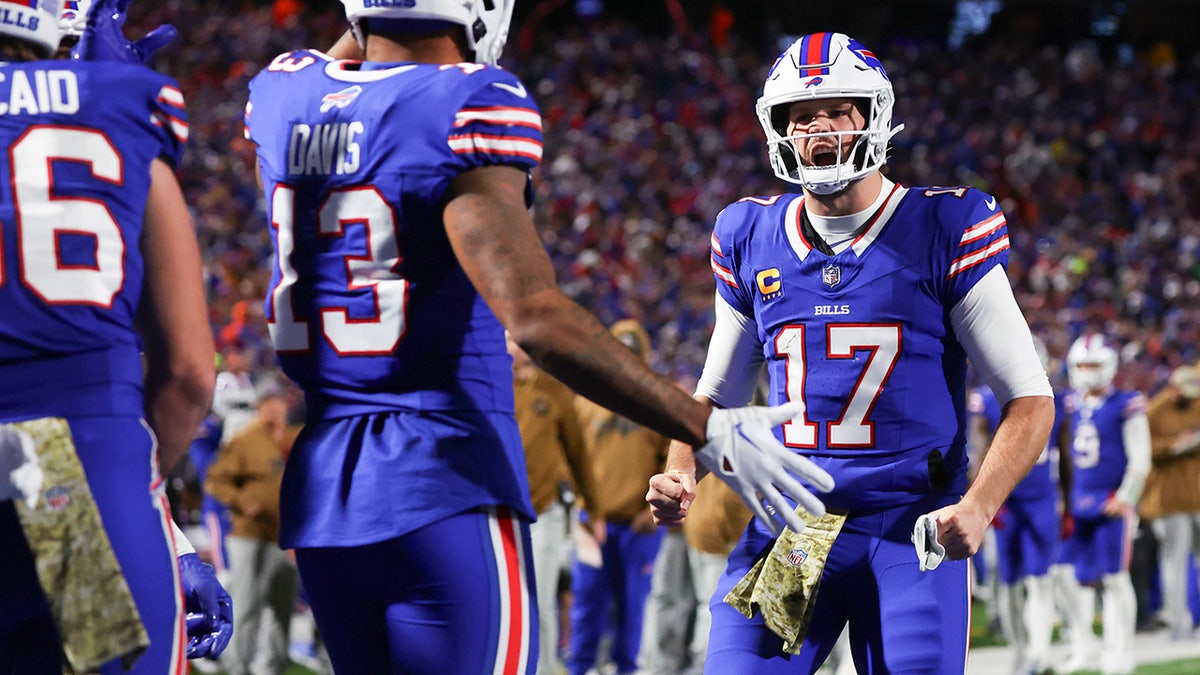 Buffalo Bills quarterback Josh Allen (17) celebrates after completing a two-point conversion to Gabe Davis (13) during the first half of an NFL football game against the Denver Broncos, Monday, Nov. 13, 2023, in Orchard Park, N.Y. (AP Photo/Jeffrey T. Barnes)
12. Buffalo Bills as long as Ken Dorsey isn't in the same time zone during the game (11)13. Houston Texans!!! (19)14. Minnesota Vikings (13)15. Cleveland Elves minus Deshaun Watson, literally (14)16. Pittsburgh Steelers (17)17. James Madison Dukes (22)
I was a fat kid growing up, and these little gems were a big reason why. I debated whether to put Taco Bell's Mexican Pizza or Choco Taco here, but in the end the Klondike desserts came out on top.
They were inexplicably discontinued back in 2022, and I'm still not sure why. There was nothing better than crushing a couple Taco Bell chalupas and a soft taco (that's a No. 6 down here in Florida) and then washing it down with an ice cream taco.
If you really savored it, the chocolate shell part would get just the slightest bit soggy from the vanilla ice cream, and you had yourselves a damn NIGHT.
BENGALS STAR JA'MARR CHASE SAYS HIS FATHER USED TO LATHER HIM WITH BABY OIL TO HELP HIM SLIP PAST DEFENDERS
Bring it back, you cowards.
The Bills are frankly too high here, but I assume they'll come out of the gates with a little fire in the belly against the Jets Sunday so they should stabilize the ship for at least a week.
I guess the Texans are just good, huh? CJ Stroud is an animal, although the NFL MVP talk is a little much. Can we just not overreact one freaking time in this country?
Josh Dobbs vs. Russ on Sunday night this week! How we feeling about that? Better than we did a few weeks ago, but still not particularly pumped.
Deshaun Watson is officially the worst contract in the history of the NFL.
Dukes are on College GameDay this week. Now put them in the playoffs, you losers. Enough of the red tape nonsense.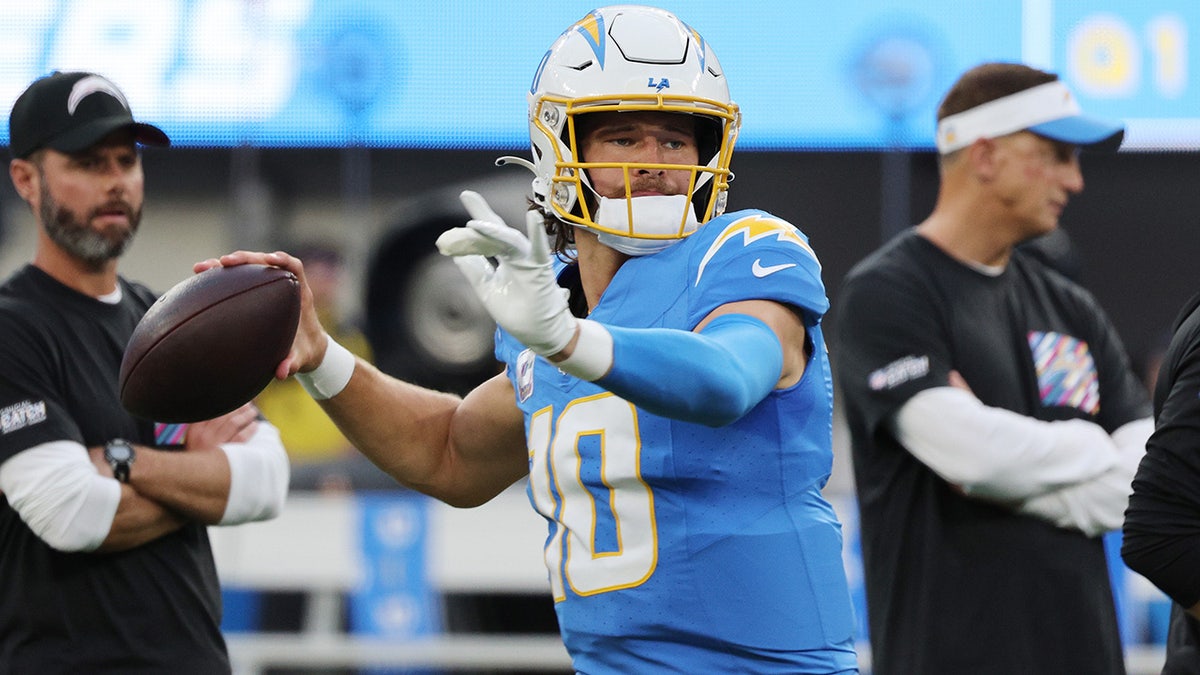 Justin Herbert #10 of the Los Angeles Chargers warms up before the game against the Dallas Cowboys at SoFi Stadium on October 16, 2023 in Inglewood, California. (Kevork Djansezian/Getty Images)
How the hell are the Steelers 6-3?
Tier 4: The McDonalds McSalad Shakers tier
18. San Diego Chargers (15)19. Tampa Bay Bucs (23)20. Washington Football Team (20)21. Indy Colts as long as they're playing Mac Jones (24)22. Bill Belichick after a night of shenanigans (NR)23. New Orleans Saints (18)
Ya'll remember these? Iconic few years in the history of America. Some people thought they were trash, others thought they were actually healthy and swore by them.
Could you imagine thinking to yourself, "Man, I feel like something nice and healthy for lunch today, why don't I go to McDonalds and ask them to put some lettuce in a cup, shake it around for a bit, and then absolutely DRENCH it with full-fat dressing?"
We did that back in the day — sadly, it ended in 2003 — and it was awesome. A little weird, but awesome.
The Chargers Chargered once again Sunday. Never gets old.
The Bucs are unbelievably irrelevant yet may also host a playoff game. The Saints got the FULL Jameis Winston NFL experience in like a quarter and a half Sunday and it was beautiful to watch.
The Colts and Texans are within striking distance of the AFC South at the halfway point.
Walk of Shame Bill!
Tier 5: The Heinz EZ Squirt Ketchup tier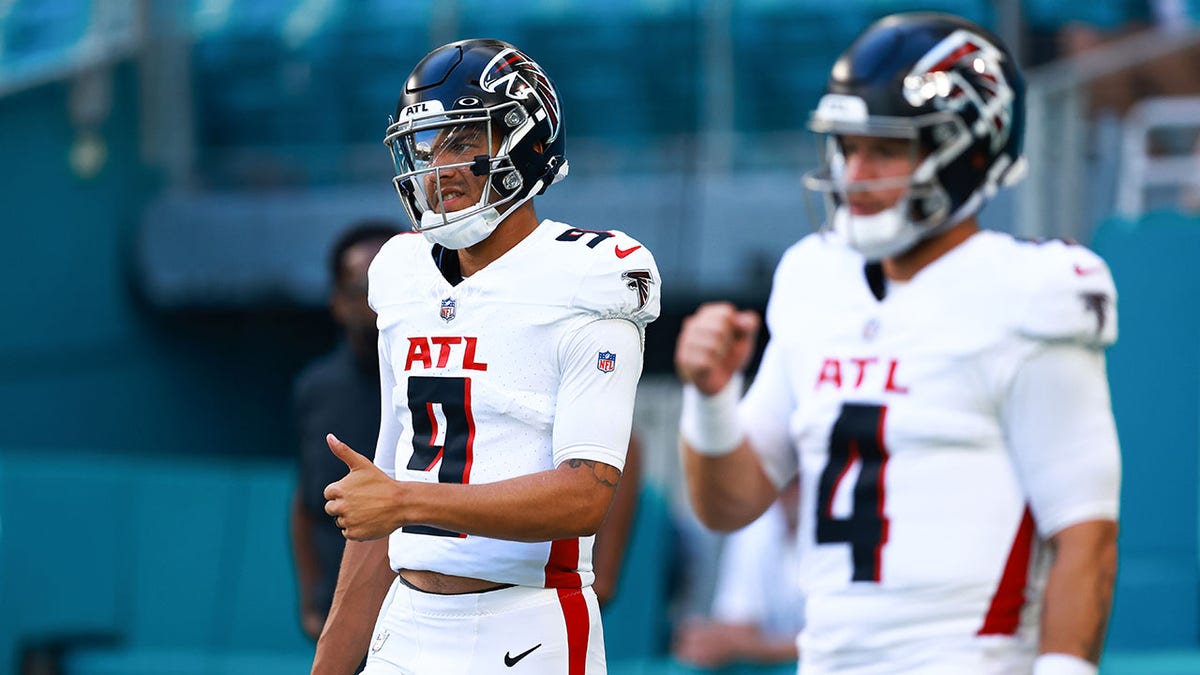 Desmond Ridder #9 and Taylor Heinicke #4 of the Atlanta Falcons warms up prior to playing the Miami Dolphins in a preseason game at Hard Rock Stadium on August 11, 2023 in Miami Gardens, Florida. (Megan Briggs/Getty Images)
24. Atlanta Falcons (21)25. Denver Broncos (30)26. Aaron Rodgers' continued disgust for woke ESPN (NR)27. New York Jets (25)
Personally, I loved these bad boys. Different colored ketchup? Sign me up. They were awesome. You had green, red, purple and blue, and as a kid, I couldn't have been happier.
That being said, I also can't think of a bigger waste of time and money. Ketchup on it's own is pretty marketable. Frankly, you don't really even have to market it. It's sort of like salt.
How many salt commercials do you see nowadays? None. People use salt. Whether you tell us to or not, we're gonna use it.
Same with ketchup. Everybody uses ketchup. If you don't, you're a psycho and no amount of colors or marketing is gonna help.
So, while I loved these bad boys and was sad to see them go in 2006 (not really, I was 13 and wasn't really locked in on the ketchup market), I also understand because it was a pretty dumb idea.
The Falcons are awful, but at least they finally started giving their top NFL draft pick the ball. Probably a good move.
The Broncos are … decent? It took the Bills literally giving them every single chance on the planet to win that game Monday, but they won. Russ is cooking? Russ is cooking!
The Jets haven't scored a touchdown since before Halloween.
Tier 6: The Wendy's Frescata tier
28. LA Rams (27)29. Las Vegas Raiders (32)30. Tennessee Titans as long as racist Ryan Tannehill stays on the bench (26)31. Arizona Cardinals (35)32. Chicago Bears (36)33. Green Bay Packers (34)34. Phoebus High School in Virginia (NR)35. Phoebe Buffay from Friends (NR)36. Carolina Panthers (37)37. New England Patriots (29)38. NY Football Giants (41)39. Megan Rapinoe's eternal soul (NR)
You wanna talk about dumb ideas, goodness was this an awful one from a fast-food chain that's otherwise pretty savvy.
Wendy's decided back in the mid-2000s that the one thing missing from their menu was healthy sandwiches. Because everyone who goes into a Wendy's is looking to stay fit.
Here's an actual quote from the press release when these atrocities first came out:
"Our customers tell us they are looking for more fresh choices. The deli sandwich category, which continues to expand, represents a growth opportunity and another way for us to meet our customers' needs."
People looking for fresher choices ain't going to Wendy's. They're probably going to Subway and getting Jared's disgusting Sweet Onion Chicken Teriyaki — another pretty gross food item that nearly made this list.
Anyway, these deli sandwiches were nixed after just 18 months, not just because they were gross, but because they took an hour to make and it sort of defeated the whole "fast-food" purpose. Swing and miss from Dave Thomas, a man I have great respect for.
Side note: I'm sure Dave was dead when these came out, but whatever. You get my point.
The Will Levis train went off the tracks in predictable fashion against the Bucs, but at least the geniuses over at Deadspin still got to pump out their racist Ryan Tannehill think-piece. Idiots.
The Cardinals will at least be watchable now that tiny Kyler Murray is back to doing TKM things.
Phoebus opened the 2023 Virginia state playoffs with a 104-0 win.
The Patriots and Giants play in two weeks and I will be GLUED to my TV for it.
CLICK HERE TO GET THE FOX NEWS APP
Get better soon, Meg!