A four-game suspension for Denver Broncos safety Kareem Jackson was reduced to two games, the NFL announced Tuesday. Derrick Brooks, an appeals officer, reduced Jackson's suspension for repeated violations of the league's unnecessary roughness rules following an appeal by the defensive back.
NFL vice president of football operations Jon Runyan announced the initial suspension on Monday, after Jackson was tossed from Sunday's game against the Green Bay Packers for a hit on rookie tight end Luke Musgrave.
During the play in question, Musgrave caught a pass, but as he came down with the ball and turned around, Jackson appeared to lower his head and make helmet-to-helmet contact. 
CLICK HERE FOR MORE SPORTS COVERAGE ON FOXNEWS.COM
Kareem Jackson of the Denver Broncos runs across the field during the game against the Kansas City Chiefs at GEHA Field at Arrowhead Stadium in Kansas City, Missouri, on Oct. 12, 2023. (Cooper Neill/Getty Images)
Musgrave's head violently snapped back when Jackson delivered the forceful blow.
"On the play in question, you delivered a forceful blow to the head/neck area of a defenseless receiver, when you had the time and space to avoid such contact," a statement by Runyan read. "You could have made contact with your opponent within the rules, yet you chose not to."
LIONS RELEASE WIDE RECEIVER MARVIN JONES SHORTLY AFTER HE STEPPED AWAY FOR 'PERSONAL FAMILY MATTERS'
Alternative replay angles showed Jackson's appearing to make direct contact with Musgrave's facemask.
The NFL noted Jackson was a repeat offender, citing Section 2, Article 9 (b)(1) of its rule book.
"It is a foul if a player forcibly hits the defenseless player's head or neck area with the helmet, facemask, forearm, or shoulder, even if the initial contact is lower than the player's neck, and regardless of whether the defensive player also uses his arms to tackle the defenseless player by encircling or grasping him," the rule reads.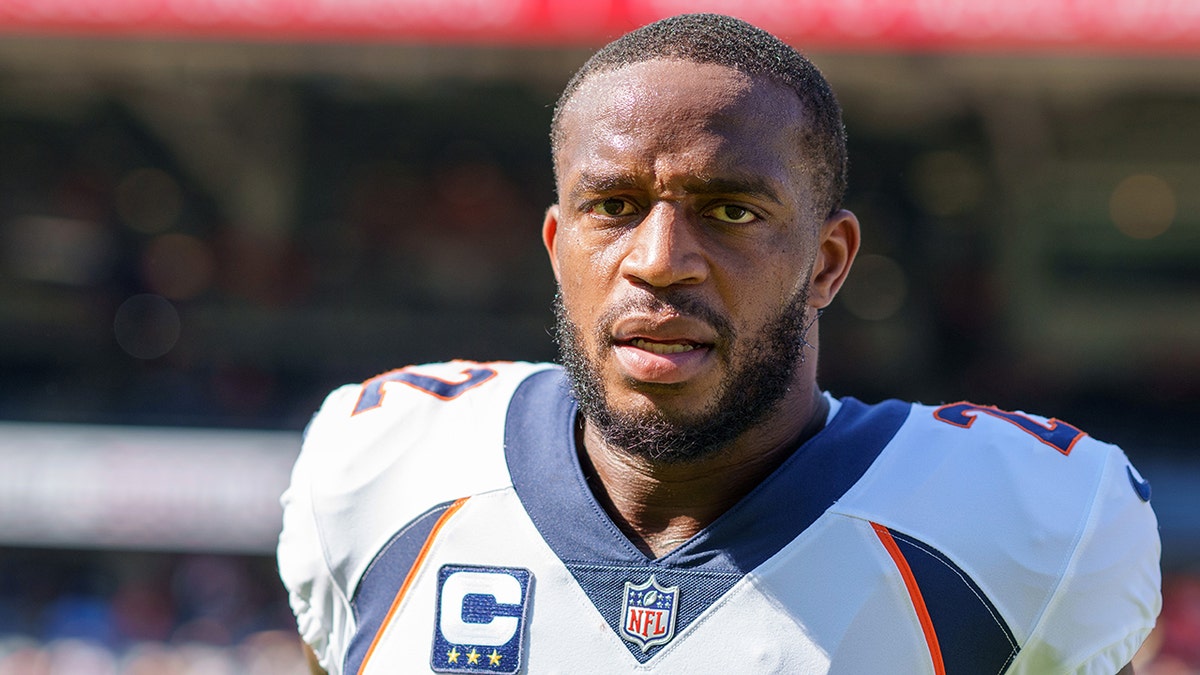 Safety Kareem Jackson of the Denver Broncos warms up prior to the game against the Chicago Bears at Soldier Field in Chicago on Oct. 1, 2023. (Todd Rosenberg/Getty Images)
In a game earlier this season against the Washington Commanders, Jackson was ejected for a hit that resulted in a head injury to tight end Logan Thomas. Jackson appeared to lower his head as he delivered a forceful hit in the end zone. 
The hit on Thomas resulted in a $19,669 fine, but the league decided not to suspend the Broncos safety. In Week 1, referees flagged Jackson for unnecessary roughness on a helmet-to-helmet hit on Las Vegas Raiders receiver Jakobi Meyers. Jackson was ejected and later fined.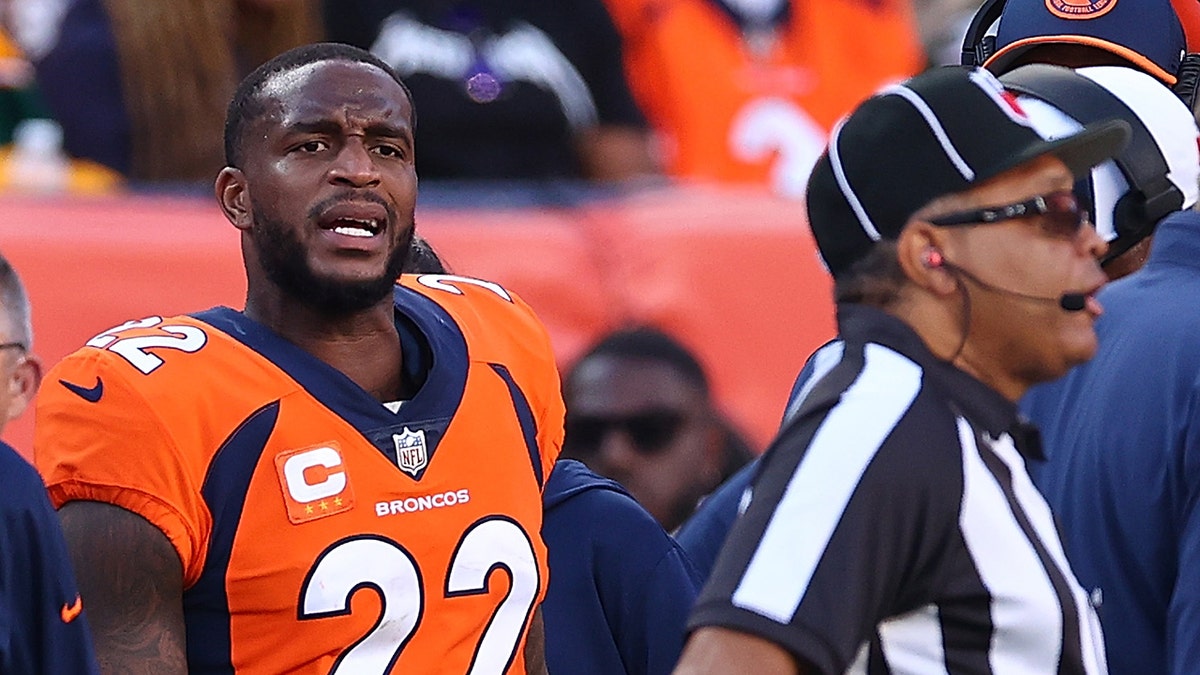 Kareem Jackson of the Denver Broncos reacts after being penalized on a play in the fourth quarter of the game against the Green Bay Packers at Empower Field At Mile High in Denver on Sunday. (Jamie Schwaberow/Getty Images)
Jackson was drafted in the first round in 2010. He spent the first nine seasons of his NFL career with the Houston Texans and is now in his fifth season with the Broncos. He has appeared in seven games this season, notching two interceptions. He also has 42 tackles on the year. 
Delarrin Turner-Yell will likely handle the starting safety duties in Jackson's absence.
CLICK HERE TO GET THE FOX NEWS APP
Broncos head coach Sean Payton said Jackson is a player who strives to "do the right thing."
"I just know where he's at as a player; we'll keep working on that," Payton said Monday. "I know he'll keep working on it. He's someone that's smart and really wants to do the right thing. It's one of the toughest parts of our game for the officials, for the players, for all of us involved of getting that to where it's clear and easy. Sometimes, it's just not."
Fox News' Scott Thompson contributed to this report.
Chantz Martin is a sports writer for Fox News Digital.