Drew Dalman had a scientific an advantage when he was playing center at Stanford.
While playing for the Cardinal, the now Atlanta Falcons center got his hands (no pun intended) on some new technology by doctors at the school in order to cool his body down.
On the Stanford sidelines was the CoolMitt, which is exactly what it sounds like. It's a device that athletes put their hand in for a few moments in order to relax the muscles, which in turn leads to better athletic performance.
CLICK HERE FOR MORE SPORTS COVERAGE ON FOXNEWS.COM
Atlanta Falcons center Drew Dalman (67) defends against Detroit Lions cornerback Cedric Boswell (35) during the first half of an NFL preseason football game in Detroit, Michigan, on Friday, August 12, 2022  (Jorge Lemus/NurPhoto via Getty Images)
The technology was originally used during the war in Iraq, as American soldiers were getting overheated, and it has since made its way into sports.
Dalman doesn't yet use it in the NFL. He's "99%" sure it's allowed on the NFL sidelines, but he doesn't want to take that risk just yet.
He's a consistent user in it off the field.
"In my training experience, it's really helpful. I feel like the short-term performance effects are noticeable. A lot of the research is about the longer-term adaptations that occur," Dalman told Fox News Digital in a recent interview. "I've been working on using it more consistently, so I can kind of see if any of those things seem true for me as well."
The studies on the technology are astonishing. In six sets until failure to bench 225 pounds, an NFL tight end put up 51 total repetitions. After three weeks of using the machine in between sets, he got up to 60 reps.
After four weeks of not cooling, his numbers stayed the same. However, after two weeks of getting back on the CoolMitt, he did 67 reps.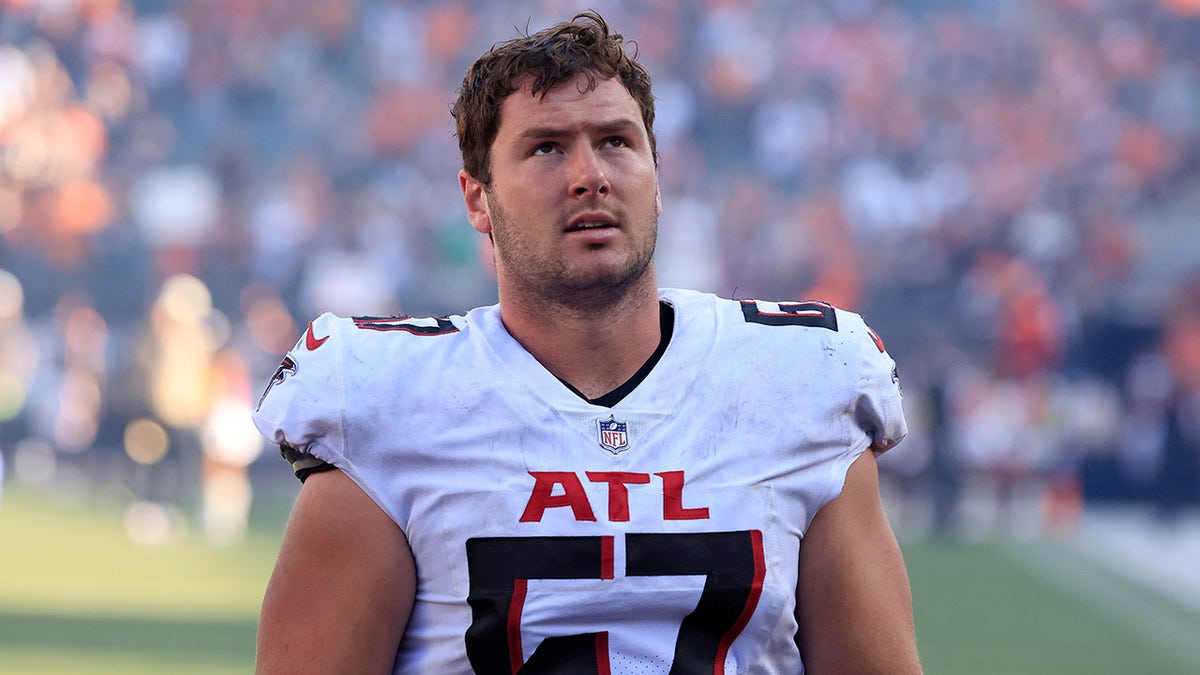 Drew Dalman ,#67 of the Atlanta Falcons, walks off the field after the game against the Cincinnati Bengals at Paul Brown Stadium on October 23, 2022, in Cincinnati, Ohio.  (Justin Casterline/Getty Images)
"A lot of my use has been in endurance in training, just because those environments are much more controlled. But I can kind of take my time to take a couple minutes to use it in between sets," Dalman says.
During a recent PGA event over the summer, the Tour placed CoolMitts on every third hole in order for golfers to get through their grueling rounds. It was also used in Major League Baseball this season.
It's a pricey machine though, upwards of $1,000. However, Dalman thinks the company is coming with cheaper alternatives in order for high schools and other college programs to afford it so they can avoid incidents that come with the heat during summertime practices.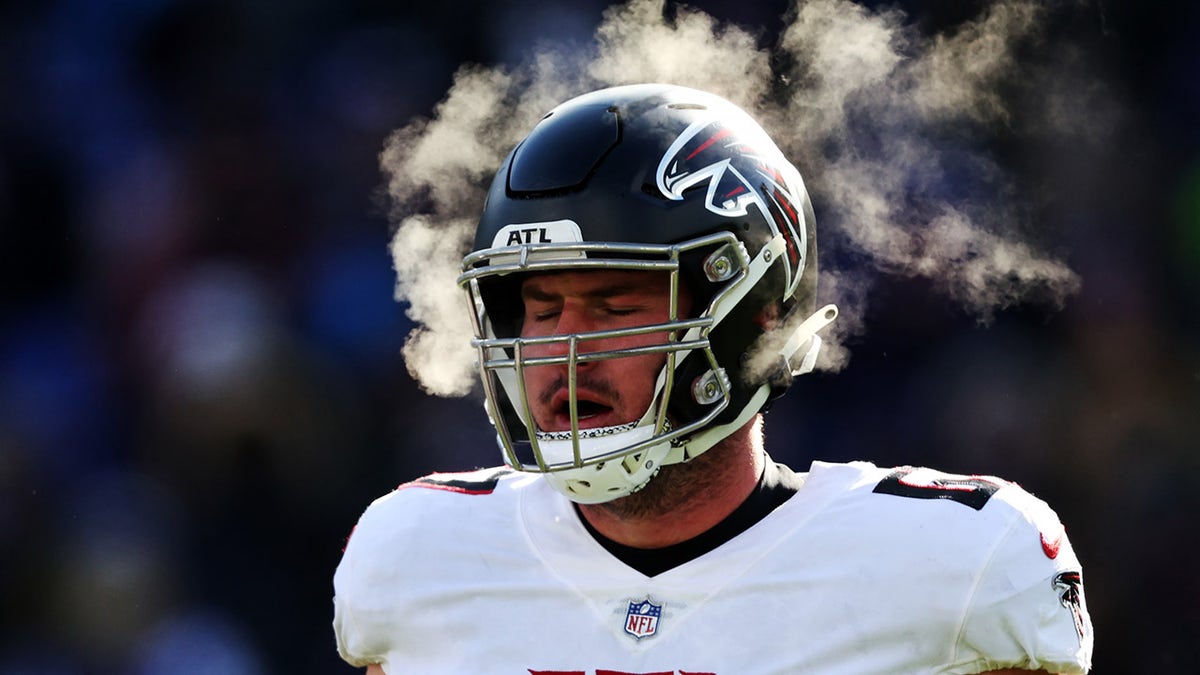 Center Drew Dalman, #67 of the Atlanta Falcons, looks on against the Baltimore Ravens at M&T Bank Stadium on December 24, 2022, in Baltimore, Maryland.  (Rob Carr/Getty Images)
COLIN KAEPERNICK WRITES TO JETS ASKING TO JOIN TEAM IN 'RISK-FREE CONTINGENCY PLAN,' CALLS HIMSELF 'ELITE QB'
"I don't want to make any claims about its life-saving abilities or anything like that, but I think their plan is to offer a more affordable product as they grow."
With the help of the CoolMitt in school, he followed in his father's footsteps in becoming an NFL player. Chris Dalman won a Super Bowl with the San Francisco 49ers.
Now, the younger Dalman is on the 2-1 Falcons in a division that's wide open.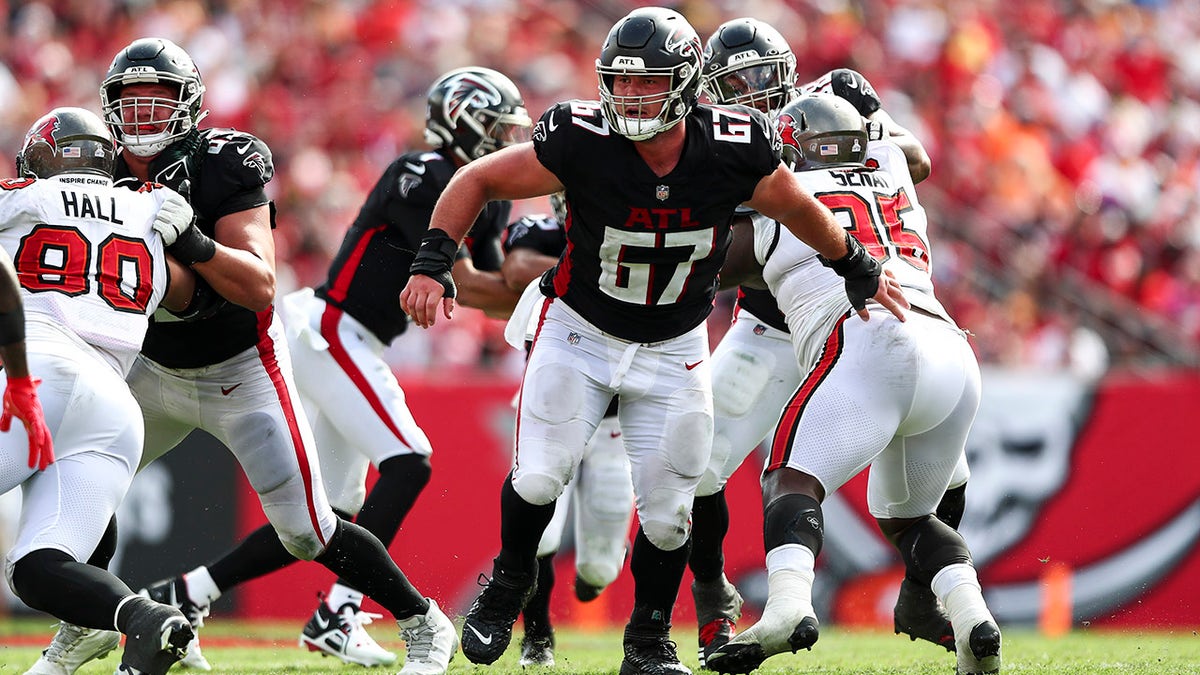 Drew Dalman, #67 of the Atlanta Falcons, blocks during a game against the Tampa Bay Buccaneers at Raymond James Stadium on October 9, 2022, in Tampa, Florida.  (Kevin Sabitus/Getty Images)
CLICK HERE TO GET THE FOX NEWS APP
"I feel like the team is in a good spot. Obviously, we're not happy with a loss. Even though you're winning games, there's still a lot to improve on. I think Coach Smith has done a good job, the players on the team have done a good job of still examining our performance as subjectively as we can to continue to improve and not stagnate on the wins and learn from our losses and all that. The team is just motivated, ready to improve and continue to climb and want to get to where we want to go."