The college football world has been embroiled in controversy after the Big Ten decided to punish Michigan amid the NCAA's investigation into whether Michigan conducted off-campus scouting and sign stealing.
The conference announced Jim Harbaugh will not be allowed to coach during games for the remainder of the 2023 regular season under the Big Ten's sportsmanship policy. 
Michigan coach Jim Harbaugh's college football program is being investigated for alleged sign stealing. (Junfu Han/USA Today Network)
Whether Harbaugh remains away from the sidelines for the next two regular-season games remains up in the air after Harbaugh filed a motion seeking an emergency temporary restraining order along with a preliminary injunction Friday. 
COLLEGE FOOTBALL PLAYOFF RANKINGS: GEORGIA VAULTS TO NO. 1 OVER OHIO STATE AFTER DOMINANT WIN
The question becomes whether the suspension of Harbaugh will impact Michigan's national championship aspirations? 
Let's take a look at the current national championship odds, according to Caesars Sportsbook.
Michigan +220
The Wolverines flew to Happy Valley with their head coach but faced their biggest challenge of the year with him watching from a hotel. And the results were the same as they've been all season for Michigan. The Wolverines put on a show of physicality against Penn State. 
The Wolverines ran the ball 32 straight times to end the game, and quarterback J.J. McCarthy threw the ball just eight times in a 24-13 win. 
"They are the best team, especially in those trenches," Caesars Sportsbook college football lead Joey Feazel told Fox News Digital. "J.J. McCarthy threw like eight or ten times. He barely threw the ball, and they still had a dominant win against a very good Penn State team." 
It was Michigan's first ranked opponent all season, and questions about its strength of schedule have persisted. 
"Well, they played somebody, and they were as dominant as we thought they were going to be," Feazel said. "I think they kind of just proved that they belong, that they're going to be making a big run at this Big Ten title game."
Michigan running backs Blake Corum and Donovan Edwards combined for 197 yards and three touchdowns as the Wolverines passed their first true test of the season.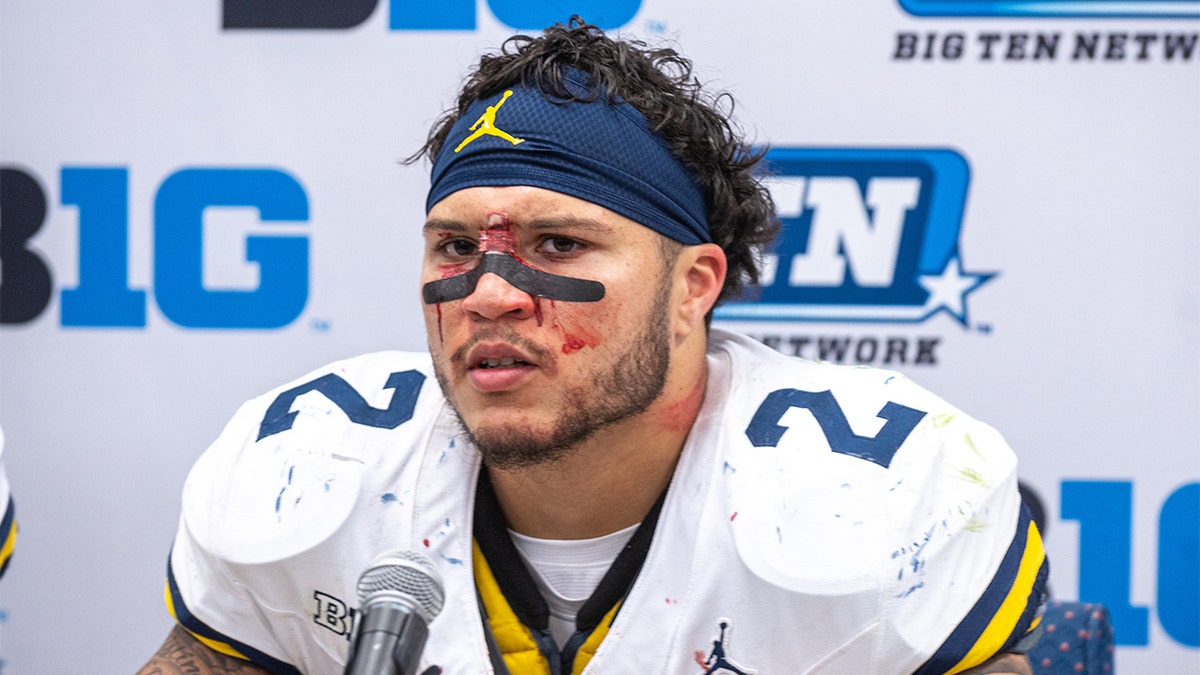 Blake Corum of the Michigan Wolverines speaks to the media during the postgame press conference after a game against the Penn State Nittany Lions at Beaver Stadium Nov. 11, 2023, in State College, Pa. (Aaron J. Thornton/Getty Images)
On Monday, Harbaugh praised his team for battling through adversity, calling it "America's team" amid the sign-stealing allegations. 
"It's gotta be 'America's team.' It's gotta be 'America's team,'" Harbaugh said Monday. "America loves a team that beats the odds, beats the adversity, overcomes what the naysayers and critics, so-called experts think. That's my favorite kind of team."  
The win over Penn State puts the matchup with No. 2 Ohio State Nov. 25 in the spotlight as the biggest game of the 2023 college football season. 
Michigan will have to get by Maryland first, while the Buckeyes have a matchup with Minnesota in Week 12. 
JOHN HARBAUGH SPEAKS ON MICHIGAN SCANDAL, BROTHER JIM'S BAN: 'THEY DON'T HAVE ANYTHING OF SUBSTANCE'
Georgia +260
All the questions surrounding Georgia can be put to bed. The 2023 edition of the Bulldogs is just as dangerous as the two teams that came before them, which both won national championships. 
Georgia dominated Ole Miss Saturday, dropping 51 points on the Rebels, and the Bulldogs will head to another SEC championship game. 
The 27th straight victory for Kirby Smart's team vaulted it over Ohio State in the College Football Playoff rankings.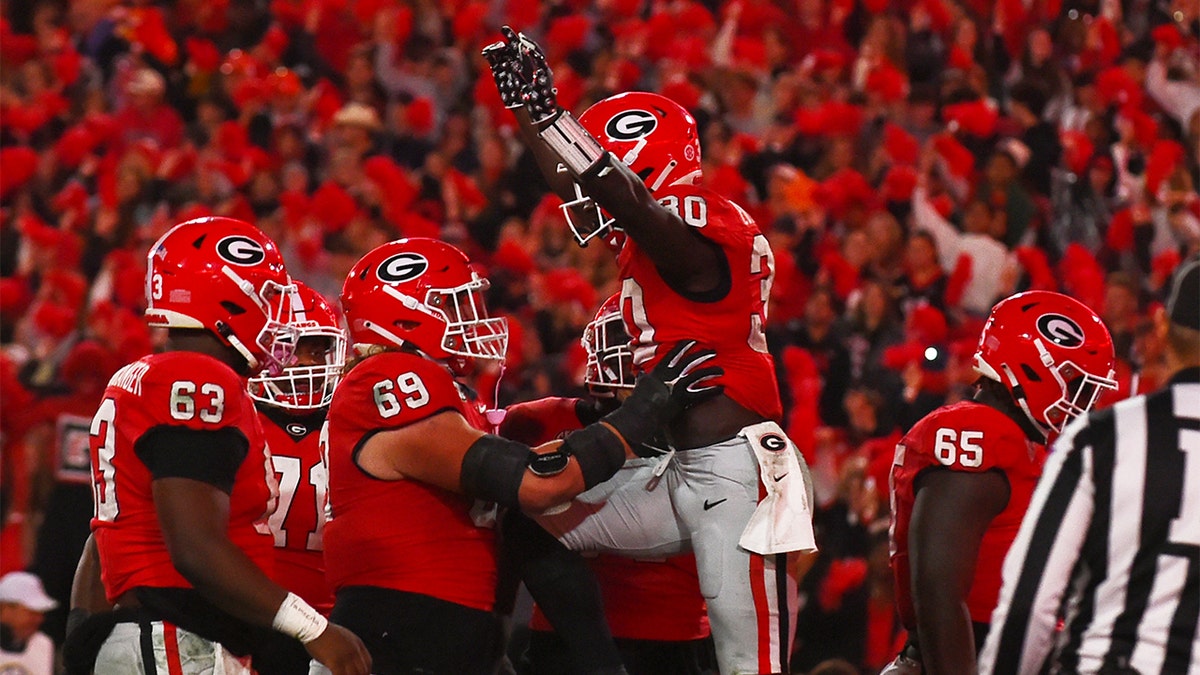 Georgia Bulldogs offensive linemen Tate Ratledge (69) and Georgia Bulldogs running back Daijun Edwards (30) celebrate a touchdown during a game against the Ole Miss Rebels Nov. 11, 2023, at Sanford Stadium in Athens, Ga.  (Jeffrey Vest/Icon Sportswire via Getty Images)
Georgia racked up 611 yards against Ole Miss, 300 on the ground and 311 through the air. 
"I think that (Georgia) offense is overlooked," Ole Miss coach Lane Kiffin said. "It's a defensive-made team, people think. But that's a really good offense."
The Bulldogs have matchups with Tennessee and Georgia Tech before facing Alabama for the SEC title. 
"They've got a tough game on the schedule in the SEC title game," Feazel said of Georgia's odds. "I know they have two more weeks of the regular season to go, but they have to play Alabama. And a really motivated Alabama team in the SEC title game.
"The reason they're lower with us is they do have that tougher opponent in Alabama for the SEC title game that could really throw things in the mix if they don't win that game."
CLICK HERE FOR MORE SPORTS COVERAGE ON FOXNEWS.COM
Alabama +600
The Crimson Tide's odds have jumped after it blew out Kentucky on the road. 
Alabama continues to get better with each passing week after it was left for dead following a loss to Texas in Week 2. 
Quarterback Jalen Milroe had a career-high six touchdowns — three on the ground and three through the air — as Alabama secured the SEC West title.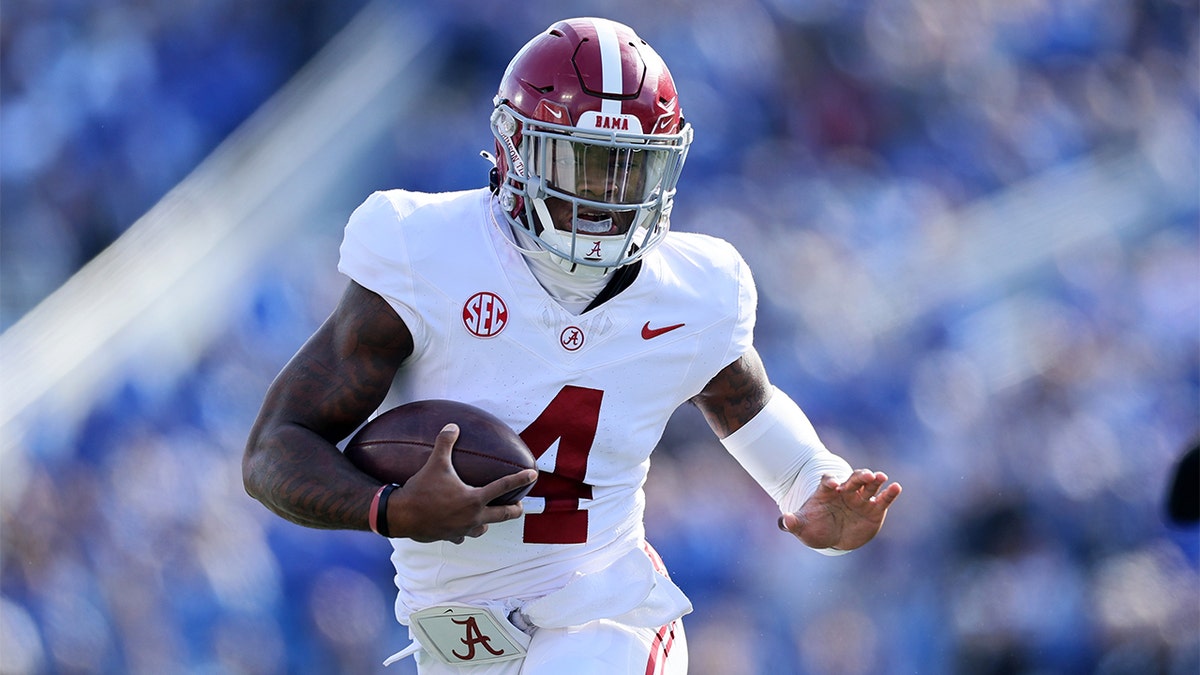 Jalen Milroe of the Alabama Crimson Tide against the Kentucky Wildcats at Kroger Field Nov. 11, 2023, in Lexington, Ky.  (Andy Lyons/Getty Images)
The quarterback position was the biggest question mark for Saban and Alabama through the first few weeks of the season. Milroe didn't play against South Florida in Week 3 but has shown he's more than capable under center, scoring 10 touchdowns the last two weeks. 
Standing in Alabama's way is the loss to Texas, however. 
The Longhorns were selected one spot ahead of Alabama in Tuesday's CFP rankings and could be an obstacle to the Crimson Tide if they're able to run the table. 
COLORADO'S DEION SANDERS QUICKLY SHUTS DOWN NOTIONS HE'S INTERESTED IN TEXAS A&M JOB: 'I'M GOOD'
Oregon +750
The Ducks are playing some of the best football in the country with a quarterback who is the Heisman Trophy favorite after 11 weeks of the season. 
Bo Nix and Oregon won their fourth straight game after an excruciating loss to Washington, defeating Caleb Wiliams and USC in Week 11. 
Nix threw for 412 yards and four touchdowns against the Trojans as Oregon passed a major test. 
"I just think we're still putting things out there to where we can be even better," Nix said. "I think that's the part that keeps you coming back on Monday and making you go back for another week because we know we're not there yet. One of my biggest fears is that we'll become complacent. So, we just have to do a really good job of finding ways to grow."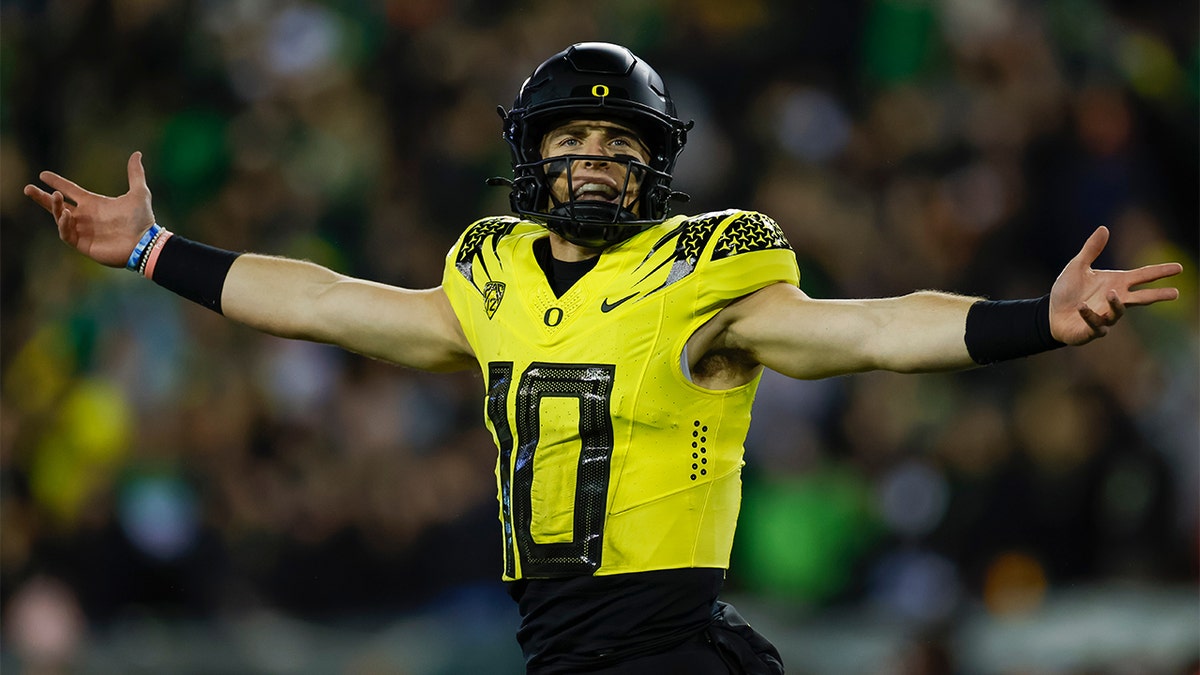 Bo Nix of the Oregon Ducks celebrates a touchdown pass in the first half during a game against the USC Trojans at Autzen Stadium Nov. 11, 2023, in Eugene, Ore.  (Brandon Sloter/Image Of Sport/Getty Images)
CLICK HERE TO GET THE FOX NEWS APP
But the road ahead is not easy for Oregon, and the Ducks must be perfect to achieve their goals. 
After a matchup with ASU, Oregon will face an excellent Oregon State team in what will be their final rivalry game in the Pac-12 as Oregon heads to the Big Ten in 2024. 
If Oregon is able to finish the regular season unscathed, a rematch with Washington in the Pac-12 championship game looks likely with a CFP trip on the line.
Florida State +800
The Seminoles remain undefeated, but their resume is beginning to be questioned. 
Florida State managed to defeat in-state rival Miami Saturday, but as the Washington Huskies continue to defeat Top 25 opponents, there are some rumblings about whether FSU should drop from the fourth spot in the CFP.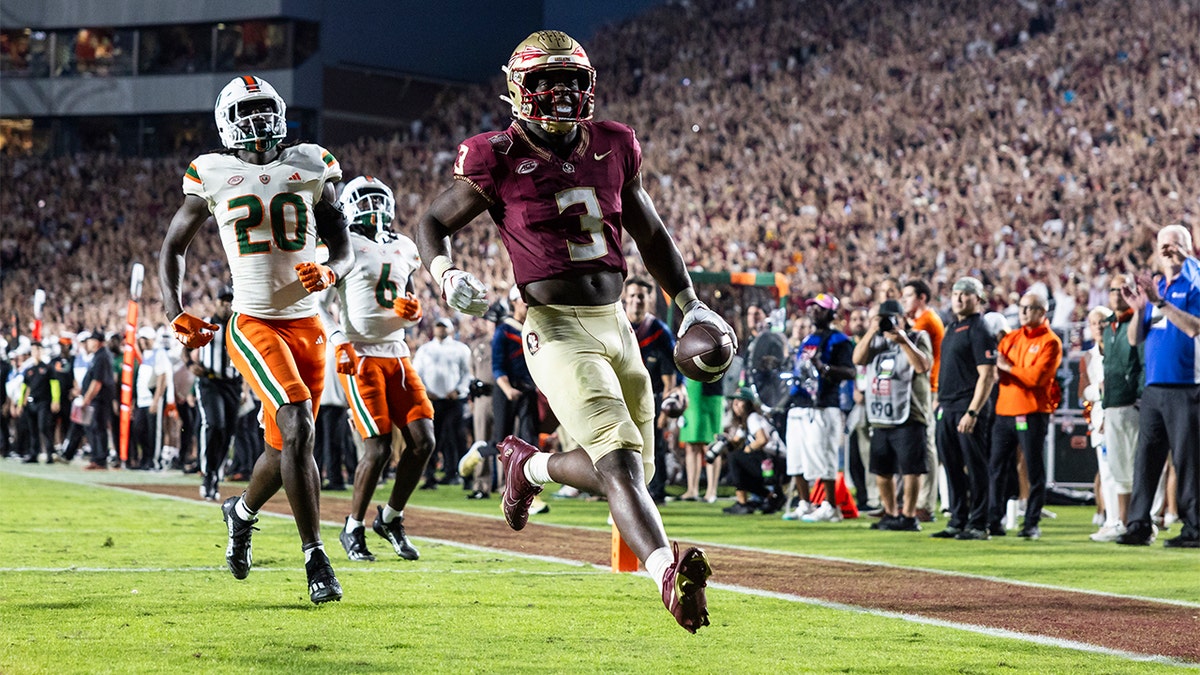 Trey Benson (3) of the Florida State Seminoles scores a touchdown during the second half of a game against the Miami Hurricanes at Doak Campbell Stadium Nov. 11, 2023, in Tallahassee.  (James Gilbert/Getty Images)
The Seminoles have defeated just one team that's currently ranked in the CFP top 25 (LSU) and don't have a ranked team remaining on their schedule, though a matchup with a top-10 ranked Louisville team is a real possibility in the ACC championship game. 
Florida State just needs to continue winning, and a CFP berth is real. 
"I think what the odds reflect is, when they get in, they'll probably be an underdog in any game that they play against these other top-three teams," Feazel said of the Seminoles, noting a loss would likely knock them out of the CFP contention. 
"They do have one of the best chances to get into the playoff, obviously, with their remaining schedule," he added. "They have to get through Louisville in the ACC title game and still, these final two weeks, don't get a loss. But I think, really, what the odds are reflecting is that when they get to the playoff, what is their actual opportunity to win it all? And I think it's a little bit less than probably others think."
Ohio State +1000
Washington +1400
Texas +1800
Louisville +15000
Joe Morgan is a Sports Reporter for Fox News.