The Big Ten has come down hard on Jim Harbaugh and the Michigan Wolverines. 
The conference announced Friday that Harbaugh will not be allowed to coach for the remainder of the 2023 regular season after the Big Ten found that Michigan "has been found in violation of the Big Ten Sportsmanship Policy for conducting an impermissible, in-person scouting operation over multiple years, resulting in an unfair competitive advantage that compromised the integrity of competition."
Head coach Jim Harbaugh of the Michigan Wolverines talks to J.J. McCarthy #9 during a time out while playing the Indiana Hoosiers at Michigan Stadium on October 14, 2023 in Ann Arbor, Michigan.  (Gregory Shamus/Getty Images)
"As a penalty imposed on the institution, the University football team must compete without its Head Football Coach for the games remaining in the 2023 regular-season, effective immediately," the Big Ten said in a release. "This disciplinary action shall not preclude the University or its football team from having its Head Football Coach attend practices or other football team activities other than the game activities to which it applies. For clarity, the Head Football Coach shall not be present at the game venue on the dates of the games to which this disciplinary action applies."   
FOX SPORTS' TIM BRANDO GIVES THOUGHTS ON MICHIGAN SIGN-STEALING SCANDAL, 'MEDIA'S MANIPULATION'
Wolverines staff member Connor Stalions, who is at the center of the controversy, resigned last Friday after being initially suspended with pay during the NCAA investigation into the alleged off-campus scouting and sign-stealing. 
Last week, multiple reports surfaced that Big Ten coaches held a Wednesday video call with Big Ten commissioner Tony Petitti and urged him to take action against Michigan as the NCAA investigation will likely take time. 
ESPN reported Thursday that Big Ten athletic directors also held a video call with Petitti without Michigan athletic director Warde Manuel to discuss the allegations.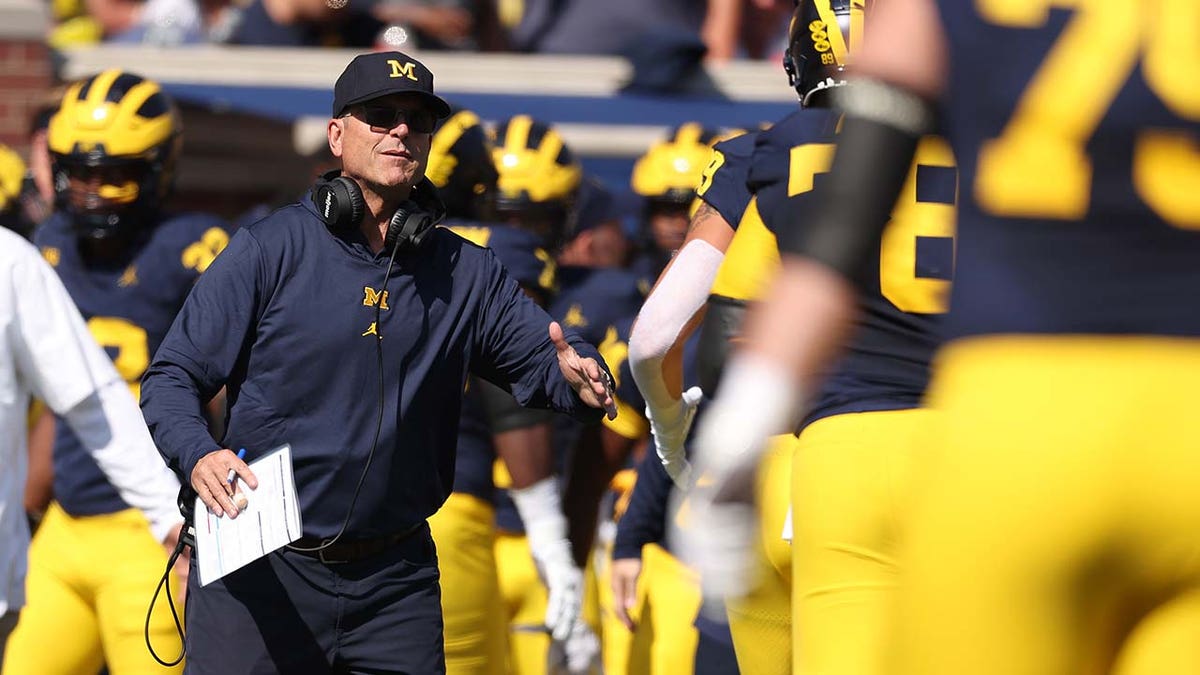 Head coach Jim Harbaugh of the Michigan Wolverines looks on in the first half while playing the Rutgers Scarlet Knights at Michigan Stadium on September 23, 2023 in Ann Arbor, Michigan. (Gregory Shamus/Getty Images)
The Big Ten reportedly notified Michigan that it could be facing disciplinary action, to which Michigan responded on Wednesday, according to ESPN. 
CLICK HERE FOR MORE SPORTS COVERAGE ON FOXNEWS.COM
After the NCAA notified Michigan of its investigation, Harbaugh denied any knowledge or involvement in the alleged sign-stealing.
"I do not have any knowledge or information regarding the University of Michigan football program illegally stealing signals, nor have I directed any staff member or others to participate in an off-campus scouting assignment," Harbaugh in a statement. "I have no awareness of anyone on our staff having done that or having directed that action."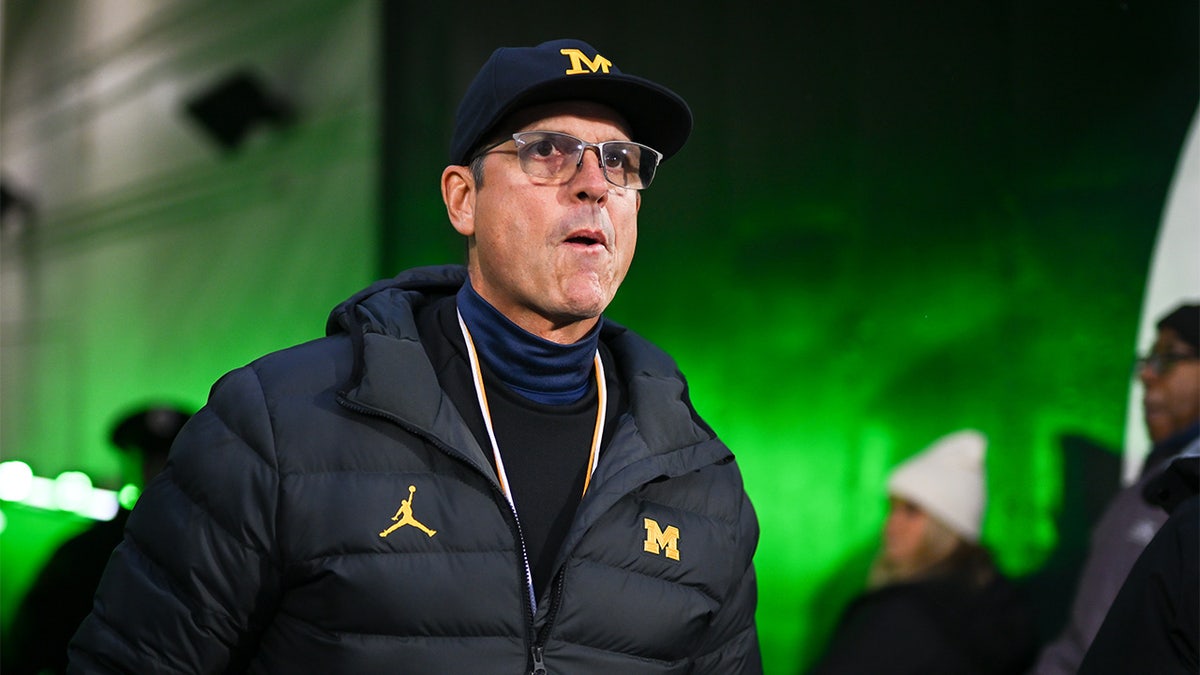 Michigan Wolverines head coach Jim Harbaugh walks through the tunnel prior to  a college football game between the Michigan State Spartans and Michigan Wolverines on October 21, 2023 at Spartan Stadium in East Lansing, MI.  (Adam Ruff/Icon Sportswire via Getty Images)
CLICK HERE TO GET THE FOX NEWS APP
Michigan is preparing to play No. 10 Penn State on Saturday and is traveling to Happy Valley on Friday. 
The Wolverines have three games remaining on their schedule, including a November 25th matchup with No. 1 Ohio State. 
Joe Morgan is a Sports Reporter for Fox News.