A.J. Brown thrived last season in his first year with the Philadelphia Eagles, and he is in the midst of another impressive season.
The Eagles advanced to the Super Bowl last season and have the best record in the NFL through nine games. On Sunday, Philly hosted the division rival Dallas Cowboys. 
At some point during the game, Brown requested a Band-Aid for his foot. 
"Can I get a Band-Aid for my foot?" Brown said in a social media video posted to the Eagles' verified account.
CLICK HERE FOR MORE SPORTS COVERAGE ON FOXNEWS.COM
Philadelphia Eagles wide receiver A.J. Brown celebrates after a victory over the Pittsburgh Steelers Oct. 30, 2022, in Philadelphia.  (AP Photo/Derik Hamilton)
Brown had a hilarious reaction when a member of the Eagles' training staff apparently began applying antiseptic spray because there was some blood. 
"Just put the Band-Aid on and come on," Brown said. "You gonna make it burn." 
Fellow wide receiver DeVonta Smith was sitting next to Brown on the team bench and offered his teammate some advice.
"That's to stop the bleeding, man," Smith said.
NFL POWER RANKINGS: LOOKING AT THE LEAGUE FROM TOP TO BOTTOM AT THE MIDWAY POINT
Brown eventually tried to get some clarity on what the trainer was putting on his foot. 
"What is that, peroxide? What is this?" Brown asked.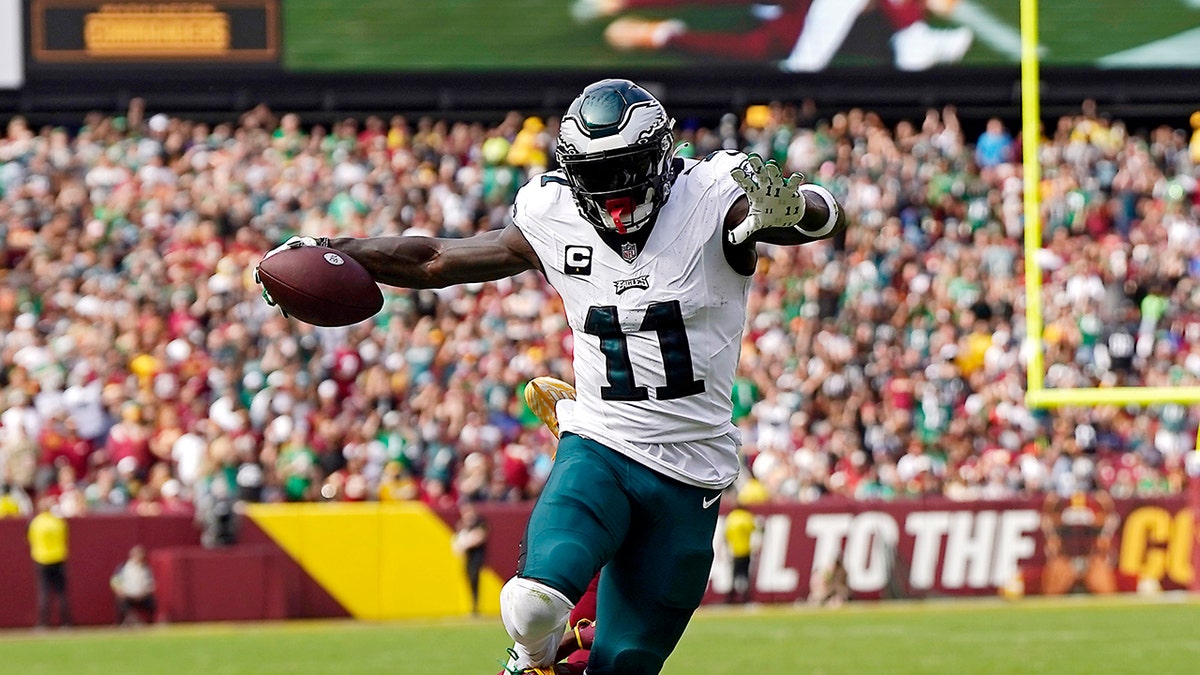 A.J. Brown of the Philadelphia Eagles in the second quarter of a game at FedExField Oct. 29, 2023, in Landover, Md. (Jess Rapfogel/Getty Images)
NFL films captured the hilarious exchange as Brown was mic'd up during a Week 9 game.
Brown has caught 67 passes for 1,005 yards and six touchdowns through nine games this season. His receiving yards are second only to Miami Dolphins star Tyreek Hill.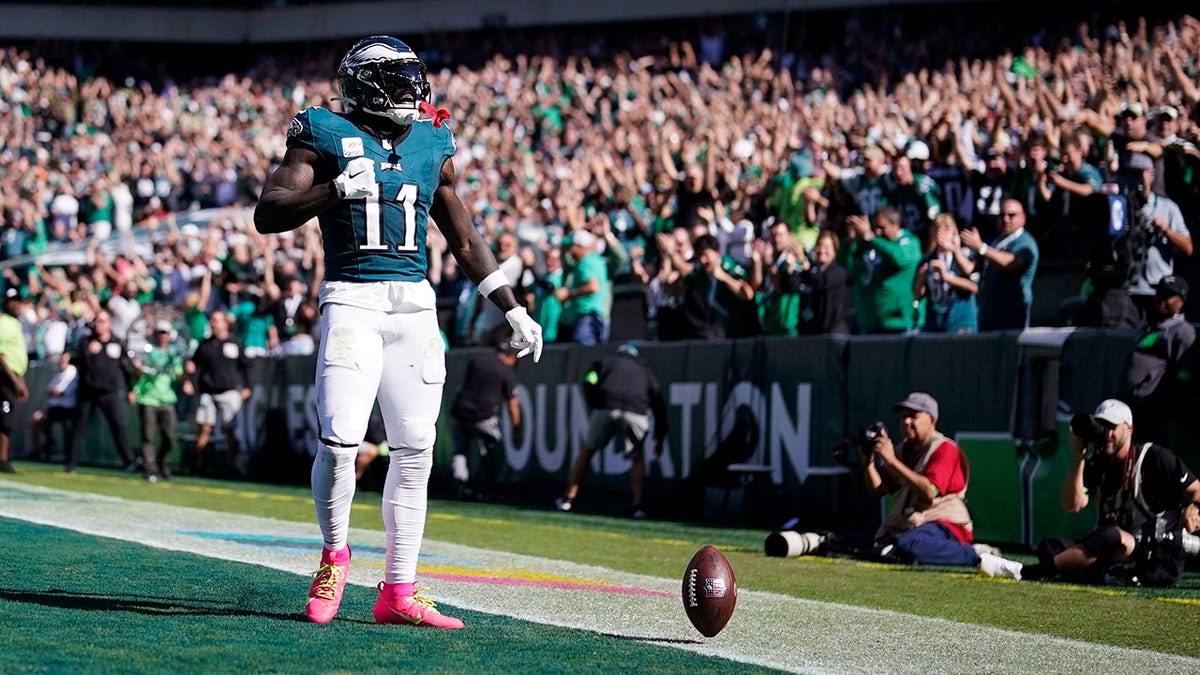 Philadelphia Eagles wide receiver A.J. Brown celebrates his touchdown during the second half of a game against the Washington Commanders Oct. 1, 2023, in Philadelphia.  (AP Photo/Matt Slocum)
CLICK HERE TO GET THE FOX NEWS APP
The Eagles are on a bye this week and return to action for a matchup against the Chiefs Nov. 20 at Arrowhead Stadium.
Chantz Martin is a sports writer for Fox News Digital.