Lionel Messi has won the men's Ballon d'Or, soccer's biggest individual prize, for a record-extending eighth time.
After missing out on the trophy in 2022, Messi, who is widely regarded as the best soccer player ever, reclaimed the title as the current best in the world on Monday, adding to his storied career.
"Tonight I'm enjoying myself. It's a pleasure that will never leave me, and I hope to be able to enjoy it for many years to come," Messi said in his acceptance speech through a translator.
Messi won the trophy in 2009, 2010, 2011, 2012, 2015, 2019, 2021, and now 2023.
OWEN WILSON LIKENS LIONEL MESSI MANIA TO PELÉ'S SHOCKING ARRIVAL TO US IN 1975: 'MAYBE EVEN BIGGER'
Lionel Messi accepts his eighth Ballon d'Or trophy at the Theatre Du Chatelet on in Paris on Oct. 30, 2023. (Pascal Le Segretain/Getty Images)
The 36-year-old Messi won ahead of Manchester City forward Erling Haaland, a 23-year-old Norwegian star who is dominating the English Premier League, England's top soccer competition. Haaland, who is called a goal-scoring machine, has averaged more than one goal per game in his 45 matches this season. He also scored 36 goals in 35 appearances during 2022, his debut year, setting a league record.
Other contenders for the top title included Messi's former teammate at Paris Saint-Germain, the 24-year-old French sensation Kylian Mbappé, who helped carry France to the 2022 World Cup finals.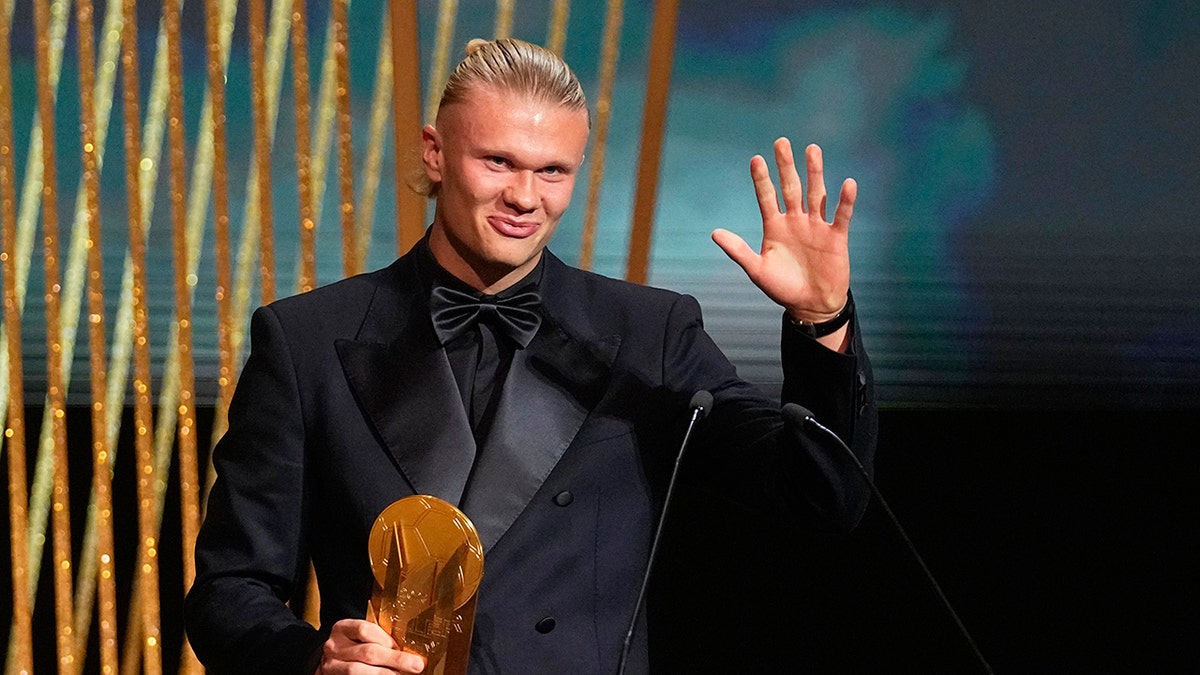 Manchester City's Erling Haaland celebrates after receiving the Gerd Müller trophy during the 67th Ballon d'Or ceremony at Theatre du Chatelet in Paris. (AP Photo/Michel Euler)
Messi tipped his proverbial cap to both rising stars, saying they deserve the title and will win it too "one day."
"Haaland and Mbappe will win the Ballon d'Or one day," Messi said. "Erling deserved it very much too, he has won the Premier League, and Champions League while being the top scorer of everything. This award could have been yours today too. I'm sure in the next years you will win it."
Messi's historic eighth Ballon d'Or comes he after captured his first World Cup title in Qatar last year after leading Argentina to a victory over France.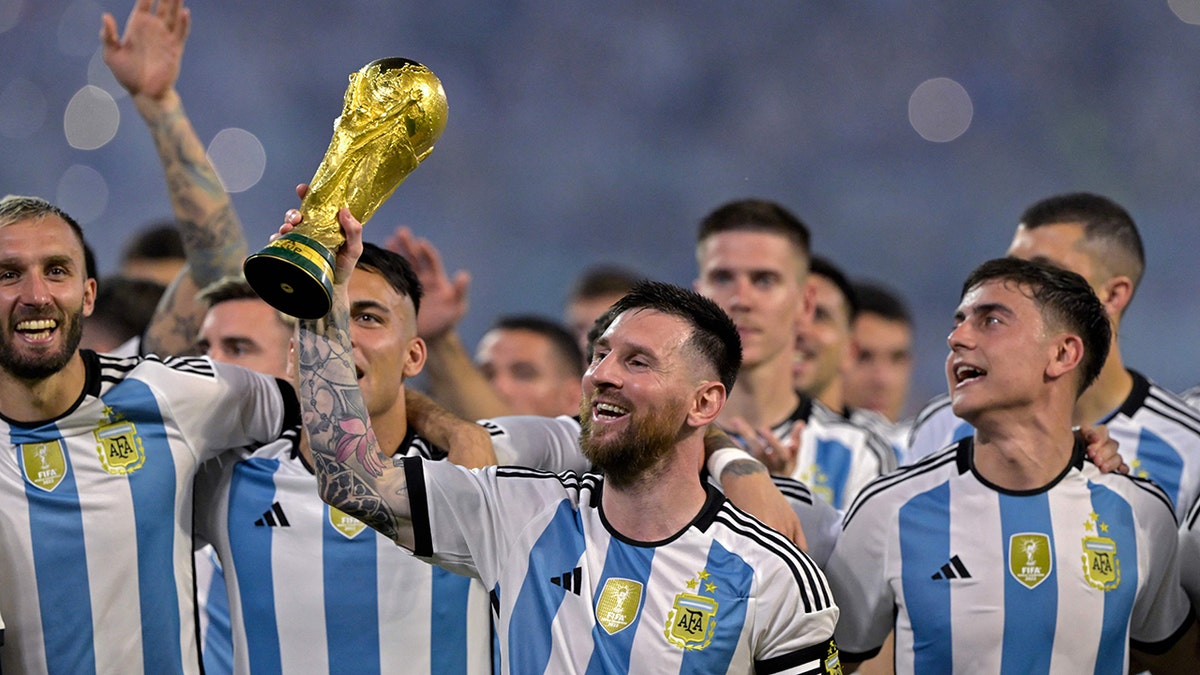 Argentina's forward Lionel Messi (C) raises a replica of the World Cup trophy next to his teammates during a recognition ceremony following the friendly football match between Argentina and Curacao in March. (JUAN MABROMATA/AFP via Getty Images)
Since moving to Inter Miami in the United States, Messi has already picked up his first silverware after inspiring the team to victory in the U.S. Leagues Cup.
Messi's latest win marked the first time a Major League Soccer-based player got such recognition. Messi received the trophy from former Manchester United star David Beckham, who is one of the owners of his new club.
"I'm very happy with the decisions I've made and to be with Miami," Messi said.
LIONEL MESSI SCORES INCREDIBLE GOAL FROM 20 YARDS OUT AS MIAMI TOPS PHILADELPHIA IN LEAGUES CUP SEMIS
During Monday's acceptance speech, Messi thanked his Argentina coach, teammates and staff for making his victory possible.
"Becoming world champion was the title we were missing. I'd like to thank everyone who helped make Argentina the world champion team, the soccer star said.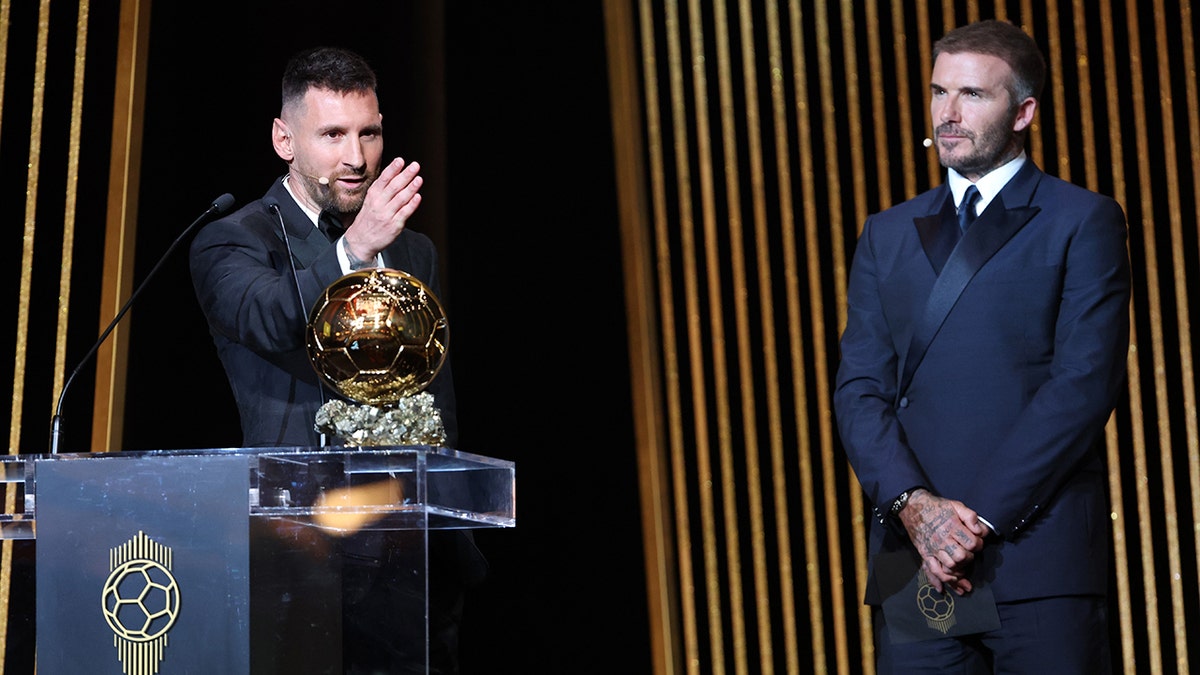 Lionel Messi (left) and David Beckham (right) attend the 67th Ballon D'Or Ceremony in Paris. (Pascal Le Segretain/Getty Images)
He won the sport's biggest individual prize due to his tremendous World Cup performance, where he scored seven goals for Argentina and assisted in three. He scored twice in the final against France.
Messi also paid tribute to the late Diego Maradona, who also helped Argentina win the World Cup back in 1986.
"This title and this trophy," Messi said, "I share them with you and all our Argentina comrades."
CLICK HERE FOR MORE SPORTS COVERAGE ON FOXNEWS.COM
Aitana Bonmati won the women's award for guiding Spain to victory at the Women's World Cup in August. She also helped Barcelona win the Women's Champions League and Spanish league.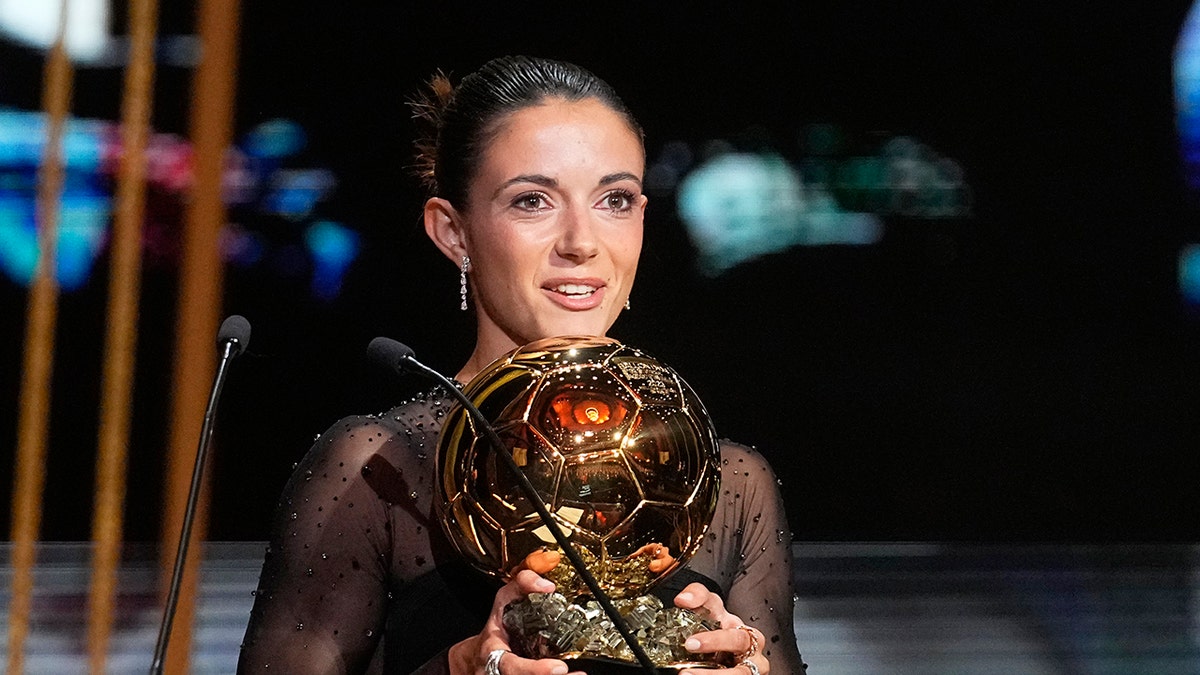 FC Barcelona's and Spain's national team midfielder Aitana Bonmati received the 2023 Women's Ballon d'Or award in Paris on Monday. (AP Photo/Michel Euler)
As far as the Ballon d'Or goes, no other player has ever won more than five times.
Cristiano Ronaldo, the famed Portuguese striker who is often included in the greatest-of-all-time conversation, has won the trophy five times while Michel Platin, Johan Cruyff and Marco van Basten each won it three times.
CLICK HERE TO GET THE FOX NEWS APP
In other awards, the best under-21 player was Jude Bellingham, an English player on La Liga club Real Madrid, and Haaland won the Gerd Müller award for the best striker of the year. Real Madrid's Karim Benzema won the Ballon d'Or in 2022.
The Lev Yashin award for best goalkeeper went to Emiliano Martinez, an Argentinian who plays for the Premier League club Aston Villa and the Argentina national team.
The humanitarian prize named after the late Brazil midfielder Socrates went to Vinicius Junior, a Real Madrid player, for his involvement in the foundation he set up for underprivileged children.
The Associated Press contributed to this report.