The Detroit Lions have hit the halfway mark of the season and sit atop the NFC North after a bye week. But head coach Dan Campbell is looking for his team to clean it up and keep it up as it eyes its first division title in 30 years. 
Lions 2022 first-round pick Aidan Hutchinson spoke to Fox News Digital on behalf of USAA about Detroit's much-needed win over the Las Vegas Raiders heading into the bye following a humbling loss to the Baltimore Ravens. 
Aidan Hutchinson of the Detroit Lions plays against the Las Vegas Raiders at Ford Field Oct. 30, 2023, in Detroit.  (Gregory Shamus/Getty Images)
"It was huge, man. It was huge," Hutchinson said. 
EX-MICHIGAN STAR PRAISES WOLVERINES' UNDEFEATED SEASON AS SIGN-STEALING CONTROVERSY SWIRLS
"Just one, going into a bye week with a win is just – it puts a cherry on top because you're about to have the best two weeks of all time. And then really doing it in that dominant of a fashion defensively. I was really happy because we bounced back against the Ravens two weeks ago, which was a bit of a tough game, tough pill to swallow for us. But I feel like life in the NFL is all about how you respond to adversity."
The Ravens routed the Lions 38-6, snapping their four-game win streak. But Detroit quickly bounced back with a win over the imploding Las Vegas Raiders. 
The Lions enter Week 10 still atop the NFC North with their best record since 2014 and with a chance to claim a division title for the first time in nearly three decades. While some might choose to silence the pressure that comes with the opportunity to alter a franchise's identity, Hutchinson told Fox News Digital the Lions welcome it.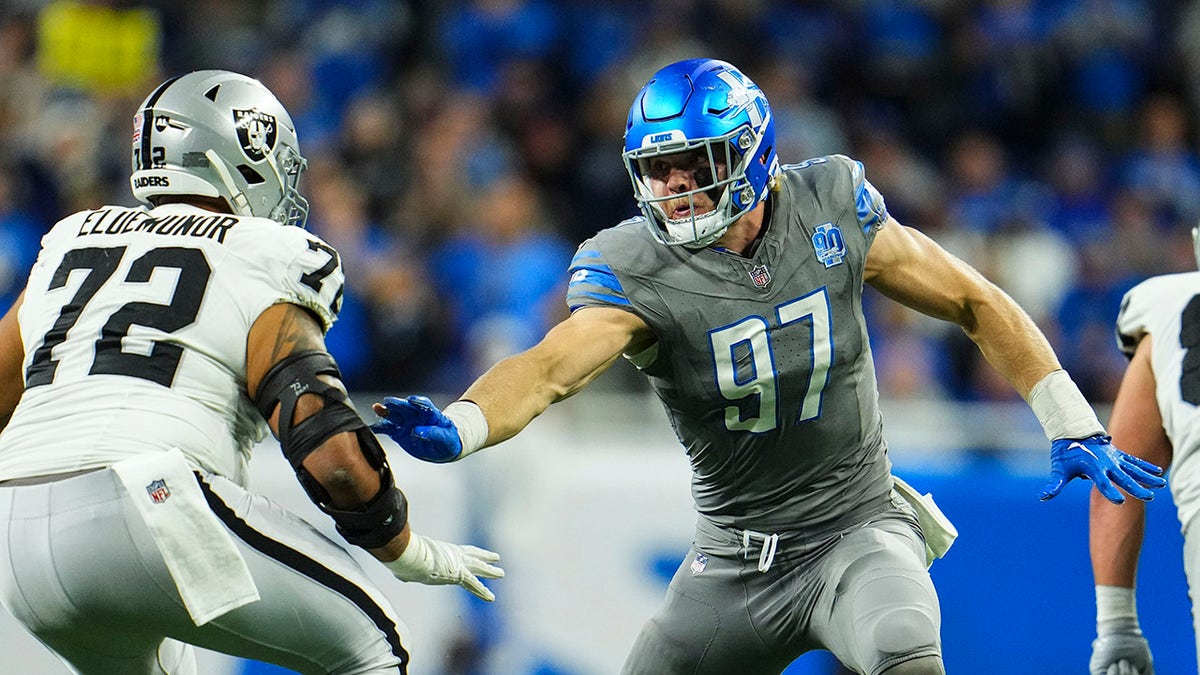 Aidan Hutchinson (97) of the Detroit Lions rushes the passer during a game against the Las Vegas Raiders at Ford Field Oct. 30, 2023, in Detroit.  (Cooper Neill/Getty Images)
"I don't really think there's any point in silencing it," he said. 
"I think it's very motivating for us because we know that there's been a drought for so long, and we're just — some of the guys are sick of it. We're sick of it, and we're ready for a change. And I think everyone on this team wants to be a part of that change."
CLICK HERE FOR MORE SPORTS COVERAGE ON FOXNEWS.COM
Campbell told reporters Monday that while the Lions have been good enough to be 6-2, there's more work to be done. 
"By December, we need to be playing our best football, collectively," Campbell said. "We still have left so much out there, and as good as we've played to get six wins, we've been able to complement each other. But I would say we have not played our best football collectively – offense, defense and special teams."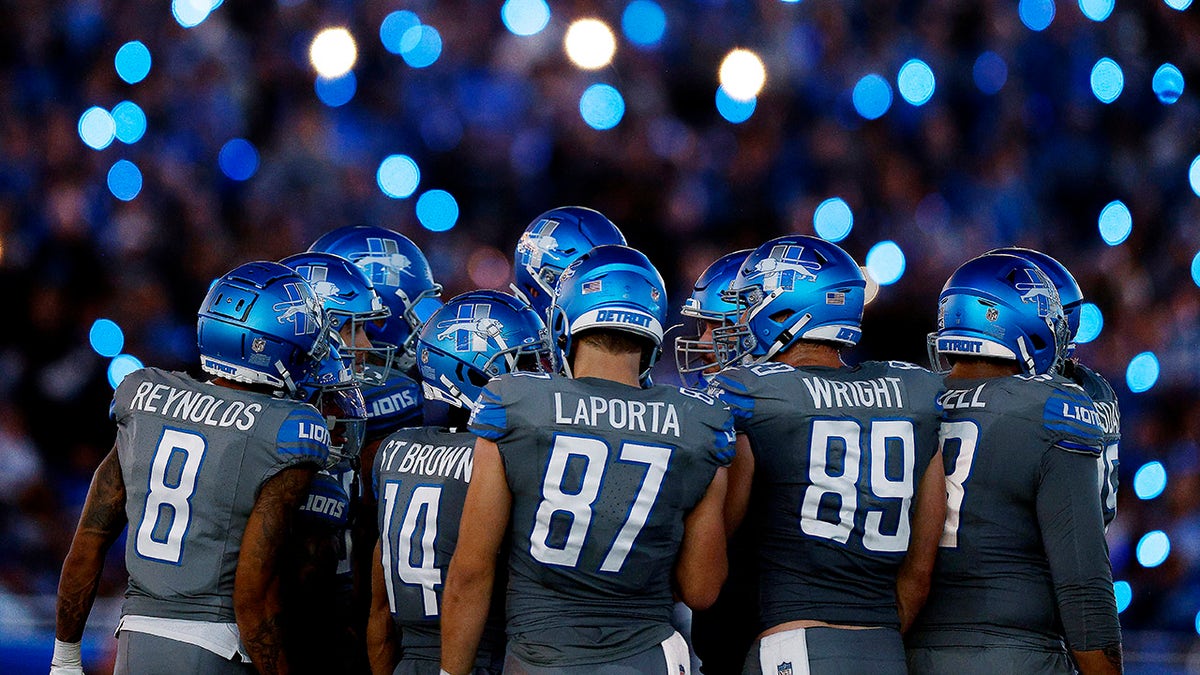 The Detroit Lions' offense huddles in the second half against the Las Vegas Raiders at Ford Field Oct. 30, 2023, in Detroit.  (Mike Mulholland/Getty Images)
CLICK HERE TO GET THE FOX NEWS APP
Despite having room to improve, Campbell likes the makeup of his team. 
"I like where we're at. We've got things to clean up, as any team would." 
The Lions next take on the Los Angeles Charges, who are coming off a short week after snapping the New York Jets' three-game win streak.