Lane Kiffin has nothing to apologize for during the leaked exchange with DeSanto Rollins.
The Ole Miss football coach is facing intense criticism and scrutiny after audio leaked of him getting into it with the defensive lineman turned offensive lineman over the excuse he wasn't showing up over mental health reasons. The Ole Miss player was gone for weeks before speaking with his head coach.
Rollins was eventually removed as an active player following an intense meeting with Kiffin, and the audio went mega-viral Thursday – weirdly released right before the biggest game of the Ole Miss coach's career against Georgia. 
head coach Lane Kiffin of the Mississippi Rebels  during the game against the Texas A&M Aggies at Vaught-Hemingway Stadium on November 04, 2023 in Oxford, Mississippi.  (Justin Ford/Getty Images)
You can listen to the viral segment below, and send me your thoughts to David.Hookstead@outkick.com.
CALEB WILLIAMS WEEPING IN MOTHER'S ARMS AFTER USC LOSS SHOWS HE'S NOT READY FOR NFL DRAFT — COMMENTARY
Short audio only tells part of the story
While many are going wild over the audio clip, Front Office Sports released the full exchange that paints a better picture. In fact, Kiffin goes out of his way to say he's not attempting to diminish any problems Rollins might have. He just needs to meet with the player to speak. Interesting how that wasn't included in the viral clips. Just so everything is out in the open, we're publishing the audio transcribed to the best of our ability.
"You have a f—ing head coach. This is a job. Guess what? If I have mental issues  — and I'm not diminishing them — I can't not see my f—ing boss, when you were told again and again the head coach needs to see you. It wasn't to make you practice. It wasn't to make a position you don't f—ing want to, okay. It was to talk to you and explain to you in the real world, okay, because I don't give a f— what your mom says, okay, or what you think. In the real f—ing world, you show up to work. And then you say, 'Hey, I have mental issues, okay. I can't do anything for two weeks, but if you change my position, I won't have mental issues.' I guaranteed if we f—ing called you in and said you're playing defense, would you have mental issues? Would you have been at practice? Would you have skipped two weeks of workouts," Kiffin bluntly asked Rollins in the full audio.
Instead of just listening, Rollins felt the need to poke and prod – pretty convenient given he's recording, and asked, "Why are you calling it skipping?"
"Okay. Hey, Keith Carter I'm not going to show up to work the next two weeks. Oh you want to meet with me? No, I'm not going to meet with you. Fired," Kiffin responded without hesitation.
He further pushed back on the idea he wasn't taking Rollins' issues seriously by adding, "I didn't say they are not real. You show up when your boss wants to meet with you, and I mean it wouldn't have been like this. It would've been like okay, if you would've come here, when you kept getting messages the head coach wants to talk, you say I'm not ready to talk to him." This is where the viral clip picks up.
At the end, Kiffin encouraged Rollins to understand the real world doesn't just let you skip your obligations whenever you might want.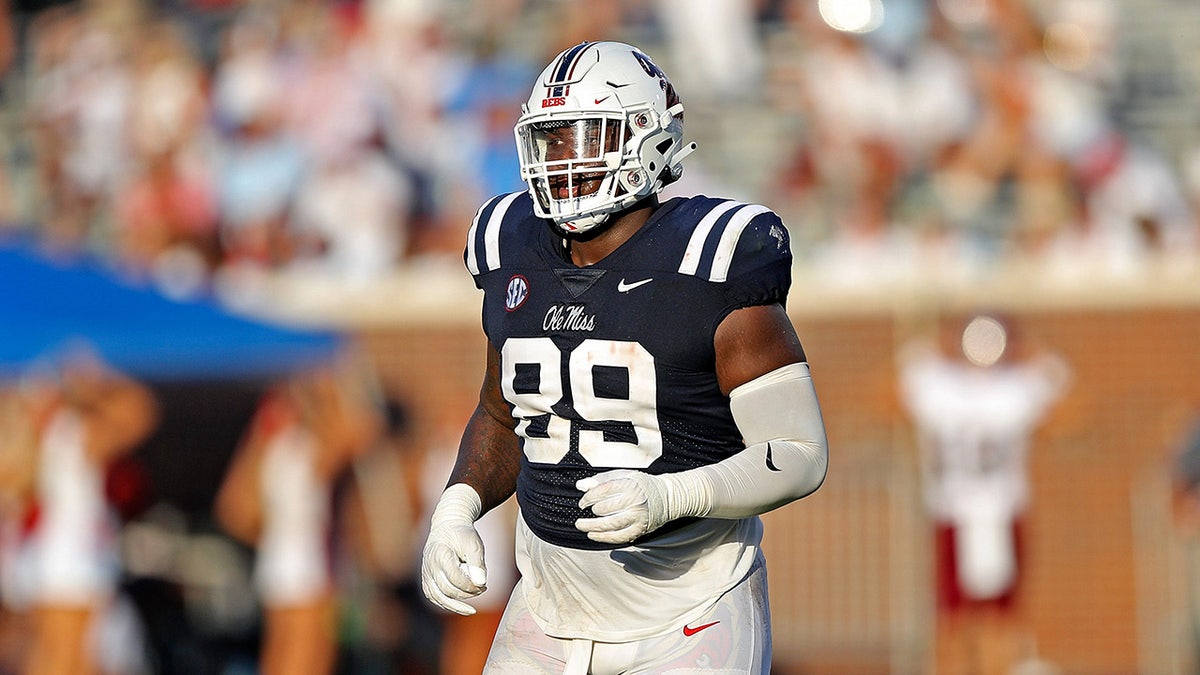 DeSanto Rollins #99 of the Mississippi Rebels during the game against the Troy Trojans at Vaught-Hemingway Stadium on September 03, 2022 in Oxford, Mississippi. (Justin Ford/Getty Images)
"So, when you have a real job, okay, someday, and your boss says, 'Come in and meet.' I advise to go meet with him, and not say, 'No, I'm not ready to meet with my boss. Maybe a few weeks from now,'" the Ole Miss coach bluntly stated.
Rollins is currently suing the program for $40 million in a federal court claiming Kiffin discriminated against on the grounds of race, sex and disability and created a "hostile educational environment," according to the Vicksburg Post.
Lane Kiffin didn't do anything wrong
Now that the facts of the audio are out – not a short clip but the full facts – I'm not sure how anyone can claim for a second that Lane Kiffin is in the wrong with this situation.
Putting aside the fact he was secretly recorded, which isn't illegal but definitely unethical, I'm not sure what anyone is complaining about.
Perhaps, some people don't like the language. Fair enough, but the overall message is not just tolerable, it's 100% justified and correct.
Now, let me make it clear that I don't believe mental health issues are fake or anything like that. I know people who battle demons every day that you couldn't possibly imagine. I have friends with severe TBI and PTSD, and I've unfortunately known people with serious issues that chose to hide them instead of seeking help. The outcomes are rarely positive. So, please, do not think for one second my argument in favor of Lane Kiffin is claiming mental health issues aren't real. Just like Kiffin acknowledged, I know they're real and can be serious.
CLICK HERE FOR MORE SPORTS COVERAGE ON FOXNEWS.COM
What is the argument against Kiffin?
Having said that, there's absolutely no argument I believe that can be made in support of Rollins over Lane Kiffin.
Kiffin is 100% correct when he says there are obligations that must be met in the real world, and not showing up is simply not an excuse. It's just not.
For example, I have a contract with OutKick. That contract provides me a financial benefit in return for specific requirements that are laid out and understood by all parties involved. I don't have the ability to just not show up for weeks without at least having a conversation about it. There's no job that I know of where that is acceptable. If a person doesn't hold up their side of the bargain, then the bargain no longer exists.
Now, this detail is incredibly important. There was absolutely no benefit lost for Rollins other than he wasn't on the field anymore. You don't have a right to play on a football team. It's a privilege – one lost by the DL turned OL not showing up and ignoring coaches. An Ole Miss official told me Thursday night that Rollins' scholarship continues to be honored and he wasn't even actually kicked off the team.
"DeSanto was never removed from the football team and remains on scholarship. In addition, he continues to have the opportunity to receive all of the resources and advantages that are afforded a student-athlete at the university," the school's statement explained.
The only benefit lost was Rollins couldn't be on the field and play. You have no right to play. I would argue Kiffin would have been justified in pulling Rollins' scholarship for not showing up, but Ole Miss didn't even attempt to do that. What is the case here from Rollins? He's demanding playing time? Give me a break. That's not how the world works, and don't take my word for it.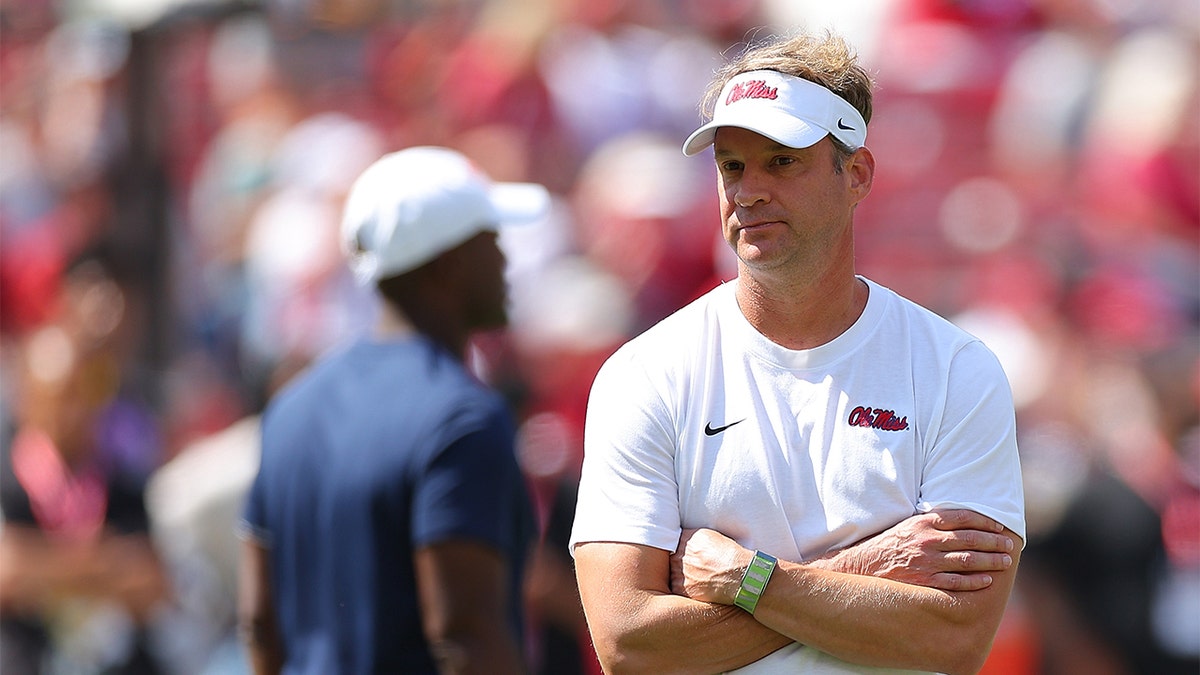 Head coach Lane Kiffin of the Mississippi Rebels looks on during warmups prior to facing the Alabama Crimson Tide at Bryant-Denny Stadium on September 23, 2023 in Tuscaloosa, Alabama.  (Kevin C. Cox/Getty Images)
Former SEC star supports Lane Kiffin.
I spoke with former Arkansas star and Super Bowl champion Jake Bequette about the issue, and he was equally as blunt as Kiffin with his reaction.
"Kiffin handled the situation in the way that a championship-caliber coach should. There's a weird obsession with 'mental health awareness' across the board that's undermining personal and team accountability — the cornerstones of a winning organization. Show me an organization that prioritizes 'mental health' and I'll show you a losing program," Bequette told me when asked if he thought Kiffin had handled the situation appropriately.
I followed up by asking if he would want a guy who simply doesn't show up anywhere near the locker room. His response was equally as straightforward.
"Neither me or any other team captain on my college football teams would ever have accepted such behavior from a fellow player — and nor would Coach Petrino or any member of the coaching staff. Coach Belichick had a saying with the Patriots: 'This train is moving down the tracks going 100 mph — either get on board or get run over.' That's the attitude you want to cultivate, not an environment of excuses and weakness like Sam Pittman has cultivated at Arkansas. That's why Kiffin is in the Top-10 and Pittman is 3-6," he explained.
While I think mental health can be a priority while still winning – although, it can't be a crutch to lean on – I think Bequette's overall stance is correct. He's a Super Bowl champion and former SEC star. He certainly knows a hell of a lot more than people clutching pearls on Twitter.
Darren Rovell was acting like Lane Kiffin did something so appalling it was beyond words. Who do we trust more: an actual player or people who are tough online?
CLICK HERE TO GET THE FOX NEWS APP
The world is getting way too soft, and mental health isn't an impenetrable shield.
At some point, people need to be told to grow up and start acting like an adult. DeSanto Rollins is a junior in college. He's an adult man, and clearly doesn't know how to act like it. That's made obvious not just from his exchange with Kiffin, but the fact it was recorded.
The counterpoint here is some will argue you can't demand much of college students. It was the same argument made for former Alabama star Brandon Miller after he drove a car carrying a gun to an eventual murder scene.
It's the bigotry of low expectations. There are young people in this country ages 18-23 working full time jobs, taking care of families, deploying to war and carrying heavy weights and expectations on their shoulders, and they still show up day in and day out to get the job done. Why is a college football player on a full scholarship with his room and board paid and NIL opportunities held to a lower standard than a 19-year-old making $12 an hour in a factory? In what world does that make sense? The answer is it doesn't.
The more you get, the higher the expectations. Being an SEC football player at Ole Miss is right near the top of the totem pole for privilege and luxury. With that comes great expectations. One of those is showing up when your boss needs to speak with you. You might not want to do it. Fair enough. Clearly, Rollins didn't, but welcome to reality. People do stuff they don't want to do all the time because it's a required obligation. Athletes aren't exempt from this simple reality of life.
The "mental health" shield has to stop. It simply can't be tolerated. Again, I understand mental health is real, and my heart empathizes with people who struggle. However, there's a huge difference between struggling with mental health and using it as a shield to hide behind. Does having mental health issues stop you from picking up the phone and speaking with a coach at least once? It definitely doesn't.
Yet, the moment you throw out the words "mental health," many will side with you no matter what the facts are.
People critical of my stance might claim I'm an old man yelling at clouds. I don't care. The real world requires responsibility, and you're not allowed to run and hide from it if you want to keep your job and benefits. Lane Kiffin has absolutely nothing to apologize for, and I'd love for someone with that kind of fire in his belly next to me in battle. DeSanto Rollins should learn from this and take the opportunity to mature.
Being an adult requires responsibility, even in moments we don't like it. That's the standard Lane Kiffin is upholding at Ole Miss, and we shouldn't let anyone hide behind the "mental health" shield to criticize him. Let me know your thoughts at David.Hookstead@Outkick.com.