Seattle Kraken winger Jordan Eberle was taken to the hospital Wednesday after sustaining a "deep cut" to the leg after he was cut by the blade of another player during practice, the team confirmed. 
Kraken general manager Ron Francis told The Seattle Times that Eberle, 33, was taken to the hospital to undergo further testing to evaluate the extent of the injury, which the veteran forward sustained when teammate Jaden Schwartz lost his balance after stepping on a puck.
Jordan Eberle, #7 of the Seattle Kraken, skates with the puck as Erik Johnson, #6 of the Colorado Avalanche, defends during the third period in Game Six of the First Round of the 2023 Stanley Cup Playoffs at Climate Pledge Arena on April 28, 2023 in Seattle. (Christopher Mast/NHLI via Getty Images)
"They're doing an MRI to see if it got the tendon, so I don't know enough yet," Francis told the outlet. "It wasn't gushing, but it was a deep cut, so they've taken him to a hospital, and they're doing an MRI."
POLICE REVIEW FOOTAGE, TALK TO WITNESSES AS INVESTIGATION INTO EX-NHL PLAYER'S DEATH CONTINUES
On Thursday, the team recalled 19-year-old forward Shane Wright from the AHL to replace Eberle. He will likely play in Thursday's game against the Colorado Avalanche.
"I think we dodged a bullet," Francis continued. "But he's going to be pretty sore tomorrow."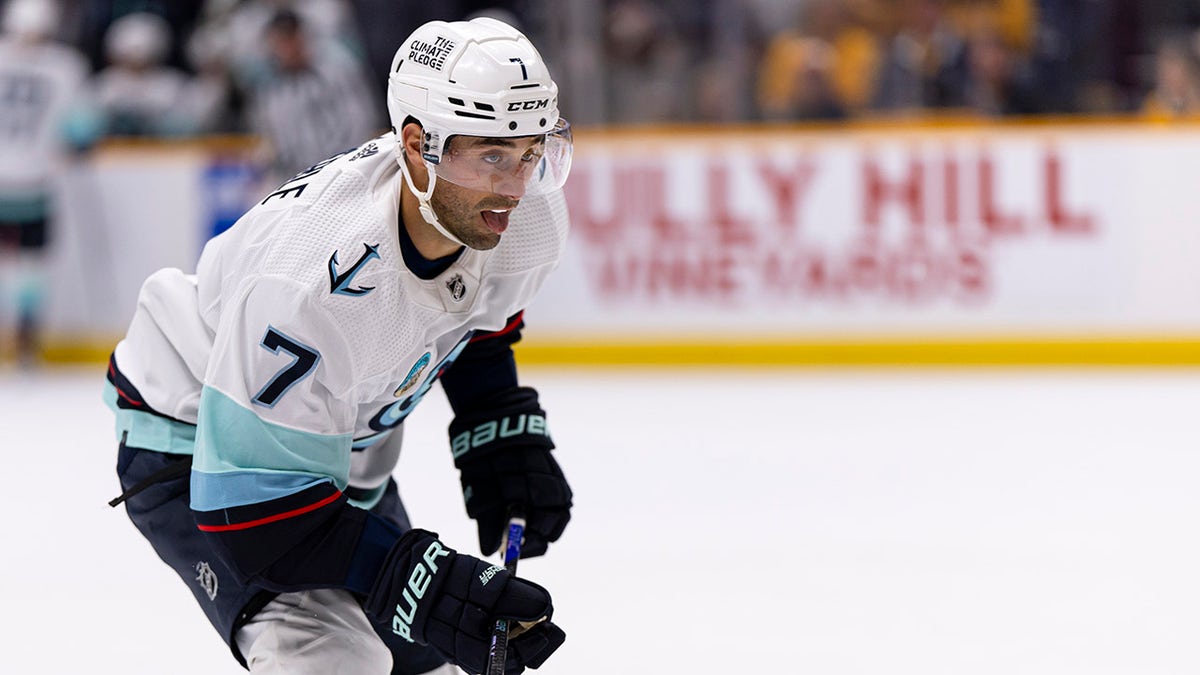 Jordan Eberle, #7 of the Seattle Kraken, skates against the Nashville Predators during the second period at Bridgestone Arena on Oct. 12, 2023 in Nashville, Tennessee. Nashville defeated Seattle 3-0. (Brett Carlsen/Getty Images)
Blade injuries have been a focus around the league following the tragic death of former Pittsburgh Penguins player Adam Johnson, who died during an English Ice Hockey Association game last month, when the skate of an opposing player slashed his neck. 
CLICK HERE FOR MORE SPORTS COVERAGE ON FOXNEWS.COM
Several players in the NHL have been spotted wearing protective neck gear in the days following, reigniting the debate around skate blade safety. 
"It's always tough to change," player-turned-Philadelphia general manager Danny Briere said last week. "Unfortunately, you're always waiting for something tragic to happen for change to come. Hopefully we don't have to wait for another one."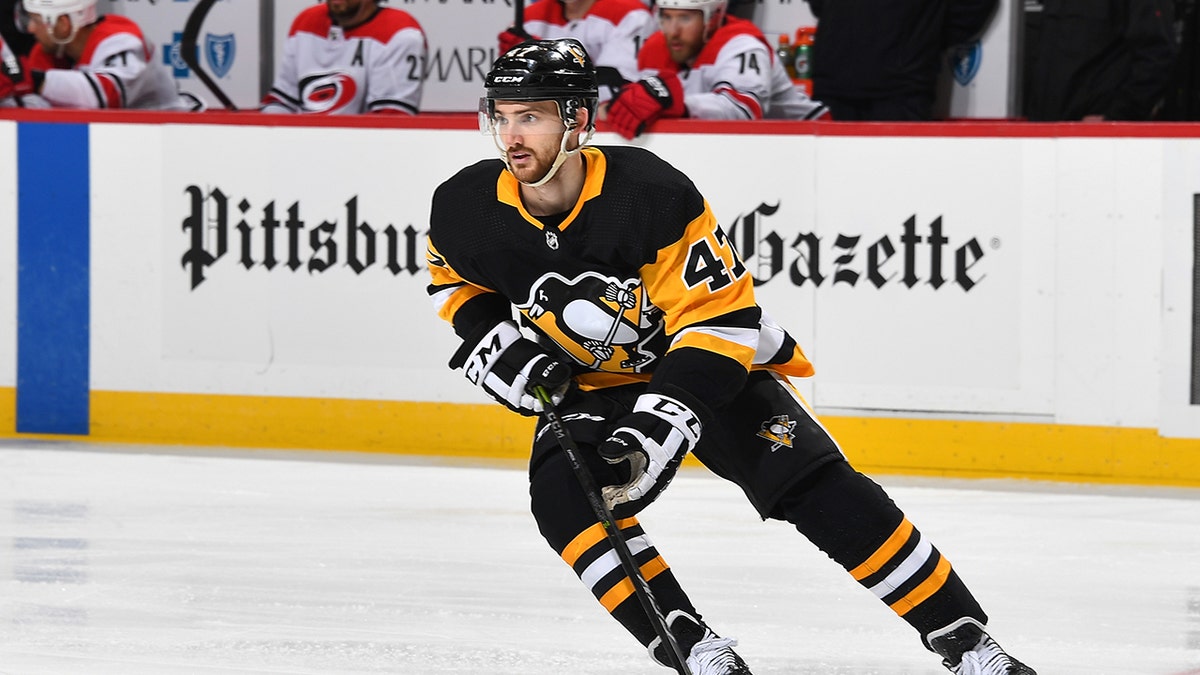 Adam Johnson, #47 of the Pittsburgh Penguins, skates against the Carolina Hurricanes at PPG Paints Arena on March 31, 2019 in Pittsburgh. (Joe Sargent/NHLI via Getty Images)
The NHL currently does not mandate protective neck gear. 
CLICK HERE TO GET THE FOX NEWS APP
South Yorkshire police have launched an investigation into the circumstances surrounding Johnson's death. Officials said in their latest update that they expect the investigation "will take some time."
The Associated Press contributed to this report.