There's no doubt the WNBA is growing in terms of viewership, which Las Vegas Aces star Kelsey Plum loves to see. 
As the Aces faced off against the New York Liberty in the WNBA Finals this past month, each game averaged 728,000 viewers on ESPN platforms, which is the league's most watched finals in 20 years. In Game 4's victory by the Aces, which came down to the final buzzer, 889,000 viewers made it the most-watched Game 4 on record with viewership peaking at 1.3 million. 
With viewership up 36% from last year's Finals, the WNBA is clearly gaining more recognition for the product it puts out on the court each game. To bolster that even more, Plum believes it's time for more investment in the league's stars. 
CLICK HERE FOR MORE SPORTS COVERAGE ON FOXNEWS.COM
A'ja Wilson, left, and Kelsey Plum of the Aces laugh onstage during the team's WNBA championship victory parade and rally at Toshiba Plaza on Oct. 23, 2023, in Las Vegas. (Ethan Miller/Getty Images)
"I don't think that we have a great inside scoop into the super stardom of WNBA stars," Plum explained to Fox News Digital while highlighting her excitement for Dick's Sporting Goods' "Holiday Shopping Sprint" that she will be participating in soon. "I think that we see them in certain lights, and that we get to see them mic'd up for a game and things like that. But I think getting to know people more on a human basis and have that connection relationally with the audience and other people I think that would help the game grow tremendously."
Plum added that the NBA made "tremendous investment" into their players, which include superstars LeBron James, Giannis Antetokounmpo and Jayson Tatum. 
"We know what LeBron eats for breakfast, we know Jimmy Butler's coffee shop. We know all these things," Plum said. "We don't know a ton about W players. So I think to be able to have that visibility would change drastically the way people see our league."
HOW WNBA STAR KELSEY PLUM'S FAITH GOT HER THROUGH 'BRUTAL' YEAR: 'GOD HAS ALWAYS HAD A PLAN FOR ME'
The WNBA has had numerous stars grace the court over the years, including Candance Parker, Dianna Taurasi, Maya Moore and Sue Bird. Today, stars in the league outside of Plum include her Aces teammate A'ja Wilson, the Liberty duo of Breanna Stewart (the 2023 MVP) and Sabrina Ionescu, and loads more who are the reason for the increased viewership over the years.
Getting to know these athletes on a more personal level is something Plum believes would connect fans to the league more, while also driving more viewers to watch games, grab tickets to see them in person, and everything else a professional sports league would want. 
Plum also discussed the many college basketball players who are budding stars thanks in part to NIL deals that go along with their success at their universities. 
"It's tremendous to be able to see the growth of individual stars to get these opportunities because they're bringing money into these universities," Plum explained. "I think that in addition to that, it brings a level of respect and a level of awareness that we didn't have before. Watching last year's Final Four run with the women's [tournament], watching 9.9 million views is actually higher than the first game of the World Series [in terms of viewership]. People are starting to really notice and be aware of, not just the growth of women's sports, but it's actually fun to watch.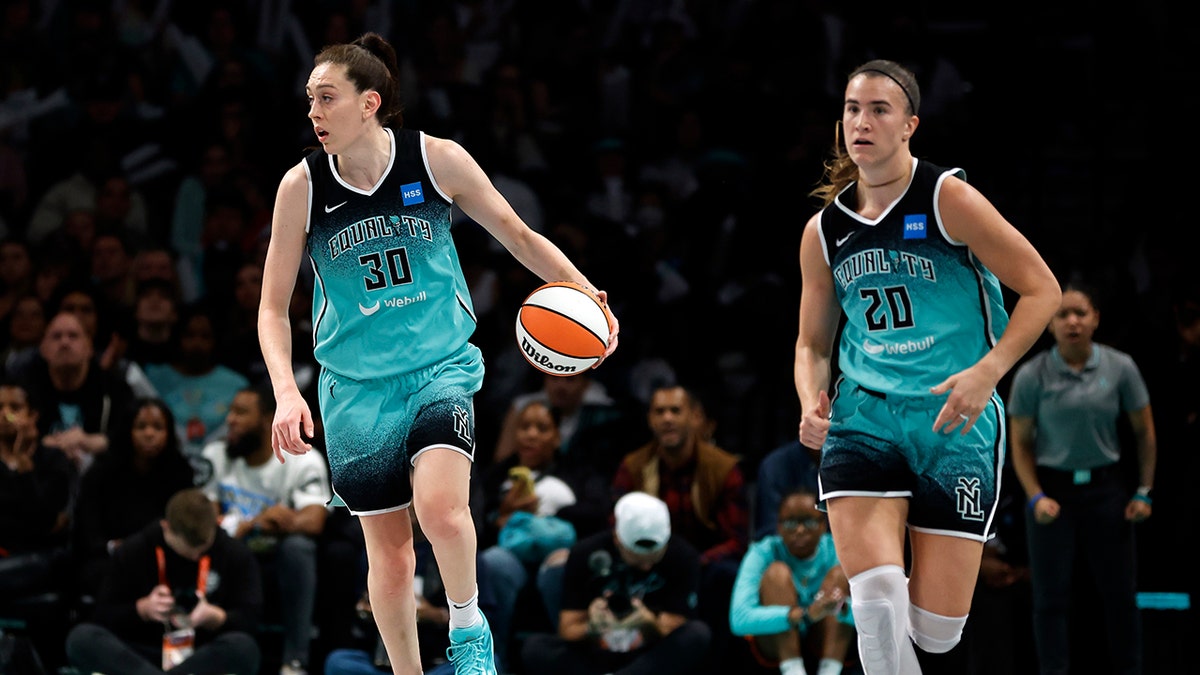 Breanna Stewart, left, and Sabrina Ionescu of the New York Liberty during Game 2 of the WNBA playoff semifinals against the Connecticut Sun at Barclays Center on Sept. 26, 2023 in Brooklyn.  (Sarah Stier/Getty Images)
"Obviously I'm biased because I'm a part of it, but just even being a part of our Finals run, how many people said, 'Wow, that's amazing basketball.' I think that as long as you're starting to get people to tune in, the way you do that is by stars. We have so many stars in different aspects of leagues around the world, whether that's NFL, MLB, NBA. And people see LeBron and tune in. Now with these stars growing, with this NIL growing, these superstars in college are growing the game because they're getting viewers that maybe don't watch basketball, but they're a fan of whoever that may be. To me, I love it because it's great for the game, and it's only going to continue to get bigger."
LSU's Angel Reese is a prime example of someone who is already becoming a household name after helping the Tigers win a national title earlier this year. According to On3, Reese is the seventh-highest-paid college athlete in the country, generating $1.7 million in NIL deals, including a big signing with Reebok. 
WNBA STAR KELSEY PLUM TAKES PLAYFUL SHOT AT TOM BRADY DURING ACES PLAYOFF GAME
Her teammate Flau'jae Johnson has also tallied $1.1 million, and others like Iowa's Caitlin Clark ($764k) and UConn's Paige Bueckers ($643k) are all expected to be in the WNBA when their college days come to an end. 
As Plum put it, "You leave it better than you found it." That's the goal of every star that takes the court in the WNBA, and growth is top of mind at all times. So is respect – respect from those who realize the product out on the court is good basketball, which Plum believes this year's Finals in particular proved to the masses. 
"I've seen the trajectory change over my six years in the league," Plum said in terms of gaining respect. "I also think that with the opportunity that's grown, in terms of great-TV-time marketed games, we've seen the viewership go. So I do feel the respect is coming. 
"I do think a lot of times we compare the NBA to the WNBA. But it's apple to oranges in terms of initial investment. I also think that where we are in terms of our age in the league – I mean, we're 25 years in. They're over 100. We're actually doing better than they are at 25 years. So I think a lot of times people forget that. We just try to compare like current to current and that's not exactly fair, in a sense.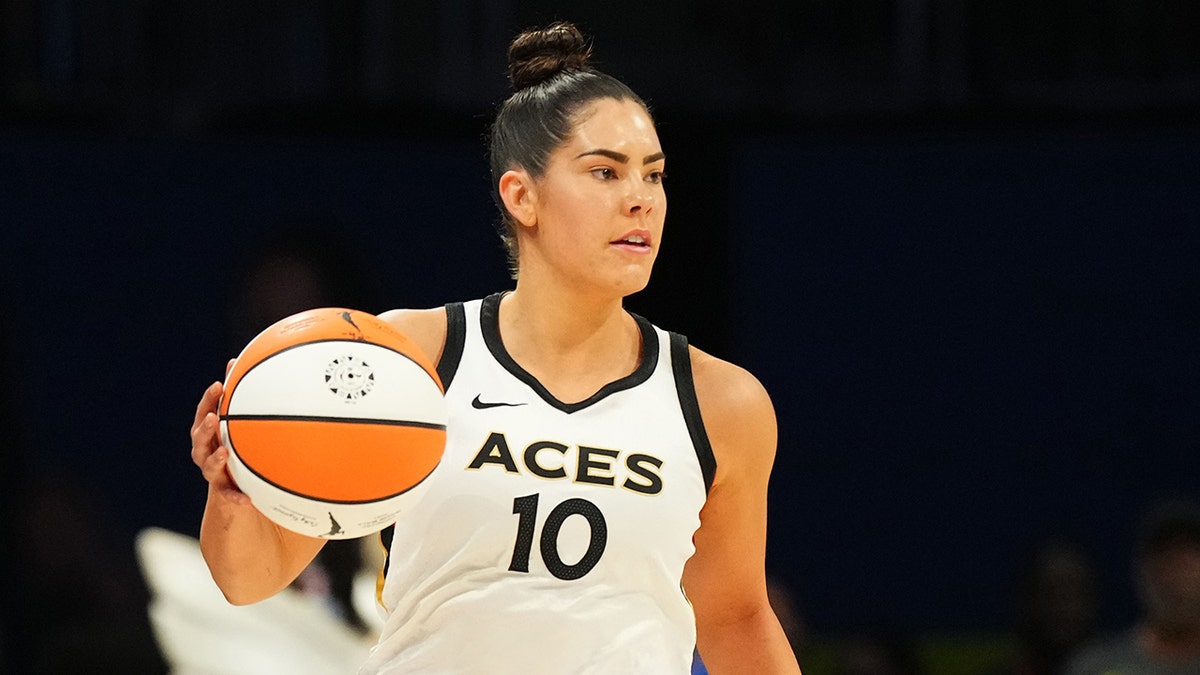 Kelsey Plum of the Las Vegas Aces dribbles the ball against the Dallas Wings on Sept. 29, 2023, at the College Park Center in Arlington, Texas. (Cooper Neill/NBAE via Getty Images)
CLICK HERE TO GET THE FOX NEWS APP
"I think just continue to focus on the moment, continue to focus on what we can do as players to grow the game, and this Finals was a great step forward. We're just scratching the surface and where we're going to continue to go."
Scott Thompson is a sports writer for Fox News Digital.