The 2023 NFL season is halfway finished, and in Week 9, fans were treated to some historic performances among two quarterbacks who led their teams to victories.
Minnesota Vikings quarterback Joshua Dobbs and Houston Texans quarterback C.J. Stroud both led their teams to victories in the final seconds of their respective games.
Dobbs, who was only acquired by Minnesota five days before he was thrust into the game, needed a few scrambles to stay alive and then found Brandon Powell for the go-ahead score in the closing seconds against the Atlanta Falcons. Dobbs had two touchdown passes and a rushing touchdown a week after throwing two touchdown passes and running for two in a loss against the Baltimore Ravens when he was with the Arizona Cardinals.
CLICK HERE FOR MORE SPORTS COVERAGE ON FOXNEWS.COM
Minnesota Vikings quarterback Joshua Dobbs warms up during the game against the Atlanta Falcons on November 5, 2023, at Mercedes-Benz Stadium in Atlanta. (David J. Griffin/Icon Sportswire via Getty Images)
According to NFL Research, Dobbs became the first player in NFL history to score at least three combined passing and rushing touchdowns in back-to-back weeks with two different teams.
"The guy that eventually played quarterback hasn't heard a lot of those speeches, but he's got that in his makeup, clearly, and I'm really proud of the way he came in and battled," Vikings coach Kevin O'Connell said of Dobbs.
"I would not discount Josh Dobbs and his ability to come in here and do something that I don't think many quarterbacks in our league could do. We asked a lot of him and just spectacular performances around him."
Stroud also had a 15-yard go-ahead touchdown pass to Tank Dell to put an exclamation point on an incredible day against the Tampa Bay Buccaneers. He finished 30-for-42 with 470 passing yards and five touchdown passes.
He broke the record for most passing yards by a rookie in a single game, according to NFL Research. With his 147.8 passer rating, he set the mark for highest single-game passer rating by a rookie quarterback in NFL history. He's also the second rookie to ever pass for at least 400 yards and five touchdowns in a game. Matthew Stafford was the first to do it in 2009.
Baker Mayfield offered big praise for Stroud after the game.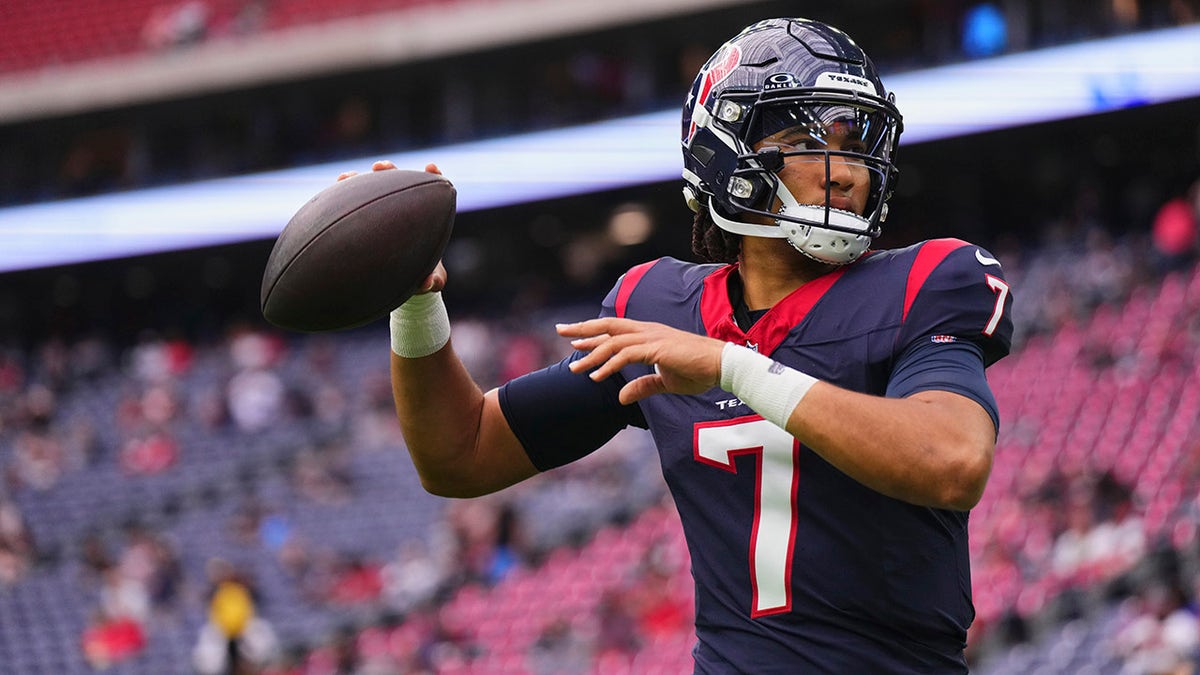 C.J. Stroud of the Houston Texans warms up before kickoff against the Tampa Bay Buccaneers at NRG Stadium on November 5, 2023, in Houston. (Cooper Neill/Getty Images)
PATRIOTS' BILL BELICHICK FIELDS QUESTIONS ABOUT FUTURE IN NEW ENGLAND FOLLOWING ANOTHER LOSS
"C.J. Stroud doesn't look like a rookie to me," Mayfield said. "He's so impressive, looks like a polished NFL quarterback. So, hats off to him. He played extremely, extremely well today."
The Texans called on running back Dare Ogunbowale to kick in an emergency situation. He hit a 29-yard field goal with 8:45 left in the game to put Houston up three points.
He was the first running back to make a field goal since Tony Galbreath did it in 1979 for the New Orleans Saints.
Stroud wasn't the only rookie having a day.
The Los Angeles Rams lost to the Green Bay Packers, 20-3, but rookie wide receiver Puka Nacua was still trying to be productive on offense. He had three catches for 32 yards.
Nacua, with 64 receptions, surpassed Saquon Barkley for most receptions by a player in their first nine games in NFL history. With 827 receiving yards, he's the fourth rookie since the NFL-AFL merger with at least 8,000 receiving yards in nine career games. Marques Colston had 869 receiving yards in his first nine games with the New Orleans Saints.
Myles Garrett and the Cleveland Browns fought their way into the history books with a 27-0 win over the Arizona Cardinals.
Garrett has at least one sack in 57 career games and is tied with Rams star Aaron Donald for fourth-most career games with at least one sack in a player's first seven years.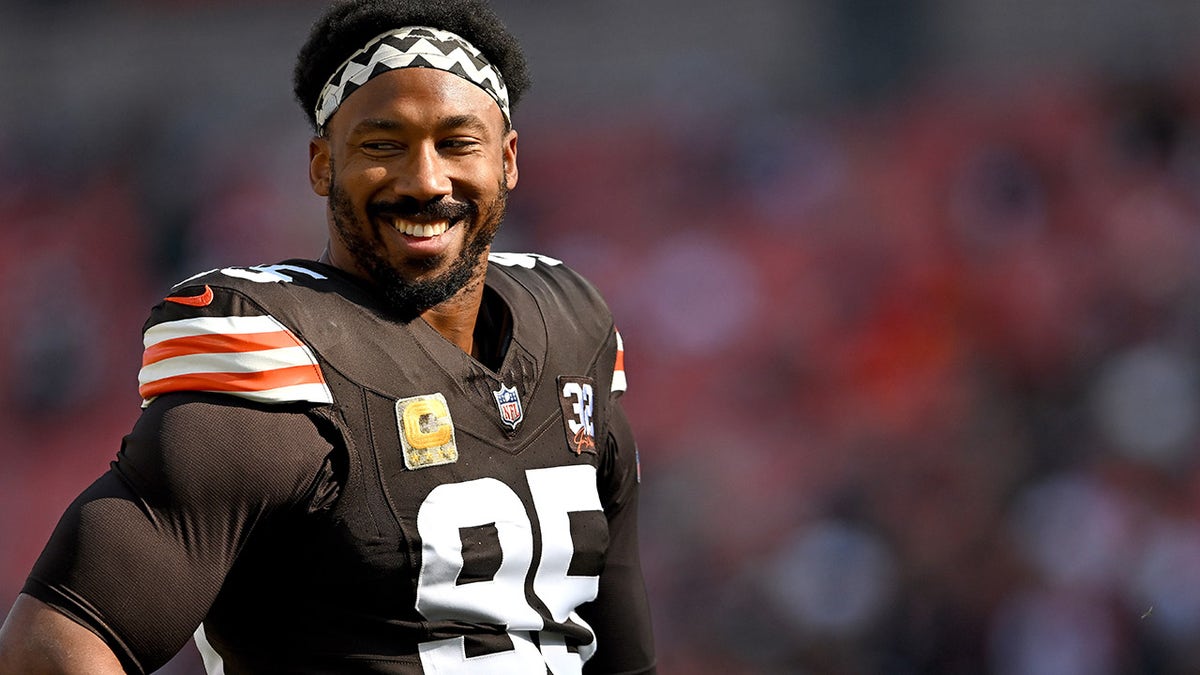 Myles Garrett of the Cleveland Browns looks on before the game against the Arizona Cardinals at Cleveland Browns Stadium on November 5, 2023. (Nick Cammett/Getty Images)
CLICK HERE TO GET THE FOX NEWS APP
NFL Research pointed out something interesting with the Browns team in back-to-back weeks. The defense held Arizona to 58 net yards and the Tennessee Titans to 98 net yards back in Week 3. The Browns are the first team in 41 years to allow 100 or fewer yards in two of their first eight games in a season.
Ryan Gaydos is a senior editor for Fox News Digital.