Kentucky Wildcats men's basketball coach John Calipari failed to make it past the first weekend of the NCAA Tournament for the second straight year, losing to Kansas State on Sunday. 
Kansas State point guard Markquis Nowell went for 27 points, as the senior masterfully orchestrated the Wildcats offense. 
Kansas State guard Markquis Nowell reacts during the Montana State game in the NCAA Tournament on Saturday, March 18, 2023, in Greensboro, North Carolina. (AP Photo/John Bazemore)
Nowell, a 5-foot-8 guard from New York City, had nine assists on the day and scored 14 points in the final 6:10 of the second half. 
KANSAS STATE'S JEROME TANG TAKES SWIPE AT KENTUCKY'S 'TRADITION' AFTER MARCH MADNESS WIN
After the game, Calipari mentioned Nowell's game, referring to him as the "little kid" and upsetting social media. 
"We did a pretty good job on [Keyontae] Johnson, and he makes that three," Calipari said. "And the little kid makes the three. He makes a deep three. We miss a couple and all of a sudden it gets out of hand."
On Tuesday, Calipari reportedly called Nowell to apologize for his comment. 
"Been told that Kentucky's John Calipari called Kansas State's Markquis Nowell and apologized for calling him 'Little Guy' after Nowell went for 27 points and 8 assists and led K-State to a win over Kentucky," John Goodman of Stadium reported.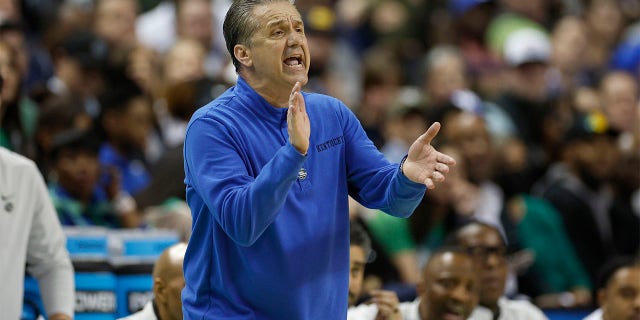 Head coach John Calipari of the Kentucky Wildcats reacts during the Providence Friars game on March 17, 2023, in Greensboro, North Carolina. (Jared C. Tilton/Getty Images)
Nowell also hopped on Twitter to confirm he had spoken with Coach Cal.
Kansas State advanced to the Sweet 16 for the first time since 2018.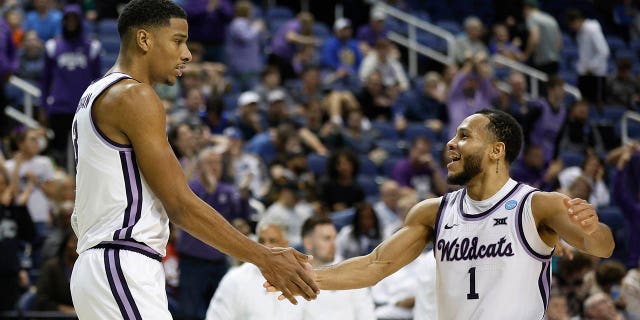 David N'Guessan, left, and Markquis Nowell of Kansas State celebrate during the Montana State game in the first round of the NCAA Men's Basketball Tournament on March 17, 2023, in Greensboro. (Jared C. Tilton/Getty Images)
"Dudes," Kansas State head coach Jerome Tang said. "We got dudes. That's what it takes. I mean, people get all caught up in the coaching and all of that stuff. It's dudes."
The Wildcats will play 7-seed Michigan State on Thursday at Madison Square Garden. 
Joe Morgan is a Sports Reporter for Fox News.