Zach Wilson is trying to control what he can control – but he hears the loud criticism.
New York Jets legend Joe Namath was among the loudest of the naysayers after the team fell to 1-2 following a 15-10 loss to the New England Patriots over the weekend. Namath was among those calling for a quarterback change.
CLICK HERE FOR MORE SPORTS COVERAGE ON FOXNEWS.COM
Zach Wilson of the New York Jets is sacked by Anfernee Jennings of the New England Patriots in the second quarter at MetLife Stadium on September 24, 2023, in East Rutherford, New Jersey. (Elsa/Getty Images)
"Obviously, Joe was an unbelievable player, but this locker room is very tight-knit, and we're working to get better," Wilson said. "I'm working to get better. I know I need to improve, and I promise I'm doing everything I can to keep trying to get better."
The third-year quarterback understood he needs to get better, and he's trying to quiet all the extra nonsense going on around him and the chatter outside the facility.
"I mean, I don't know if I would say it fuels me because I like to ignore it, you know?" he added. "And I get the passion and the frustration, absolutely. But my job as a quarterback is to focus on how I can get better, how I can help this offense score, how I can help us win games. And it needs to improve and needs to get better."
JETS ALMOST IN 'PANIC MODE' SINCE AARON RODGERS WENT DOWN, CHIEFS LINEBACKER SAYS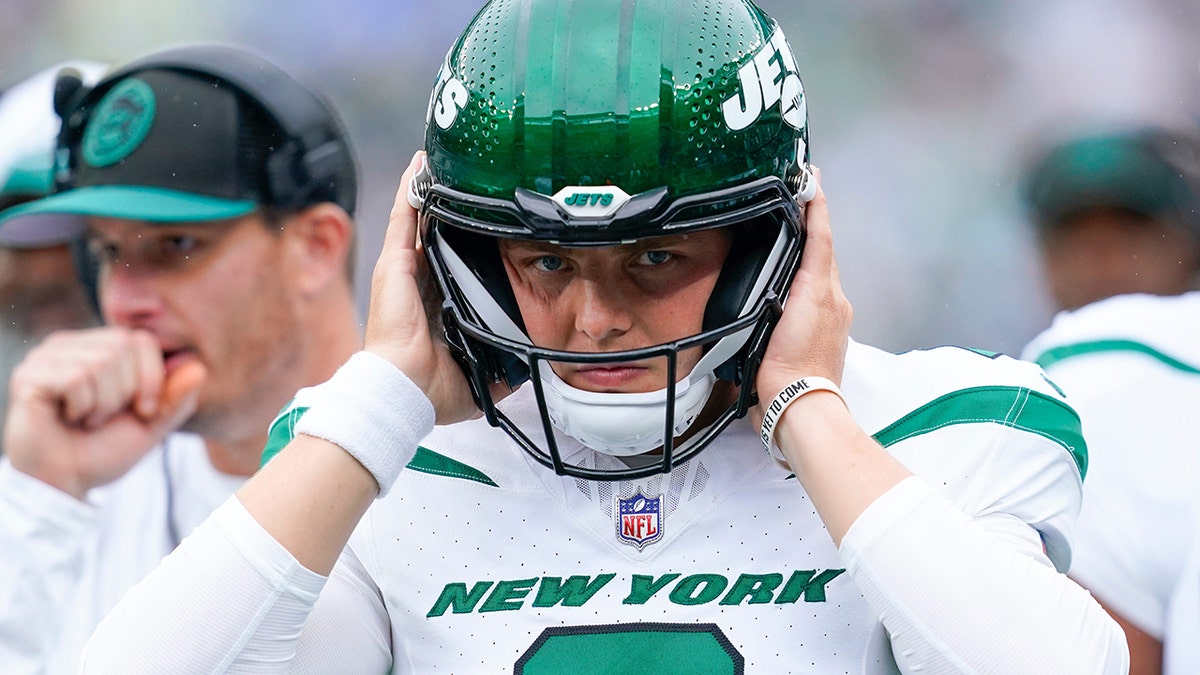 New York Jets quarterback Zach Wilson puts on his helmet before facing the New England Patriots at MetLife Stadium in East Rutherford, New Jersey, on Sept. 24, 2023. (Danielle Parhizkaran/NorthJersey.com/USA TODAY NETWORK)
"But that starts in the film room with the coaches checking out those plays and then just doing my job from there."
Things aren't getting any easier for the Jets as New York welcomes the defending Super Bowl champion Kansas City Chiefs to MetLife Stadium on Sunday night. The Chiefs' defense is fourth in points allowed and sixth in yards allowed.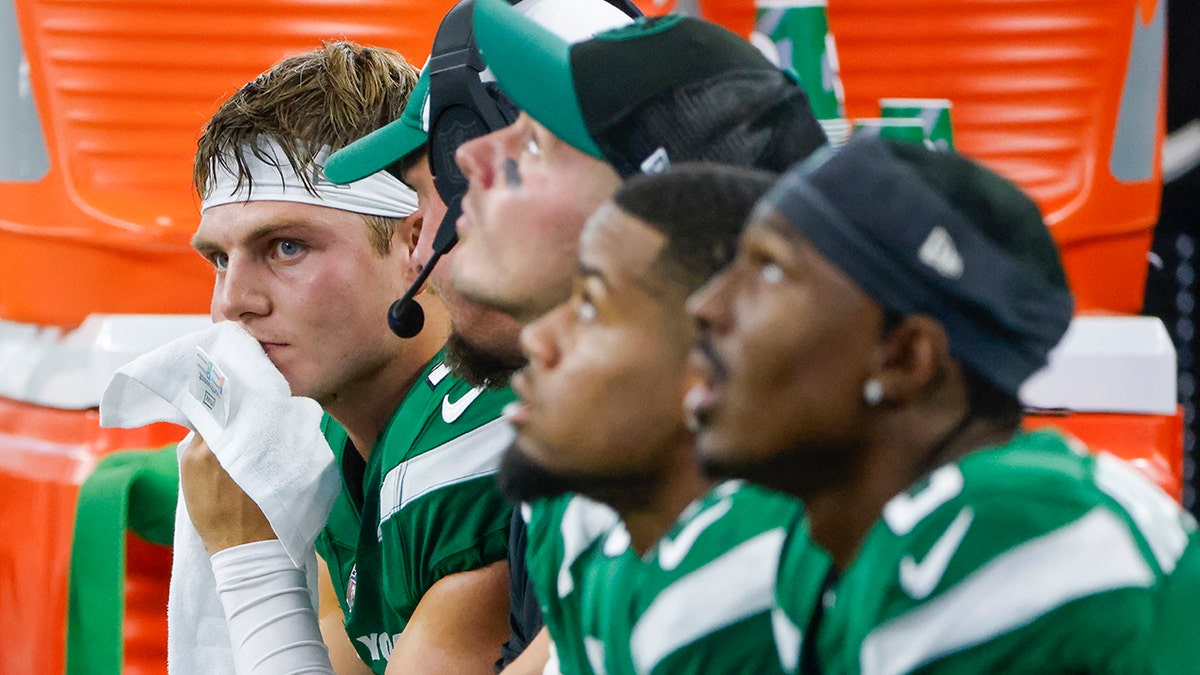 New York Jets quarterback Zach Wilson sits on the bench during the second half against the Dallas Cowboys in Arlington, Texas, Aug. 17, 2023. (AP Photo/Michael Ainsworth)
CLICK HERE TO GET THE FOX NEWS APP
Plus, the crowd may be buzzing a little extra if Taylor Swift does show up.
Ryan Gaydos is a senior editor for Fox News Digital.