New York Jets owner Woody Johnson has something in common with his fan base: He's not a patient man. 
It's been two weeks since Green Bay Packers quarterback Aaron Rodgers expressed his interest in becoming a Jet, but a deal has yet to be made. 
Green Bay Packers quarterback Aaron Rodgers walks to the sideline during the second half of a game against the Detroit Lions Nov. 6, 2022, in Detroit.  (AP Photo/Paul Sancya)
"I think we're anxious," Johnson said at the annual league meeting Tuesday, via the New York Post. "We're anxious, I guess. We look forward. We're optimistic. We have a plan. We're willing to stick with our plan. I don't think anybody is hyperventilating."
CHIEFS' ANDY REID BLANKS ON PACKERS QUARTERBACK: 'I'M TRYING TO REMEMBER JORDAN LOVE'
Johnson has been adamant the organization needed to pursue a veteran quarterback in the offseason after another dismal year for 2021 No. 2 overall draft pick Zach Wilson.  
"I'm not the patient sort, really," Johnson added. "We've got to win. We're in the win business, so we have to win now. That's the same thing I said 23 years ago."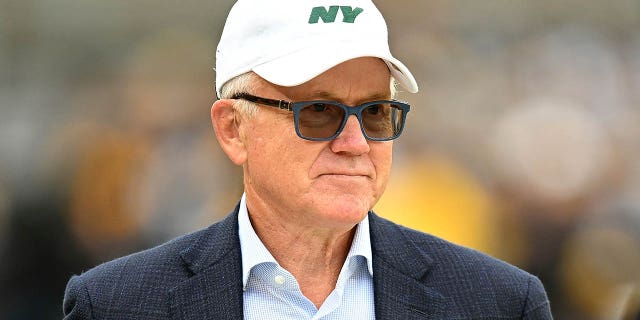 New York Jets owner Woody Johnson before a game against the Pittsburgh Steelers at Acrisure Stadium Oct. 2, 2022, in Pittsburgh. (Joe Sargent/Getty Images)
His comments follow remarks from Jets general manager Joe Douglas, who said Monday that both sides have had "productive conversations," adding, "we're not where we need to be yet.
"But I feel like we're in a good place."
CLICK HERE FOR MORE SPORTS COVERAGE ON FOXNEWS.COM
Questions have been circulating as to why a deal has yet to be reached despite the Jets' strong pursuit of Rodgers and the Packers' clear intentions to move on with Jordan Love at quarterback.
Packers general manager Brian Gutekunst said at the annual league meeting Monday that a top pick in the draft is not necessarily a must-have in this situation. 
"Yeah, I think that's not a necessity," Gutekunst said. "But, at the same time, the value of the player — he's a premier player, so getting premier picks back for (premier) players is important."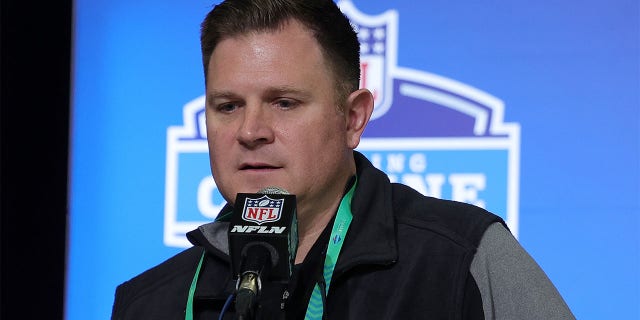 General Manager Brian Gutekunst of the Green Bay Packers speaks to the media during the NFL Combine at the Indiana Convention Center Feb. 28, 2023, in Indianapolis.  (Stacy Revere/Getty Images)
CLICK HERE TO GET THE FOX NEWS APP
Gutekunst said he is hoping to come to an agreement "sooner than later" but indicated he could afford to wait until May or June to make a trade if necessary.
The Associated Press contributed to this report.