Zach Wilson's tribulations since taking over for Aaron Rodgers is already wearing Jets fans thin, and many have spoken up believing it's time for the franchise to move on from the second overall pick of the 2021 NFL Draft. 
Add Jets superfan "Fireman Ed" Anzalone to the group. 
Anzalone told Fox News Digital over the phone this week that he was driving home with his wife from the Jets' 15-10 loss to the New England Patriots trying to collect his thoughts. 
CLICK HERE FOR MORE SPORTS COVERAGE ON FOXNEWS.COM
New York Jets fan, firefighter Ed Anzalone, leads cheers during the Green Bay Packers game at MetLife Stadium on Dec. 23, 2018 in East Rutherford, New Jersey. (Al Pereira/Getty Images)
"I always wait about an hour after the game because your emotions are very high," Anzalone said. 
After going through those thoughts, Anzalone, the former FDNY firefighter who has become an icon for Jets fandom, posted to his Instagram a video pleading with the Jets to release or trade Wilson. 
One day later, he reiterated that point to Fox News Digital. 
"Joe Douglas and coach [Robert] Saleh, you's did everything you could," he explained. "It's time to move on. You owe it to the locker room to move on. You go with Tim Boyle as the backup and you go sign a veteran."
JETS LEGEND JOE NAMATH THINKS TEAM SHOULD MOVE ON FROM ZACH WILSON: 'I'VE SEEN ENOUGH'
"[Wilson] is done. It's the third year, and there's nothing."
Anzalone isn't the only diehard Jets fan who wants Wilson out. Hall of Fame quarterback Joe Namath was vocal during the game on social media and spoke to ESPN's "The Michael Kay Show" on Monday to echo what Anzalone said. 
It's time to move on.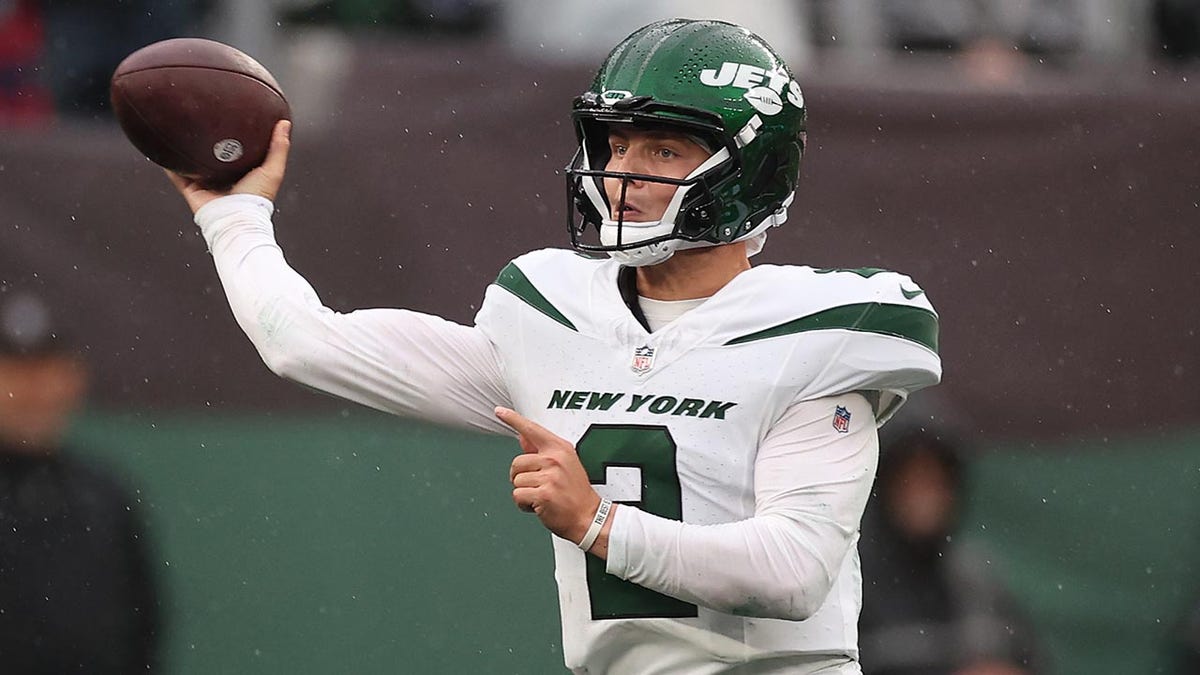 Zach Wilson of the New York Jets in action against the New England Patriots at MetLife Stadium on Sept. 24, 2023. (Al Bello/Getty Images)
"Send him to Kansas City to back up against somebody like [Patrick] Mahomes and maybe learn something. I wouldn't keep him," Namath said. "I've seen enough of Zach Wilson, alright? I've seen enough. Has quick feet, can throw a little bit, but I don't believe what's going on up there."
Anzalone mentioned in his video that the Jets' defense gave the offense numerous opportunities in the second half to make a push and get back into the game. After all, the score was only 10-3 at halftime. 
Wilson was able to orchestrate a successful touchdown drive that went 87 yards in 13 plays, moving the Patriots' lead to 13-10 at the time. But the next drive ended with a safety after Wilson was sacked in the end zone. 
Then, the boo birds came flying out of the MetLife Stadium stands when the Jets got the ball at their own 45-yard line with two timeouts and ample time to go win the game with a touchdown. But Wilson threw three incompletions before checking down to Tyler Conklin on fourth-and-10 for a two-yard gain, leading to a turnover on downs.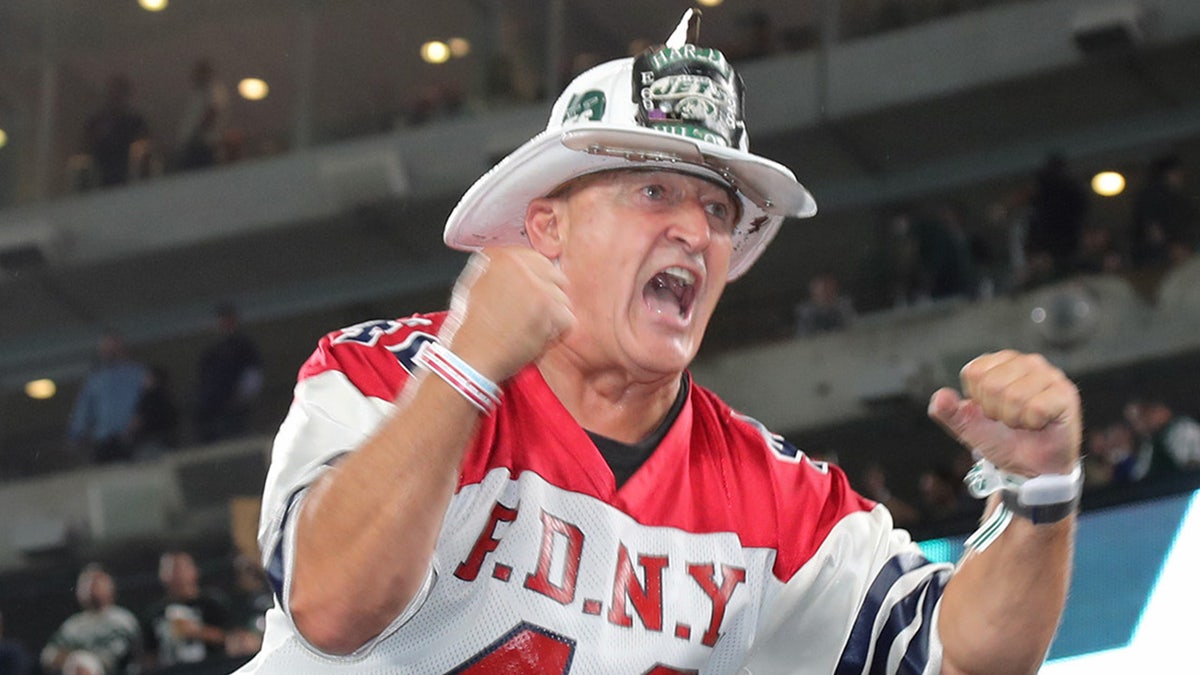 "Fireman Ed" Anzalone leads the crowd in a cheer during the New York Jets' season opener against the Buffalo Bills on Sept. 11, 2023, in East Rutherford, New Jersey. (Al Pereira/Getty Images)
A Hail Mary attempt almost ended in a miracle with receiver Randall Cobb getting a hand on the ball when the clock struck zero in the fourth quarter, but Jets fans believe a different quarterback might've ended the game with a different result. 
Wilson ended the game 18 of 36 for 157 yards through the air with no touchdowns or interceptions. He's now 8-16 for his career as a starter over 25 games, and Jets fans think that's enough sample size to make the move, especially considering the talent in the building on both sides of the ball. 
NFL MVP SHOOTS DOWN JETS' SPECULATION AMID QUARTERBACK WOES: 'NO INTEREST IN DOING THAT RIGHT NOW'
The Jets did sign a veteran quarterback to their practice squad on Tuesday, though, as Trevor Siemian passed his physical with the team. Yet, fans like Anzalone – and perhaps even Namath – probably wanted a splashier name like Carson Wentz, someone who could take over the reins from Wilson immediately. 
However, Saleh has called Wilson the "unquestioned quarterback" for the Jets until further notice. So, while Anzalone and others want the Jets to cut ties now, it doesn't seem like the franchise is willing to move on just yet.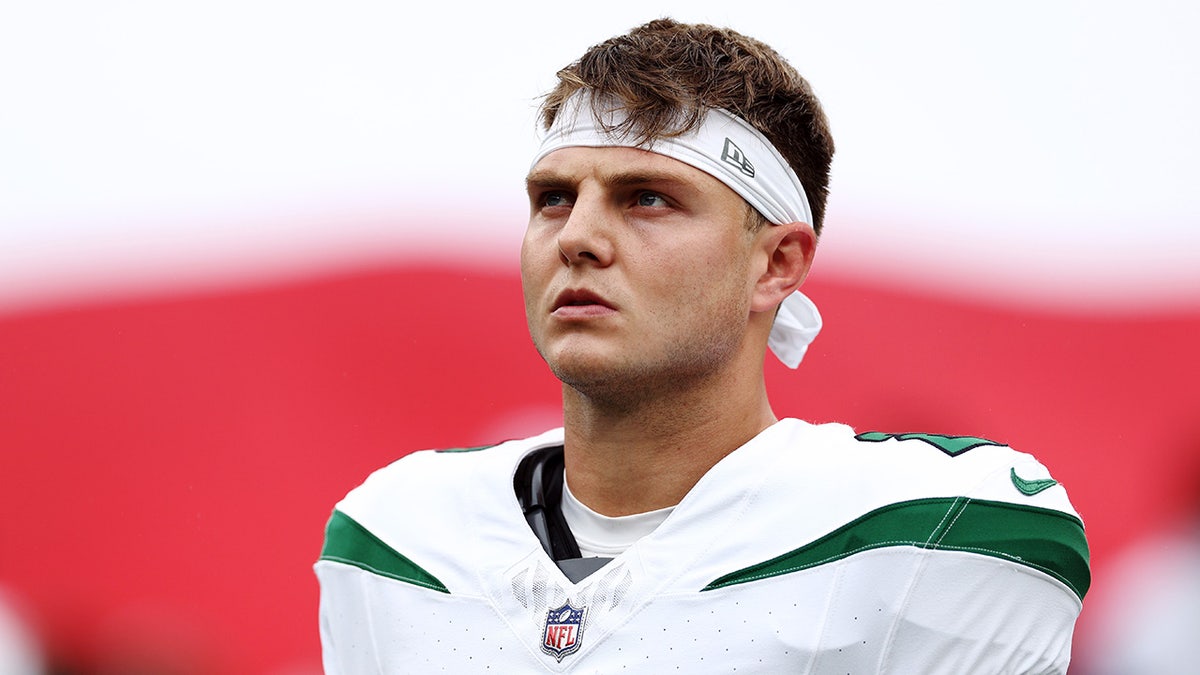 Zach Wilson of the New York Jets before the New England Patriots game at MetLife Stadium on Sept. 24, 2023. (Elsa/Getty Images)
The BYU product still has one year remaining on his rookie deal, while the Jets do have the option for a fifth-year extension as well. 
Wilson on Thursday acknowledged the need to get better.
"I mean, I don't know if I would say it fuels me because I like to ignore it, you know?" he said of the criticism. "And I get the passion and the frustration, absolutely. But my job as a quarterback is to focus on how I can get better, how I can help this offense score, how I can help us win games. And it needs to improve and needs to get better.
CLICK HERE TO GET THE FOX NEWS APP
"But that starts in the film room with the coaches checking out those plays and then just doing my job from there."
Scott Thompson is a sports writer for Fox News Digital.