Israel soccer captain Eli Dasa used an opportunity to speak at a news conference to show the shoe of a young boy who he says was kidnapped by Hamas militants during their Oct. 7 terror attack. 
Dasa showed the shoe in an act of solidarity with Israelis who are being held captive in Gaza. 
"It is hard to speak at the moment, but I don't think that any of you can guess what is the story behind this shoe," Dasa said.
CLICK HERE FOR MORE SPORTS COVERAGE ON FOXNEWS.COM
Israel team captain Eli Dasa shows a shoe of a kidnapped Israeli boy during a press conference, before a training session for the Euro 2024 group I qualifying soccer match between Israel and Switzerland at the Pancho Arena in Felcsút, Hungary, Tuesday, Nov. 14, 2023. (AP Photo/Denes Erdos)
Dasa was with his Israeli teammates in Felcsut, Hungary, ahead of a Euro 2024 qualifying match against Switzerland on Wednesday. They are set to face Romania on Saturday as well. 
"That's all what's left from his house," Dasa continued, showing the Adidas shoe from the small community of Be'eri kibbutz in Israel. "This left shoe. We wait for him here." 
ISRAELI TROOPS ENTER AL-SHIFA HOSPITAL AFTER KILLING HAMAS TERRORISTS IN GATE-SIDE FIREFIGHT
At that point, Dasa stood up and left the news conference. 
The shoe belonged to 8-year-old Nave Shoham, who was kidnapped along with his relatives, according to the Israeli team's press officer, Eitan Dotan. Three members of Shoham's family were killed during the attack.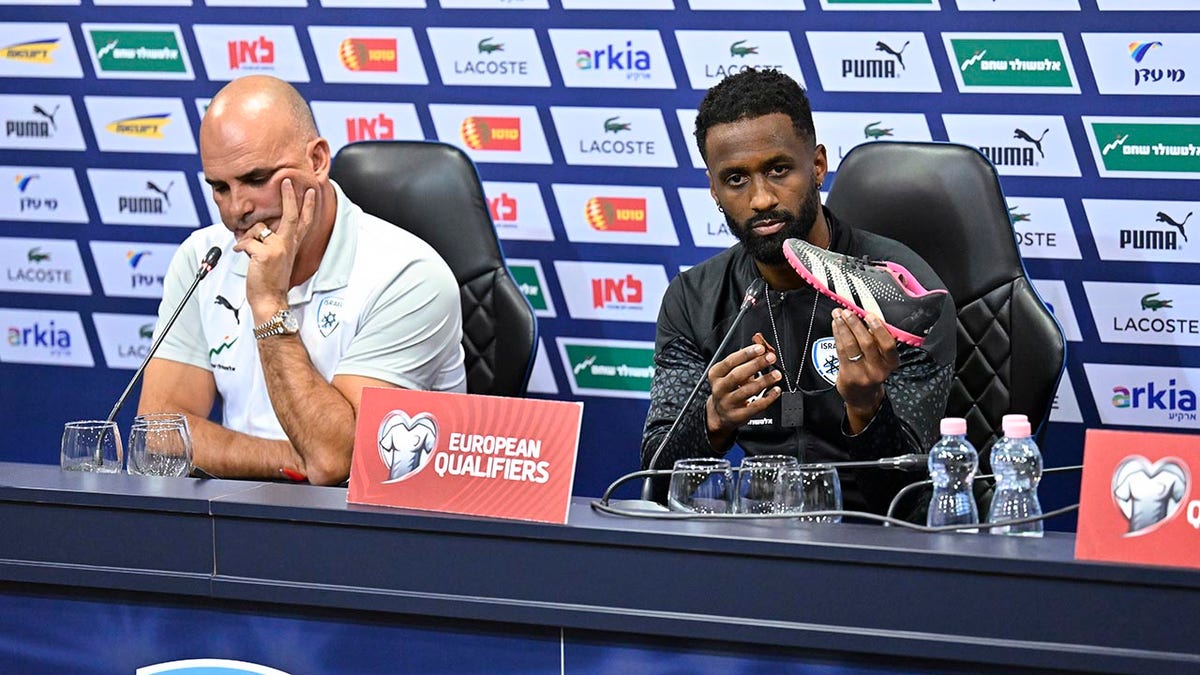 The captain of Israel's soccer team on Tuesday displayed the shoe of a young boy that he said was kidnapped by Hamas militants during their deadly Oct. 7 raid, an act of solidarity with those Israelis still being held captive in the Gaza Strip ahead of the team's Wednesday game in Hungary. (AP Photo/Denes Erdos)
"Bring them home!" was seen on a banner in English and Hebrew within Pancho Arena where Israel held their practice on Tuesday. 
The matches against Switzerland and Romania were supposed to be played in Tel Aviv. However, UEFA suspended all games in Israel due to obvious security concerns. 
"We represent our country, not only the national team," head coach Alon Hazan said while discussing the emotions the team felt heading into the match against Switzerland.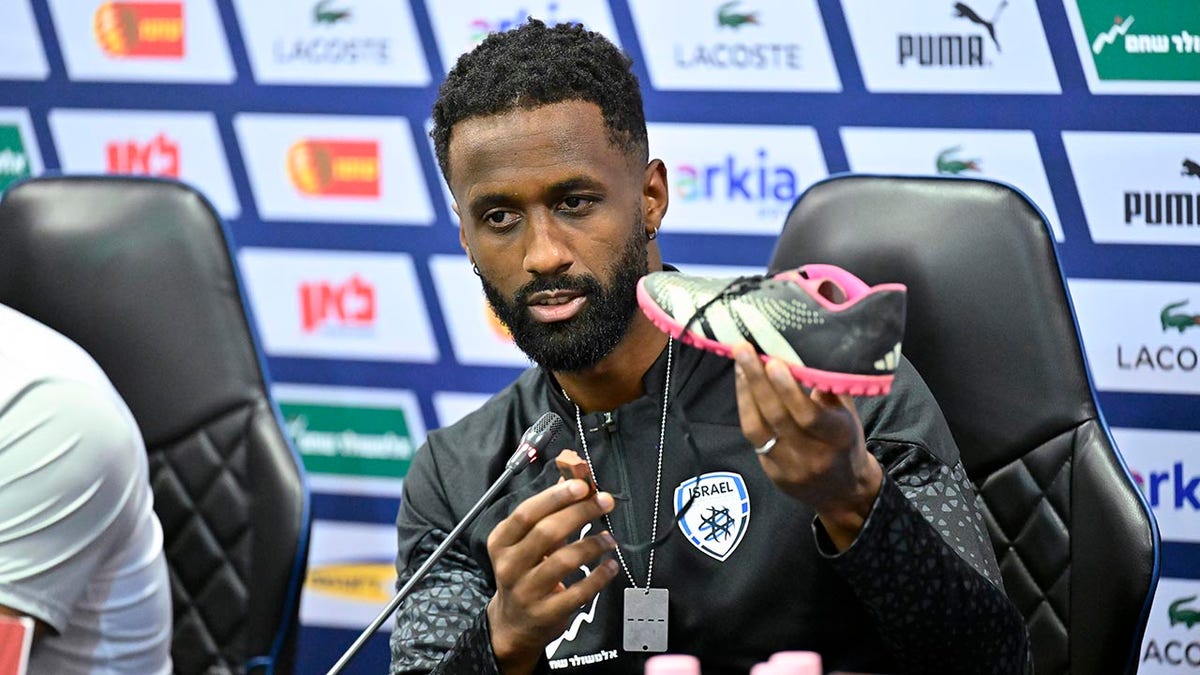 Israel team captain Eli Dasa talks to reporters. (AP Photo/Denes Erdos)
CLICK HERE TO GET THE FOX NEWS APP
Israel is looking to qualify for the Euro 2024 continental championship, which would be its first appearance since 1994 when they joined UEFA. 
The Associated Press contributed to this report.
Scott Thompson is a sports writer for Fox News Digital.