Kelsey Plum was all smiles as she hit the stage in Las Vegas, cigar in mouth, as she celebrated another Aces WNBA championship with her teammates. The Aces took down the New York Liberty in four games to win back-to-back titles on their way to a potential dynasty in Sin City. 
It was another year of hard work and fighting through adversity for the Aces that paid off with coveted hardware in hand at the end of it all. But Plum would be lying if she said her 2023 season was an easy road to travel.
Faith, a solid foundation in her life on and off the court, was paramount in this season ending the way it did for Plum.
CLICK HERE FOR MORE SPORTS COVERAGE ON FOXNEWS.COM
Kelsey Plum of the Las Vegas Aces poses for a portrait after winning Game 4 of the WNBA Finals, October 18, 2023, at Barclays Center in Brooklyn, New York. (David Dow/NBAE via Getty Images)
"This year's been brutal," Plum told Fox News Digital while highlighting her excitement for Dick's Sporting Goods' "Holiday Shopping Sprint" in which she will be participating soon.
The year began with Plum marrying NFL tight end Darren Waller on March 4 – a shock to many because their relationship was kept so private. But just 11 days later, their marriage would have its first big test when Waller was traded from the Las Vegas Raiders to the New York Giants – a move sending him clear across the country.
Having to deal with that off the court while preparing to start the new WNBA season in May took its toll.
CHE FLORES BECOMES NBA'S FIRST OPENLY NON-BINARY, TRANS REFEREE
"I got married, my husband got traded across the country, and this season I started shooting like 15% from three. I was really struggling," she said. 
Through her first 10 games of the year, Plum, who shot 42% from three last season, was shooting just 27.8%. She was a WNBA All-Star for the first time in 2022, so much more was expected from the versatile guard each game, and she wasn't delivering. 
But that's where her faith kicked in.
"I think a lot of times when we talk about faith, it's looking at something bigger than yourself. There's purpose in it," she explained. 
"Faith is things you can't see but you know. I know that God has always had a plan for me, and I always just pray that He directs my steps and just makes it really clear of what I should do, where I should go."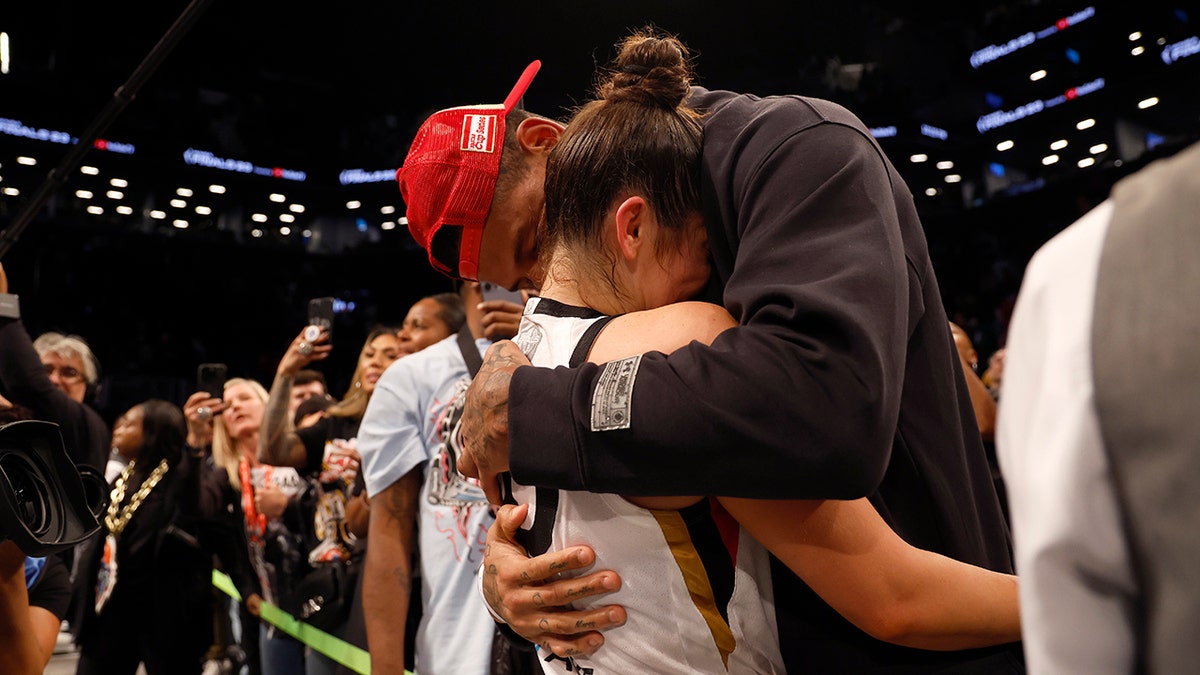 Kelsey Plum of the Las Vegas Aces hugs husband Darren Waller after defeating the New York Liberty during Game 4 of the WNBA Finals at Barclays Center on October 18, 2023, in New York City. (Sarah Stier/Getty Images)
Slowly but surely, through determination and believing in herself, Plum started to get back to hearing the net instead of the rim when she was putting shots up. After shooting 40% from the field and 26.9% from three in May, June saw her hit 49.3% of her shots and 35.6% from three-point territory. 
And it only got better from there. 
Plum exploded in July, averaging 23.9 points per game with 56.1% shooting from the field and 44.1% from three. She also collected 3.4 rebounds and dished out 4.1 assists per game in nine games. 
August continued that trend of great shooting from the field (41.3% and 43.4% from three) heading into the playoffs, where she was a crucial piece in winning the title. Plum dropped 26, 23 and 29 points, respectively, over the first three games of the series, two of which were won by the Aces. Plum did shoot 2-for-12 in Game 4, but her teammates picked her up and got the victory on the road to triumph. 
One of those teammates was A'ja Wilson, the two-time league MVP and five-time All-Star who has also leaned on her faith throughout her years on the court. Wilson told Sports Spectrum she "dang near" grew up in the church. Wilson dropped 24 points in Game 4 to help her team win it all. 
When hard work ends with reward, there may be no better feeling in the world. But as Plum reflects on her journey, she can't help but think about those times when she might have been at her lowest or struggled to get through games, practices or just a simple day during the season. 
Those days are when faith helped her pull through and continue to focus on the end goal.
"My relationship with Him has grown tremendously with just a lot of adversity that I've gone through, not just this past year but years prior," Plum said. "I know that this year was super brutal in a lot of differently ways – mentally, emotionally, spiritually. But at the same time, I think when you stick close to Him, you have a sense of confidence that you know that whatever's thrown at you, you can handle because He's given us the tools to handle it."
"I know that's Biblical. God never gives us something we can't handle. I feel like that's true. So, I just try to stay super close to that, and I won't deviate because I know that's what got me here and that's what will continue to help me grow."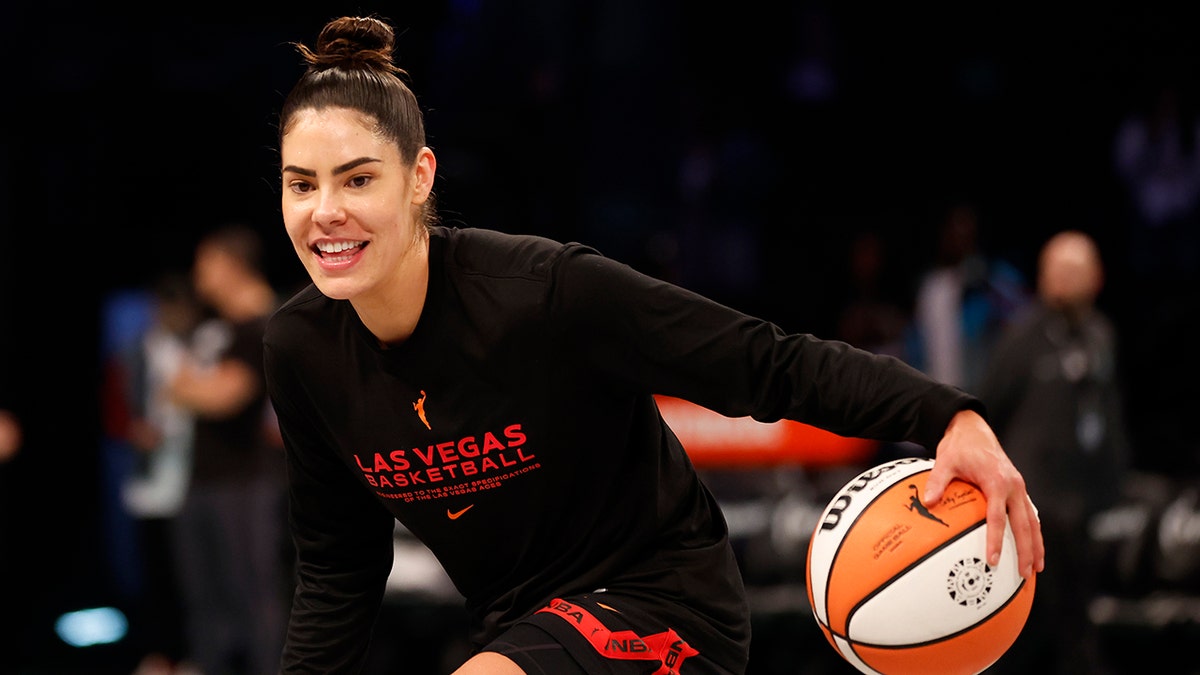 Kelsey Plum of the Las Vegas Aces warms up before Game 4 of the WNBA Finals against the New York Liberty at Barclays Center on October 18, 2023, in New York City. (Sarah Stier/Getty Images)
Plum's next journey begins with Team USA basketball this week as they gear up for the Paris Olympics in 2024 where she hopes to once again represent her country and bring back a gold medal.
CLICK HERE TO GET THE FOX NEWS APP
As she said, Plum will continue to lean on her faith and loved ones around her no matter what that journey may bring.
Scott Thompson is a sports writer for Fox News Digital.