Prior to the Miami Heat defeating the Boston Celtics in Game 1 of the Eastern Conference Finals, Miami head coach Erik Spoelstra discussed the recent round of coach firings in the NBA.
Since the start of the NBA Playoffs, four big-name head coaches have been dismissed, with three of them having an NBA championship to their name.
Then-Philadelphia 76ers head coach Doc Rivers reacts against the Boston Celtics in game three of the Eastern Conference Second Round Playoffs at Wells Fargo Center on May 5, 2023 in Philadelphia. (Tim Nwachukwu/Getty Images)
The latest casualty was Doc Rivers, who was fired by the Philadelphia 76ers on Tuesday after three seasons. 
CHARLES BARKLEY CALLS THOSE REASONING FOR JA MORANT 'JACKASSES' AFTER LATEST FIREARM INCIDENT
"It's disturbing," Spoelstra said Tuesday. "I mean, Doc's a Hall of Famer. It's what [Heat GM] Andy [Elisburg] always says, you get past the first round, there's going to be some really good teams. Great players, great organizations, great coaching staffs that are going to lose. 
"It's part of the nature of this beast. There's only so many teams that can advance. It's just a really hard thing to do. It's been a tough couple weeks, hearing the news of some really surprising firings."
Rivers was fired after taking the Sixers to three consecutive conference semifinals and after 54 regular season wins, the most for the franchise since the 2000-2001 season. 
The round of dismissals started on April 21 when Toronto Raptors fired Nick Nurse after five seasons. 
CLICK HERE FOR MORE SPORTS COVERAGE ON FOXNEWS.COM
Then-Toronto Raptors head coach Nick Nurse reacts during the first quarter of the game between the Toronto Raptors and the Boston Celtics at TD Garden on April 7, 2023 in Boston. (Omar Rawlings/Getty Images)
Nurse led the Raptors to the NBA championship in 2019. 
Milwaukee Bucks head coach Mike Budenholzer was next, fired after five seasons and winning the championship in 2021. 
The one-seeded Bucks lost to the Heat in five games in the first round. 
CLICK HERE TO GET THE FOX NEWS APP
Then, it was Monty Williams' turn, fired by the Phoenix Suns following four seasons and after winning the NBA's Coach of the Year in 2022.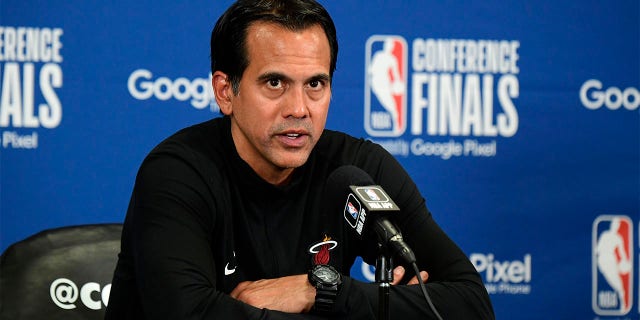 Miami Heat head coach Erik Spoelstra talks to the media during Game 1 of the Eastern Conference Finals 2023 NBA Playoffs on May 17, 2023 at the TD Garden in Boston. (Brian Babineau/NBAE via Getty Images)
On Monday, Spoelstra said Miami has been able to sustain their run of success due to keeping the same culture in place. 
"It takes so much time and energy to restart something," Spoelstra said. "And I think that's part of the reason why we've been able to reboot so many times, over and over and over. We're not reinventing a new culture and then trying to teach everybody and then all of a sudden, two years later, it's going to be somebody else doing the exact same thing."
Joe Morgan is a Sports Reporter for Fox News.