The Miami Heat own a 3-1 lead in the Eastern Conference Finals against the Boston Celitcs, but with Game 5 set to tip off on Thursday night, they are the clear underdog, according to sportsbooks. 
Fox Bet has odds for Miami's moneyline at +220, which means a $100 bet would pay out $220. Meanwhile, the Celtics are at -333, which would require the bettor to put up $333 to win $100. 
So, it's only natural that reporters asked Heat head coach Erik Spoelstra about his team being the underdog despite owning a substantial lead in the series. 
CLICK HERE FOR MORE SPORTS COVERAGE ON FOXNEWS.COM
Miami Heat head coach Erik Spoelstra reacts in the first half of Game 2 in the NBA basketball Eastern Conference semifinals playoff series against the New York Knicks, Tuesday, May 2, 2023, at Madison Square Garden in New York.  (AP Photo/Mary Altaffer)
"We don't give a s—," Spoelstra said bluntly. "We're trying to compete out there. This is a great opportunity and our guys love these kind of challenges. Love to compete, love the playoffs and love playing in an environment like this. This is what it's all about. It's not about getting ahead of it. You want to be present for the competitive nature of what we can expect tonight. That's how our guys are wired." 
Spoelstra's squad has been the underdog since earning the eighth and final seed in the East after the NBA Play-In Tournament. But that didn't stop them from upsetting the top-seeded Milwaukee Bucks in five games in the first round. 
CELTICS ARE STILL ALIVE IN EASTERN CONFERENCE FINALS WITH GAME 5 IN BOSTON
They didn't budge against the New York Knicks either, another higher seed, when they took the second round in six games. 
Now, just like the Bucks' series, they have the opportunity to end the No. 2-seeded Celtics on their home court in five games.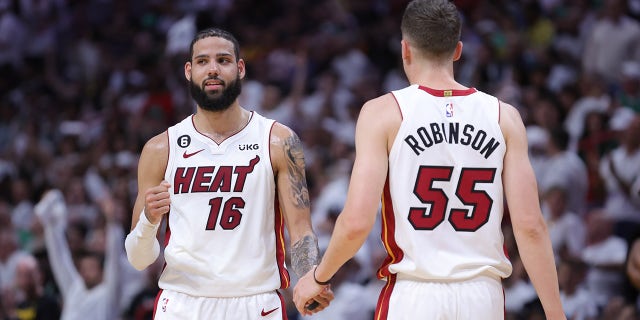 Caleb Martin, #16, and Duncan Robinson, #55, of the Miami Heat react during the second quarter against the Boston Celtics in game three of the Eastern Conference Finals at Kaseya Center on May 21, 2023, in Miami, Florida.  (Megan Briggs/Getty Images)
The Heat will, however, be without their starting point guard, Gabe Vincent, after he suffered an ankle sprain in Game 4. But veteran point guard Kyle Lowry has been crucial for the Heat for the bench, and Spoelstra will likely look to him to get back in the starting five on Thursday night. 
One of the keys to Miami not completing the sweep in Game 4 came down to three-point shooting, which has been a big reason why they've not just hung around with these higher seeds but dominated them. They shot just 25% from beyond the arc in Game 4, and the likes of Jayson Tatum and Jaylen Brown made them pay. 
For the Celtics to keep the series going, Tatum and Brown will need to step up again on their home court. Tatum dropped 33 points with 11 rebounds and seven assists in Game 4, while Brown added 17 points.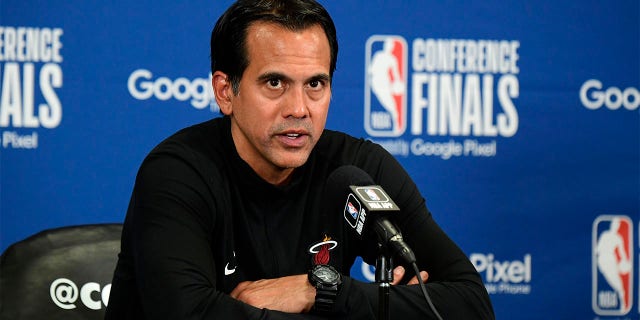 Head Coach Erik Spoelstra of the Miami Heat talks to the media during Game 1 of the Eastern Conference Finals 2023 NBA Playoffs on May 17, 2023, at the TD Garden in Boston, Massachusetts.  (Brian Babineau/NBAE via Getty Images)
CLICK HERE TO GET THE FOX NEWS APP
Game 5 will tip off at TD Garden at 8:30 p.m. ET. 
Scott Thompson is a sports writer for Fox News Digital.