When New York Giants first-round pick Kayvon Thibodeaux reviewed what he put on tape in his rookie year, he admitted during training camp that it "disgusts me."
"Last year's film kind of disgusts me a little when I look at myself, I get a little cringe feeling," Thibodeaux told reporters at the time. "It definitely is a platform to continue to grow."
Thibodeaux, the team's No. 4 overall pick in the 2022 NFL Draft, is chasing greatness like many others who walk on the gridiron each week. That is why he was so critical of his play after starting off slow in his rookie campaign, but finished strong heading into the team's playoff win over the Minnesota Vikings. 
CLICK HERE FOR MORE SPORTS COVERAGE ON FOXNEWS.COM
Dexter Lawrence II, #97, and Kayvon Thibodeaux, #5 of the New York Giants, sack Sam Howell, #14 of the Washington Commanders, in the second quarter of the game at MetLife Stadium on Oct. 22, 2023 in East Rutherford, New Jersey. (Dustin Satloff/Getty Images)
"I'm actually finishing the plays that I'm being involved in," Thibodeaux told Fox News Digital while highlighting the work he did with Campbell's Chunky and the Community FoodBank of New Jersey on Tuesday, where they hosted a food donation event to help aid those in need via the brand's second year of the "Chunky Sacks Hunger" initiative. 
"I'm definitely still climbing and trying to get better, but things are moving in the right direction. We just got to keep putting up wins."
Thibodeaux added that "you always want to evolve."
GIANTS' KAYVON THIBODEAUX DISMISSES SCRUTINY FROM 'SOCIAL MEDIA GMS,' EXPLAINS SITTING ON BENCH ALONE
"I think the best way for me to equate that, and I think the world equate that, is finishing plays and coming down with those stat numbers," he said. "So when you look at what I was able to do last year, yeah, I played OK."
Thibodeaux had just four sacks in 14 games last season, though he totaled 13 quarterback hits and 40 pressures, 25 of which resulted in hurries. That showed he was disrupting the quarterback in the pocket, but was not getting him on the ground in time for sacks. 
However, Thibodeaux also totaled five pass deflections and two forced fumbles, one of which being a strip sack against the Washington Commanders on the road that he scooped up on the goal line for a touchdown. 
Like the 22-year-old Oregon product said, though, it is a good platform to build on, and the numbers do not lie through seven games this season.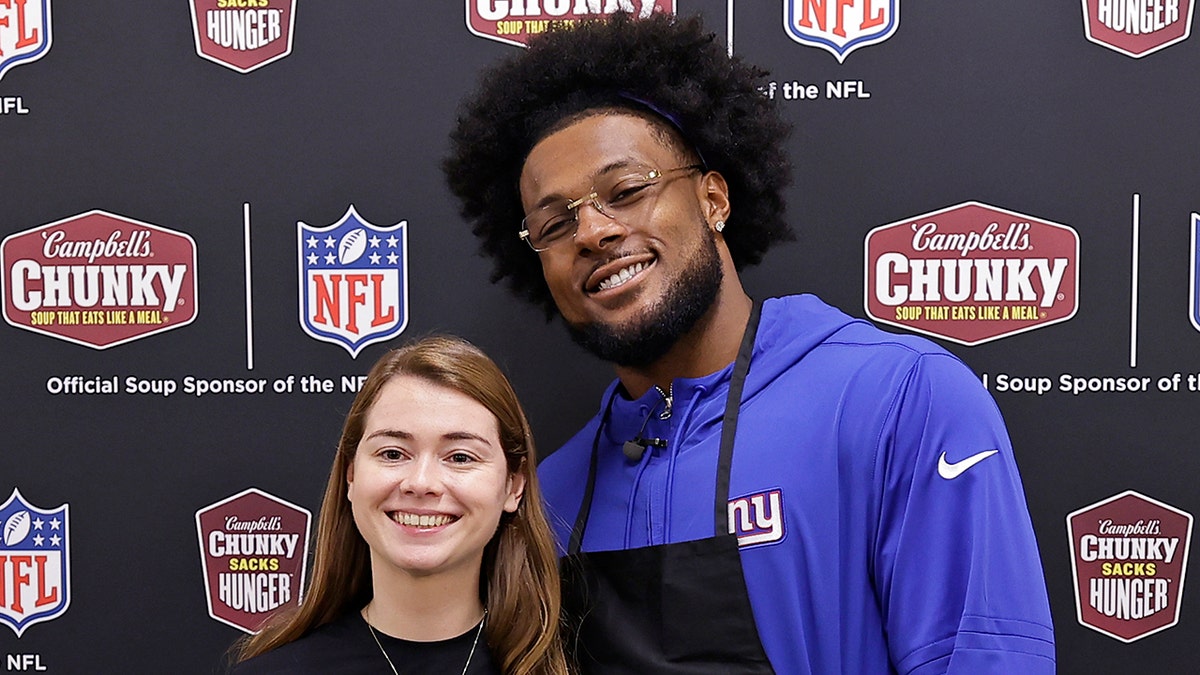 Campbell's Chunky Sacks Hunger New York Giants Event with Kayvon Thibodeaux on Tuesday, Oct. 24, 2023 in Hillside, New Jersey. (Adam Hunger/AP Images for Campbell's Chunky)
Thibodeaux has totaled 5.5 sacks, including 1.5 in the 14-7 win over Washington on Sunday, which already breaks his rookie total. He got his first against the San Francisco 49ers in Week 3, and followed that up against the Seattle Seahawks with two and one more against the Miami Dolphins. He is averaging one quarterback hit per game as well. 
Of course, the stats come secondary to the team's result at the end of games for Thibodeaux. The Giants broke a four-game losing streak with the low-scoring victory against the Commanders, a game in which Thibodeaux dropped a sure-fire pick-six that he was kicking himself over. 
However, the Giants defense as a whole played a big part in getting Big Blue back to winning, as they totaled six sacks and one interception (Deonte Banks' first of his career). As long as this group continues to play well, and the offense can keep possession and move the ball downfield like they have in the past two games, the Giants could turn the tide in an NFC that is wide open after seven weeks. 
Thibodeaux will do his part by continuing to put in the work on gameday – work that is paying dividends on film and the stats sheet. 
When off the field, Thibodeaux continues to give back to the community he calls home now in New Jersey and New York. He was honored to work with Campbell's Chunky and the Community FoodBank of New Jersey again this year, which has also seen improvements in their numbers of meals donated.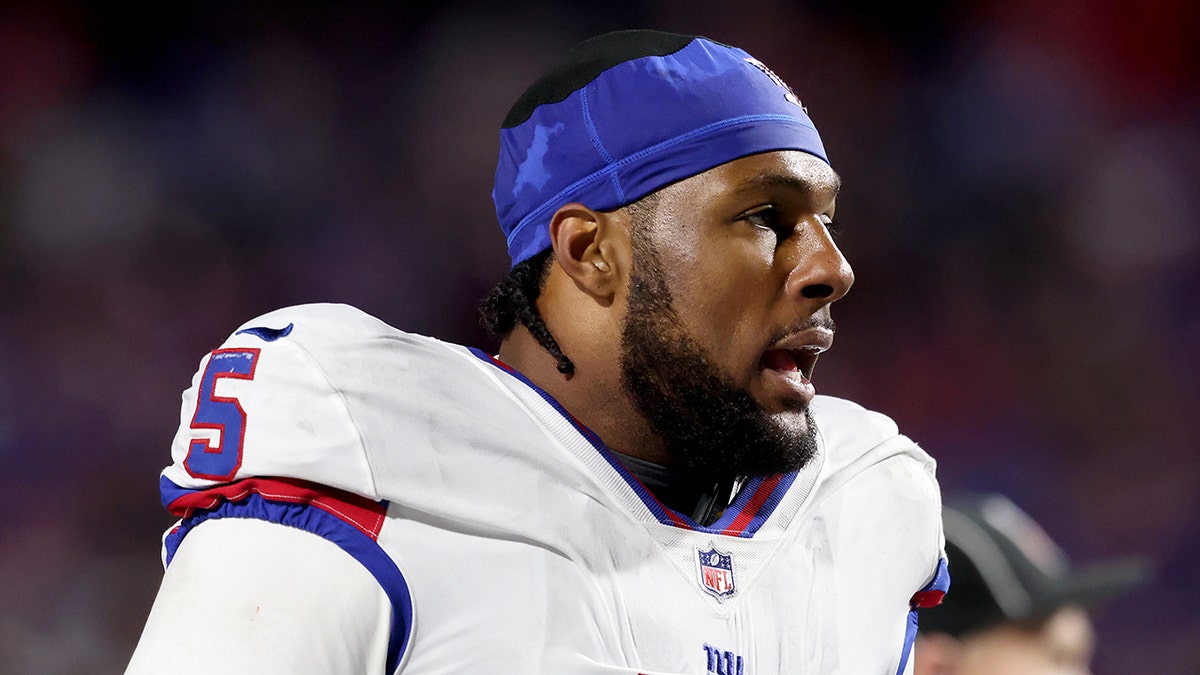 Kayvon Thibodeaux, #5 of the New York Giants, reacts during the third quarter against the Buffalo Bills at Highmark Stadium on Oct. 15, 2023 in Orchard Park, New York. (Bryan Bennett/Getty Images)
CLICK HERE TO GET THE FOX NEWS APP
"A year ago this time, I was here and we were only giving about one million meals that year," Thibodeaux, who was seen packing boxes with goods for meals alongside his mother, Shawnta, explained. "Now we've pushed to two [million]. We've been making gains and the people we're affecting have really appreciated it. It's always a blessing. Being here during the holiday season."
Scott Thompson is a sports writer for Fox News Digital.