Tyrod Taylor has performed well for the New York Giants since taking over for Daniel Jones, but head coach Brian Daboll nixed any rumor of a quarterback controversy in East Rutherford on Wednesday. 
Speaking to reporters, Daboll reiterated what he's been saying for quite some time: Jones is the starter. 
"I've said it, I don't know how many times I've been asked, but I've said it a bunch."
CLICK HERE FOR MORE SPORTS COVERAGE ON FOXNEWS.COM
Daniel Jones #8 of the New York Giants walks off the field during the second quarter against the Seattle Seahawks at MetLife Stadium on October 02, 2023 in East Rutherford, New Jersey. (Al Bello/Getty Images)
Jones, who signed a four-year, $160 million contract extension this offseason after having a career year in 2022, has been sidelined with a neck injury since he sustained it against the Miami Dolphins in Week 5. 
In his absence, the Giants have had to rely on his veteran backup in Taylor, who was one point away from defeating the Buffalo Bills on the road two weeks ago and helped get the Giants back to winning in Week 7 against the Washington Commanders with a 14-7 victory. 
Taylor is more likely than not to be starting for the third straight week against the New York Jets in the "Snoopy Bowl" at MetLife Stadium on Sunday, as Jones remains the same as he was last week, Daboll said. 
GIANTS STOP COMMANDERS' LAST-MINUTE RED-ZONE TRIP TO HOLD ON FOR VICTORY
Jones was listed as limited on the injury report Wednesday, but he didn't take any team reps and has not yet been cleared for contact. He suffered a neck injury during the 2021 campaign, which forced him to miss six games. 
However, Jones says this is something entirely different. 
"I think when you see other guys who have similar situations as mine and they are able to progress and come back, I'm following a similar timeline to that. That is kind of the optimism. And yeah, it's a different injury than last time," he said. 
While Jones is the clear franchise quarterback, Taylor has performed better than him this season when he's gotten the opportunity to do so. He has a quarterback rate of 50.1 to Jones' 39.0.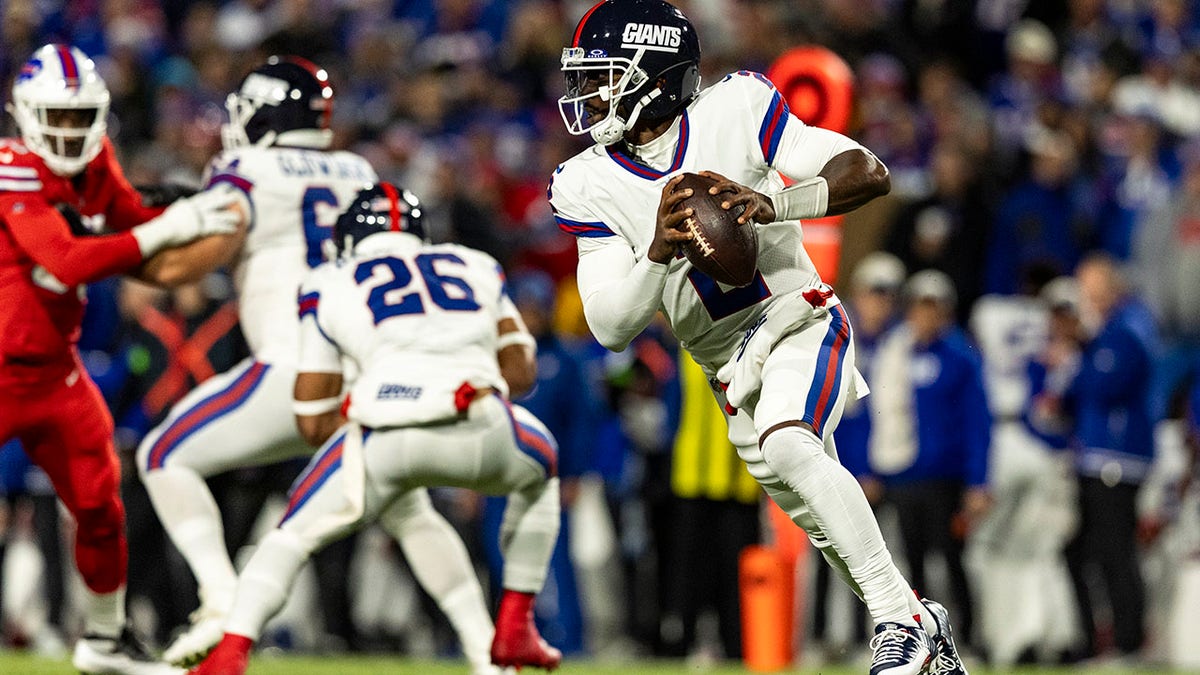 Tyrod Taylor #2 of the New York Giants runs the ball during the game against the Buffalo Bills at Highmark Stadium on October 15, 2023 in Orchard Park, New York. (Lauren Leigh Bacho/Getty Images)
Taylor's outing against the Commanders – he threw for 279 yards and two touchdowns on 18 of 29 through the air – helped snap a four-game losing streak that was dampening the spirits of fans who believed this team would build off their playoff win in 2022. That has been the exact opposite of the case early this season. 
"I feel comfortable in our offense," Taylor, who backed up Jones last season said. "I feel comfortable with the playmakers that we have outside. It's up to me, obviously, to get the ball to those guys, so just trying to spread it around as much as possible, and a lot of those guys create plays."
Taylor is also fully aware that he is Jones' backup, saying "he's a captain on our team, captain of our team, a leader on the offense, and I am here to support in any way that I can."
In Jones' defense, the offensive line was brutal to start the season, as he was sacked 28 times in five starts. Over the past two weeks, though, additions like Justin Pugh has helped this group gel more and give Taylor time in the pocket. 
On the other hand, Taylor has done a fantastic job using his legs to escape the pocket when it collapses and finding receivers like Wan'Dale Robinson and Darren Waller, who have seen an uptick in production since he took over at quarterback.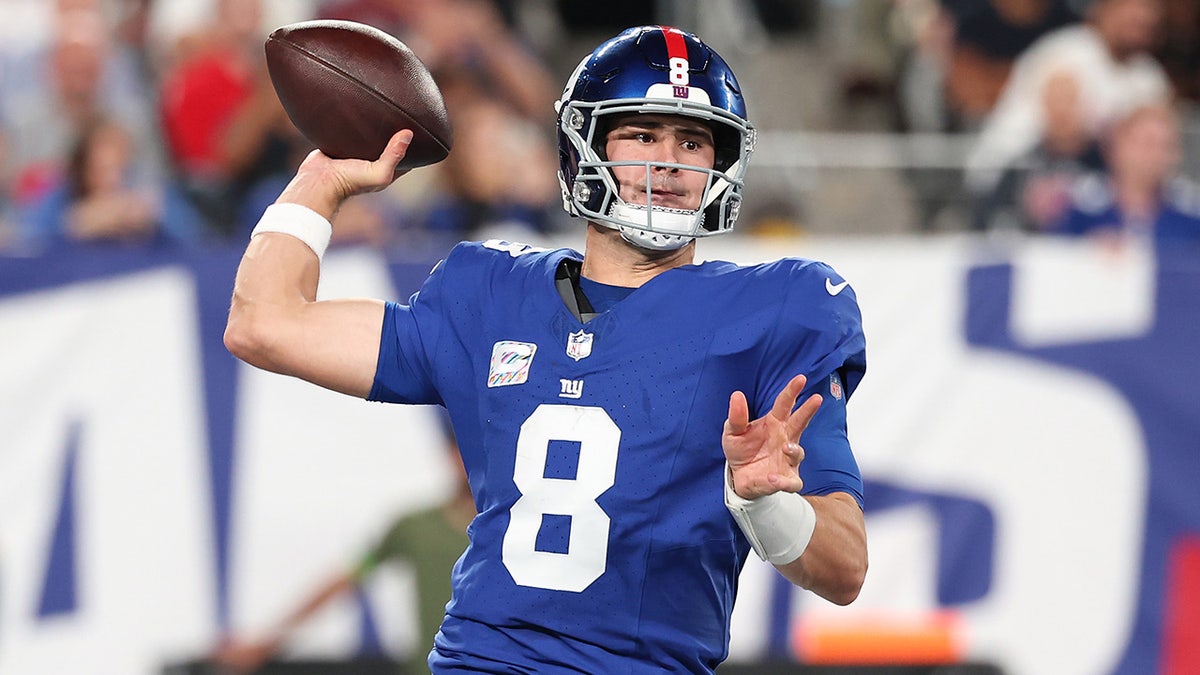 Daniel Jones #8 of the New York Giants throws the ball during the first half against the Seattle Seahawks at MetLife Stadium on October 02, 2023 in East Rutherford, New Jersey. (Al Bello/Getty Images)
Taylor almost orchestrated a miraculous comeback against the Bills, with Waller's incompletion on the final play of the game on the one-yard line two Sundays ago in question after he seemed to be impeded from making the catch. 
Jones is someone the Giants clearly trust to return and perform better than he has to start the year, with improved line play and the offense getting Saquon Barkley back as well. 
CLICK HERE TO GET THE FOX NEWS APP
Until then, though, Taylor will continue playing his role and trying to keep the Giants trending in a positive direction. 
Scott Thompson is a sports writer for Fox News Digital.