Defensive tackle Nazir Stackhouse's fourth-quarter interception helped protect No. 1 Georgia's slim lead, and the Bulldogs beat No. 14 Missouri 30-21 Saturday for their 26th consecutive win.
Georgia (9-0, 6-0 Southeastern Conference, No. 2 College Football Playoff) had to rally to win the key SEC East matchup against Missouri (7-2, 3-2, No. 12 CFP).
The Tigers led 13-10 early in the second half. Georgia answered with two straight touchdowns, a 15-yard run by Kendall Milton and Carson Beck's 5-yard scoring pass to Oscar Delp. Beck completed 21 of 32 passes for 254 yards with two touchdowns and no interceptions.
Georgia led 27-21 when Stackhouse, a 6-foot-3, 320-pound senior, picked off Brady Cook's short pass. Stackhouse rambled to the Missouri 5, but a blindside block penalty against Bulldogs linebacker Smael Mondon Jr. pushed Georgia back to its 30.
CLICK HERE FOR MORE SPORTS COVERAGE ON FOXNEWS.COM
Kendall Milton of the Georgia Bulldogs celebrates a touchdown during a game against Missouri at Sanford Stadium Nov. 4, 2023 in Athens, Ga.  (Steve Limentani/ISI Photos/Getty Images)
Daijun Edwards' 22-yard run helped set up a 48-yard field goal by Peyton Woodring, the freshman's third of the game, that gave Georgia a 30-21 lead.
Georgia's defense came through with another interception when safety Javon Bullard picked off Cook's deep pass with 1:36 remaining.
Milton's scoring run was an important lift for the Bulldogs' sluggish running game. The Tigers had a 151-131 advantage in rushing yards.
Cody Schrader's 12-yard scoring run and Cook's 2-point conversion pass to Luther Burden III, who had a touchdown catch earlier in the game, cut Georgia's lead to 24-21. Schrader had 22 carries for 112 yards.
Woodring's 30-yard field goal midway through the fourth increased the Bulldogs' lead to six points.
Cook kept the Tigers close with his dual-threat skills. The junior was largely responsible for the Tigers pulling to a 10-10 tie late in the first half. He had runs of 19 and 18 yards on a drive that set up a 38-yard field goal by Harrison Mevis to tie the game.
Cook threw a 39-yard scoring pass to Burden in the first quarter and rushed for 39 yards.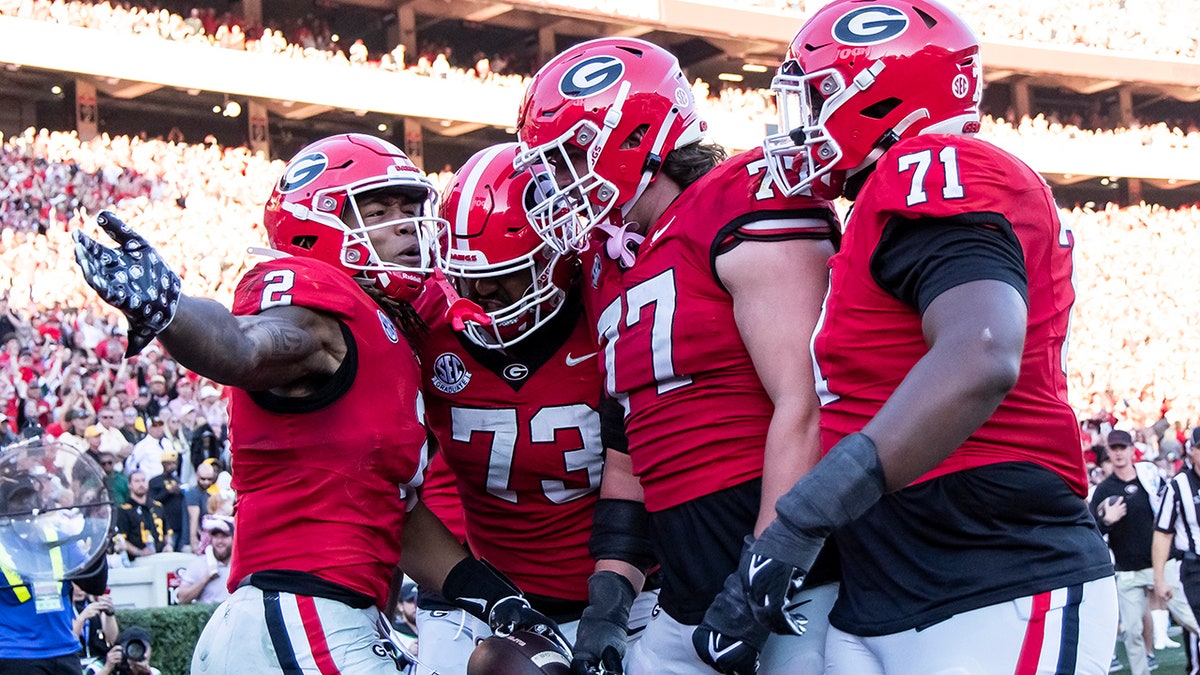 Kendall Milton (2) of the Georgia Bulldogs celebrates a touchdown with the offensive line during a game against Missouri at Sanford Stadium Nov. 4, 2023, in Athens, Ga.  (Steve Limentani/ISI Photos/Getty Images)
Dominic Lovett, a Missouri transfer, caught a 6-yard scoring pass for the Bulldogs' only touchdown of the first half.
Despite Georgia's long winning streak, the hard-fought first half was no surprise. The Bulldogs had to rally from a 10-point deficit to win at Missouri 26-22 last season.
TEXAS A&M PLAYER EJECTED AFTER FIERCE SHOT TO GROIN OF OLE MISS OPPONENT
The Tigers survived a scare when Burden held his left ankle and was examined on the field in the second quarter. Burden returned later in the half after walking slowly off the field.
Mevis gave Missouri a 13-10 lead with a 42-yard field goal that gave the senior the school's career scoring record, passing Jeff Wolfert's 363 points from 2006-08.
POLL IMPLICATIONS
Georgia can be expected to extend its streak of holding the No. 1 spot in the AP Top 25 poll for an SEC-record 20 consecutive weeks. Yet to be determined is if the win will be enough to boost the Bulldogs past Ohio State for the CFP's top spot. Missouri may drop but should remain in the Top 25.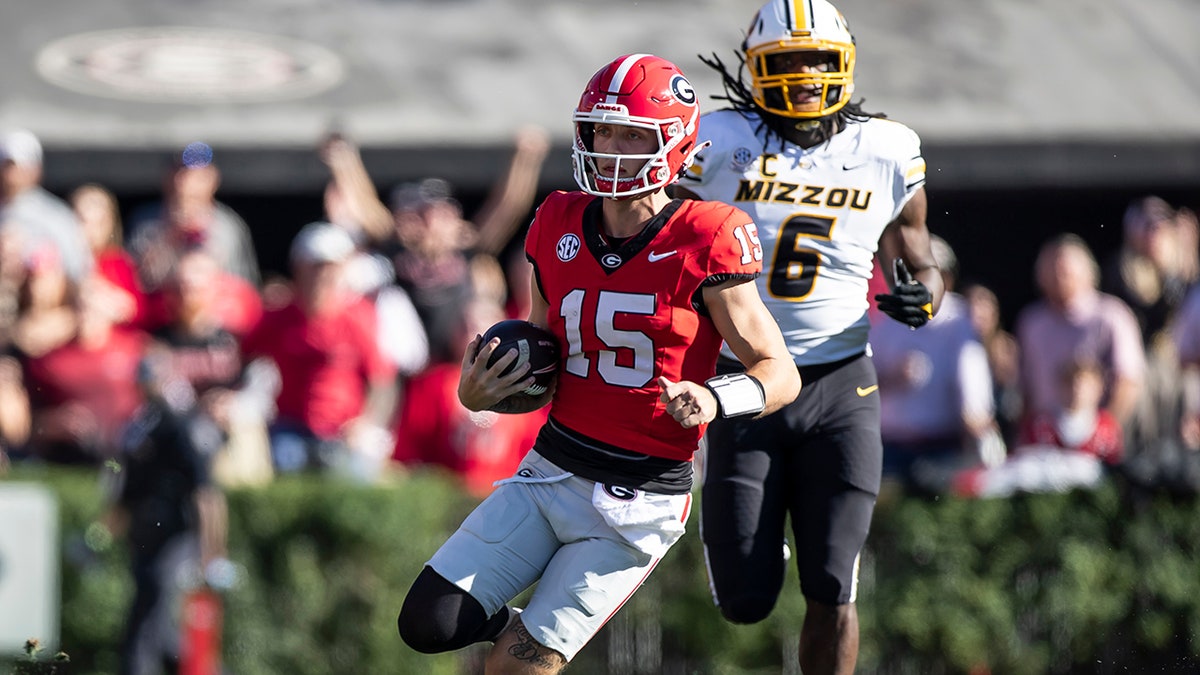 Carson Beck (15) of the Georgia Bulldogs runs with the ball during a game against Missouri at Sanford Stadium Nov. 4, 2023, in Athens, Georgia.  (Steve Limentani/ISI Photos/Getty Images)
THE TAKEAWAY
Missouri: The Tigers had success against a Georgia offensive line that had allowed only six sacks through eight games. Missouri, which was tied for 17th in the nation with 24 sacks, dropped Beck twice in the first half and three times for the game. Beck and Schrader were the difference makers on the ground.
CLICK HERE TO GET THE FOX NEWS APP
Georgia: The Bulldogs struggled to run the ball consistently, putting more pressure on a Georgia passing game that was missing injured tight end Brock Bowers for a second straight game. Beck overcame three sacks to answer the challenge.
UP NEXT
Missouri: The Tigers play another game against a tough SEC East rival when they host No. 19 Tennessee next Saturday.
Georgia: Continues its stretch of three consecutive games against ranked teams when it hosts No. 11 Mississippi next Saturday.