The Michigan sign-stealing scandal has appeared to pick up steam over the last several days as the NCAA continues to investigate the situation. 
The NCAA is investigating whether Michigan conducted off-campus scouting and sign-stealing. Wolverines staff member Connor Stalions, who is at the center of the controversy, resigned Friday after being initially suspended with pay during the investigation. 
The Michigan Wolverines take the field against the Rutgers Scarlet Knights on Sept. 23, 2023, at Michigan Stadium in Ann Arbor. (Joe Robbins/Icon Sportswire via Getty Images)
Multiple reports surfaced Thursday that Big Ten coaches held a Wednesday video call with Big Ten commissioner Tony Petitti and urged him to take action against Michigan as the NCAA investigation will likely stretch past the 2023 season. 
On Thursday, Fox Sports play-by-play man Tim Brando took to X and called for due process while pointing to the "media's manipulation" of the story. 
CONNOR STALIONS, ACCUSED RINGLEADER OF MICHIGAN'S ALLEGED SIGN-STEALING SCHEME, RESIGNS
"Anyone watching this [Michigan football] scandal should be able to see the media's manipulation of this with its recent stories out this morning," Brando posted to X in part. "Lemme begin this soliloquy with understanding that anonymous sources have forever been part of journalism. How information is gathered is of no consequence to me, however context is also important."
"It's clear [Big Ten] coaches and most others are p—– over perceived competitive advantages [Jim Harbaugh] is alleged to have had this season. We get it. They're baiting new Commissioner Tony Petitti to act on his own without Michigan having received a Notice of Allegation which starts a 90 day clock for the University to legally respond. This is called due process, but remember this isn't a court of law, so if the Commissioner wishes to acquiesce its his jurisdiction."
"The media can keep its NCAA back channeling of leaks alive thru November and effectively ignore the most enjoyable part of the CFB season and I suspect they will," Brando added. "It's my opinion it won't change a thing. Commissioners do need to use this as an example of how the further they get away from the NCAA the better, and the quicker they take control of governance of CFB the sooner the sports image and day to day operations will improve!"
Brando spoke with Fox News Digital and elaborated on his post. 
DEION SANDERS DOWNPLAYS EFFECTIVENESS OF SIGN-STEALING: 'YOU'VE STILL GOT TO STOP IT'
"As a broadcaster, I've used unnamed sources. So, I've got no quibble with using anonymous sources aka leaks from NCAA. That's where they are getting all this. They're getting this directly from the NCAA. The very people that are not transparent enough to actually speak on their own behalf," Brando said.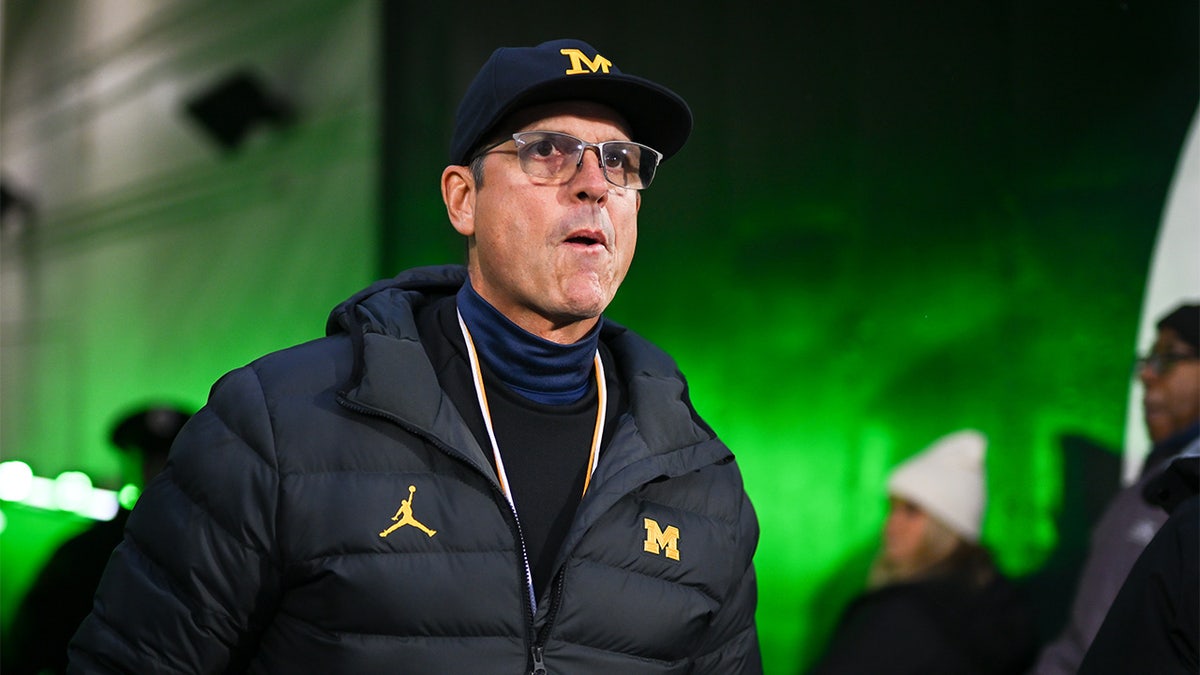 Michigan Wolverines head coach Jim Harbaugh walks through the tunnel prior to the Michigan State Spartans game on Oct. 21, 2023 at Spartan Stadium in East Lansing. (Adam Ruff/Icon Sportswire via Getty Images)
"But I've got no problem with what they're reporting at all. My thoughts on this are unchanged and I think accurate. There will be nothing done in the timetable that they are demanding as they believe that they are speaking for the coaches who are admonishing Harbaugh very critically for this, and in their minds, have him convicted. So, they are without a doubt trying to bait a rookie commissioner into taking action that they know the NCAA cannot and does not have the jurisdiction to take over a period well beyond 90 days."
The NCAA had not responded to Fox News' request for comment by time of publication. 
Michigan would have 90 days to respond if a notice of allegations was sent by the NCAA.
"Due diligence has not been served by the NCAA and their woeful inability to govern through infractions and enforcement is right there for public display," Brando told Fox News Digital. "And these very writers that are pushing this are aware of it. They know it. So, now their only means to get to the end that they deem their right to get is through the conference office."
In his post on X, Brando pointed to a somewhat similar situation to Michigan's in 2010 over allegations of illegal payments around Auburn quarterback Cam Newton.
CLICK HERE FOR MORE SPORTS COVERAGE ON FOXNEWS.COM
"The Cam Newton story was different. It certainly did not impact the so-called competitive advantage from a coaching standpoint. But was it every bit as much a seedy, tawdry, negative story that dominated college football the entire last month of the 2010 season," Brando told Fox News Digital.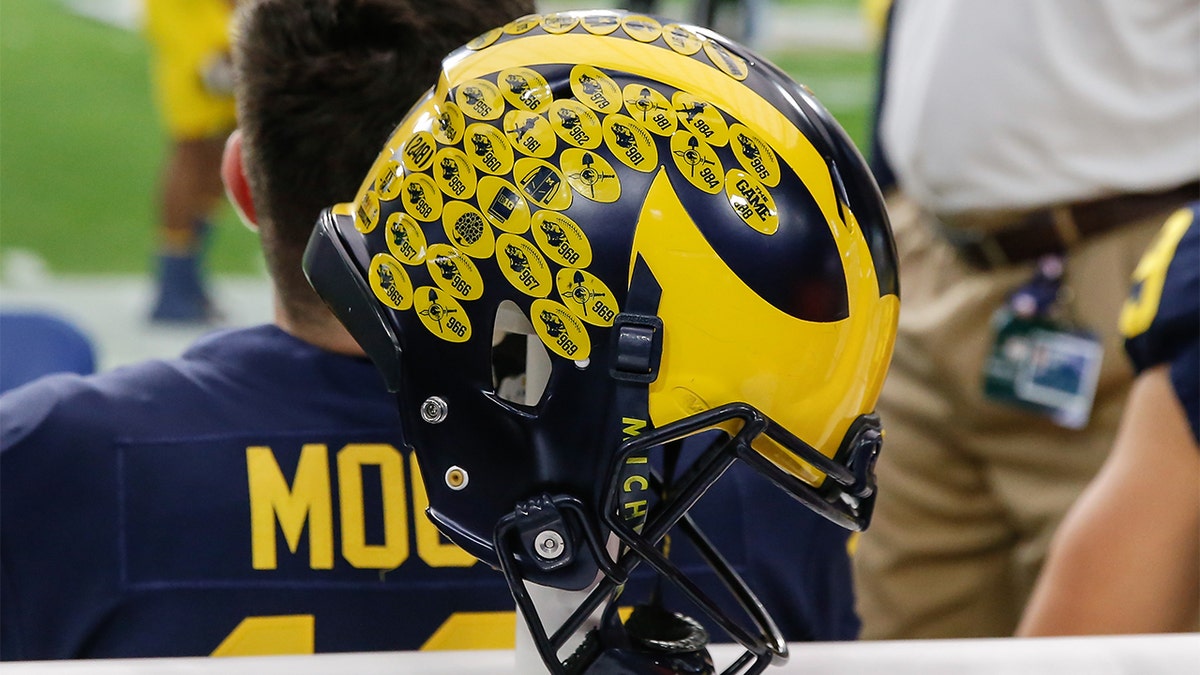 A Michigan Wolverines helmet before the VRBO Fiesta Bowl against the TCU Horned Frogs on Dec. 31, 2022, at State Farm Stadium in Glendale, Arizona. (Kevin Abele/Icon Sportswire via Getty Images)
Brando discussed how Mike Slive, then the commissioner of the SEC, handled the situation during the season. 
"He managed that thing with kid gloves and made sure that regardless of what SEC officials at other schools and other coaches felt, Cam Newton was going to be and was protected through the entire process for the 2010 national championship game against Oregon," Brando continued.    
ESPN reported Thursday that Big Ten athletic directors also held a video call with Petitti without Michigan athletic director Warde Manuel to discuss the allegations. 
Petitti reportedly told the athletic directors that he could not make any decisions regarding Michigan this season without needing a "set of facts to go off of."
CLICK HERE TO GET THE FOX NEWS APP
On Saturday, ESPN reporter Pete Thamel told "College Gameday" that the Big Ten could punish Michigan through the sportsmanship policy, and that the most likely scenario – should punishment be handed down by the conference – is a suspension for Harbaugh.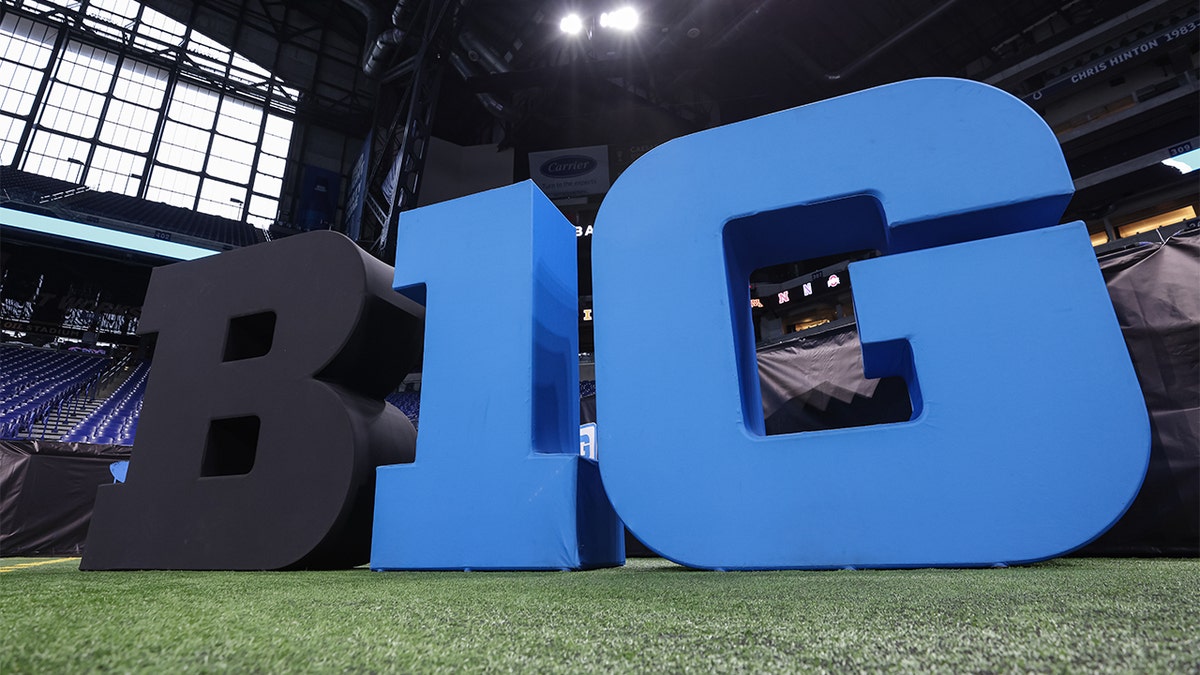 The Big Ten logo on the field during the conference's media days at Lucas Oil Stadium on July 26, 2022, in Indianapolis, Indiana. (Michael Hickey/Getty Images)
Brando said he does not have an agenda, but believes that the bigger picture is being overlooked when it comes to the Michigan story. 
"The bigger issue, the bigger picture is being overlooked again. Yet again. In the interest in bringing up what's wrong with college sports seems to be more the norm than the exception," Brando told Fox News Digital. "The bigger picture here is why the hell is the NCAA involved whatsoever? They have no jurisdiction over college football and the people who are governing college football, the commissioners themselves, they need to understand that this should be the last straw. 
"They need to get away from the NCAA completely and move forward and govern themselves. Because the NCAA has no financial stake in college football, it has been a thorn in football's side ever since it lost the 1984 Supreme Court case… And wherever and whenever they can cause issues for the sport, they will. And this is yet another, in my opinion, example of that."
Joe Morgan is a Sports Reporter for Fox News.