Welcome to the Fox News Sports Huddle Newsletter. If this newsletter is not already delivered to your email, please subscribe here.
STRANGE BEGINNINGS – Week 11 of the college football season kicked off in an odd way, with the Big Ten suspending Michigan head coach Jim Harbaugh for the remainder of the regular season. Continue reading…
OUT OF BOUNDS – Legendary college football coach Lou Holtz calls Michigan's alleged sign-stealing scheme 'illegal' while also taking issue with the Big Ten suspending Jim Harbaugh during the season. Continue reading…
MOVING UP – Georgia moves into the top spot, after a dominant win over Ole Miss, while the undefeated Ohio State Buckeyes fall to No. 3 in the latest rankings. Continue reading…
HEFTY BUYOUT – Texas A&M will reportedly owe Jimbo Fisher approximately $77 million after making the stunning decision to fire him shortly after a win against Mississippi State. Continue reading…
Cleveland Browns quarterback Deshaun Watson passes against the Baltimore Ravens during the first half on an NFL football game Sunday, Nov. 12, 2023, in Baltimore.  (AP Photo/Susan Walsh)
ODD SUPERSTITION – Kansas City Chiefs quarterback Patrick Mahomes revealed one of his gameday superstitions while talking with Peyton and Eli Manning. Continue reading…
FACTORY OF SADNESS – Cleveland Browns quarterback Deshaun Watson will miss the rest of the 2023 NFL season after suffering a broken bone in his throwing shoulder Sunday during the team's win over the Baltimore Ravens. Continue reading…
'THIS IS DEPRAVED' – Detroit Lions wide receiver Jameson Williams revealed a wild topping he likes to put on his McDonald's cheeseburger. Continue reading…
VULGAR COMMENT – The wife of Jacksonville Jaguars star Trevor Lawrence took issue with a nasty comment a fan left on one of the quarterback's social media accounts. Continue reading…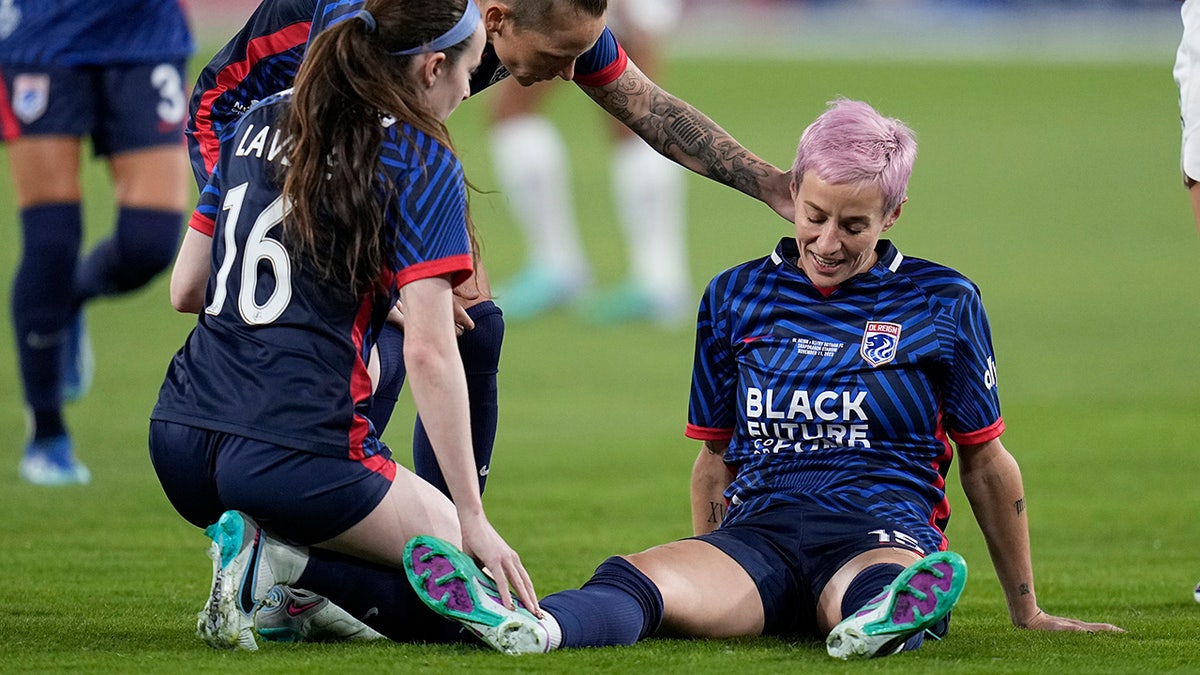 OL Reign forward Megan Rapinoe, right, stays down after an injury as teammates midfielder Rose Lavelle (16) and midfielder Jess Fishlock, center, check on her during the first half of the NWSL Championship soccer game against NJ/NY Gotham, Saturday, Nov. 11, 2023, in San Diego. (AP Photo/Gregory Bull)
'BELIEVE IN HIM!' – A former NFL quarterback had some thoughts on Megan Rapinoe saying that a potential Achilles injury that she suffered was "proof that there isn't" a god. Continue reading…
OUT ON BAIL – The family of former NHL player Adam Johnson is speaking out after police arrested a suspect on suspicion of manslaughter. Johnson was laid to rest last week in Minnesota. Continue reading…
FOLLOW FOX NEWS ON SOCIAL MEDIA
Facebook
Instagram
YouTube
Twitter
LinkedIn
SIGN UP FOR OUR NEWSLETTERS
Fox News First
Fox News Opinion
Fox News Lifestyle
Fox News Autos
Fox News Health
DOWNLOAD OUR APPS
Fox News
Fox Business
Fox Weather
Fox Sports
Tubi
WATCH FOX NEWS ONLINE
Fox News Go
OUTKICK COVERAGE
OutKick
STREAM FOX NATION
Fox Nation
This article was written by Fox News staff.