The Calgary Flames started the 2022-23 season making a long-term commitment to head coach Darryl Sutter, and ended it looking for a different voice behind the bench.
The Flames fired Sutter on Monday in the latest major change at the NHL club after a disappointing season. Sutter's dismissal comes 11 months after being the winner of the Jack Adams Award as the NHL's top head coach.
"I interviewed 25 players, coaches, coaching staff, training staff, spoke to prominent agents who represent key players on our team, and it became clear to me that we need a new voice to guide us forward," Flames president of hockey operations and interim general manager Don Maloney said.
CLICK HERE FOR MORE SPORTS COVERAGE ON FOXNEWS.COM
FILE – Calgary Flames head coach Darryl Sutter leaves the ice at the end of the first period of an NHL hockey game against San Jose Sharks, Tuesday, Dec. 20, 2022, in San Jose, Calif.  (AP Photo/Josie Lepe, File)
One year after winning the Pacific Division and advancing to the second round of the Stanley Cup playoffs, the Flames fell to fifth in the division and missed the postseason with a 38-27-17 record.
"The players were very, very frustrated with the season," Maloney said at a Monday news conference. "They truly believe we had a team good enough to be in the playoffs."
Sutter's departure comes two weeks after former Flames general manager Brad Treliving turned down a contract extension and parted ways with the team.
"The players of today, they want a voice, they have a voice, and you have to listen to that voice," Maloney said. "You don't want to make it that the inmates are running the asylum, so to speak, but they had some real observations on, in their minds, how we should move forward."
Known for his gruff, no-nonsense approach, Sutter took heat at various times through last season.
After tying for second in league scoring in 2021-22 with 115 points as a member of the Florida Panthers, Jonathan Huberdeau's production plummeted by 60 points.
"Darryl is a very sharp man, he's got a good hockey mind," Maloney said. "He's a firm coach, a hard coach, a demanding coach, and there's a shelf life to that type of type of coaching. Obviously it felt his time had expired with us."
Huberdeau, along with defenseman MacKenzie Weegar, came to the Flames in a blockbuster trade last summer for Matthew Tkachuk after the star forward said he wouldn't sign long term in Calgary.
Shortly after being acquired, Huberdeau signed an eight-year extension for $115 million that kicks in next season.
"We underachieved and generally, underachieving doesn't make for happy days," said Maloney. "We're optimistic when we hire the next manager and coach, we will have a new attitude in the sense of it's a new beginning for a lot of players, including some of our players who had difficult seasons this year. "
KRAKEN TAKE GAME 1 IN OVERTIME, THWART STARS' HEROIC COMEBACK EFFORTS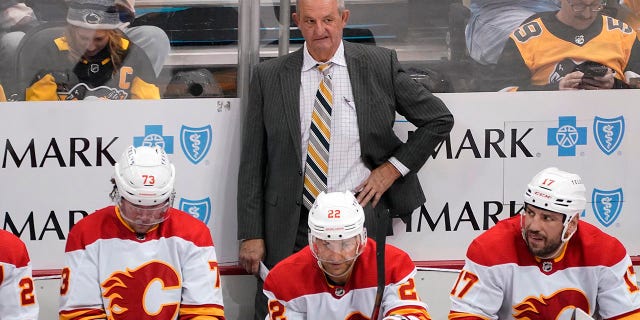 FILE – Calgary Flames head coach Darryl Sutter stands behind his bench during the third period of an NHL hockey game against the Pittsburgh Penguins in Pittsburgh, Wednesday, Nov. 23, 2022. (AP Photo/Gene J. Puskar, File)
There were also reports of unhappiness from Nazem Kadri, who signed a seven-year, $49 million contract as a free agent after winning the Stanley Cup with the Colorado Avalanche in 2022.
Maloney says the team needs to do a better job of integrating youth because that's how the league has evolved.
"The younger players now, at 18, not only do they think they should be in the NHL, but a lot of them can play in the NHL at a younger age," said Maloney. "They've been groomed, they've been trained.
"Everybody has their personal trainers, and nutritionists, and masseuse. They don't come into this league anymore wide-eyed and say oh my gosh, I'm over my head. They expect to get here and play."
Flames forward Jakob Pelletier, who turned 22 in March, was scratched most of the final month and 23-year-old Adam Ruzicka rarely played over the final three months. Sutter instead stuck with veterans such as Milan Lucic, 34, and Trevor Lewis, 36.
"It's a different world in that respect and I do think we have an older, experienced team here now, we could use a little more youth and energy into our lineup," Maloney said. "You look around the league, you have to have young players on entry-level contracts that are not just putting in six or seven minutes, that can play meaningful minutes to have any kind of success."
Sutter's departure continues the revolving door at coach. Since Bob Hartley was fired at the end of 2015-16, Calgary has gone through four head coaches — Glen Gulutzan, Bill Peters, Geoff Ward, and now Sutter, who signed a multi-year contract extension with Calgary in October that was set to begin next season.
"There's a lot of factors that go into a decision like this. But now it's full steam with searching for a manager and that manager and I will look and find the right head coach for this club," said Maloney.
Monday's move ends Sutter's second tenure with the Flames.
Sutter replaced Greg Gilbert behind Calgary's bench on Dec. 28, 2002, and added GM duties after the end of the 2002-03 season.
He led Calgary to its most recent Stanley Cup Final appearance in the 2003-04 season, then stepped down as head coach to focus on his duties as GM after the 2005-06 season.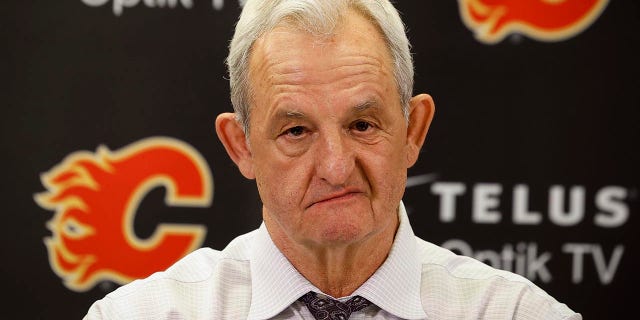 Head coach Darryl Sutter of the Calgary Flames speaks to the media after a 3-1 win over the San Jose Sharks at the Scotiabank Saddledome on April 12, 2023, in Calgary, Alberta, Canada. (Leah Hennel/Getty Images)
CLICK HERE TO GET THE FOX NEWS APP
Sutter resigned as Flames GM on Dec. 28, 2010. He later won two Stanley Cup titles as head coach of the Los Angeles Kings in 2011-12 and 2013-14.