After playing on the road more than a month, the Clemson Tigers returned home and delivered an upset win over Notre Dame.
Clemson hung on for the 31-23 victory despite losing running back Will Shipley to an injury. Junior Phil Mafah filled in for Shipley, gained 186 yards and scored two touchdowns. 
Swinney's success at Clemson has created expectations the program should compete for championships every year. Earlier this week, Swinney pushed back against a radio caller who was referred to as "Tyler from Spartanburg." 
The caller was critical of the current state of the Tigers, who entered this week with four losses. Swinney strongly rebuked the criticism, and it appears the coach's passionate response may have fired up the team heading into Saturday's game with Notre Dame.
CLICK HERE FOR MORE SPORTS COVERAGE ON FOXNEWS.COM
Cade Klubnik of the Clemson Tigers hugs head coach Dabo Swinney of the Clemson Tigers during an on-field interview after defeating the Notre Dame Fighting Irish, 31-23, at Memorial Stadium Nov. 4, 2023, in Clemson, S.C. (Isaiah Vazquez/Getty Images)
Clemson led 31-16 in the third quarter. But, Notre Dame pulled within one score on Sam Hartman's 26-yard scramble score. Hartman finished the game with two interceptions.
The Tigers leaned on their special teams and defense the rest of the way. Four times after that, the Tigers downed punts inside the Notre Dame 15 — including a nifty quick kick by quarterback Cade Klubnik — and the Irish could never get out of the hole.
RUTGERS RUNS BRILLIANT FOURTH-DOWN PLAY TO PERFECTION: 'I THOUGHT IT WAS A FUMBLE!'
Notre Dame got a last chance when Mafah fumbled with 1:47 to go on its own 22. But a second Hartman interception gave the Tigers the ball back with just under one minute remaining.
Clemson ran out the clock and set off a celebration for Death Valley fans who had little to cheer about this season. Swinney moved past the late Frank Howard in all-time Clemson wins with 166 after missing on his first two chances.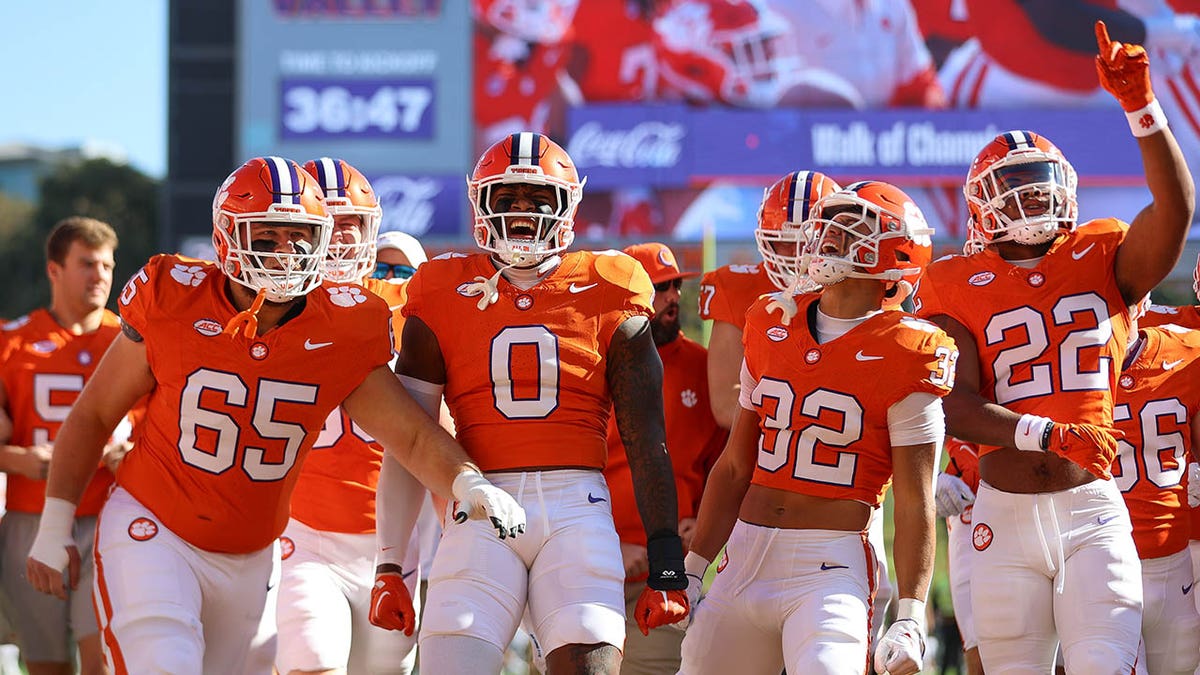 Chapman Pendergrass (65), Antonio Williams (0), Wise Segars Jr. (32) and Dee Crayton (22) of the Clemson Tigers walk the field before taking on the Notre Dame Fighting Irish at Memorial Stadium Nov. 4, 2023, in Clemson, S.C.  (Isaiah Vazquez/Getty Images)
Klubnik threw for 109 yards and a 9-yard TD to Tyler Brown, and linebacker Jeremiah Trotter Jr. stepped in front of a Hartman pass for a 28-yard pick-six that put the Tigers ahead 24-6 in the second quarter.
Saturday's win marked the first time an unranked Clemson team had beaten a ranked team since 2021.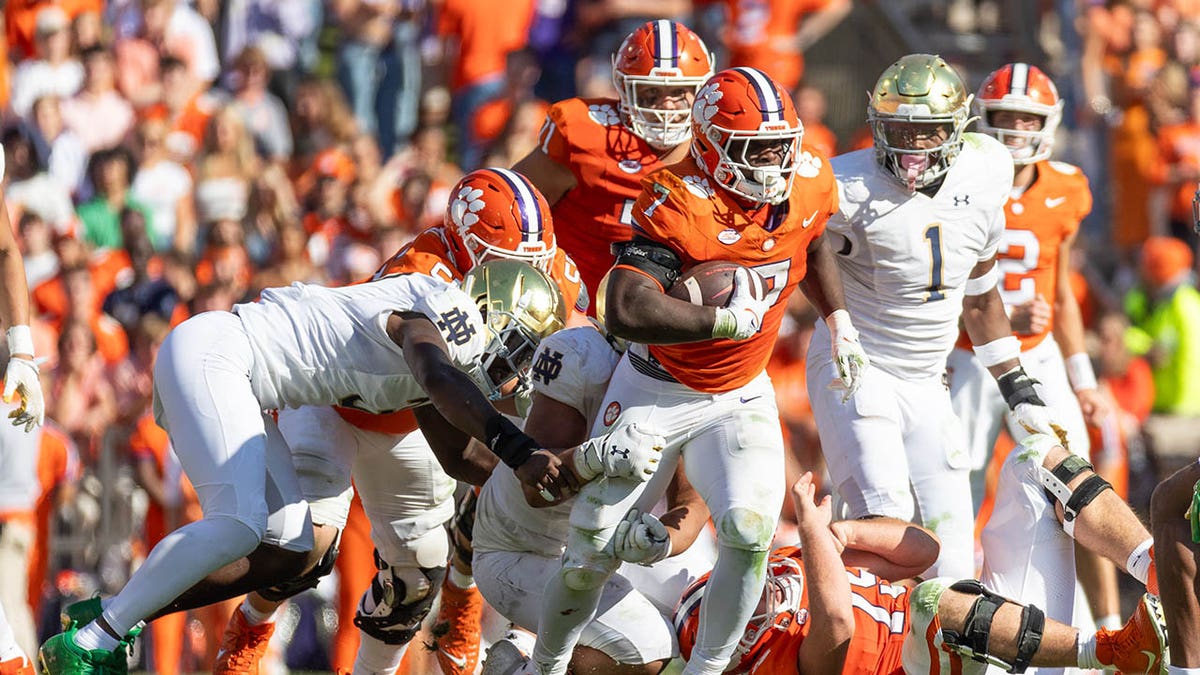 Phil Mafah (7) of the Clemson Tigers runs the ball during the fourth quarter against the Notre Dame Fighting Irish at Memorial Stadium Nov. 4, 2023, in Clemson, S.C. (Isaiah Vazquez/Getty Images)
Clemson came in reeling from two straight road losses to Miami and North Carolina State and was without several starters, including the all-ACC tailback Shipley, who was in concussion protocol after a hit last week at North Carolina State.
CLICK HERE TO GET THE FOX NEWS APP
Notre Dame has a bye week this week, while Clemson hosts Georgia Tech next week.
The Associated Press contributed to this report.
Chantz Martin is a sports writer for Fox News Digital.