Former Michigan analyst Connor Stalions was smart enough not to leave a paper trail with Michigan regarding the alleged sign-stealing scheme. While it was easy for folks to uncover his ticket purchases, Stalions did not file expense reports that would've made the investigation into Jim Harbaugh a lot easier.
According to the Associated Press, the former Wolverines analyst did not file any type of expense reports during his time as a full-time employee at Michigan. Per the AP, after filing a FOIA, Michigan was quick to respond that there were no financial ties to the ongoing investigation.
CLICK HERE FOR MORE SPORTS COVERAGE ON FOXNEWS.COM
Michigan Wolverines head coach Jim Harbaugh watches from the sideline beside off-field analyst Connor Stalions, right, during the NCAA football game against the Ohio State Buckeyes at Ohio Stadium. (USA TODAY Sports)
Even though the Big Ten has stated that the NCAA has obtained financial information pertaining to how Stalions was able to obtain tickets to games he had scouted, there was nothing official from Michigan's end.
So, out of all of the bad moves Connor Stalions made regarding how he had others attend these events, he was smart enough not to ask for reimbursement. If you're wondering if this will end up helping Michigan in its case with the NCAA down the road, that's still being investigated.
Obviously, the NCAA is looking into how Stalions was able to pay for all of these expenses, which could be found if he slipped up with text communications or phone calls. But, with Michigan clearly responding to this FOIA in a quick manner, the Wolverines were most likely jubilant that they did not uncover any financial mistakes on Stalions' part.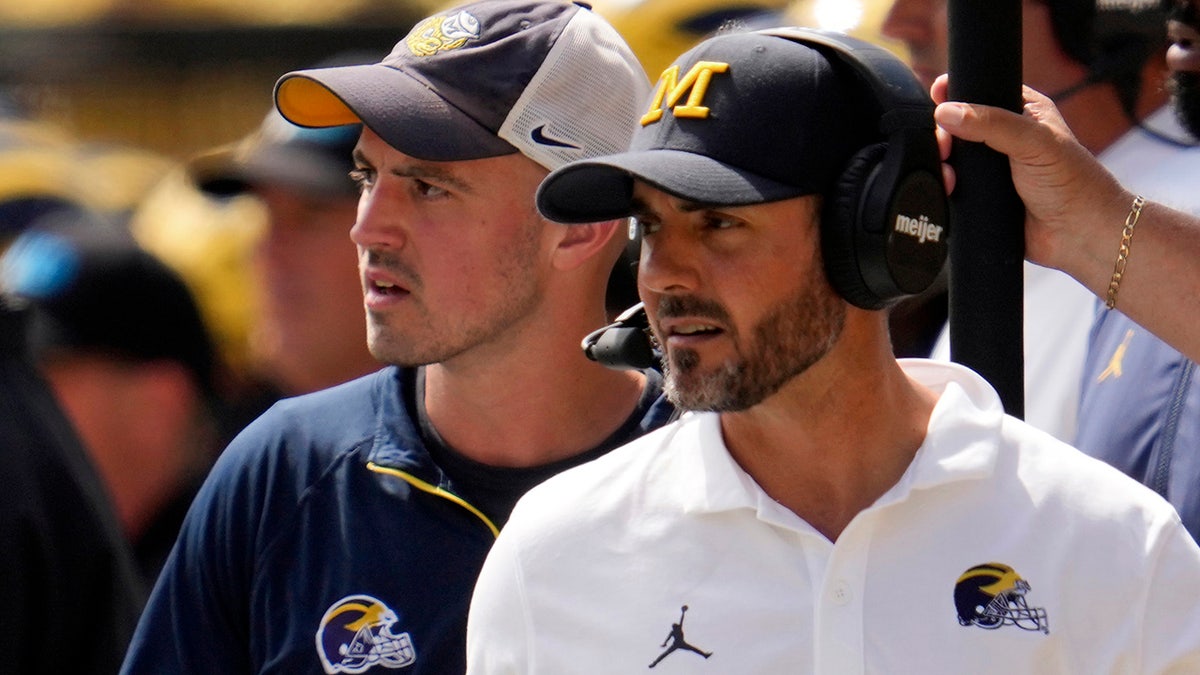 Michigan defensive coordinator Jesse Minter, center right, watches against East Carolina as analytics assistant Connor Stalions, center left, looks on during an NCAA college football game in Ann Arbor, Mich., Sept. 2, 2023.  (AP Photo/Paul Sancya)
Michigan, Jim Harbaugh, Big Ten Headed For Court Room On Friday
While the financial part of Connor Stalions alleged scheme did not tie Jim Harbaugh to this, for now, a judge will decide whether or not Michigan will have its head coach Saturday.
LOU HOLTZ SAYS MICHIGAN'S ALLEGED SIGN-STEALING WAS 'ILLEGAL,' RIPS DECISION TO SUSPEND JIM HARBAUGH MIDSEASON
After the motion was filed last Friday in a Washtenaw County court room, the presiding judge did not make a quick decision on the matter. In two days, attorneys for Jim Harbaugh, Michigan, the Big Ten and Tony Petitti will make their case to Judge Timothy Connors.
At the center of this motion is a temporary restraining order Jim Harbaugh is hoping to receive against the three-game suspension Big Ten commissioner Tony Petitti handed down. According to court records, the conference hired a local attorney to handle the pending motion in the Ann Arbor area, which could have been the reason why they are now meeting on Friday.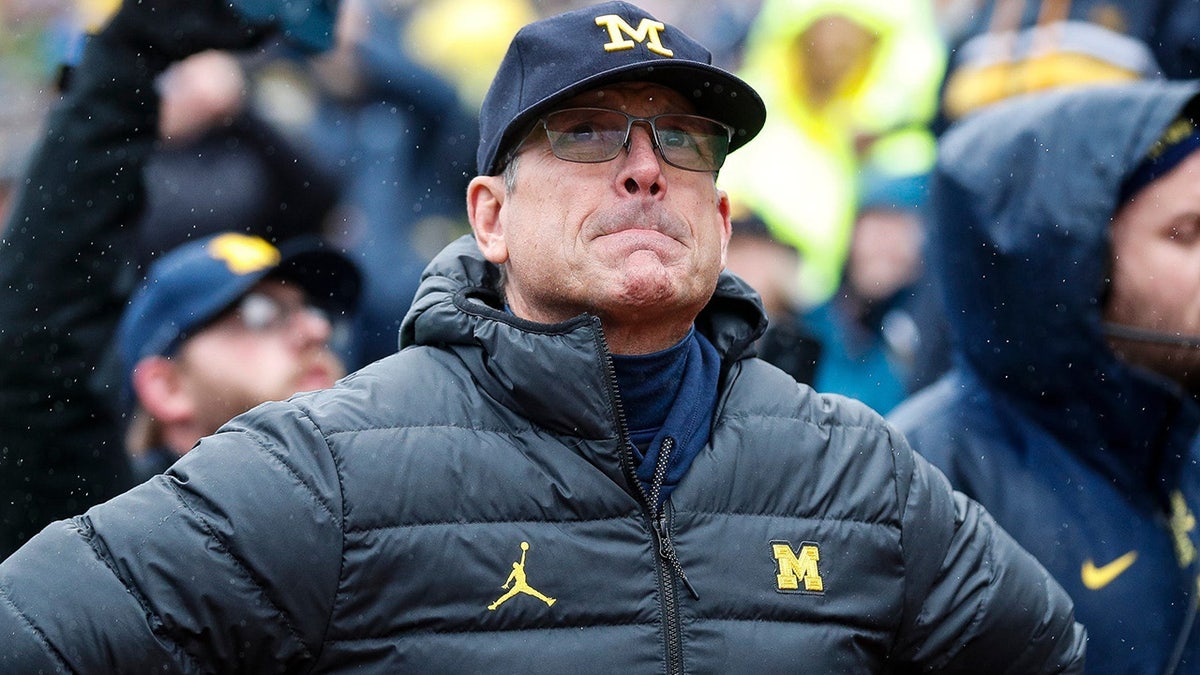 Michigan coach Jim Harbaugh's college football program is being investigated for sign-stealing. (Junfu Han / USA TODAY NETWORK)
Jim Harbaugh's attorneys, along with the university, want to see him on the sidelines for Saturday's contest against Maryland. If the judge determines that Harbaugh has provided enough evidence that the Big Ten acted hastily in its decision to suspend the Michigan head coach without a full investigation, we could see Harbaugh coaching against the Terps.
On the other hand, the Big Ten, along with Tony Petitti, will go before the judge and present their reasonings as to why this suspension should stand. If the judge sides with the Big Ten, then Jim Harbaugh will miss the next two games, including the Ohio State game.
So we now wait for what should be an interesting hearing on Friday, with a lot on the line for Jim Harbaugh, and the Big Ten.
CLICK HERE TO GET THE FOX NEWS APP
In terms of Connor Stalions, there's still a long ways to go in this investigation involving Michigan and the NCAA.