Big brother Jason Kelce has some concerns about Kansas City Chiefs tight end Travis Kelce amid his rumored relationship with Taylor Swift. 
The veteran Philadelphia Eagles center told NBC Sports' Peter King on Sunday that while he is "really, really happy" for Travis and his "current situation" with Swift, he is a little worried about his "safety" when it comes to the heightened attention. 
Travis Kelce helped Taylor Swift on their date night in New York. (Gotham)
"It's certainly been weird, the level that it is now," Jason Kelce said.  
PATRICK MAHOMES' MOTHER GUSHES OVER TAYLOR SWIFT AFTER POP STAR MEETS QUARTERBACK'S LITTLE SISTER
"On one hand, I'm happy for my brother that he seems to be in a relationship that he's excited about, that he is genuine about. But there's another end of it where it's like, 'Man, this is a lot.'" 
Jason told King that his four-time First-team All-Pro brother has been at the mercy of the paparazzi since dating rumors between the two began heating up with Swift's appearance at Arrowhead Stadium last month. 
"There's paparazzi talking about him fueling his car before the game today and I'm like, 'Is that really necessary information to share?' This is another level of stardom that typically football players don't deal with."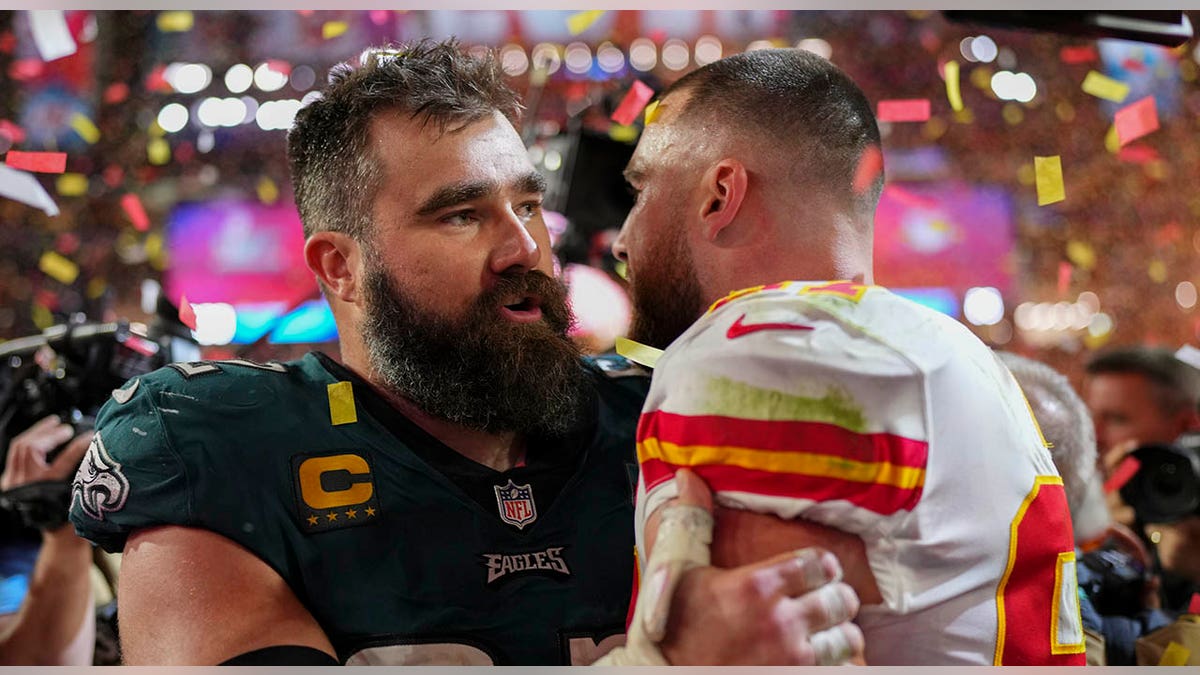 Jason Kelce, #62 of the Philadelphia Eagles, speaks with Travis Kelce, #87 of the Kansas City Chiefs, after Super Bowl LVII at State Farm Stadium on Feb. 12, 2023 in Glendale, Arizona. The Chiefs defeated the Eagles 38-35. (Cooper Neill/Getty Images)
CLICK HERE FOR MORE SPORTS COVERAGE ON FOXNEWS.COM
"And so on one hand, really, really happy for my brother and where he's at in his current situation with Taylor but on the other hand, there's some, I think, alarms sometimes with how you know, over-in-pursuit people can be. Overall, he can deal with some of this. As long as it's not, you know, becoming a threat to his safety and things like that."
Travis and Swift's likely relationship has seemingly been welcomed by most, especially those within the Chiefs' facility. 
Head coach Andy Reid said after Kelce's dominant performance in Sunday's win over the Los Angeles Chargers that "Taylor can stay around all she wants."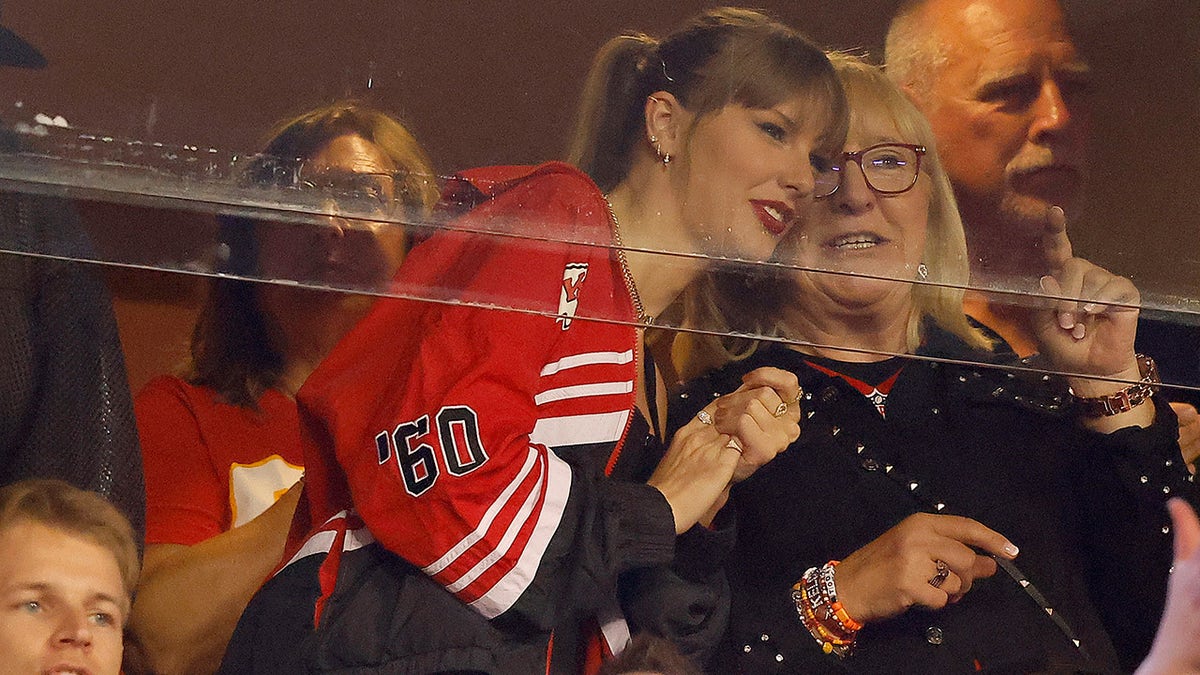 Donna Kelce wears friendship bracelets while chatting with Taylor Swift during a Kansas City game. (David Eulitt)
CLICK HERE TO GET THE FOX NEWS APP
Whether by coincidence or not, Kelce's performance on the field has been top-notch since Swift has been around. He has averaged 108 yards receiving in the four games the pop star has attended, and just 46.5 in the two games she did not.
The Chiefs are also 5-0 since Swift first made her appearance at Arrowhead Stadium. 
The Associated Press contributed to this report.