Dusty Baker has put the pencil down for the final time, as he has announced his retirement.
Baker's Houston Astros lost the American League Championship Series in seven games to their AL West rival and eventual World Series champion Texas Rangers. It was the franchise's seventh-consecutive LCS, tying an MLB record set by the Atlanta Braves in the 1990s.
Houston won the World Series last year, giving Baker his long-coveted first title as a manager. (He won as a player for the Los Angeles Dodgers in 1981.) He inked a one-year deal before this season started.
CLICK HERE FOR MORE SPORTS COVERAGE ON FOXNEWS.COM
Manager Dusty Baker, #12, of the Houston Astros, looks on during the national anthem prior to Game 6 of the ALCS between the Texas Rangers and the Houston Astros at Minute Maid Park on Sunday, October 22, 2023, in Houston, Texas.  (Daniel Shirey/MLB Photos via Getty Images)
However, the 74-year-old hinted that he received some brushback from people for the team not having the same success as they have had in recent seasons (although they were one game away from their third-straight Fall Classic).
Baker said on "The Steam Room" with Ernie Johnson and Charles Barkley that Astros fans had become "spoiled," and it pushed him to retirement.
"We had a lot of success here, Ernie and Charles, and then the last couple of months here weren't very pleasant, because we weren't ten games ahead," Baker said on the podcast. "You spoil people. They think you're supposed to win this every year running away, and it's not like that."
Baker said the scrutiny that annoyed him, though, wasn't necessarily from credentialed media or baseball writers.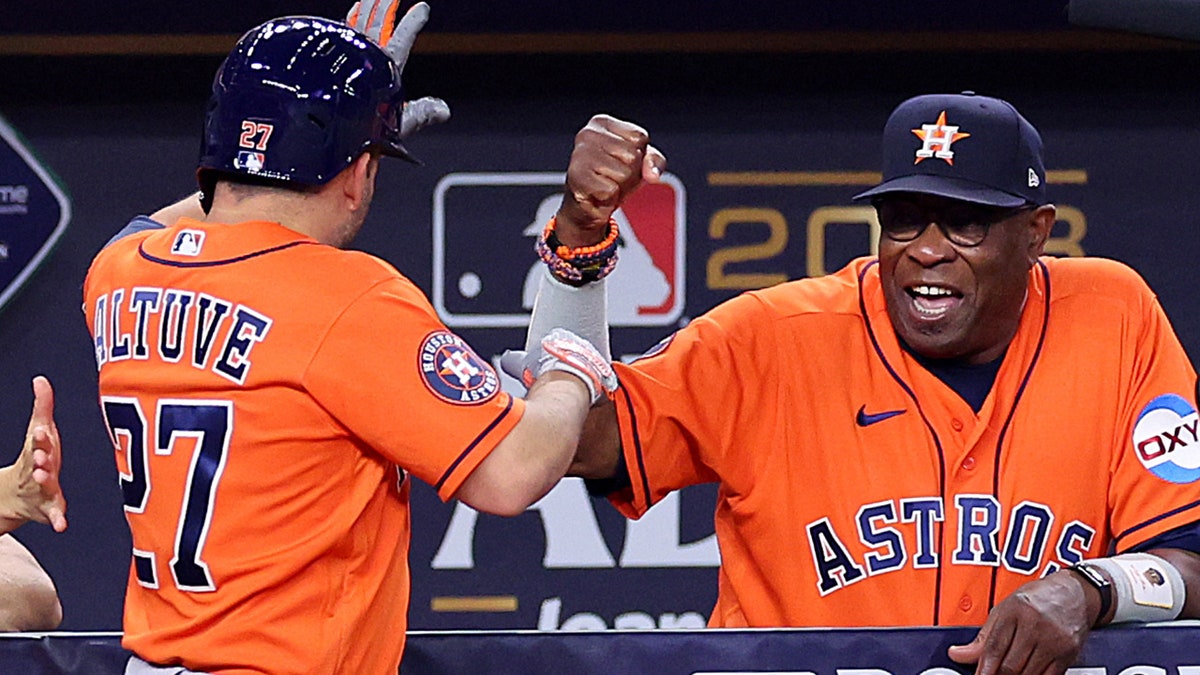 Jose Altuve, #27 of the Houston Astros, celebrates with manager Dusty Baker, #12, after hitting a solo home run against Max Scherzer, #31 of the Texas Rangers, during the third inning in Game Three of the American League Championship Series at Globe Life Field on October 18, 2023, in Arlington, Texas.  (Stacy Revere/Getty Images)
CLAYTON KERSHAW UNDERGOES SHOULDER SURGERY, 'HOPEFUL' FOR SUMMER RETURN
"Every year's different. There was a whole bunch of criticism from 30-year-olds and bloggers and tweeters that I'm not doing this, and I don't know that, and I told my wife, 'You know, I'm kind of tired of this and tired of the scrutiny, and if I could go manage and show up at, say, 6:30 for a 7:00 game and leave 30 minutes after the game, don't do the (pregame and postgame interviews), I could manage for another four or five years.' You know what I mean? After a while, you just get tired of answering questions," he said.
The Astros were the fifth and final organization Baker managed over 26 seasons, as he also spent time with the San Francisco Giants, Chicago Cubs, Cincinnati Reds and Washington Nationals.
Baker took over for the Astros just before the 2020 season started, after the organization fired A.J. Hinch during the fallout of their sign-stealing scheme.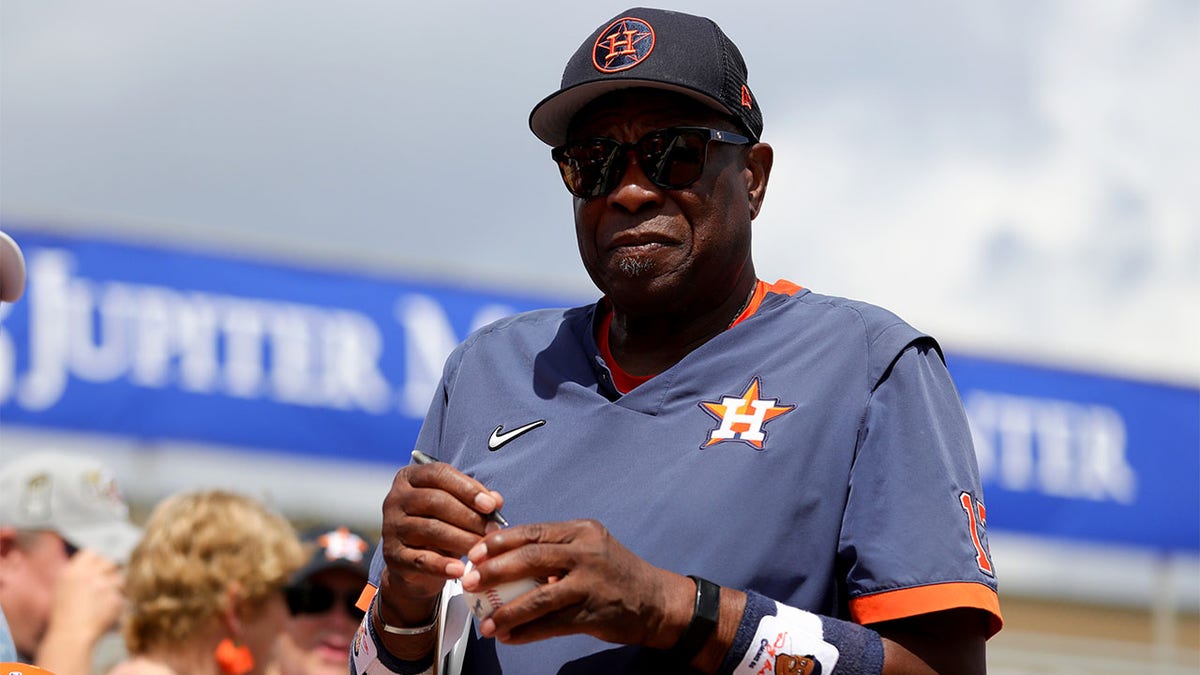 Dusty Baker Jr. of the Houston Astros signs autographs for fans prior to a game against the St. Louis Cardinals at Roger Dean Stadium on March 6, 2023, in Jupiter, Florida.  (Megan Briggs/Getty Images)
CLICK HERE TO GET THE FOX NEWS APP
The three-time Manager of the Year owns a career record of 2,183-1,862 and is one of 12 managers to rack up 2,000 wins. He currently ranks seventh all-time, with all six ahead of him, and the two managers immediately behind him, in the Hall of Fame.
He is the only manager to lead five different teams to division titles.