The Taylor Swift Effect on the NFL has been paying dividends for the league, and like it or not, the increased focus on her relationship with Kansas City Chiefs star tight end Travis Kelce is not likely to die down.
Donna Kelce, who has become America's football mom this year after her boys became the first to play against each other in the Super Bowl, understands why. 
The NFL has been gaining tons of new viewership this season thanks to Swift being present to watch Kelce and the Chiefs, and the numbers do not lie. 
CLICK HERE FOR MORE SPORTS COVERAGE ON FOXNEWS.COM
Taylor Swift and Donna Kelce look on before the game between the Kansas City Chiefs and the Denver Broncos at GEHA Field at Arrowhead Stadium on Oct. 12, 2023 in Kansas City, Missouri. (David Eulitt/Getty Images)
For example, with Swift expected to be in attendance for the Chiefs' game against the New York Jets earlier this season, NBC Sports said that 27 million viewers tuned in to the "Sunday Night Football" game, which was the most-watched Sunday TV show since the Super Bowl earlier this year. 
While "Mama Kelce" obviously cannot comment on how the NFL feels directly, she has a good inkling that Swift's presence boosting viewership among a demographic that might not have been there before is making everyone happy. 
"I would imagine that they would be thrilled with any new viewership," she told Fox News Digital while highlighting her partnership with Barefoot Wines, the official wine sponsor of the NFL. "I mean, how could you not be? Football is essentially easy to get involved with and enjoy, and it's exciting. The other thing, too, is that it's just one of those things that you can dabble in to. You don't have to be an expert in it. 
DONNA KELCE, BAREFOOT WINE TARGET NEW NFL FANS WITH SUPER BOWL REMATCH EXPERIENCE
"So I think it's a fun thing for the NFL to get new viewership, and I'm sure they're extremely happy about it and I can't see they'd have any issue with that at all."
Any corporation, brand, league, you name it, would love to tap into a new demographic. The NFL had a unique opportunity to do so earlier this year when Donna Kelce became a household name as Travis and Jason Kelce, who plays for the Philadelphia Eagles, made respective playoff runs that eventually landed them vying for the Vince Lombardi Trophy in Super Bowl LVII. 
Each playoff game highlighted the fact that no brothers had ever faced each other in that title game, and their parents took center stage because of it – mainly in the case of Donna Kelce. People were tuning in to watch games when a Kelce was playing, hoping that they won so their mother could continue traveling around and seeing them play in the Super Bowl together.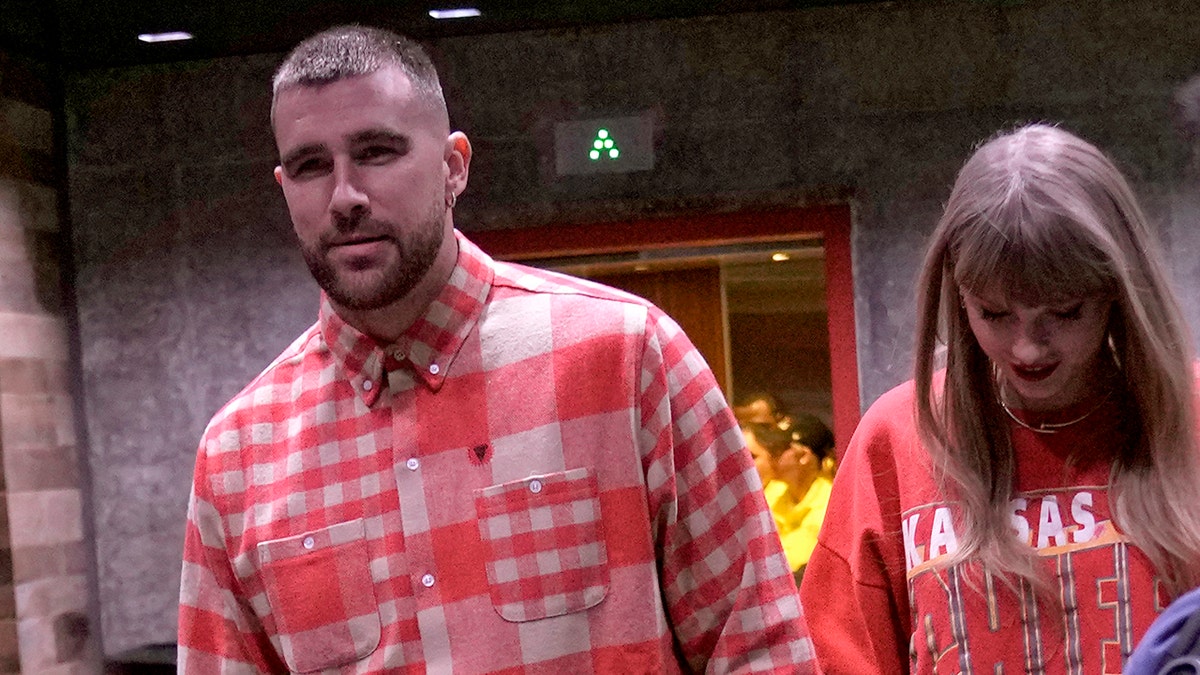 Kansas City Chiefs tight end Travis Kelce, left, and singer Taylor Swift leave Arrowhead stadium Sunday. (Charlie Riedel)
While Donna Kelce reached a certain group that might not have tuned into football each week, Swift's impact has exponentially broadened who's watching football on Sundays, especially among teen girls. 
NBC added that viewership of teen girls had a 53% spike from season-to-date average of the first three weeks of "Sunday Night Football," when the Chiefs played the Jets in Week 4. Women ages 18-24 also saw a 24% increase as well as women over the age of 35 at 24%. 
ROB GRONKOWSKI SAYS NFL IS OVERDOING IT WITH TAYLOW SWIFT COVERAGE DURING GAMES: 'WE WANT MORE FOOTBALL'
In turn, more than 2 million female viewers were tapped in to the NBC broadcast that featured Blake Lively and Ryan Reynolds celebrating a Chiefs win together at MetLife Stadium. 
Although Swift's presence gets most of the attention, Travis Kelce's performance on the field thus far has added to this massive storyline.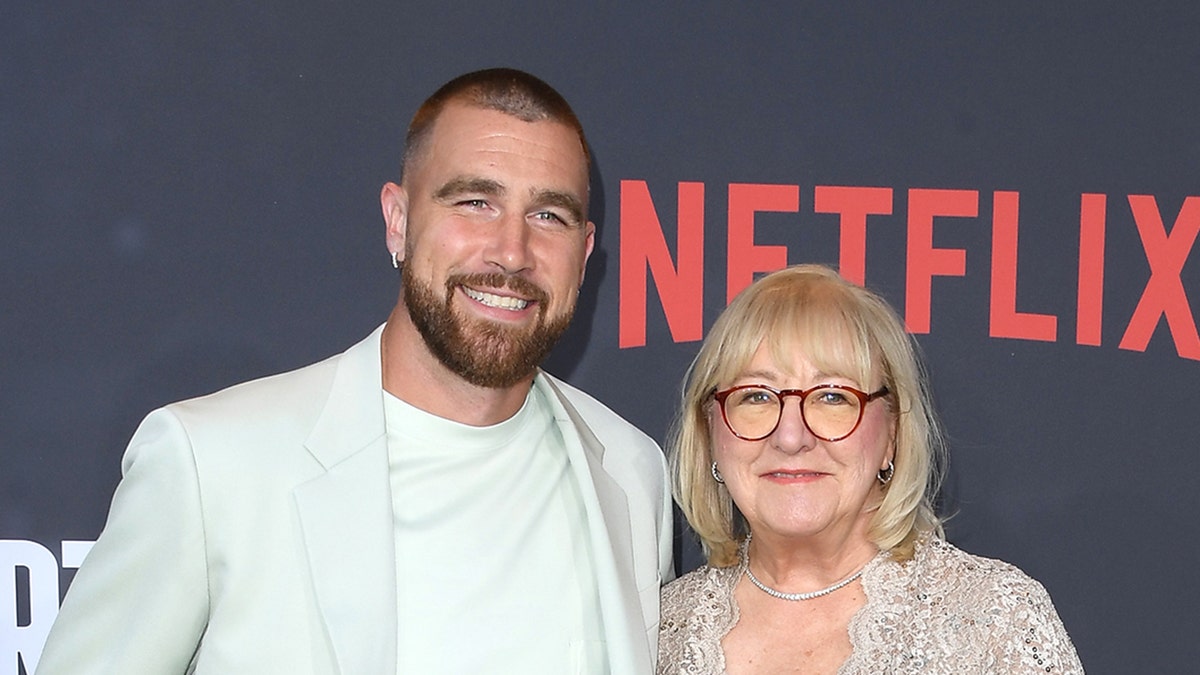 Travis Kelce and mother Donna Kelce arrive at the Los Angeles premiere of Netflix's "Quarterback" at TUDUM Theater on July 11, 2023 in Hollywood, California. (Steve Granitz/FilmMagic)
Travis Kelce, 34, has 525 yards and four touchdowns on 48 receptions in six games this season, which has helped the Chiefs get off to a red-hot, 6-1 start this year. His latest game with everyone in attendance at GEHA Field at Arrowhead in Kansas City saw 12 catches for 179 yards and one touchdown – a massive performance that saw the star-studded suite going wild. 
The increased attention on Kelce off the field has not hurt his production on it either. 
"There were some people saying he's not going to be able to handle the season, he's not going to be a good football player," Donna Kelce explained. "But it turns out that the more that he is pushed or challenged, he takes it to a new level."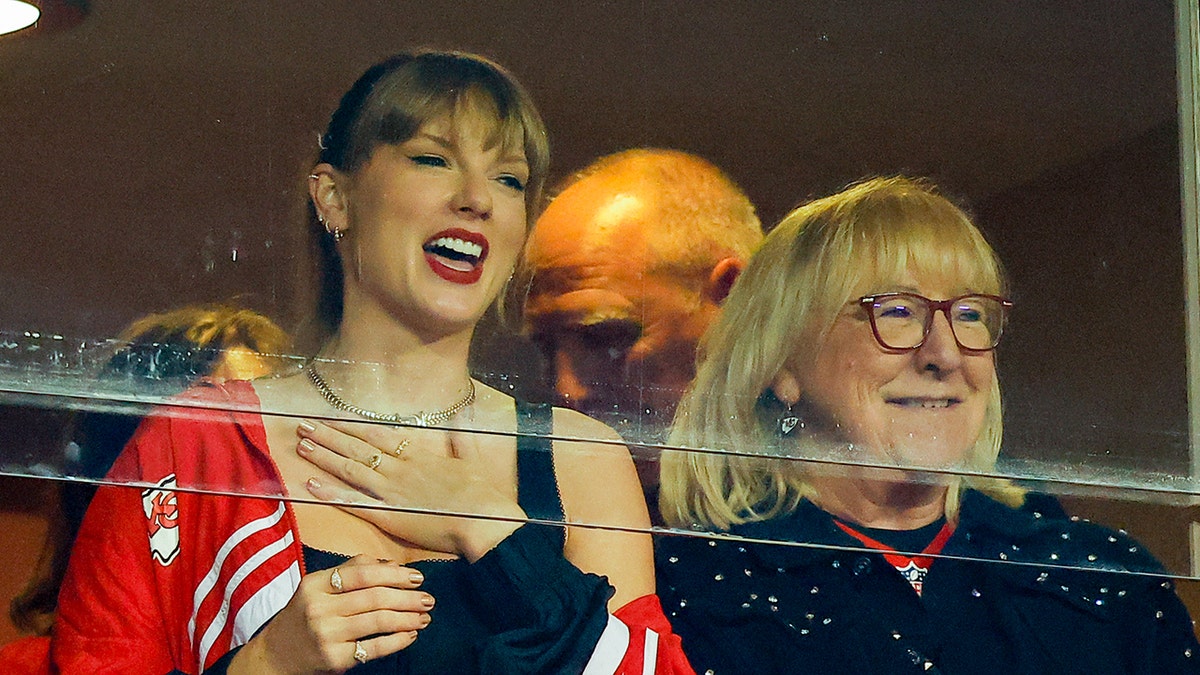 Taylor Swift and Donna Kelce react before the game between the Kansas City Chiefs and the Denver Broncos at GEHA Field at Arrowhead Stadium on Oct. 12, 2023 in Kansas City, Missouri. (David Eulitt/Getty Images)
CLICK HERE TO GET THE FOX NEWS APP
It is a whole new level for the NFL, too, as viewership should only keep trending upward as this love story continues to play out in front of everyone's eyes. 
Scott Thompson is a sports writer for Fox News Digital.