The Dominican Republic's investigation into Tampa Bay Rays All-Star Wander Franco's alleged relationship with a minor is being led by a division that specializes in minors and gender violence.
The division, which is in the province of Peravia where Franco was born, is known as the National Agency for Boys, Girls, Adolescents and Family and Gender Violence Unit, according to Peravia prosecutor Angel Dario Tejeda Fabal.
RAYS' WANDER FRANCO FACES 2ND ALLEGATION OF INAPPROPRIATE RELATIONSHIP WITH MINOR: REPORT
Wander Franco of the Tampa Bay Rays looks on during batting practice prior to the 93rd MLB All-Star Game at T-Mobile Park on July 11, 2023, in Seattle. (Daniel Shirey/MLB Photos via Getty Images)
Judge Olga Dina Llaverias, who specializes in child abuse cases, will be on the case as well.
"This is a very delicate topic because there is a minor involved," Fabal said, per AP. "We are working together [with Judge Llaverias].
"Next week, we might be able to give some of the necessary information without hurting the investigation."
RAYS' WANDER FRANCO FACES INVESTIGATION IN DOMINICAN REPUBLIC FOR ALLEGED RELATIONSHIP WITH MINOR
Fabal added that he has not been approached by anyone from MLB, or any United States authorities on the matter. 
Franco was out of the Rays' lineup on Sunday after social media posts suggested that he was in an inappropriate relationship with a minor. It was "mutually agreed" with the Rays that he would go on the restricted list as the league investigated the matter.
"We support any steps taken by the league to better understand the situation," the Rays said Monday of the MLB investigation. "Out of respect for all parties involved, we have no further comments at this time."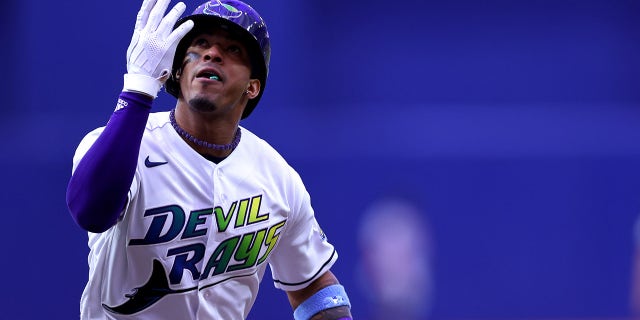 Wander Franco of the Tampa Bay Rays is shown after hitting a home run against the Atlanta Braves at Tropicana Field on July 7, 2023, in St. Petersburg, Florida. (Mike Ehrmann/Getty Images)
Franco is reportedly facing a second allegation of an inappropriate relationship with a minor; a complaint from a 17-year-old girl was filed against Franco in July, the Diario Libre newspaper reported Tuesday, citing a source within the Dominican Republic's attorney general's office.
MLB did not immediately respond to a request for comment on whether its investigation is expanding to include the second allegation. The Rays did not immediately respond to a request for comment about the second allegation.
RAYS ACE SHANE MCCLANAHAN TO UNDERGO TOMMY JOHN SURGERY; MAY NOT RETURN UNTIL 2025
A rep for Franco and the Dominican Republic attorney general's office also did not immediately respond to a request for comment from Fox News Digital on the reported allegation.
Franco reportedly went on his Instagram Live prior to the Rays taking on the Cleveland Guardians to deny the allegations against him.
His teammate, Jose Siri, was heard in the background yelling, "people after money," in Spanish, per The Athletic.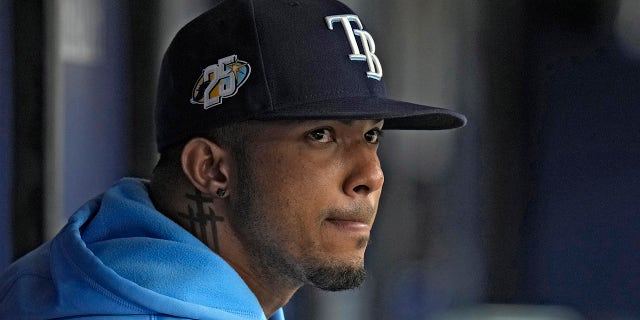 Tampa Bay Rays' Wander Franco watches from the dugout during the fifth inning against the Cleveland Guardians, Aug. 13, 2023, in St. Petersburg, Florida. (AP Photo/Chris O'Meara)
Franco must sit at least six games being on the restricted list. Tampa Bay signed him to an 11-year, $182 million deal to be a cornerstone piece for years to come on a franchise that has seen much success in recent seasons.
CLICK HERE TO GET THE FOX NEWS APP
Franco was named to his first All-Star team this season as he's slashing .281/.344/.475 with a .819 OPS, 17 homers and 58 RBI over 112 games.
Fox News' Ryan Gaydos and the Associated Press contributed to this report.
Scott Thompson is a sports writer for Fox News Digital.