Tyreek Hill will be seeking revenge this weekend in his first game against the Kansas City Chiefs since they traded him last year.
The Chiefs sent Hill to the Miami Dolphins after the Chiefs and Hill were unable to come to terms on a contract extension.
The deal seems to have worked out for everybody. 
Kansas City didn't miss a beat and won the Super Bowl, while Hill inked a record-breaking extension and is on pace to shatter the single-season receiving yards record.
CLICK HERE FOR MORE SPORTS COVERAGE ON FOXNEWS.COM
Tyreek Hill of the Miami Dolphins scores a touchdown during the first quarter against the Denver Broncos at Hard Rock Stadium Sept. 24, 2023, in Miami Gardens, Fla. (Carmen Mandato/Getty Images)
Hill has 1,014 receiving yards in eight games this year, an average of 112 per game. So, he had a prediction on how Sunday's game against the Chiefs in Germany will go.
"It doesn't really matter where we play at. I mean, obviously it would've been great to play in K.C., but it really doesn't matter where we play at, you feel me? They going to get this work wherever though," he told reporters on Thursday, via ESPN.
It'd be human nature for Hill to be envious the Chiefs won a Super Bowl right after trading him, but the 29-year-old says he's happy with how things played out.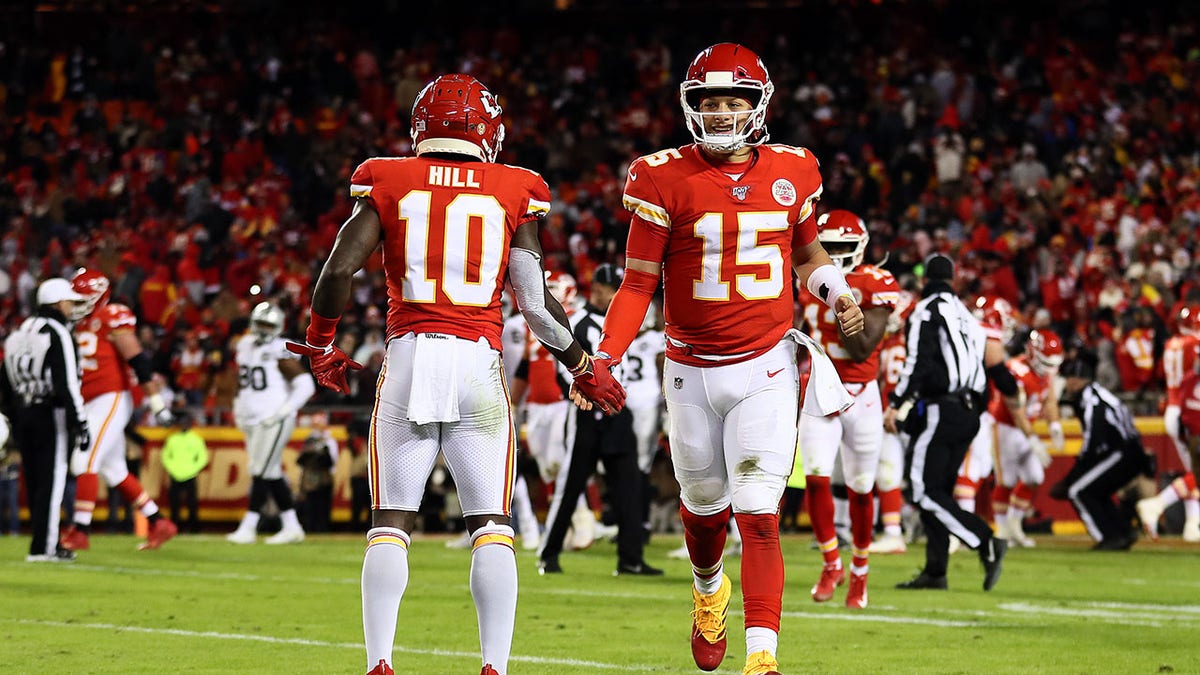 Quarterback Patrick Mahomes (15) of the Kansas City Chiefs is congratulated by wide receiver Tyreek Hill (10) after a touchdown during the fourth quarter of a game against the Oakland Raiders at Arrowhead Stadium Dec. 1, 2019, in Kansas City, Mo.  (Jamie Squire/Getty Images)
"I'm kind of glad that [the trade] happened. Obviously, the situation that I'm in is great. I've got great teammates. My family is from Miami. And, also, I accomplished one of my goals of being one of the highest paid in the league. So, everything's great. Life is great, man. Never can take anything for granted. So, I can't look back. Always got to look forward. That's my mindset."
CHIEFS RECEIVER SAYS TRAVELING TO GERMANY FOR GAME 'SUCKS'
Hill said he "wouldn't take none of" his time in Kansas City back and expects some friendly trash talk with his former teammates.
"It is going to be trash talk, but it's going to be fun though," he said. "It's going to be like, 'I want to see you do good, but we going to bust your a– at the same time, though.' It is going to be one of those things like backyard football with your brothers."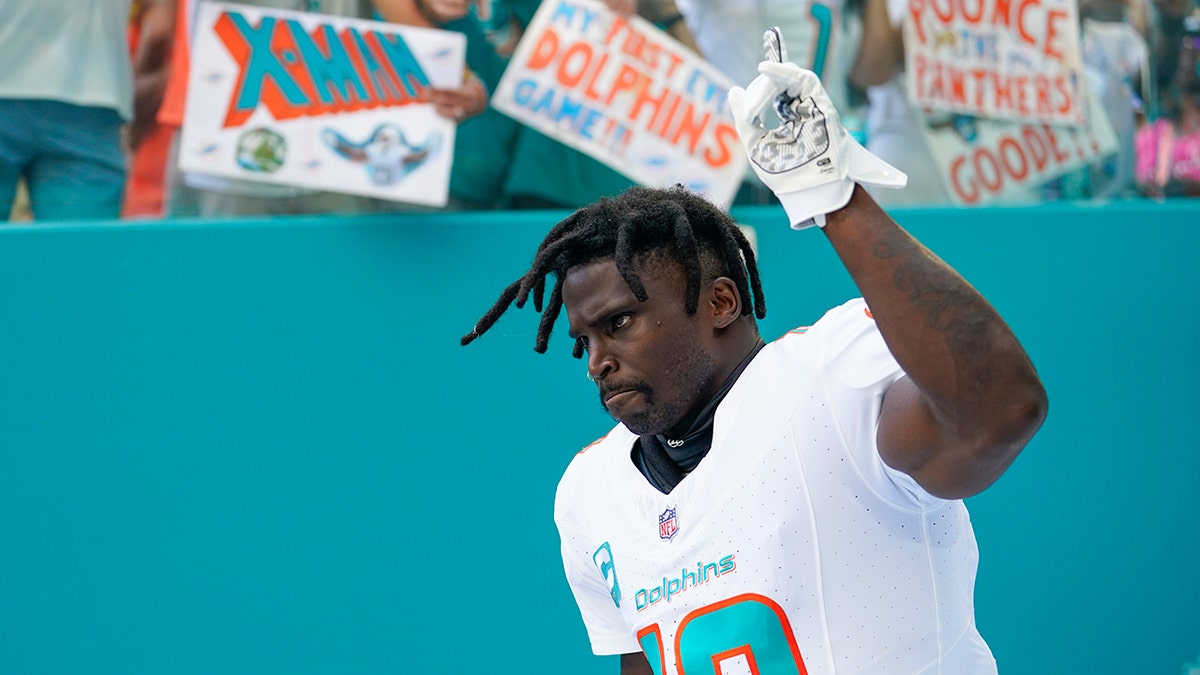 Tyreek Hill of the Miami Dolphins enters the field prior to a game against the Carolina Panthers at Hard Rock Stadium Oct. 15, 2023, in Miami Gardens, Fla.  (Rich Storry/Getty Images)
CLICK HERE TO GET THE FOX NEWS APP
Sunday's game will be the second NFL game ever played in Germany. The Indianapolis Colts and New England Patriots play there next week.