Democratic power broker and New Jersey businessman George Norcross has doubled down on his decision to display an American-Israeli flag at a Philadelphia Eagles game over the weekend, and has disputed the team's characterization that he was "physically and verbally abusive" toward stadium staff. 
In a piece written by Norcross and published on USA Today, the political boss explained his refusal to remove the flag, which was displayed just outside a private box at Lincoln Financial Field during Sunday's game against the Dallas Cowboys.
A.J. Brown of the Philadelphia Eagles celebrates after a touchdown with DeVonta Smith during the Dallas Cowboys game at Lincoln Financial Field on Nov. 5, 2023, in Philadelphia. (Mitchell Leff/Getty Images)
Norcross said he informed security that he would not take it down or allow the flag to be removed "because it was important to make a clear statement that America was standing by its longtime ally, Israel, after 1,400 of its citizens were brutally murdered and hostages were taken by the terrorist group Hamas on Oct. 7."
EAGLES CLAIM GEORGE NORCROSS WAS REMOVED FROM GAME AFTER BEING 'PHYSICALLY AND VERBALLY ABUSIVE' TOWARD STAFF
He wrote that he believed the flag was in line with the team's statement from last month condemning the attacks, but was instead met with "almost a dozen security staff jammed into the box." 
"One aggressively went to rip off the flag. I stood up to block him and made it clear – loudly – that the flag would remain, and he could leave."
Norcross alleged his arm was "twisted" behind his back and he was "paraded out of the stadium in front of thousands as the flag was torn down and crumpled in view of the crowd." 
"It is still unclear to me how the flag could be deemed 'obscene or indecent' or otherwise inappropriate."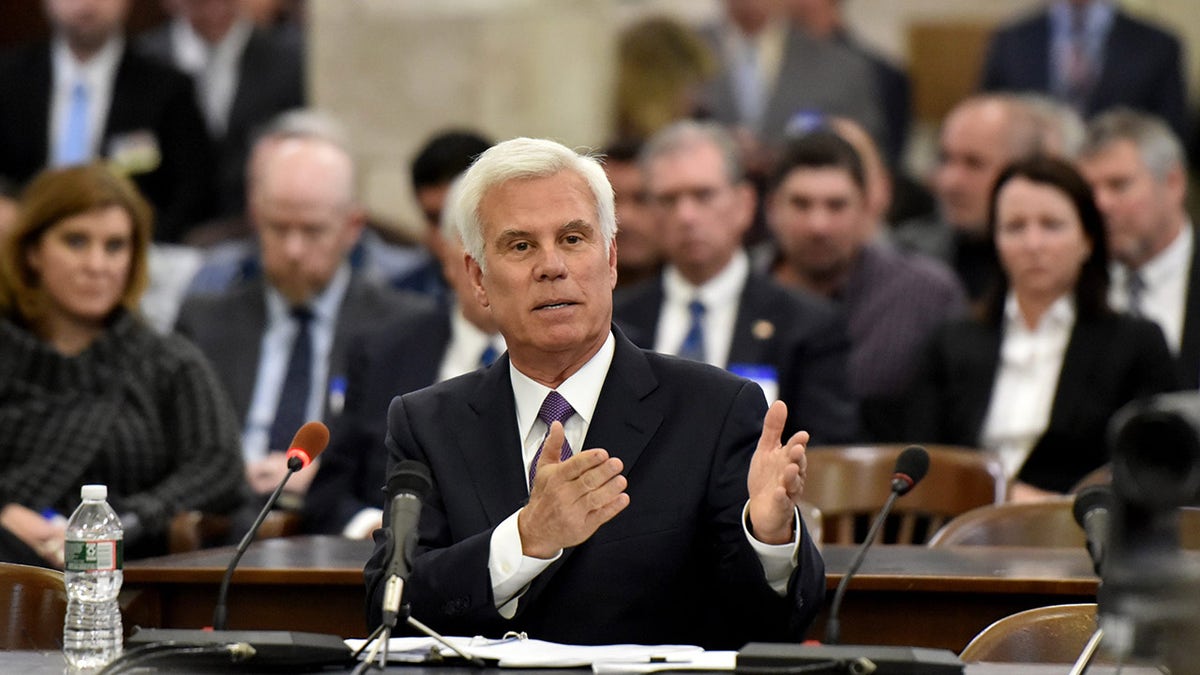 George E. Norcross III testifies before the New Jersey Senate select committee reviewing the state's tax incentive programs in Trenton on Nov. 18, 2019. (IMAGN)
CLICK HERE FOR MORE SPORTS COVERAGE ON FOXNEWS.COM
The Eagles released a statement on Monday explaining that "signage containing any kind of non-game messaging" cannot be hung from stadium suites. The statement also clarified that Norcross was removed only after he "became physically and verbally abusive" toward stadium staff when he was asked to remove the flag.
"We feel it necessary to articulate the facts of the matter involving Mr. Norcross at the stadium on Sunday. Mr. Norcross' removal from the stadium had nothing to do with the content of his sign," that statement read.
"Our stadium policies expressly prohibit signage containing any kind of non-game messaging to be hung from a stadium suite. Stadium staff repeatedly asked Mr. Norcross to remove the sign he hung outside of the suite. Instead of complying with the request, Mr. Norcross became physically and verbally abusive. Mr. Norcross was ejected from the stadium only after his abuse toward numerous stadium staff members continued. He was escorted from the suite level to the stadium's ejection point, just as anyone else would be after engaging in abusive behavior in violation of stadium policy."
CLICK HERE TO GET THE FOX NEWS APP
But Norcross disputed this characterization, writing, that while he did become "increasingly loud" over his stance, he was never physically abusive – again, claiming that he was "assaulted" in front of a crowd.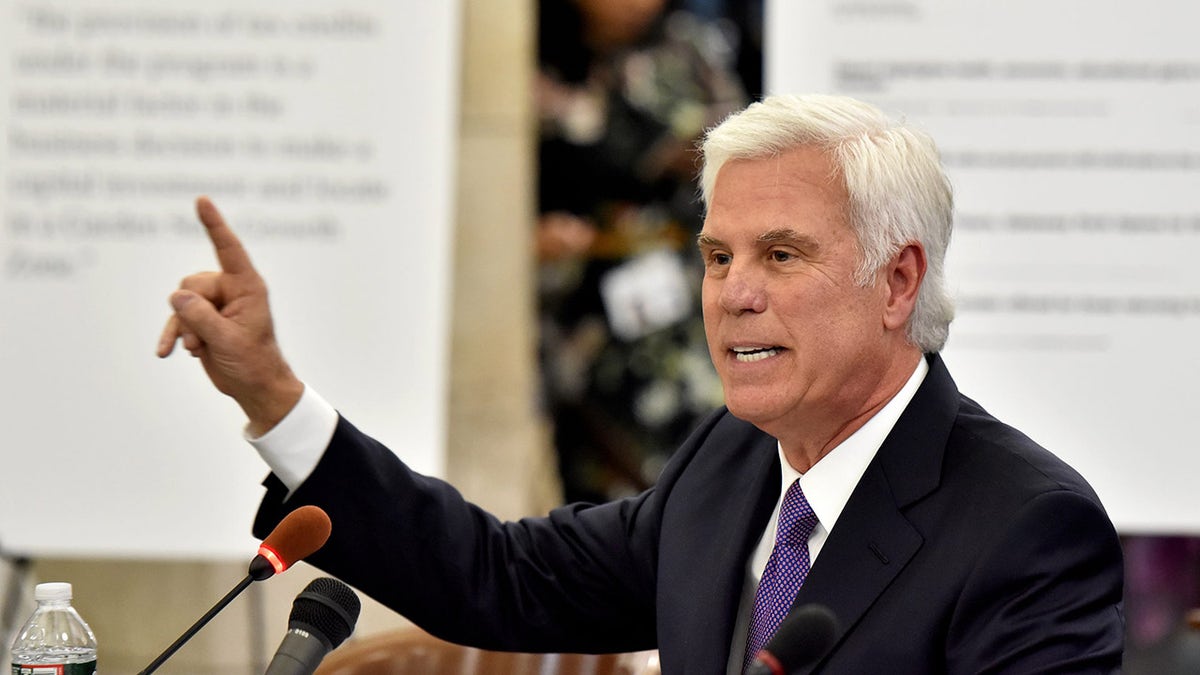 George Norcross wrote that while he did become "increasingly loud" over his stance, he was never physically abusive toward stadium staff. (IMAGN)
Norcross said he will continue to voice his support of Israel following the Oct. 7 attacks.
"As an American, I am proud of how many people have stood up to support Israel and its right to defend itself against the terrorist group Hamas. As a longtime season ticket holder and passionate Eagles fan, I am disappointed in the team's owner and leadership. Because there is no dispute: On Oct. 7, Hamas murdered innocent Israeli civilians, raped woman and butchered children and continues to hold hostages. I believe Israel has the right to defend itself, just as the United States did following the September 11 attacks. I will remain a proud and vocal defender of its right to do so."
The Eagles did not immediately respond to Fox News Digital's request for comment regarding Norcross' article.