Dallas United has withdrawn from The Soccer Tournament (TST) in Cary, North Carolina, after West Ham United F.C. alleged a Dallas United player used a racial slur in a 7-on-7 match on Thursday. 
The West Ham team walked off the pitch after a lengthy delay near the end of regulation with Dallas leading 2-0. 
A soccer ball sits on the turf during the game between Charlotte FC and the Philadelphia Union on May 31, 2023 at Subaru Park in Chester, Pennsylvania. (Andy Lewis/Icon Sportswire via Getty Images)
TST announced the suspension of the match while investigating "allegations of use or intent to use a racial slur." 
A few hours after suspending the match, TST announced that Dallas United would no longer compete in the tournament. 
LIONEL MESSI TO LEAVE PARIS SAINT-GERMAIN, WORLD CUP WINNER TO WEIGH NEXT CAREER MOVE
"After conducting an investigation into the final moments of the match between West Ham United and Dallas United, we have concluded that Dallas United violated TST's code of conduct," TST posted to Twitter. "We have been in dialogue with leadership from both clubs and we are all aligned that the best path forward is Dallas United withdrawing from competition. All parties involved are unified in wanting to make a statement against racial insensitivity.
"We seek to run an event that is not only fiercely high stakes for all competitors, but also one in which all competitors feel safe and protected."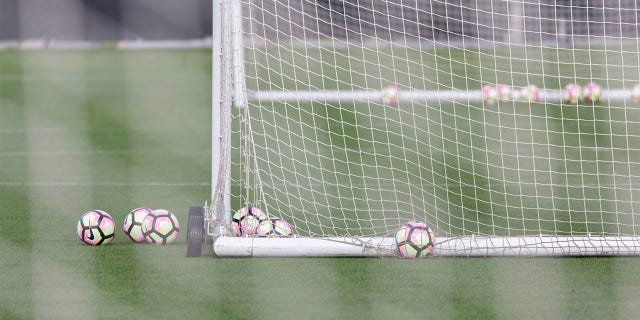 A detail view of the soccer training field at Avaya Stadium where the United States Men's National Team trained before a FIFA 2018 World Cup Qualifier match against Honduras to be played March 24, 2017 at Avaya Stadium in San Jose, California. (David Madison/Getty Images)
CLICK HERE FOR MORE SPORTS COVERAGE ON FOXNEWS.COM
Dallas United released a statement saying the team unanimously chose to withdraw from the tournament. 
"In light of the shadow cast by an opposing player's accusation during tonight's match, the Dallas United players unanimously decided to withdraw from the remainder of the competition," the statement said.
"Our coaches and staff fully support the team's decision." 
CLICK HERE TO GET THE FOX NEWS APP
The Friday match between Far East United and Dallas United has been canceled. 
Former pro Anton Ferdinand made the allegation, according to ESPN, though it is unclear which Dallas United plater was accused of using a racial slur. 
Dallas United is mostly made up of amateur players from the Dallas area, per ESPN's report.
Joe Morgan is a Sports Reporter for Fox News.